Abstract
Mutational signatures are imprints of pathophysiological processes arising through tumorigenesis. We generated isogenic CRISPR–Cas9 knockouts (∆) of 43 genes in human induced pluripotent stem cells, cultured them in the absence of added DNA damage and performed whole-genome sequencing of 173 subclones. ∆OGG1, ∆UNG, ∆EXO1, ∆RNF168, ∆MLH1, ∆MSH2, ∆MSH6, ∆PMS1 and ∆PMS2 produced marked mutational signatures indicative of them being critical mitigators of endogenous DNA modifications. Detailed analyses revealed mutational mechanistic insights, including how 8-oxo-2′-deoxyguanosine elimination is sequence context specific while uracil clearance is sequence context independent. Mismatch repair (MMR) deficiency signatures are engendered by oxidative damage (C > A transversions) and differential misincorporation by replicative polymerases (T > C and C > T transitions), and we propose a reverse template slippage model for T > A transversions. ∆MLH1, ∆MSH6 and ∆MSH2 signatures were similar to each other but distinct from ∆PMS2. Finally, we developed a classifier, MMRDetect, where application to 7,695 whole-genome-sequenced cancers showed enhanced detection of MMR-deficient tumors, with implications for responsiveness to immunotherapies.
This is a preview of subscription content
Access options
Subscribe to Nature+
Get immediate online access to the entire Nature family of 50+ journals
Subscribe to Journal
Get full journal access for 1 year
$119.00
only $9.92 per issue
All prices are NET prices.
VAT will be added later in the checkout.
Tax calculation will be finalised during checkout.
Buy article
Get time limited or full article access on ReadCube.
$32.00
All prices are NET prices.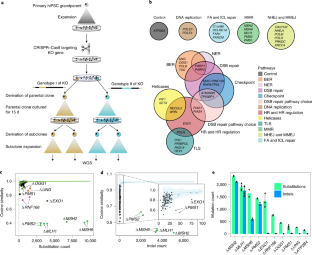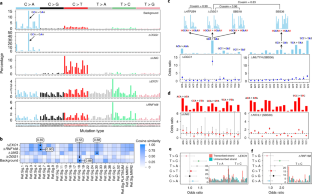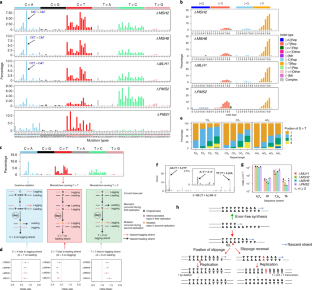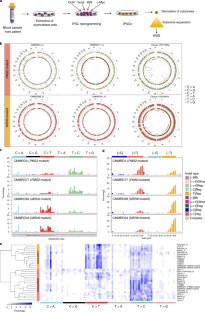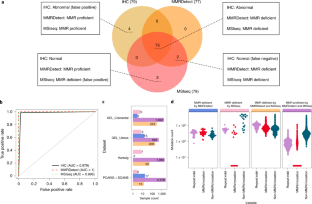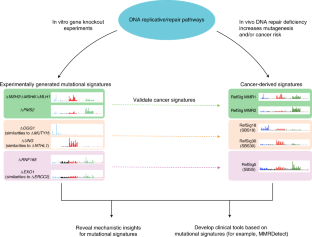 References
Helleday, T., Eshtad, S. & Nik-Zainal, S. Mechanisms underlying mutational signatures in human cancers. Nat. Rev. Genet. 15, 585–598 (2014).

Alexandrov, L. B. et al. Signatures of mutational processes in human cancer. Nature 500, 415–421 (2013).

Nik-Zainal, S. et al. The life history of 21 breast cancers. Cell 149, 994–1007 (2012).

Nik-Zainal, S. et al. Mutational processes molding the genomes of 21 breast cancers. Cell 149, 979–993 (2012).

Haradhvala, N. J. et al. Distinct mutational signatures characterize concurrent loss of polymerase proofreading and mismatch repair. Nat. Commun. 9, 1746 (2018).

Alexandrov, L. B. et al. The repertoire of mutational signatures in human cancer. Nature 578, 94–101 (2020).

Kim, J. et al. Somatic ERCC2 mutations are associated with a distinct genomic signature in urothelial tumors. Nat. Genet. 48, 600–606 (2016).

Nik-Zainal, S. et al. The genome as a record of environmental exposure. Mutagenesis 30, 763–770 (2015).

Zou, X. et al. Validating the concept of mutational signatures with isogenic cell models. Nat. Commun. 9, 1744 (2018).

Christensen, S. et al. 5-Fluorouracil treatment induces characteristic T>G mutations in human cancer. Nat. Commun. 10, 4571 (2019).

Kucab, J. E. et al. A compendium of mutational signatures of environmental agents. Cell 177, 821–836.e16 (2019).

Lindahl, T. & Nyberg, B. Rate of depurination of native deoxyribonucleic acid. Biochemistry 11, 3610–3618 (1972).

Mardis, E. R.The impact of next-generation sequencing on cancer genomics: from discovery to clinic. Cold Spring Harb. Perspect. Med. 9, a036269 (2019).

Berger, M. F. & Mardis, E. R. The emerging clinical relevance of genomics in cancer medicine. Nat. Rev. Clin. Oncol. 15, 353–365 (2018).

David, S. S., O'Shea, V. L. & Kundu, S. Base-excision repair of oxidative DNA damage. Nature 447, 941–950 (2007).

Kunkel, T. A. & Erie, D. A. DNA mismatch repair. Annu. Rev. Biochem. 74, 681–710 (2005).

Kottemann, M. C. & Smogorzewska, A. Fanconi anaemia and the repair of Watson and Crick DNA crosslinks. Nature 493, 356–363 (2013).

Wood, R. D., Mitchell, M., Sgouros, J. & Lindahl, T. Human DNA repair genes. Science 291, 1284–1289 (2001).

Ceccaldi, R., Rondinelli, B. & D'Andrea, A. D. Repair pathway choices and consequences at the double-strand break. Trends Cell Biol. 26, 52–64 (2016).

Hanawalt, P. C. & Spivak, G. Transcription-coupled DNA repair: two decades of progress and surprises. Nat. Rev. Mol. Cell Biol. 9, 958–970 (2008).

Abid, A., Zhang, M. J., Bagaria, V. K. & Zou, J. Exploring patterns enriched in a dataset with contrastive principal component analysis. Nat. Commun. 9, 2134 (2018).

Van der Maaten, L. & Hinton, G. Visualizing data using t-SNE. J. Mach. Learn. Res. 9, 2579–2605 (2008).

Evans, M. D., Dizdaroglu, M. & Cooke, M. S. Oxidative DNA damage and disease: induction, repair and significance. Mutat. Res. 567, 1–61 (2004).

Degasperi, A. et al. A practical framework and online tool for mutational signature analyses show intertissue variation and driver dependencies. Nat. Cancer 1, 249–263 (2020).

Pilati, C. et al. Mutational signature analysis identifies MUTYH deficiency in colorectal cancers and adrenocortical carcinomas. J. Pathol. 242, 10–15 (2017).

Radicella, J. P., Dherin, C., Desmaze, C., Fox, M. S. & Boiteux, S. Cloning and characterization of hOGG1, a human homolog of the OGG1 gene of Saccharomyces cerevisiae. Proc. Natl Acad. Sci. USA 94, 8010–8015 (1997).

Bruner, S. D., Norman, D. P. G. & Verdine, G. L. Structural basis for recognition and repair of the endogenous mutagen 8-oxoguanine in DNA. Nature 403, 859–866 (2000).

Lee, Y. A., Durandin, A., Dedon, P. C., Geacintov, N. E. & Shafirovich, V. Oxidation of guanine in G, GG, and GGG sequence contexts by aromatic pyrenyl radical cations and carbonate radical anions: relationship between kinetics and distribution of alkali-labile lesions. J. Phys. Chem. B 112, 1834–1844 (2008).

Sugiyama, H. & Saito, I. Theoretical studies of GG-specific photocleavage of DNA via electron transfer: significant lowering of ionization potential and 5′-localization of HOMO of stacked GG bases in B-form DNA. J. Am. Chem. Soc. 118, 7063–7068 (1996).

Allgayer, J., Kitsera, N., von der Lippen, C., Epe, B. & Khobta, A. Modulation of base excision repair of 8-oxoguanine by the nucleotide sequence. Nucleic Acids Res. 41, 8559–8571 (2013).

Banerjee, A., Yang, W., Karplus, M. & Verdine, G. L. Structure of a repair enzyme interrogating undamaged DNA elucidates recognition of damaged DNA. Nature 434, 612–618 (2005).

Banerjee, A. & Verdine, G. L. A nucleobase lesion remodels the interaction of its normal neighbor in a DNA glycosylase complex. Proc. Natl Acad. Sci. USA 103, 15020–15025 (2006).

Friedman, J. I. & Stivers, J. T. Detection of damaged DNA bases by DNA glycosylase enzymes. Biochemistry 49, 4957–4967 (2010).

Lutsenko, E. & Bhagwat, A. S. Principal causes of hot spots for cytosine to thymine mutations at sites of cytosine methylation in growing cells. A model, its experimental support and implications. Mutat. Res. 437, 11–20 (1999).

Shen, J. C., Rideout, W. M. 3rd & Jones, P. A. The rate of hydrolytic deamination of 5-methylcytosine in double-stranded DNA. Nucleic Acids Res. 22, 972–976 (1994).

Waters, T. R. & Swann, P. F. Thymine-DNA glycosylase and G to A transition mutations at CpG sites. Mutat Res. 462, 137–147 (2000).

Sanders, M. A. et al. MBD4 guards against methylation damage and germ line deficiency predisposes to clonal hematopoiesis and early-onset AML. Blood 132, 1526–1534 (2018).

Barnes, D. E. & Lindahl, T. Repair and genetic consequences of endogenous DNA base damage in mammalian cells. Ann. Rev. Genet. 38, 445–476 (2004).

Mol, C. D. et al. Crystal structure and mutational analysis of human uracil-DNA glycosylase: structural basis for specificity and catalysis. Cell 80, 869–878 (1995).

Grolleman, J. E. et al. Mutational signature analysis reveals NTHL1 deficiency to cause a multi-tumor phenotype. Cancer Cell 35, 256–266.e5 (2019).

Genschel, J. & Modrich, P. Mechanism of 5′-directed excision in human mismatch repair. Mol. Cell 12, 1077–1086 (2003).

Bolderson, E. et al. Phosphorylation of Exo1 modulates homologous recombination repair of DNA double-strand breaks. Nucleic Acids Res. 38, 1821–1831 (2010).

Mattiroli, F. et al. RNF168 ubiquitinates K13–15 on H2A/H2AX to drive DNA damage signaling. Cell 150, 1182–1195 (2012).

Bohgaki, M. et al. RNF168 ubiquitylates 53BP1 and controls its response to DNA double-strand breaks. Proc. Natl Acad. Sci. USA 110, 20982 (2013).

Doil, C. et al. RNF168 binds and amplifies ubiquitin conjugates on damaged chromosomes to allow accumulation of repair proteins. Cell 136, 435–446 (2009).

Stewart, G. S. et al. The RIDDLE syndrome protein mediates a ubiquitin-dependent signaling cascade at sites of DNA damage. Cell 136, 420–434 (2009).

Gupta, S., Gellert, M. & Yang, W. Mechanism of mismatch recognition revealed by human MutSβ bound to unpaired DNA loops. Nat. Struct. Mol. Biol. 19, 72–78 (2012).

Palombo, F. et al. GTBP, a 160-kilodalton protein essential for mismatch-binding activity in human cells. Science 268, 1912–1914 (1995).

Warren, J. J. et al. Structure of the human MutSα DNA lesion recognition complex. Mol. Cell 26, 579–592 (2007).

Andrianova, M. A., Bazykin, G. A., Nikolaev, S. I. & Seplyarskiy, V. B. Human mismatch repair system balances mutation rates between strands by removing more mismatches from the lagging strand. Genome Res. 27, 1336–1343 (2017).

Lujan, S. A. et al. Mismatch repair balances leading and lagging strand DNA replication fidelity. PLoS Genet. 8, e1003016 (2012).

Morganella, S. et al. The topography of mutational processes in breast cancer genomes. Nat. Commun. 7, 11383 (2016).

Aboul-ela, F., Koh, D., Tinoco, I. Jr. & Martin, F. H. Base–base mismatches. Thermodynamics of double helix formation for dCA3XA3G + dCT3YT3G (X, Y = A,C,G,T). Nucleic Acids Res. 13, 4811–4824 (1985).

Mazurek, A., Berardini, M. & Fishel, R. Activation of human MutS homologs by 8-oxo-guanine DNA damage. J. Biol. Chem. 277, 8260–8266 (2002).

Morikawa, M. et al. Analysis of guanine oxidation products in double-stranded DNA and proposed guanine oxidation pathways in single-stranded, double-stranded or quadruplex DNA. Biomolecules 4, 140–159 (2014).

Pavlov, Y. I., Newlon, C. S. & Kunkel, T. A. Yeast origins establish a strand bias for replicational mutagenesis. Mol. Cell 10, 207–213 (2002).

Mudrak, S. V., Welz-Voegele, C. & Jinks-Robertson, S.The polymerase η translesion synthesis DNA polymerase acts independently of the mismatch repair system to limit mutagenesis caused by 7,8-dihydro-8-oxoguanine in yeast. Mol. Cell. Biol. 29, 5316–5326 (2009).

Meier, B. et al. Mutational signatures of DNA mismatch repair deficiency in C. elegans and human cancers. Genome Res. 28, 666–675 (2018).

Lang, G. I., Parsons, L. & Gammie, A. E.Mutation rates, spectra, and genome-wide distribution of spontaneous mutations in mismatch repair deficient yeast. G3 (Bethesda) 3, 1453–1465 (2013).

Drummond, J. T., Li, G. M., Longley, M. J. & Modrich, P.Isolation of an hMSH2-p160 heterodimer that restores DNA mismatch repair to tumor cells. Science 268, 1909–1912 (1995).

Palombo, F. et al. hMutSβ, a heterodimer of hMSH2 and hMSH3, binds to insertion/deletion loops in DNA. Curr. Biol. 6, 1181–1184 (1996).

Wind, Nd et al. HNPCC-like cancer predisposition in mice through simultaneous loss of Msh3 and Msh6 mismatch-repair protein functions. Nat. Genet. 23, 359–362 (1999).

Poulogiannis, G., Frayling, I. M. & Arends, M. J. DNA mismatch repair deficiency in sporadic colorectal cancer and Lynch syndrome. Histopathology 56, 167–179 (2010).

Heinen, C. D. Mismatch repair defects and Lynch syndrome: the role of the basic scientist in the battle against cancer. DNA Repair 38, 127–134 (2016).

Agu, C. A. et al. Successful generation of human induced pluripotent stem cell lines from blood samples held at room temperature for up to 48 hr. Stem Cell Rep. 5, 660–671 (2015).

Ni Huang, M. et al. MSIseq: software for assessing microsatellite instability from catalogs of somatic mutations. Sci. Rep. 5, 13321 (2015).

Niu, B. et al. MSIsensor: microsatellite instability detection using paired tumor-normal sequence data. Bioinformatics 30, 1015–1016 (2013).

Wang, C. & Liang, C. MSIpred: a python package for tumor microsatellite instability classification from tumor mutation annotation data using a support vector machine. Sci. Rep. 8, 17546 (2018).

Cortes-Ciriano, I., Lee, S., Park, W.-Y., Kim, T.-M. & Park, P. J. A molecular portrait of microsatellite instability across multiple cancers. Nat. Commun. 8, 15180 (2017).

Salipante, S. J., Scroggins, S. M., Hampel, H. L., Turner, E. H. & Pritchard, C. C. Microsatellite instability detection by next generation sequencing. Clin. Chem. 60, 1192–1199 (2014).

Hause, R. J., Pritchard, C. C., Shendure, J. & Salipante, S. J.Classification and characterization of microsatellite instability across 18 cancer types. Nat. Med. 22, 1342–1350 (2016).

Nik-Zainal, S. et al. Landscape of somatic mutations in 560 breast cancer whole-genome sequences. Nature 534, 47–54 (2016).

Campbell, P. J. et al. Pan-cancer analysis of whole genomes. Nature 578, 82–93 (2020).

Staaf, J. et al. Whole-genome sequencing of triple-negative breast cancers in a population-based clinical study. Nat. Med. 25, 1526–1533 (2019).

Priestley, P. et al. Pan-cancer whole-genome analyses of metastatic solid tumours. Nature 575, 210–216 (2019).

Fujimoto, A. et al. Comprehensive analysis of indels in whole-genome microsatellite regions and microsatellite instability across 21 cancer types. Genome Res. 30, 334–346 (2020).

Campbell, B. B. et al. Comprehensive analysis of hypermutation in human cancer. Cell 171, 1042–1056.e10 (2017).

Bressan, R. B. et al. Efficient CRISPR/Cas9-assisted gene targeting enables rapid and precise genetic manipulation of mammalian neural stem cells. Development 144, 635–648 (2017).

Tate, P. H. & Skarnes, W. C. Bi-allelic gene targeting in mouse embryonic stem cells. Methods 53, 331–338 (2011).

Hodgkins, A. et al. WGE: a CRISPR database for genome engineering. Bioinformatics 31, 3078–3080 (2015).

Li, H. Aligning sequence reads, clone sequences and assembly contigs with BWA-MEM. Preprint at https://arxiv.org/abs/1303.3997 (2013).

Jones, D. et al. cgpCaVEManWrapper: simple execution of CaVEMan in order to detect somatic single nucleotide variants in NGS data. Curr. Protoc. Bioinformatics 56, 15.10.1–15.10.18 (2016).

Raine, K. M. et al. cgpPindel: identifying somatically acquired insertion and deletion events from paired end sequencing. Curr. Protoc. Bioinformatics 52, 15.7.1–15.7.12 (2015).

Cradick, T. J., Qiu, P., Lee, C. M., Fine, E. J. & Bao, G. COSMID: a web-based tool for identifying and validating CRISPR/Cas off-target sites. Mol. Ther. Nucleic Acids 3, e214 (2014).

The Encode Project Consortium et al.An integrated encyclopedia of DNA elements in the human genome. Nature 489, 57–74 (2012).

Quinlan, A. R. & Hall, I. M. BEDTools: a flexible suite of utilities for comparing genomic features. Bioinformatics 26, 841–842 (2010).

R Development Core Team. R: A Language and Environment for Statistical Computing (R Foundation for Statistical Computing, 2017).

Wickham, H. ggplot2: Elegant Graphics for Data Analysis (Springer, 2009).
Acknowledgements
We thank the Wellcome Sanger Institute Cellular Genetics and Phenotyping Facility for assistance and the CASM IT team, J. Foreman and G. Ping for assistance in carrying out and completing this project. We thank the COMSIG Consortium spearheaded by S. Jackson. In Cambridge, this work was funded by the Cancer Research UK (CRUK) Advanced Clinician Scientist Award (C60100/A23916), the Dr. Josef Steiner Cancer Research Award 2019, a Medical Research Council (MRC) Grant-in-Aid to the MRC Cancer Unit, the CRUK Pioneer Award, a Wellcome Strategic Award (WT101126) and Wellcome Sanger Institute faculty funding and supported by the National Institute for Health Research (NIHR) Cambridge Biomedical Research Centre (BRC-1215-20014) and UK Regenerative Medicine Platform (MR/R015724/1). The work of T.I.R. and J.S.C. was funded by a CRUK Centre grant (reference number C309/A25144). Support for the MMRDetect classifier was enabled by access to data and findings generated by the 100,000 Genomes Project. The 100,000 Genomes Project is managed by Genomics England (a wholly owned company of the Department of Health and Social Care), funded by the NIHR and NHS England. The Wellcome Trust, CRUK and the MRC have also funded research infrastructure. The 100,000 Genomes Project uses data provided by patients and collected by the National Health Service as part of their care and support. The views expressed are those of the author(s) and not necessarily those of the NIHR or Department of Health and Social Care. This publication and the underlying research were facilitated by data that were generated by the Hartwig Medical Foundation (HMF) and Center for Personalized Cancer Treatment (CPCT) in the Netherlands and the International Cancer Genome Consortium.
Ethics declarations
Competing interests
S.N.-Z. holds patents on clinical algorithms of mutational signatures and, during completion of this project, served advisory roles for AstraZeneca, Artios Pharma and the Scottish Genomes Project.
Additional information
Peer review information Nature Cancer thanks Daniel Durocher and the other, anonymous, reviewer(s) for their contribution to the peer review of this work.
Publisher's note Springer Nature remains neutral with regard to jurisdictional claims in published maps and institutional affiliations.
Supplementary information
Supplementary Tables 1–5 and 7–15.
About this article
Cite this article
Zou, X., Koh, G.C.C., Nanda, A.S. et al. A systematic CRISPR screen defines mutational mechanisms underpinning signatures caused by replication errors and endogenous DNA damage. Nat Cancer 2, 643–657 (2021). https://doi.org/10.1038/s43018-021-00200-0
Received:

Accepted:

Published:

Issue Date:

DOI: https://doi.org/10.1038/s43018-021-00200-0