Abstract
Brain metastases are refractory to therapies that control systemic disease in patients with human epidermal growth factor receptor 2-positive breast cancer and the brain microenvironment contributes to this therapy resistance. Nutrient availability can vary across tissues, therefore metabolic adaptations required for brain metastatic breast cancer growth may introduce liabilities that can be exploited for therapy. Here we assessed how metabolism differs between breast tumors in brain versus extracranial sites and found that fatty acid synthesis is elevated in breast tumors growing in the brain. We determine that this phenotype is an adaptation to decreased lipid availability in the brain relative to other tissues, resulting in site-specific dependency on fatty acid synthesis for breast tumors growing at this site. Genetic or pharmacological inhibition of fatty acid synthase reduces human epidermal growth factor receptor 2-positive breast tumor growth in the brain, demonstrating that differences in nutrient availability across metastatic sites can result in targetable metabolic dependencies.
Relevant articles
Open Access articles citing this article.
Tin Tin Manh Nguyen

,

Thi Ha Nguyen

…

Sunghyouk Park

Journal of Experimental & Clinical Cancer Research Open Access 07 February 2023

Xiaopeng Yu

,

Huanjun Tong

…

Zhaohui Tang

Cell Death & Disease Open Access 12 January 2023

Goodwin G. Jinesh

&

Andrew S. Brohl

Signal Transduction and Targeted Therapy Open Access 23 August 2022
Access options
Subscribe to Nature+
Get immediate online access to Nature and 55 other Nature journal
Subscribe to Journal
Get full journal access for 1 year
$119.00
only $9.92 per issue
All prices are NET prices.
VAT will be added later in the checkout.
Tax calculation will be finalised during checkout.
Buy article
Get time limited or full article access on ReadCube.
$32.00
All prices are NET prices.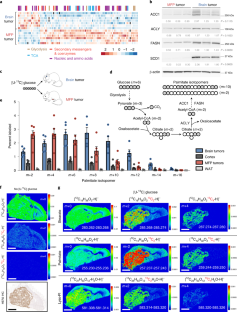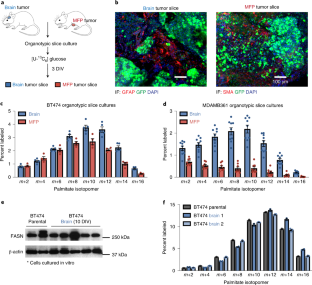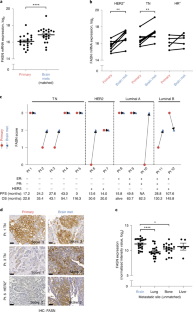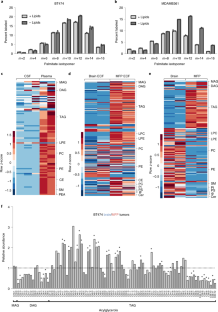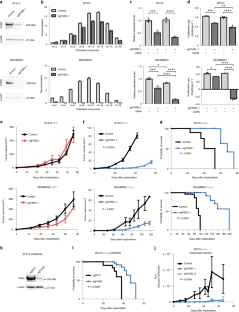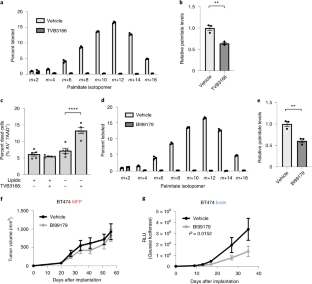 Data availability
Previously published microarray and RNA-seq data that were re-analyzed here are available in GEO under accession codes GSE86849 and GSE14020 and RNA-seq data that were re-analyzed here are available at https://github.com/npriedig/jnci_2018.
Metabolomics data have been deposited to the EMBL-EBI MetaboLights database73 with the identifier MTBLS2434. The complete dataset can be accessed here https://www.ebi.ac.uk/metabolights/MTBLS2434.
The data generated for this study are included in the manuscript, extended data, supplementary files and the provided source data files. Source data that have not been provided are available from the corresponding authors on reasonable request. Source data are provided with this paper.
References
Mills, M. N. et al. Management of brain metastases in breast cancer: a review of current practices and emerging treatments. Breast Cancer Res. Treat. 180, 279–300 (2020).

Boire, A., Brastianos, P. K., Garzia, L. & Valiente, M. Brain metastasis. Nat. Rev. Cancer 20, 4–11 (2020).

Kabraji, S. et al. Drug resistance in HER2-positive breast cancer brain metastases: blame the barrier or the brain? Clin. Cancer Res. 24, 1795–1804 (2018).

Arvanitis, C. D., Ferraro, G. B. & Jain, R. K. The blood–brain barrier and blood-tumour barrier in brain tumours and metastases. Nat. Rev. Cancer 20, 26–41 (2019).

Achrol, A. S. et al. Brain metastases. Nat. Rev. Dis. Primers 5, 5 (2019).

Kodack, D. P. et al. The brain microenvironment mediates resistance in luminal breast cancer to PI3K inhibition through HER3 activation. Sci. Transl. Med. 24, 9 (2017).

Monsky, W. L. et al. Role of host microenvironment in angiogenesis and microvascular functions in human breast cancer xenografts: mammary fat pad versus cranial tumors. Clin. Cancer Res. 8, 1008–1013 (2002).

Lyle, L. T. et al. Alterations in pericyte subpopulations are associated with elevated blood–tumor barrier permeability in experimental brain metastasis of breast cancer. Clin. Cancer Res. 22, 5287–5299 (2016).

Gril, B. et al. Reactive astrocytic S1P3 signaling modulates the blood–tumor barrier in brain metastases. Nat. Commun. 9, 2705 (2018).

Zhang, L. et al. Microenvironment-induced PTEN loss by exosomal microRNA primes brain metastasis outgrowth. Nature 527, 100–104 (2015).

Valiente, M. et al. Serpins promote cancer cell survival and vascular co-option in brain metastasis. Cell 156, 1002–1016 (2014).

Chen, Q. et al. Carcinoma-astrocyte gap junctions promote brain metastasis by cGAMP transfer. Nature 533, 493–498 (2016).

Priego, N. et al. STAT3 labels a subpopulation of reactive astrocytes required for brain metastasis. Nat. Med. 24, 1024–1035 (2018).

Haddad-Tovolli, R., Dragano, N. R. V., Ramalho, A. F. S. & Velloso, L. A. Development and function of the blood–brain barrier in the context of metabolic control. Front. Neurosci. 11, 224 (2017).

McGale, E. H., Pye, I. F., Stonier, C., Hutchinson, E. C. & Aber, G. M. Studies of the inter-relationship between cerebrospinal fluid and plasma amino acid concentrations in normal individuals. J. Neurochem. 29, 291–297 (1977).

Ngo, B. et al. Limited environmental serine and glycine confer brain metastasis sensitivity to PHGDH inhibition. Cancer Discov. 10, 1352–1373 (2020).

Rainesalo, S. et al. Plasma and cerebrospinal fluid amino acids in epileptic patients. Neurochem. Res. 29, 319–324 (2004).

Dolgodilina, E. et al. Brain interstitial fluid glutamine homeostasis is controlled by blood–brain barrier SLC7A5/LAT1 amino acid transporter. J. Cereb. Blood Flow Metab. 36, 1929–1941 (2016).

Neman, J. et al. Human breast cancer metastases to the brain display GABAergic properties in the neural niche. Proc. Natl Acad. Sci. USA 111, 984–989 (2014).

Zeng, Q. et al. Synaptic proximity enables NMDAR signalling to promote brain metastasis. Nature 573, 526–531 (2019).

Chi, Y. et al. Cancer cells deploy lipocalin-2 to collect limiting iron in leptomeningeal metastasis. Science 369, 276–282 (2020).

Askoxylakis, V. et al. Preclinical efficacy of ado-trastuzumab emtansine in the brain microenvironment. J. Natl Cancer Inst. 108, djv313 (2016).

Baenke, F., Peck, B., Miess, H. & Schulze, A. Hooked on fat: the role of lipid synthesis in cancer metabolism and tumour development. Dis. Model. Mech. 6, 1353–1363 (2013).

Liu, S., Dai, Z., Cooper, D. E., Kirsch, D. G. & Locasale, J. W. Quantitative analysis of the physiological contributions of glucose to the TCA cycle. Cell Metab. 32, 619–628 (2020).

Mergenthaler, P., Lindauer, U., Dienel, G. A. & Meisel, A. Sugar for the brain: the role of glucose in physiological and pathological brain function. Trends Neurosci. 36, 587–597 (2013).

Kamphorst, J. J., Chung, M. K., Fan, J. & Rabinowitz, J. D. Quantitative analysis of acetyl-CoA production in hypoxic cancer cells reveals substantial contribution from acetate. Cancer Metab. 2, 23 (2014).

Buescher, J. M. et al. A roadmap for interpreting (13)C metabolite labeling patterns from cells. Curr. Opin. Biotechnol. 34, 189–201 (2015).

Lane, A. N., Higashi, R. M. & Fan, T. W. Preclinical models for interrogating drug action in human cancers using stable isotope resolved metabolomics (SIRM). Metabolomics 12, 118 (2016).

Sellers, K. et al. Pyruvate carboxylase is critical for non-small-cell lung cancer proliferation. J. Clin. Invest. 125, 687–698 (2015).

Vareslija, D. et al. Transcriptome characterization of matched primary breast and brain metastatic tumors to detect novel actionable targets. J. Natl Cancer Inst. 111, 388–398 (2019).

Zhang, X. H. et al. Latent bone metastasis in breast cancer tied to Src-dependent survival signals. Cancer Cell 16, 67–78 (2009).

Xu, J. et al. 14-3-3ζ turns TGF-β's function from tumor suppressor to metastasis promoter in breast cancer by contextual changes of Smad partners from p53 to Gli2. Cancer Cell 27, 177–192 (2015).

Rohrig, F. & Schulze, A. The multifaceted roles of fatty acid synthesis in cancer. Nat. Rev. Cancer 16, 732–749 (2016).

Lewis, C. A. et al. SREBP maintains lipid biosynthesis and viability of cancer cells under lipid- and oxygen-deprived conditions and defines a gene signature associated with poor survival in glioblastoma multiforme. Oncogene 34, 5128–5140 (2015).

Tang, L. & Kebarle, P. Dependence of ion intensity in electrospray mass spectrometry on the concentration of the analytes in the electrosprayed solution. Anal. Chem. 65, 3654–3668 (1993).

Irani, D. Cerebrospinal Fluid in Clinical Practice vol. 1 79 (Elsevier, 2009).

Sullivan, M. R. et al. Quantification of microenvironmental metabolites in murine cancers reveals determinants of tumor nutrient availability. eLife 8, e44235 (2019).

Liu, J. J., Green, P., John Mann, J., Rapoport, S. I. & Sublette, M. E. Pathways of polyunsaturated fatty acid utilization: implications for brain function in neuropsychiatric health and disease. Brain Res. 1597, 220–246 (2015).

Benatti, P., Peluso, G., Nicolai, R. & Calvani, M. Polyunsaturated fatty acids: biochemical, nutritional and epigenetic properties. J. Am. Coll. Nutr. 23, 281–302 (2004).

Liu, Z. et al. Improving orthotopic mouse models of patient-derived breast cancer brain metastases by a modified intracarotid injection method. Sci. Rep. 9, 622 (2019).

Kley, J. T., Mack, J., Hamilton, B., Scheuerer, S. & Redemann, N. Discovery of BI 99179, a potent and selective inhibitor of type I fatty acid synthase with central exposure. Bioorg. Med. Chem. Lett. 21, 5924–5927 (2011).

Cantor, J. R. et al. Physiologic medium rewires cellular metabolism and reveals uric acid as an endogenous inhibitor of UMP synthase. Cell 169, 258–272 (2017).

Muir, A. et al. Environmental cystine drives glutamine anaplerosis and sensitizes cancer cells to glutaminase inhibition. eLife 6, e27713 (2017).

Tardito, S. et al. Glutamine synthetase activity fuels nucleotide biosynthesis and supports growth of glutamine-restricted glioblastoma. Nat. Cell Biol. 17, 1556–1568 (2015).

Schug, Z. T. et al. Acetyl-CoA synthetase 2 promotes acetate utilization and maintains cancer cell growth under metabolic stress. Cancer Cell 27, 57–71 (2015).

Vande Voorde, J. et al. Improving the metabolic fidelity of cancer models with a physiological cell culture medium. Sci. Adv. 5, eaau7314 (2019).

Jin, X. et al. MetMap: a map of metastatic potential of human cancer cell lines. Nature 588, 331–336 (2020).

Cordero, A. et al. FABP7 is a key metabolic regulator in HER2+ breast cancer brain metastasis. Oncogene 38, 6445–6460 (2019).

Santana-Codina, N. et al. GRP94 is involved in the lipid phenotype of brain metastatic cells. Int. J. Mol. Sci. 20, 3883 (2019).

Zou, Y. et al. Polyunsaturated fatty acids from astrocytes activate PPARγ signaling in cancer cells to promote brain metastasis. Cancer Discov. 9, 1720–1735 (2019).

Pinkham, K. et al. Stearoyl CoA desaturase is essential for regulation of endoplasmic reticulum homeostasis and tumor growth in glioblastoma cancer stem cells. Stem Cell Rep. 12, 712–727 (2019).

O'Brien, J. S. & Sampson, E. L. Lipid composition of the normal human brain: gray matter, white matter, and myelin. J. Lipid Res. 6, 537–544 (1965).

Sullivan, M. R. et al. Increased serine synthesis provides an advantage for tumors arising in tissues where serine levels are limiting. Cell Metab. 29, 1410–1421 (2019).

Elia, I. et al. Breast cancer cells rely on environmental pyruvate to shape the metastatic niche. Nature 568, 117–121 (2019).

Villa, G. R. et al. An LXR-cholesterol axis creates a metabolic co-dependency for brain cancers. Cancer Cell 30, 683–693 (2016).

Luengo, A., Gui, D. Y. & Vander Heiden, M. G. Targeting metabolism for cancer therapy. Cell Chem. Biol. 24, 1161–1180 (2017).

Jiang, G. et al. Comprehensive comparison of molecular portraits between cell lines and tumors in breast cancer. BMC Genomics 17, 525 (2016).

Hosios, A. M., Li, Z., Lien, E. C. & Vander Heiden, M. G. Preparation of lipid-stripped serum for the study of lipid metabolism in cell culture. Bio-protocol 8, e2876 (2018).

Yuan, F. et al. Vascular permeability and microcirculation of gliomas and mammary carcinomas transplanted in rat and mouse cranial windows. Cancer Res. 54, 4564–4568 (1994).

Kodack, D. P. et al. Combined targeting of HER2 and VEGFR2 for effective treatment of HER2-amplified breast cancer brain metastases. Proc. Natl Acad. Sci. USA 109, E3119–E3127 (2012).

Davidson, S. M. et al. Environment impacts the metabolic dependencies of ras-driven non-small cell lung cancer. Cell Metab. 23, 517–528 (2016).

Yuan, M., Breitkopf, S. B., Yang, X. & Asara, J. M. A positive/negative ion-switching, targeted mass spectrometry-based metabolomics platform for bodily fluids, cells, and fresh and fixed tissue. Nat. Protoc. 7, 872–881 (2012).

Vichai, V. & Kirtikara, K. Sulforhodamine B colorimetric assay for cytotoxicity screening. Nat. Protoc. 1, 1112–1116 (2006).

Lewis, C. A. et al. Tracing compartmentalized NADPH metabolism in the cytosol and mitochondria of mammalian cells. Mol. Cell 55, 253–263 (2014).

Heinrich, P. et al. Correcting for natural isotope abundance and tracer impurity in MS-, MS/MS- and high-resolution-multiple-tracer-data from stable isotope labeling experiments with IsoCorrectoR. Sci. Rep. 8, 17910 (2018).

Blanc, L., Lenaerts, A., Dartois, V. & Prideaux, B. Visualization of mycobacterial biomarkers and tuberculosis drugs in infected tissue by MALDI-MS imaging. Anal. Chem. 90, 6275–6282 (2018).

Gogolla, N., Galimberti, I., DePaola, V. & Caroni, P. Staining protocol for organotypic hippocampal slice cultures. Nat. Protoc. 1, 2452–2456 (2006).

Lim, N. K. et al. An improved method for collection of cerebrospinal fluid from anesthetized mice. J. Vis. Exp. https://doi.org/10.3791/56774 (2018).

Haslene-Hox, H. et al. A new method for isolation of interstitial fluid from human solid tumors applied to proteomic analysis of ovarian carcinoma tissue. PLoS ONE 6, e19217 (2011).

Eil, R. et al. Ionic immune suppression within the tumour microenvironment limits T cell effector function. Nature 537, 539–543 (2016).

Ho, P. C. et al. Phosphoenolpyruvate is a metabolic checkpoint of anti-tumor T cell responses. Cell 162, 1217–1228 (2015).

Wiig, H., Aukland, K. & Tenstad, O. Isolation of interstitial fluid from rat mammary tumors by a centrifugation method. Am. J. Physiol. Heart. Circ. Physiol. 284, H416–H424 (2003).

Haug, K. et al. MetaboLights: a resource evolving in response to the needs of its scientific community. Nucleic Acids Res. 48, D440–D444 (2020).
Acknowledgements
We thank the members of the Vander Heiden and Jain Laboratory for helpful discussions. We specifically thank P. Kumar, A. Srinivasan Kumar, J. Willem van Wijnbergen., D. Staiculescu and J. A. Engelman for their input, as well as the MGH and MIT mouse facility and veterinary staff for technical support. We thank H. Lee (MGH Biostatistics) for his helpful input on statistical analysis. We thank Boehringer Ingelheim for providing the BI99179 compound via their opnMe program (https://opnme.com/molecules/fas-bi99179). This work was supported by a Koch Institute/DFHCC Bridge project grant to M.G.V.H. and R.K.J. G.F. received a fellowship from Susan G. Komen for the Cure. A.A. received support as an HHMI Medical Research Fellow. A.L., K.L.A. and S.M.D. were supported by the National Science Foundation and T32GM007287. A.L. was also supported by the Ludwig Center for Molecular Oncology Fund. R.F. was supported by the Novo Nordisk Foundation (NNF10CC1016517) and the Knut and Alice Wallenberg Foundation. L.C.C. acknowledges support from the National Institutes of Health (NIH) (R35CA197588). V.A.D. acknowledges support from shared instrumentation grants (S10OD018072 and S10OD023524). R.K.J. acknowledges support from the NIH (R35CA197742, R01CA208205, U01CA224173), National Foundation for Cancer Research; the Ludwig Center at Harvard; the Jane's Trust Foundation; the Advanced Medical Research Foundation and by the US Department of Defense Breast Cancer Research Program Innovator Award W81XWH-10-1-0016. M.G.V.H. acknowledges support from a Faculty Scholar grant from the Howard Hughes Medical Institute, Stand Up to Cancer, the MIT Center for Precision Cancer Medicine, the Ludwig Center at MIT, the Emerald Foundation and the NIH (R35CA242379, R01CA201276, R01CA168653, P30CA14051).
Ethics declarations
Competing interests
A.L. is a current employee of a Flagship Pioneering biotechnology start-up company. I.X.C. is a current employee of Stimit Corporation. D.G.D. received consultant fees from Bayer, Simcere and BMS and research grants from Bayer, Exelixis and BMS. L.C.C. is a founder and member of the board of directors of Agios Pharmaceuticals and is a founder and receives research support from Petra Pharmaceuticals. R.K.J received honorarium from Amgen; consultant fees from Chugai, Merck, Ophthotech, Pfizer, SPARC, SynDevRx; owns equity in Accurius, Enlight, Ophthotech, SynDevRx; and serves on the Boards of Trustees of Tekla Healthcare Investors, Tekla Life Sciences Investors, Tekla Healthcare Opportunities Fund, Tekla World Healthcare Fund. Neither any reagent nor any funding from these organizations was used in this study. M.G.V.H. is a scientific advisory board member for Agios Pharmaceuticals, Aeglea Biotherapeutics, Auron Therapeutics, Faeth Therapeutics and iTeos Therapeutics.
Additional information
Peer review information Nature Cancer thanks Almut Schulze and the other, anonymous, reviewer(s) for their contribution to the peer review of this work.
Publisher's note Springer Nature remains neutral with regard to jurisdictional claims in published maps and institutional affiliations.
Supplementary information
About this article
Cite this article
Ferraro, G.B., Ali, A., Luengo, A. et al. Fatty acid synthesis is required for breast cancer brain metastasis. Nat Cancer 2, 414–428 (2021). https://doi.org/10.1038/s43018-021-00183-y
Received:

Accepted:

Published:

Issue Date:

DOI: https://doi.org/10.1038/s43018-021-00183-y