Abstract
While T-cell responses to cancer immunotherapy have been avidly studied, long-lived memory has been poorly characterized. In a cohort of metastatic melanoma survivors with exceptional responses to immunotherapy, we probed memory CD8+ T-cell responses across tissues, and across several years. Single-cell RNA sequencing revealed three subsets of resident memory T (TRM) cells shared between tumors and distant vitiligo-affected skin. Paired T-cell receptor sequencing further identified clonotypes in tumors that co-existed as TRM in skin and as effector memory T (TEM) cells in blood. Clonotypes that dispersed throughout tumor, skin and blood preferentially expressed an IFNG/TNF-high signature, which had a strong prognostic value for patients with melanoma. Remarkably, clonotypes from tumors were found in patient skin and blood up to 9 years later, with skin maintaining the most focused tumor-associated clonal repertoire. These studies reveal that cancer survivors can maintain durable memory as functional, broadly distributed TRM and TEM compartments.
Relevant articles
Open Access articles citing this article.
Shushu Zhao

,

Shuting Wu

…

Bin Wang

Scientific Reports Open Access 05 July 2023

Wenquan Ou

,

Samantha Stewart

…

Xiaoming He

Nature Communications Open Access 24 January 2023

Jani Huuhtanen

,

Liang Chen

…

Satu Mustjoki

Nature Communications Open Access 11 October 2022
Access options
Access Nature and 54 other Nature Portfolio journals
Get Nature+, our best-value online-access subscription
$29.99 / 30 days
cancel any time
Subscribe to this journal
Receive 12 digital issues and online access to articles
$119.00 per year
only $9.92 per issue
Rent or buy this article
Prices vary by article type
from$1.95
to$39.95
Prices may be subject to local taxes which are calculated during checkout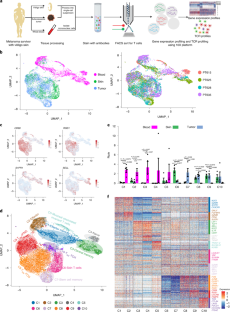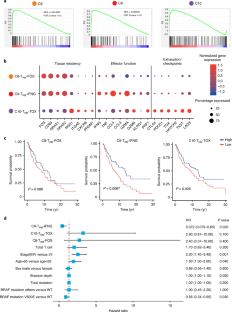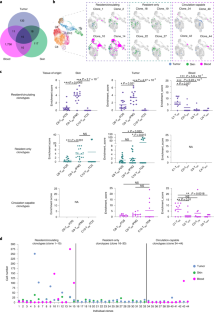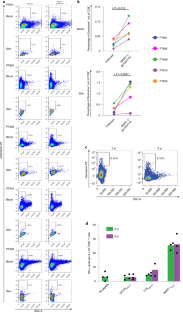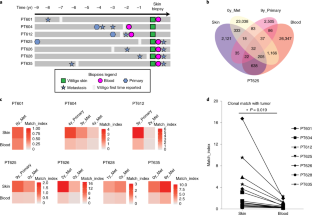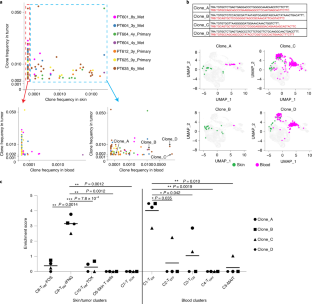 Data availability
Single-cell RNA-seq and TCR-seq data that support the findings of this study have been deposited in the Database of Genotypes and Phenotypes (dbGaP) under the accession code phs002309.v1.p1. Bulk TCR-seq data can be accessed through the ImmuneACCESS database of Adaptive Biotechnologies (https://doi.org/10.21417/JH2021NC; https://clients.adaptivebiotech.com/pub/han-2021-natcancer). The published microarray datasets used to generate the comprehensive CD8+ TRM signature for the GSEA analysis were accessible at the Gene Expression Omnibus (GEO) under accession codes GSE47045, GSE15907 and GSE37448. The remaining gene sets used in the GSEA analysis were accessible through the MSigDB database (https://www.gsea-msigdb.org/gsea/msigdb). The published TCGA skin cutaneous melanoma (SKCM) RNA-seq data used to perform the survival analysis are available at Firehose (http://gdac.broadinstitute.org/). Two additional previously published stage III/IV melanoma patient RNA-seq datasets are available at the GEO database with the following accession numbers: GSE54467 and GSE19234. Source data are provided with this paper. All other data supporting the findings of this study are available from the corresponding author on reasonable request.
References
Larkin, J. et al. Five-year survival with combined nivolumab and ipilimumab in advanced melanoma. N. Engl. J. Med. 381, 1535–1546 (2019).

Robert, C. et al. Nivolumab in previously untreated melanoma without BRAF mutation. N. Engl. J. Med. 372, 320–330 (2015).

Weber, J. S. et al. Nivolumab versus chemotherapy in patients with advanced melanoma who progressed after anti-CTLA-4 treatment (CheckMate 037): a randomised, controlled, open-label, phase 3 trial. Lancet Oncol. 16, 375–384 (2015).

Huang, A. C. et al. T-cell invigoration to tumour burden ratio associated with anti-PD-1 response. Nature 545, 60–65 (2017).

Krieg, C. et al. High-dimensional single-cell analysis predicts response to anti-PD-1 immunotherapy. Nat. Med. 24, 144–153 (2018).

Ribas, A. et al. PD-1 blockade expands intratumoral memory T cells. Cancer Immunol. Res. 4, 194–203 (2016).

Sade-Feldman, M. et al. Defining T cell states associated with response to checkpoint immunotherapy in melanoma. Cell 175, 998–1013.e20 (2018).

Freeman-Keller, M. et al. Nivolumab in resected and unresectable metastatic melanoma: characteristics of immune-related adverse events and association with outcomes. Clin. Cancer Res. 22, 886–894 (2016).

Hua, C. et al. Association of vitiligo with tumor response in patients with metastatic melanoma treated with pembrolizumab. JAMA Dermatol. 152, 45–51 (2016).

Nakamura, Y. et al. Correlation between vitiligo occurrence and clinical benefit in advanced melanoma patients treated with nivolumab: a multi-institutional retrospective study. J. Dermatol. 44, 117–122 (2017).

Malik, B. T. et al. Resident memory T cells in the skin mediate durable immunity to melanoma. Sci. Immunol. 2, eaam6346 (2017).

Gerlach, C. et al. The chemokine receptor CX3CR1 defines three antigen-experienced CD8 T cell subsets with distinct roles in immune surveillance and homeostasis. Immunity 45, 1270–1284 (2016).

Sallusto, F., Lenig, D., Forster, R., Lipp, M. & Lanzavecchia, A. Two subsets of memory T lymphocytes with distinct homing potentials and effector functions. Nature 401, 708–712 (1999).

Herndler-Brandstetter, D. et al. KLRG1+ effector CD8+ T cells lose KLRG1, differentiate into all memory T cell lineages, and convey enhanced protective immunity. Immunity 48, 716–729.e8 (2018).

Guo, X. et al. Global characterization of T cells in non-small-cell lung cancer by single-cell sequencing. Nat. Med. 24, 978–985 (2018).

Martin, M. D. & Badovinac, V. P. Defining memory CD8 T cell. Front. Immunol. 9, 2692 (2018).

Muri, J. et al. The thioredoxin-1 system is essential for fueling DNA synthesis during T-cell metabolic reprogramming and proliferation. Nat. Commun. 9, 1851 (2018).

Wei, H. et al. Cutting edge: Foxp1 controls naive CD8+ T cell quiescence by simultaneously repressing key pathways in cellular metabolism and cell cycle progression. J. Immunol. 196, 3537–3541 (2016).

Zheng, C. et al. Landscape of infiltrating T cells in liver cancer revealed by single-cell sequencing. Cell 169, 1342–1356 e1316 (2017).

Szabo, P. A. et al. Single-cell transcriptomics of human T cells reveals tissue and activation signatures in health and disease. Nat. Commun. 10, 4706 (2019).

Hurton, L. V. et al. Tethered IL-15 augments antitumor activity and promotes a stem-cell memory subset in tumor-specific T cells. Proc. Natl Acad. Sci. USA 113, E7788–E7797 (2016).

Gattinoni, L. et al. A human memory T cell subset with stem cell-like properties. Nat. Med. 17, 1290–1297 (2011).

Molodtsov, A. & Turk, M. J. Tissue resident CD8 memory T cell responses in cancer and autoimmunity. Front. Immunol. 9, 2810 (2018).

Kumar, B. V. et al. Human tissue-resident memory T cells are defined by core transcriptional and functional signatures in lymphoid and mucosal sites. Cell Rep. 20, 2921–2934 (2017).

Wu, T. D. et al. Peripheral T cell expansion predicts tumour infiltration and clinical response. Nature 579, 274–278 (2020).

Mackay, L. K. et al. The developmental pathway for CD103+CD8+ tissue-resident memory T cells of skin. Nat. Immunol. 14, 1294–1301 (2013).

Cheuk, S. et al. CD49a expression defines tissue-resident CD8+ T cells poised for cytotoxic function in human skin. Immunity 46, 287–300 (2017).

Li, H. et al. Dysfunctional CD8 T cells form a proliferative, dynamically regulated compartment within human melanoma. Cell 176, 775–789.e18 (2019).

Savas, P. et al. Single-cell profiling of breast cancer T cells reveals a tissue-resident memory subset associated with improved prognosis. Nat. Med. 24, 986–993 (2018).

Pasetto, A. et al. Tumor- and neoantigen-reactive T-cell receptors can be identified based on their frequency in fresh tumor. Cancer Immunol. Res. 4, 734–743 (2016).

Fairfax, B. P. et al. Peripheral CD8+ T cell characteristics associated with durable responses to immune checkpoint blockade in patients with metastatic melanoma. Nat. Med. 26, 193–199 (2020).

Haymaker, C. L. et al. Metastatic melanoma patient had a complete response with clonal expansion after whole brain radiation and PD-1 blockade. Cancer Immunol. Res. 5, 100–105 (2017).

Tarhini, A. et al. Neoadjuvant ipilimumab (3 mg/kg or 10 mg/kg) and high dose IFN-ɑ2b in locally/regionally advanced melanoma: safety, efficacy and impact on T-cell repertoire. J. Immunother. Cancer 6, 112 (2018).

Edwards, J. et al. CD103+ tumor-resident CD8+ T cells are associated with improved survival in immunotherapy-naive melanoma patients and expand significantly during anti-PD-1 treatment. Clin. Cancer Res. 24, 3036–3045 (2018).

Park, S. L. et al. Tissue-resident memory CD8+ T cells promote melanoma-immune equilibrium in skin. Nature 565, 366–371 (2019).

Shankaran, V. et al. IFNγ and lymphocytes prevent primary tumour development and shape tumour immunogenicity. Nature 410, 1107–1111 (2001).

Higgs, B. W. et al. Interferon gamma messenger RNA signature in tumor biopsies predicts outcomes in patients with non-small cell lung carcinoma or urothelial cancer treated with durvalumab. Clin. Cancer Res. 24, 3857–3866 (2018).

Karachaliou, N. et al. Interferon gamma, an important marker of response to immune checkpoint blockade in non-small cell lung cancer and melanoma patients. Ther. Adv. Med. Oncol. 10, 1758834017749748 (2018).

Alspach, E., Lussier, D. M. & Schreiber, R. D. Interferon gamma and its important roles in promoting and inhibiting spontaneous and therapeutic cancer immunity. Cold Spring Harb. Perspect. Biol. 11, a028480 (2019).

Gaide, O. et al. Common clonal origin of central and resident memory T cells following skin immunization. Nat. Med. 21, 647–653 (2015).

Slutter, B. et al. Dynamics of influenza-induced lung-resident memory T cells underlie waning heterosubtypic immunity. Sci. Immunol. 2, eaag2031 (2017).

Fonseca, R. et al. Developmental plasticity allows outside-in immune responses by resident memory T cells. Nat. Immunol. 21, 412–421 (2020).

Jiang, T. et al. Tumor neoantigens: from basic research to clinical applications. J. Hematol. Oncol. 12, 93 (2019).

Schumacher, T. N. & Schreiber, R. D. Neoantigens in cancer immunotherapy. Science 348, 69–74 (2015).

Butler, A., Hoffman, P., Smibert, P., Papalexi, E. & Satija, R. Integrating single-cell transcriptomic data across different conditions, technologies, and species. Nat. Biotechnol. 36, 411–420 (2018).

Stuart, T. et al. Comprehensive integration of single-cell data. Cell 177, 1888–1902.e21 (2019).

Hafemeister, C. & Satija, R. Normalization and variance stabilization of single-cell RNA-seq data using regularized negative binomial regression. Genome Biol. 20, 296 (2019).

Elpek, K. G. et al. The tumor microenvironment shapes lineage, transcriptional, and functional diversity of infiltrating myeloid cells. Cancer Immunol. Res. 2, 655–667 (2014).

Painter, M. W. et al. Transcriptomes of the B and T lineages compared by multiplatform microarray profiling. J. Immunol. 186, 3047–3057 (2011).

Bolstad, B. M., Irizarry, R. A., Astrand, M. & Speed, T. P. A comparison of normalization methods for high density oligonucleotide array data based on variance and bias. Bioinformatics 19, 185–193 (2003).

Leek, J. T., Johnson, W. E., Parker, H. S., Jaffe, A. E. & Storey, J. D. The sva package for removing batch effects and other unwanted variation in high-throughput experiments. Bioinformatics 28, 882–883 (2012).

Varn, F. S., Wang, Y., Mullins, D. W., Fiering, S. & Cheng, C. Systematic pan-cancer analysis reveals immune cell interactions in the tumor microenvironment. Cancer Res. 77, 1271–1282 (2017).

Liberzon, A. et al. The Molecular Signatures Database (MSigDB) hallmark gene set collection. Cell Syst. 1, 417–425 (2015).

Subramanian, A. et al. Gene set enrichment analysis: a knowledge-based approach for interpreting genome-wide expression profiles. Proc. Natl Acad. Sci. USA 102, 15545–15550 (2005).

Zhao, Y. et al. A leukocyte infiltration score defined by a gene signature predicts melanoma patient prognosis. Mol. Cancer Res. 17, 109–119 (2019).

Menares, E. et al. Tissue-resident memory CD8+ T cells amplify anti-tumor immunity by triggering antigen spreading through dendritic cells. Nat. Commun. 10, 4401 (2019).
Acknowledgements
We are grateful for the generosity of all the patients who volunteered their time and tissue for this study. We thank the nursing staff of the General Surgery clinic at Dartmouth-Hitchcock Medical Center led by L. O'Rourke, and the Norris Cotton Cancer Center melanoma research team, especially B. Highhouse and M. Stannard, for assistance in patient recruitment and coordination. We appreciate the effort from the core facilities—the Dartlab and the Single Cell Genomics Core—at Dartmouth. We thank G. Ward at the Dartlab for FACS sorting expertise. We thank M. Pasca di Magliano for discussion and advice. This work was funded by The Dartmouth CTSA (grant NIH KL2TR0010), the American Cancer Society (grant CSDG 18-167-01), the Dow-Crichlow Career Development Award in Surgery and the Society of Surgical Oncology Clinical Investigator Award to C.V.A.; grant NIH R01 CA225028 and The Knights of the York Cross of Honour Philanthropic Fund to M.J.T.; a Borroughs Welcome BDLS Training Grant to J.H.; grant NIH F31CA232554 to A.M.; and support from grant 5P30 CA023108-40 (Immune Monitoring and Genomics and Molecular Biology Shared Resources). Single-cell sequencing was conducted at the Dartmouth Center for Quantitative Biology with support from NIGMS (grant P20GM130454) and NIH S10 (grant S10OD025235) awards. The views expressed are those of the authors and not necessarily those of the NIH or the American Cancer Society.
Ethics declarations
Competing interests
All authors declare no competing interests.
Additional information
Peer review information Nature Cancer thanks Adil Daud, Ansuman Satpathy and the other, anonymous, reviewer(s) for their contribution to the peer review of this work.
Publisher's note Springer Nature remains neutral with regard to jurisdictional claims in published maps and institutional affiliations.
Supplementary information
Supplementary Tables 1–7.
About this article
Cite this article
Han, J., Zhao, Y., Shirai, K. et al. Resident and circulating memory T cells persist for years in melanoma patients with durable responses to immunotherapy. Nat Cancer 2, 300–311 (2021). https://doi.org/10.1038/s43018-021-00180-1
Received:

Accepted:

Published:

Issue Date:

DOI: https://doi.org/10.1038/s43018-021-00180-1