Abstract
Argininosuccinate synthase (ASS1) downregulation in different tumors has been shown to support cell proliferation and yet, in several common cancer subsets ASS1 expression associates with poor patient prognosis. Here we demonstrate that ASS1 expression under glucose deprivation is induced by c-MYC, providing survival benefit by increasing nitric oxide synthesis and activating the gluconeogenic enzymes pyruvate carboxylase and phosphoenolpyruvate carboxykinase by S-nitrosylation. The resulting increased flux through gluconeogenesis enhances serine, glycine and subsequently purine synthesis. Notably, high ASS1-expressing breast cancer mice do not respond to immune checkpoint inhibitors and patients with breast cancer with high ASS1 have more metastases. We further find that inhibiting purine synthesis increases pyrimidine to purine ratio, elevates expression of the immunoproteasome and significantly enhances the response of autologous primary CD8+ T cells to anti-PD-1. These results suggest that treating patients with high-ASS1 cancers with purine synthesis inhibition is beneficial and may also sensitize them to immune checkpoint inhibition therapy.
This is a preview of subscription content
Access options
Subscribe to Journal
Get full journal access for 1 year
$119.00
only $9.92 per issue
All prices are NET prices.
VAT will be added later in the checkout.
Tax calculation will be finalised during checkout.
Rent or Buy article
Get time limited or full article access on ReadCube.
from$8.99
All prices are NET prices.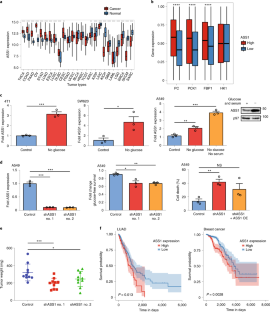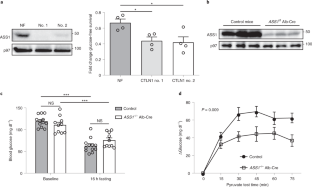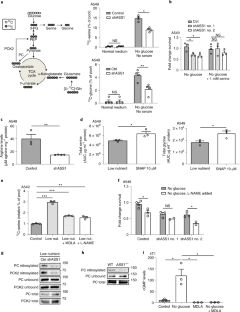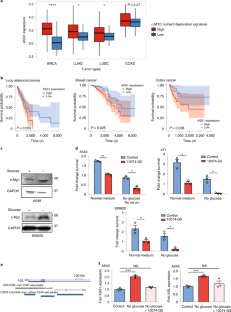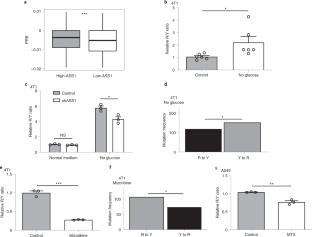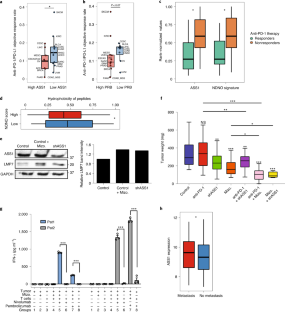 References
1.

Husson, A., Brasse-Lagnel, C., Fairand, A., Renouf, S. & Lavoinne, A. Argininosuccinate synthetase from the urea cycle to the citrulline-NO cycle. Eur. J. Biochem. 270, 1887–1899 (2003).

2.

Erez, A., Nagamani, S. C. & Lee, B. Argininosuccinate lyase deficiency-argininosuccinic aciduria and beyond. Am. J. Med. Genet. 157, 45–53 (2011).

3.

Liu, Q. et al. Reduced expression of argininosuccinate synthetase 1 has a negative prognostic impact in patients with pancreatic ductal adenocarcinoma. PLoS ONE 12, e0171985 (2017).

4.

Sahu, D. et al. Argininosuccinate synthetase 1 loss in invasive bladder cancer regulates survival through general control nonderepressible 2 kinase-mediated eukaryotic initiation factor 2α activity and is targetable by pegylated arginine deiminase. Am. J. Pathol. https://doi.org/10.1016/j.ajpath.2016.09.004 (2016).

5.

Kim, Y. et al. Reduced argininosuccinate synthetase expression in refractory sarcomas: impacts on therapeutic potential and drug resistance. Oncotarget 7, 70832–70844 (2016).

6.

Wu, L. et al. Expression of argininosuccinate synthetase in patients with hepatocellular carcinoma. J. Gastroenterol. Hepatol. 28, 365–368 (2013).

7.

Rabinovich, S. et al. Diversion of aspartate in ASS1-deficient tumours fosters de novo pyrimidine synthesis. Nature 527, 379–383 (2015).

8.

Kim, J. et al. CPS1 maintains pyrimidine pools and DNA synthesis in KRAS/LKB1-mutant lung cancer cells. Nature 546, 168–172 (2017).

9.

Lee, J. S. et al. Urea cycle dysregulation generates clinically relevant genomic and biochemical signatures. Cell 174, e1522 (2018).

10.

Delage, B. et al. Arginine deprivation and argininosuccinate synthetase expression in the treatment of cancer. Int. J. Cancer 126, 2762–2772 (2010).

11.

Szlosarek, P. W. et al. Aberrant regulation of argininosuccinate synthetase by TNF-α in human epithelial ovarian cancer. Int. J. Cancer 121, 6–11 (2007).

12.

Vincent, E. E. et al. Mitochondrial phosphoenolpyruvate carboxykinase regulates metabolic adaptation and enables glucose-independent tumor growth. Mol. Cell 60, 195–207 (2015).

13.

Mihaylova, M. M. et al. Class IIa histone deacetylases are hormone-activated regulators of FOXO and mammalian glucose homeostasis. Cell 145, 607–621 (2011).

14.

Mesonero, J., Matosin, M., Cambier, D., Rodriguez-Yoldi, M. J. & Brot-Laroche, E. Sugar-dependent expression of the fructose transporter GLUT5 in Caco-2 cells. Biochem. J. 312(Pt 3), 757–762 (1995).

15.

Bean, G. R. et al. A metabolic synthetic lethal strategy with arginine deprivation and chloroquine leads to cell death in ASS1-deficient sarcomas. Cell Death Dis. 7, e2406 (2016).

16.

Bateman, L. A. et al. Argininosuccinate synthase 1 is a metabolic regulator of colorectal cancer pathogenicity. ACS Chem. Biol. 12, 905–911 (2017).

17.

Miles, L., Heubi, J. E. & Bove, K. E. Hepatocyte glycogen accumulation in patients undergoing dietary management of urea cycle defects mimics storage disease. J. Pediatr. Gastr. Nutr. 40, 471–476 (2005).

18.

Kuhara, H. et al. Neonatal type of argininosuccinate synthetase deficiency. Report of two cases with autopsy findings. Acta Pathol. Jpn. 35, 995–1006 (1985).

19.

Bigot, A., Tchan, M. C., Thoreau, B., Blasco, H. & Maillot, F. Liver involvement in urea cycle disorders: a review of the literature. J. Inherit. Metab. Dis. 40, 757–769 (2017).

20.

Postic, C. et al. Dual roles for glucokinase in glucose homeostasis as determined by liver and pancreatic β cell-specific gene knock-outs using Cre recombinase. J. Biol. Chem. 274, 305–315 (1999).

21.

Perez, C. J. et al. Two hypomorphic alleles of mouse ass1 as a new animal model of citrullinemia type I and other hyperammonemic syndromes. Am. J. Pathol. 177, 1958–1968 (2010).

22.

Pennisi, P. et al. Recombinant human insulin-like growth factor-I treatment inhibits gluconeogenesis in a transgenic mouse model of type 2 diabetes mellitus. Endocrinology 147, 2619–2630 (2006).

23.

Rashed, H. M., Nair, B. G. & Patel, T. B. Regulation of hepatic glycolysis and gluconeogenesis by atrial natriuretic peptide. Arch. Biochem. Biophys. 298, 640–645 (1992).

24.

Zareba-Koziol, M., Szwajda, A., Dadlez, M., Wyslouch-Cieszynska, A. & Lalowski, M. Global analysis of S-nitrosylation sites in the wild type (APP) transgenic mouse brain-clues for synaptic pathology. Mol. Cell Proteomics 13, 2288–2305 (2014).

25.

Pae, H. O. et al. Nitric oxide protects murine embryonic liver cells (BNL CL.2) from cytotoxicity induced by glucose deprivation. Pharmacol. Toxicol. 86, 140–144 (2000).

26.

Cherry, P. D. & Wolin, M. S. Ascorbate activates soluble guanylate cyclase via H2O2-metabolism by catalase. Free Radic. Biol. Med. 7, 485–490 (1989).

27.

Keilhoff, G., Reiser, M., Stanarius, A., Aoki, E. & Wolf, G. Citrulline immunohistochemistry for demonstration of NOS activity in vivo and in vitro. Nitric Oxide 4, 343–353 (2000).

28.

Park, S. W. et al. Nitric oxide upregulates the cyclooxygenase-2 expression through the cAMP-response element in its promoter in several cancer cell lines. Oncogene 24, 6689–6698 (2005).

29.

Sun, L. et al. cMyc-mediated activation of serine biosynthesis pathway is critical for cancer progression under nutrient deprivation conditions. Cell Res. 25, 429–444 (2015).

30.

Tsai, W. B. et al. Resistance to arginine deiminase treatment in melanoma cells is associated with induced argininosuccinate synthetase expression involving c-Myc/HIF-1α/Sp4. Mol. Cancer Ther. 8, 3223–3233 (2009).

31.

Follis, A. V., Hammoudeh, D. I., Wang, H., Prochownik, E. V. & Metallo, S. J. Structural rationale for the coupled binding and unfolding of the c-Myc oncoprotein by small molecules. Chem. Biol. 15, 1149–1155 (2008).

32.

Erez, A. et al. Requirement of argininosuccinate lyase for systemic nitric oxide production. Nat. Med. 17, 1619–1626 (2011).

33.

The ENCODE Project Consortium. An integrated encyclopedia of DNA elements in the human genome. Nature 489, 57–74 (2012).

34.

Walz, S. et al. Activation and repression by oncogenic MYC shape tumour-specific gene expression profiles. Nature 511, 483–487 (2014).

35.

Burrows, N. et al. Hypoxia-induced nitric oxide production and tumour perfusion is inhibited by pegylated arginine deiminase (ADI-PEG20). Sci. Rep. 6, 22950 (2016).

36.

Yokota, S. Mizoribine: mode of action and effects in clinical use. Pediatr. Int. 44, 196–198 (2002).

37.

Yarchoan, M., Hopkins, A. & Jaffee, E. M. Tumor mutational burden and response rate to PD-1 inhibition. N. Engl. J. Med. 377, 2500–2501 (2017).

38.

Lee, J. S. et al. Whole exome precision oncology targeting synthetic lethal vulnerabilities across the tumor transcriptome. Preprint at bioRxiv https://doi.org/10.1101/2020.02.16.951699 (2020).

39.

Spits, M. & Neefjes, J. Immunoproteasomes and immunotherapy-a smoking gun for lung cancer? J. Thorac. Dis. 8, E558–E563 (2016).

40.

Basler, M., Kirk, C. J. & Groettrup, M. The immunoproteasome in antigen processing and other immunological functions. Curr. Opin. Immunol. 25, 74–80 (2013).

41.

Lee, M. et al. Expression of immunoproteasome subunit LMP7 in breast cancer and its association with immune-related markers. Cancer Res. Treat. 51, 80–89 (2019).

42.

Vijayan, D., Young, A., Teng, M. W. L. & Smyth, M. J. Targeting immunosuppressive adenosine in cancer. Nat. Rev. Cancer 17, 709–724 (2017).

43.

Fu, Y., Liu, S., Zeng, S. & Shen, H. The critical roles of activated stellate cells-mediated paracrine signaling, metabolism and onco-immunology in pancreatic ductal adenocarcinoma. Mol. Cancer 17, 62 (2018).

44.

Shan, Y. S. et al. Argininosuccinate synthetase 1 suppression and arginine restriction inhibit cell migration in gastric cancer cell lines. Sci. Rep. 5, 9783 (2015).

45.

Cheng, S. H. et al. Validation of the 18-gene classifier as a prognostic biomarker of distant metastasis in breast cancer. PLoS ONE 12, e0184372 (2017).

46.

Montal, E. D. et al. PEPCK coordinates the regulation of central carbon metabolism to promote cancer cell growth. Mol. Cell 60, 571–583 (2015).

47.

Possemato, R. et al. Functional genomics reveal that the serine synthesis pathway is essential in breast cancer. Nature 476, 346–350 (2011).

48.

Antonov, A. et al. Bioinformatics analysis of the serine and glycine pathway in cancer cells. Oncotarget 5, 11004–11013 (2014).

49.

DeBerardinis, R. J. & Chandel, N. S. Fundamentals of cancer metabolism. Sci. Adv. 2, e1600200 (2016).

50.

Erb, N., Harms, D. O. & Janka-Schaub, G. Pharmacokinetics and metabolism of thiopurines in children with acute lymphoblastic leukemia receiving 6-thioguanine versus 6-mercaptopurine. Cancer Chemoth. Pharm. 42, 266–272 (1998).

51.

Forrester, M. T. et al. Proteomic analysis of S-nitrosylation and denitrosylation by resin-assisted capture. Nat. Biotechnol. 27, 557–559 (2009).

52.

Stettner, N. et al. Induction of nitric-oxide metabolism in enterocytes alleviates colitis and inflammation-associated colon cancer. Cell Rep. 23, 1962–1976 (2018).

53.

Goldman, M. et al. The UCSC Xena Platform for cancer genomics data visualization and interpretation. Preprint at bioRxiv https://doi.org/10.1101/326470 (2018).

54.

Mantel, N. Evaluation of survival data and two new rank order statistics arising in its consideration. Cancer Chemother. Rep. 50, 163–170 (1966).

55.

McLaren, W. et al. The Ensembl Variant Effect Predictor. Genome Biol. 17, 122 (2016).

56.

Barretina, J. et al. The cancer cell line encyclopedia enables predictive modelling of anticancer drug sensitivity. Nature 483, 603–607 (2012).

57.

Janin, J. Surface and inside volumes in globular proteins. Nature 277, 491–492 (1979).

58.

Cheng, S. H. et al. Validation of the 18-gene classifier as a prognostic biomarker of distant metastasis in breast cancer. PLoS ONE 12, e0184372 (2017).
Acknowledgements
We acknowledge and thank the Weizmann Institute for providing financial and infrastructural support. We thank S. Mcguirck, McGill University, Montreal, Canada, for assistance with GC–MS data analysis. The MC-38 cancer cell line was kindly given to us by E. Elinav from the Weizmann Institute of Science. A.E. is incumbent of the Leah Omenn Career Development Chair and is supported by research grants from the European research program (ERC818943) and from the Israel Science Foundation (860/18). A.E. received additional support from The Moross Integrated Cancer Center, Sagol Institute for Longevity Research, Adelis Foundation, Rising Tide Foundation and from Manya and Adolph Zarovinsky. L.A. receives support from Robin Lynn & Lawrence S. Blumberg. E. Ruppin gratefully acknowledges support from NCI/CCR intramural funding. J.S.L. is partly supported by a grant of the National Research Foundation of Korea funded by the Korean Government (NRF-2020R1A2C2007652). A.P. is supported by the NRF-ISF grant 3127/19.
Ethics declarations
Competing interests
The authors declare no competing interests.
Additional information
Publisher's note Springer Nature remains neutral with regard to jurisdictional claims in published maps and institutional affiliations.
Supplementary information
Supplementary Tables 1–5.
About this article
Cite this article
Keshet, R., Lee, J.S., Adler, L. et al. Targeting purine synthesis in ASS1-expressing tumors enhances the response to immune checkpoint inhibitors. Nat Cancer 1, 894–908 (2020). https://doi.org/10.1038/s43018-020-0106-7
Received:

Accepted:

Published:

Issue Date:
Further reading
Elodie Villa
Issam Ben-Sahra

Nature Cancer (2020)

Michaël Cerezo
Stéphane Rocchi

Cell Death & Disease (2020)