Abstract
Immune checkpoint blockade (ICB) provides clinical benefit to a subset of patients with cancer. However, existing biomarkers do not reliably predict treatment response across diverse cancer types. Limited data exist to show how serial circulating tumor DNA (ctDNA) testing may perform as a predictive biomarker in patients receiving ICB. We conducted a prospective phase II clinical trial to assess ctDNA in five distinct cohorts of patients with advanced solid tumors treated with pembrolizumab (NCT02644369). We applied bespoke ctDNA assays to 316 serial plasma samples obtained at baseline and every three cycles from 94 patients. Baseline ctDNA concentration correlated with progression-free survival, overall survival, clinical response and clinical benefit. This association became stronger when considering ctDNA kinetics during treatment. All 12 patients with ctDNA clearance during treatment were alive with median 25 months follow up. This study demonstrates the potential for broad clinical utility of ctDNA-based surveillance in patients treated with ICB.
Relevant articles
Open Access articles citing this article.
Jeffrey C. Thompson

,

Dylan G. Scholes

…

Charu Aggarwal

British Journal of Cancer Open Access 03 October 2023

Daniele Santini

,

Andrea Botticelli

…

Gian Paolo Spinelli

Journal of Experimental & Clinical Cancer Research Open Access 04 August 2023

Ariana Huebner

,

James R. M. Black

…

Rodrigo A. Toledo

Genome Medicine Open Access 20 April 2023
Access options
Access Nature and 54 other Nature Portfolio journals
Get Nature+, our best-value online-access subscription
$29.99 / 30 days
cancel any time
Subscribe to this journal
Receive 12 digital issues and online access to articles
$119.00 per year
only $9.92 per issue
Rent or buy this article
Prices vary by article type
from$1.95
to$39.95
Prices may be subject to local taxes which are calculated during checkout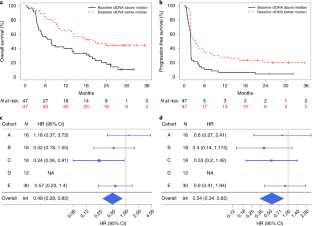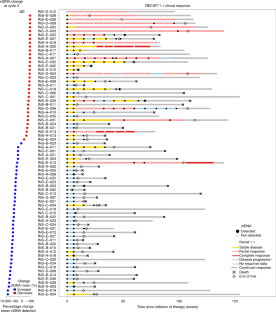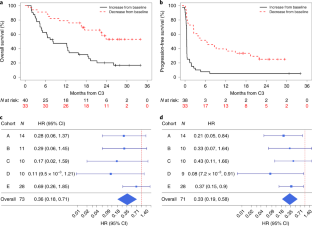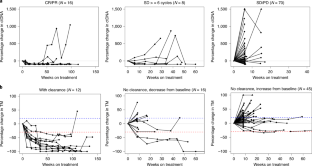 Data availability
Anonymized WES data of tumor and match normals are available with controlled access approval through the European Genome-Phenome Archive under accession number EGAS00001003280. Source data for Figs. 1–6 can be found in Source data Figs. 1–6 files, and Source data for Extended Data Fig. 2–8 can be found in Source data Extended Data Fig. 2–8 files. The supporting variant level data for all figures are available in Supplementary Table 4. All other data supporting the findings of this study are available from the corresponding author on reasonable request. Source data are provided with this paper.
References
Bedognetti, D. et al. Toward a comprehensive view of cancer immune responsiveness: a synopsis from the SITC workshop. J. Immunother. Cancer 7, 131 (2019).

Hause, R. J., Pritchard, C. C., Shendure, J. & Salipante, S. J. Classification and characterization of microsatellite instability across 18 cancer types. Nat. Med. 22, 1342–1350 (2016).

Jenkins, R. W., Thummalapalli, R., Carter, J., Canadas, I. & Barbie, D. A. Molecular and genomic determinants of response to immune checkpoint inhibition in cancer. Annu. Rev. Med. 69, 333–347 (2018).

Rizvi, N. A. et al. Cancer immunology. Mutational landscape determines sensitivity to PD-1 blockade in non-small cell lung cancer. Science 348, 124–128 (2015).

Snyder, A. et al. Genetic basis for clinical response to CTLA-4 blockade in melanoma. N. Engl. J. Med. 371, 2189–2199 (2014).

Tumeh, P. C. et al. PD-1 blockade induces responses by inhibiting adaptive immune resistance. Nature. 515, 568–571 (2014).

Gibney, G. T., Weiner, L. M. & Atkins, M. B. Predictive biomarkers for checkpoint inhibitor-based immunotherapy. Lancet Oncol. 17, e542–e551 (2016).

Eisenhauer, E. A. et al. New response evaluation criteria in solid tumours: revised RECIST guideline (version 1.1). Eur. J. Cancer 45, 228–247 (2009).

Wolchok, J. D. et al. Guidelines for the evaluation of immune therapy activity in solid tumors: immune-related response criteria. Clin. Cancer Res. 15, 7412–7420 (2009).

Ribas, A., Chmielowski, B. & Glaspy, J. A. Do we need a different set of response assessment criteria for tumor immunotherapy? Clin. Cancer Res. 15, 7116–7118 (2009).

Corcoran, R. B. & Chabner, B. A. Application of cell-free DNA analysis to cancer treatment. N. Engl. J. Med. 379, 1754–1765 (2018).

Cabel, L. et al. Clinical potential of circulating tumour DNA in patients receiving anticancer immunotherapy. Nat. Rev. Clin. Oncol. 15, 639–650 (2018).

Anagnostou, V. et al. Dynamics of tumor and immune responses during immune checkpoint blockade in non-small cell lung cancer. Cancer Res. 79, 1214–1225 (2019).

Cabel, L. et al. Circulating tumor DNA changes for early monitoring of anti-PD1 immunotherapy: a proof-of-concept study. Ann. Oncol. 28, 1996–2001 (2017).

Giroux Leprieur, E. et al. Circulating tumor DNA evaluated by Next-Generation Sequencing is predictive of tumor response and prolonged clinical benefit with nivolumab in advanced non-small cell lung cancer. Oncoimmunology. 7, e1424675 (2018).

Goldberg, S. B. et al. Early assessment of lung cancer immunotherapy response via circulating tumor DNA. Clin. Cancer Res. 24, 1872–1880 (2018).

Gray, E. S. et al. Circulating tumor DNA to monitor treatment response and detect acquired resistance in patients with metastatic melanoma. Oncotarget 6, 42008–42018 (2015).

Lee, J. H. et al. Circulating tumour DNA predicts response to anti-PD1 antibodies in metastatic melanoma. Ann. Oncol. 28, 1130–1136 (2017).

Lee, J. H. et al. Association between circulating tumor DNA and pseudoprogression in patients with metastatic melanoma treated with anti-programmed cell death 1 antibodies. JAMA Oncol. 4, 717–721 (2018).

Raja, R. et al. Early reduction in ctDNA predicts survival in patients with lung and bladder cancer treated with durvalumab. Clin. Cancer Res. 24, 6212–6222 (2018).

Moding, E. J. et al. Circulating tumor DNA dynamics predict benefit from consolidation immunotherapy in locally advanced non-small-cell lung cancer. Nat. Cancer 1, 176–183 (2020).

Clouthier, D. L. et al. An interim report on the investigator-initiated phase 2 study of pembrolizumab immunological response evaluation (INSPIRE). J. Immunother. Cancer 7, 72 (2019).

Coombes, R. C. et al. Personalized detection of circulating tumor DNA antedates breast cancer metastatic recurrence. Clin. Cancer Res. 25, 4255–4263 (2019).

Magbanua, M. J. M. et al. Circulating tumor DNA in neoadjuvant treated breast cancer reflects response and survival. Preprint at medRxiv https://doi.org/10.1101/2020.02.03.20019760 (2020).

Christensen, E. et al. Early detection of metastatic relapse and monitoring of therapeutic efficacy by ultra-deep sequencing of plasma cell-free DNA in patients with urothelial bladder carcinoma. J. Clin. Oncol. 37, 1547–1557 (2019).

Reinert, T. et al. Analysis of of plasma cell-free DNA by ultradeep sequencing in patients with stages I to III colorectal cancer. JAMA Oncol. 5, 1124–1131 (2019).

Newman, A. M. et al. Integrated digital error suppression for improved detection of circulating tumor DNA. Nat. Biotechnol. 34, 547–555 (2016).

Koboldt, D. C. et al. VarScan 2: somatic mutation and copy number alteration discovery in cancer by exome sequencing. Genome Res. 22, 568–576 (2012).

McKenna, A. et al. The Genome Analysis Toolkit: a MapReduce framework for analyzing next-generation DNA sequencing data. Genome Res. 20, 1297–1303 (2010).

Cibulskis, K. et al. Sensitive detection of somatic point mutations in impure and heterogeneous cancer samples. Nat. Biotechnol. 31, 213–219 (2013).

Lai, Z. et al. VarDict: a novel and versatile variant caller for next-generation sequencing in cancer research. Nucleic Acids Res. 44, e108 (2016).

Salipante, S. J., Scroggins, S. M., Hampel, H. L., Turner, E. H. & Pritchard, C. C. Microsatellite instability detection by next generation sequencing. Clin. Chem. 60, 1192–1199 (2014).

McGranahan, N. et al. Clonal status of actionable driver events and the timing of mutational processes in cancer evolution. Sci. Transl. Med. 7, 283ra254 (2015).
Acknowledgements
Major funding support for the project was made possible by the Princess Margaret Cancer Foundation, Ontario Institute for Cancer Research and Terry Fox Research Institute. We thank Merck for contributing the study drug for the clinical trial. S.V.B. and T.J.P. were supported by the Gattuso-Slaight Personalized Cancer Medicine Fund. S.Y.C.Y. was supported in part by the University of Toronto Medical Biophysics OSOTF Excellence Award. M.A.J.I. was supported in part by a fellowship through the BMO Chair in Precision Cancer Genomics. L.L.S. holds the BMO Chair in Precision Cancer Genomics. T.J.P. holds the Canada Research Chair in Translational Genomics and is supported by a Senior Investigator Award from the Ontario Institute for Cancer Research. We are grateful to R. Salari, H.-T. Wu and S. Dashner for their technical support and insightful discussions of the project. We gratefully acknowledge the individuals from the Princess Margaret Tumour Immunotherapy Program (https://www.pm-tumorimmunotherapyprogram.ca/), including the immune monitoring (M. Butler, D. Gray, V. Sotov and D. Liu) and tissue correlatives (V. Speers, A. Giesler and S. Hakgor) teams. We thank the staff of the Princess Margaret Genomics Centre (https://www.pmgenomics.ca), Bioinformatics and High-Performance Computing Core, and PM-OICR Translational Genomics Laboratory (https://labs.oicr.on.ca/translational-genomics-laboratory) for their expertise in generating the sequencing data used in this study. Additional infrastructure support from the Canada Foundation for Innovation, Leaders Opportunity Fund (32383); Ontario Ministry of Research and Innovation, Ontario Research Fund Small Infrastructure Program and Ontario Institute for Cancer Research (https://genomics.oicr.on.ca).
Ethics declarations
Competing interests
S.V.B. provides consultation for Bristol-Myers Squibb, receives research support from Nektar Therapeutics and is a coinventor on a patent application relating to circulating tumor DNA mutation detection technology (PCT/US2014/02502, licensed to Roche Molecular Diagnostics) and on a patent application relating to ctDNA methylation analysis technology (PCT/CA2018/000203). L.L.S. provides consultation for Merck (compensated), Pfizer (compensated), Celgene (compensated), AstraZeneca (compensated), Morphosys (compensated), Roche (compensated), GeneSeeq (compensated), Loxo (compensated), Oncorus (compensated), Symphogen (compensated), Seattle Genetics (compensated), GlaxoSmithKline (compensated), Voronoi (compensated), Treadwell Therapeutics (compensated), Arvinas (compensated), Tessa (compensated), Navire (compensated); receives research support (institutional) from Novartis, Bristol-Myers Squibb, Pfizer, Boerhinger-Ingelheim, GlaxoSmithKline, Roche/Genentech, Karyopharm, AstraZeneca/Medimmune, Merck, Celgene, Astellas, Bayer, Abbvie, Amgen, Symphogen, Intensity Therapeutics, Mirati, Shattucks and Avid; and is a stockholder in Agios (spouse) and Treadwell Therapeutics (spouse). S.S., M.L., P.B., B.Z., H.S. and A.A. are employees of Natera, Inc. T.J.P. provides consultation for Merck, Chrysalis Biomedical Advisors and the Canadian Pension Plan Investment Board, and receives research support from Roche.
Additional information
Publisher's note Springer Nature remains neutral with regard to jurisdictional claims in published maps and institutional affiliations.
Supplementary information
Supplementary Tables 1–8.
About this article
Cite this article
Bratman, S.V., Yang, S.Y.C., Iafolla, M.A.J. et al. Personalized circulating tumor DNA analysis as a predictive biomarker in solid tumor patients treated with pembrolizumab. Nat Cancer 1, 873–881 (2020). https://doi.org/10.1038/s43018-020-0096-5
Received:

Accepted:

Published:

Issue Date:

DOI: https://doi.org/10.1038/s43018-020-0096-5