The approval of anti-TNF therapy for colitis over 20 years ago represented a paradigm shift for the treatment of this disease. Anti-TNF therapy is now shown to prevent colitis-associated colon cancer in mice by modifying the gut microbiota composition and transcriptional activity, including genes in Escherichia coli that control colibactin synthesis.
This is a preview of subscription content
Access options
Subscribe to Journal
Get full journal access for 1 year
$119.00
only $9.92 per issue
All prices are NET prices.
VAT will be added later in the checkout.
Tax calculation will be finalised during checkout.
Rent or Buy article
Get time limited or full article access on ReadCube.
from$8.99
All prices are NET prices.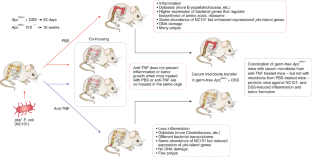 References
1.

Pouillon, L., Travis, S., Bossuyt, P., Danese, S. & Peyrin-Biroulet, L. Nat. Rev. Gastroenterol. Hepatol. 17, 365–376 (2020).

2.

Brennan, C. A. & Garrett, W. S. Annu. Rev. Microbiol. 70, 395–411 (2016).

3.

Moutinho, B. D., de Barros, J. R., Baima, J. P., Saad-Hossne, R. & Sassaki, L. Y. Am. J. Case Rep. 21, e920949 (2020).

4.

Popivanova, B. K. et al. J. Clin. Invest. 118, 560–570 (2008).

5.

Drewes, J. L. et al. NPJ Biofilms Microbiomes 3, 34 (2017).

6.

Wirbel, J. et al. Nat. Med. 25, 679–689 (2019).

7.

Carlson, E. S. & Balskus, E. P. Nat. Chem. 11, 867–869 (2019).

8.

Arthur, J. C. et al. Science 338, 120–123 (2012).

9.

Pleguezuelos-Manzano, C. et al. Nature 580, 269–273 (2020).

10.

Wilson, M. R. et al. Science 363, eaar7785 (2019).

11.

Yang, y, Gharaibeh, R. Z., Newsome, R. C. & Jobin, C. Nat. Cancer https://doi.org/10.1038/s43018-020-0078-7 (2020).

12.

Martin, P. et al. PLoS Pathog. 9, e1003437 (2013).

13.

Lee, J. H. et al. Am. J. Respir. Crit. Care Med. 168, 1462–1470 (2003).

14.

Dejea, C. M. et al. Science 359, 592–597 (2018).

15.

Tomasetti, C., Marchionni, L., Nowak, M. A., Parmigiani, G. & Vogelstein, B. Proc. Natl Acad. Sci. USA 112, 118–123 (2015).
Ethics declarations
Competing interests
The author declares no competing interests.
About this article
Cite this article
Trinchieri, G. TNF-shaped microbiota promotes cancer. Nat Cancer 1, 667–669 (2020). https://doi.org/10.1038/s43018-020-0090-y