Abstract
Metabolic reprogramming is a core hallmark of cancer but it remains poorly defined in hepatocellular carcinogenesis (HCC). Here we show that hepatic aldolase B (Aldob) suppresses HCC by directly binding and inhibiting the rate-limiting enzyme in the pentose phosphate pathway, glucose-6-phosphate dehydrogenase (G6PD). A stage-dependent decrease of Aldob and increase of G6PD in human tumors are correlated with poor prognosis for patients with HCC. Global or liver-specific Aldob knockout promotes tumorigenesis in mice through enhancing G6PD activity and pentose phosphate pathway metabolism, whereas pharmacological inhibition or genetic knockdown of G6PD suppresses HCC. Consistently, restoration of Aldob in Aldob knockout mice attenuates tumorigenesis. We further demonstrate that Aldob potentiates p53-mediated inhibition of G6PD in an Aldob–G6PD–p53 complex. This scaffolding effect is independent of Aldob enzymatic activity. Together, our study reveals a new mode of metabolic reprogramming in HCC due to the loss of Aldob, suggesting a potential therapeutic strategy for HCC treatment.
This is a preview of subscription content
Access options
Subscribe to Journal
Get full journal access for 1 year
$119.00
only $9.92 per issue
All prices are NET prices.
VAT will be added later in the checkout.
Tax calculation will be finalised during checkout.
Rent or Buy article
Get time limited or full article access on ReadCube.
from$8.99
All prices are NET prices.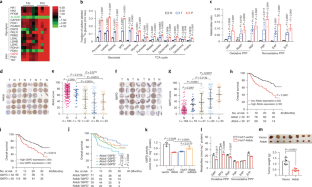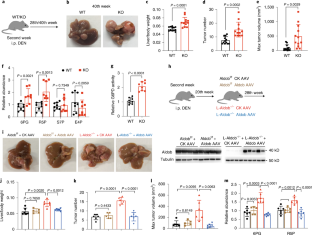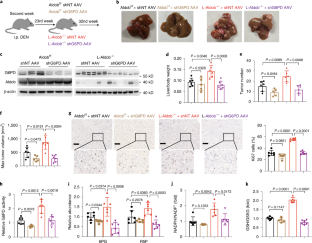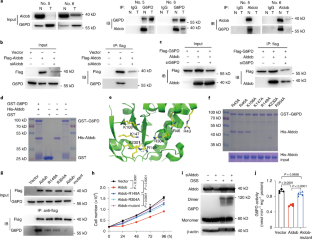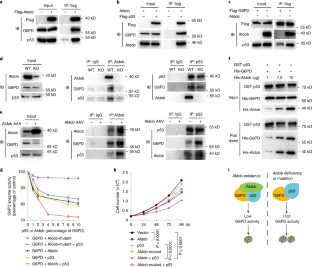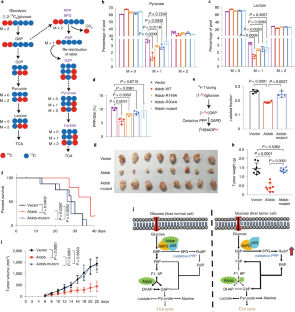 Data availability
Microarray data of human HCC tissues were deposited at the Gene Expression Omnibus with accession number GSE74656. Source data for Figs. 1–6 and Extended Data Figs. 1–8 have been provided with the paper. All other data supporting the findings of this study are available from the corresponding author upon reasonable request. Source data are provided with this paper.
References
1.

Villanueva, A. Hepatocellular carcinoma. N. Engl. J. Med. 380, 1450–1462 (2019).

2.

Hatziapostolou, M. et al. An HNF4α-miRNA inflammatory feedback circuit regulates hepatocellular oncogenesis. Cell 147, 1233–1247 (2011).

3.

Park, E. J. et al. Dietary and genetic obesity promote liver inflammation and tumorigenesis by enhancing IL-6 and TNF expression. Cell 140, 197–208 (2010).

4.

Hay, N. Reprogramming glucose metabolism in cancer: can it be exploited for cancer therapy? Nat. Rev. Cancer. 16, 635–649 (2016).

5.

Levine, A. J. & Puzio-Kuter, A. M. The control of the metabolic switch in cancers by oncogenes and tumor suppressor genes. Science 330, 1340–1344 (2010).

6.

Li, B. et al. Fructose-1,6-bisphosphatase opposes renal carcinoma progression. Nature 513, 251–255 (2014).

7.

Whittle, M. C. et al. RUNX3 controls a metastatic switch in pancreatic ductal adenocarcinoma. Cell 161, 1345–1360 (2015).

8.

Yeh, H. W. et al. PSPC1 mediates TGF-β1 autocrine signalling and Smad2/3 target switching to promote EMT, stemness and metastasis. Nat. Cell Biol. 20, 479–491 (2018).

9.

DeBerardinis, R. J. & Thompson, C. B. Cellular metabolism and disease: what do metabolic outliers teach us?. Cell 148, 1132–1144 (2012).

10.

DeBerardinis, R. J. & Chandel, N. S. Fundamentals of cancer metabolism. Sci. Adv. 2, e1600200 (2016).

11.

Du, W. et al. TAp73 enhances the pentose phosphate pathway and supports cell proliferation. Nat. Cell Biol. 15, 991–1000 (2013).

12.

Chen, L. et al. NADPH production by the oxidative pentose-phosphate pathway supports folate metabolism. Nat. Metab. 1, 404–415 (2019).

13.

Lu, M. et al. Elevated G6PD expression contributes to migration and invasion of hepatocellular carcinoma cells by inducing epithelial-mesenchymal transition. Acta Bioch. Bioph. Sin. 50, 370–380 (2018).

14.

Dore, M. P., Vidili, G., Marras, G., Assy, S. & Pes, G. M. Inverse association between glucose‒6‒phosphate dehydrogenase deficiency and hepatocellular carcinoma. Asian Pac. J. Cancer Prev. 19, 1069–1073 (2018).

15.

Hu, H. et al. Changes in glucose-6-phosphate dehydrogenase expression results in altered behavior of HBV-associated liver cancer cells. Am. J. Physiol. Gastrointest. Liver Physiol. 307, G611–G622 (2014).

16.

Mele, L. et al. A new inhibitor of glucose-6-phosphate dehydrogenase blocks pentose phosphate pathway and suppresses malignant proliferation and metastasis in vivo. Cell Death Dis. 9, 572 (2018).

17.

Lebherz, H. G. & Rutter, W. J. Distribution of fructose diphosphate aldolase variants in biological systems. Biochemistry 8, 109–121 (1969).

18.

Rutter, W. J., Rajkumar, T., Penhoet, E., Kochman, M. & Valentine, R. Aldolase variants: structure and physiological significance. Ann. NY Acad. Sci. 151, 102–117 (1968).

19.

Koo, H.-Y. et al. Dietary fructose induces a wide range of genes with distinct shift in carbohydrate and lipid metabolism in fed and fasted rat liver. Biochim. Biophys. Acta 1782, 341–348 (2008).

20.

Bu, P. et al. Aldolase B-mediated fructose metabolism drives metabolic reprogramming of colon cancer liver metastasis. Cell Metab. 27, 1249–1262 (2018).

21.

Oppelt, S. A., Sennott, E. M. & Tolan, D. R. Aldolase-B knockout in mice phenocopies hereditary fructose intolerance in humans. Mol. Genet. Metab. 114, 445–450 (2015).

22.

Chang, Y.-C., Yang, Y.-C., Tien, C.-P., Yang, C.-J. & Hsiao, M. Roles of aldolase family genes in human cancers and diseases. Trends Endocrin. Metab. 29, 549–559 (2018).

23.

Penhoet, E., Rajkumar, T. & Rutter, W. J. Multiple forms of fructose diphosphate aldolase in mammalian tissues. Proc. Natl Acad. Sci. USA 56, 1275–1282 (1966).

24.

Zhang, C. S. et al. Fructose-1,6-bisphosphate and aldolase mediate glucose sensing by AMPK. Nature 548, 112–116 (2017).

25.

Hai, H. et al. Phosphoinositide 3-kinase regulates glycolysis through mobilization of aldolase from the actin cytoskeleton. Cell 164, 433–446 (2016).

26.

Bu, P. et al. Aldolase B-mediated fructose metabolism drives metabolic reprogramming of colon cancer liver metastasis. Cell Metab. 27, 1249–1262 (2018).

27.

Wang, Y. et al. Identification of four isoforms of aldolase B down-regulated in hepatocellular carcinoma tissues by means of two-dimensional western blotting. In Vivo 25, 881–886 (2011).

28.

Peng, S. Y., Lai, P. L., Pan, H. W., Hsiao, L. P. & Hsu, H. C. Aberrant expression of the glycolytic enzymes aldolase B and type II hexokinase in hepatocellular carcinoma are predictive markers for advanced stage, early recurrence and poor prognosis. Oncol. Rep. 19, 1045–1053 (2008).

29.

Tao, Q. F. et al. Aldolase B inhibits metastasis through ten-eleven translocation 1 and serves as a prognostic biomarker in hepatocellular carcinoma. Mol. Cancer 14, 170 (2015).

30.

Jiang, P., Du, W. & Yang, X. A critical role of glucose-6-phosphate dehydrogenase in TAp73-mediated cell proliferation. Cell Cycle 12, 3720–3726 (2013).

31.

Ma, X. et al. Polo-like kinase 1 coordinates biosynthesis during cell cycle progression by directly activating pentose phosphate pathway. Nat. Commun. 8, 1506 (2017).

32.

Zhang, C., Zhang, Z., Zhu, Y. & Qin, S. Glucose-6-phosphate dehydrogenase: a biomarker and potential therapeutic target for cancer. Anticancer Agents Med. Chem. 14, 280–289 (2014).

33.

Lanaspa, M. A. et al. Ketohexokinase C blockade ameliorates fructose-induced metabolic dysfunction in fructose-sensitive mice. J. Clin. Invest. 128, 2226–2238 (2018).

34.

Oppelt, S. A., Sennott, E. M. & Tolan, D. R. Aldolase-B knockout in mice phenocopies hereditary fructose intolerance in humans. Mol. Genet. Metab. 114, 445–450 (2015).

35.

Jiang, P. et al. p53 regulates biosynthesis through direct inactivation of glucose-6-phosphate dehydrogenase. Nat. Cell Biol. 13, 310–316 (2011).

36.

Poulain, L. et al. High mTORC1 activity drives glycolysis addiction and sensitivity to G6PD inhibition in acute myeloid leukemia cells. Leukemia 31, 2326–2335 (2017).

37.

Au, S. W., Gover, S., Lam, V. M. & Adams, M. J. Human glucose-6-phosphate dehydrogenase: the crystal structure reveals a structural NADP(+) molecule and provides insights into enzyme deficiency. Structure 8, 293–303 (2000).

38.

Dalby, A. R., Tolan, D. R. & Littlechild, J. A. The structure of human liver fructose-1,6-bisphosphate aldolase. Acta Crystallogr. D Biol. Crystallogr. 57, 1526–1533 (2001).

39.

Santamaria, R. et al. Functional and molecular modelling studies of two hereditary fructose intolerance-causing mutations at arginine 303 in human liver aldolase. Biochem. J. 350, 823–828 (2000).

40.

Pusapati, R. V. et al. mTORC1-dependent metabolic reprogramming underlies escape from glycolysis addiction in cancer cells. Cancer Cell 29, 548–562 (2016).

41.

Lewis, C. A. et al. Tracing compartmentalized NADPH metabolism in the cytosol and mitochondria of mammalian cells. Mol. Cell 55, 253–263 (2014).

42.

Fan, J. et al. Quantitative flux analysis reveals folate-dependent NADPH production. Nature 510, 298–302 (2014).

43.

Ying, H. Q. et al. Oncogenic Kras maintains pancreatic tumors through regulation of anabolic glucose metabolism. Cell 149, 656–670 (2012).

44.

Boroughs, L. K. & DeBerardinis, R. J. Metabolic pathways promoting cancer cell survival and growth. Nat. Cell Biol. 17, 351–359 (2015).

45.

DelNero, P. et al. Cancer metabolism gets physical. Sci. Transl. Med. 10, eaaq1011 (2018).

46.

Hitosugi, T. et al. Phosphoglycerate mutase 1 coordinates glycolysis and biosynthesis to promote tumor growth. Cancer Cell 22, 585–600 (2012).

47.

Goncalves, M. D. et al. High-fructose corn syrup enhances intestinal tumor growth in mice. Science 363, 1345–1349 (2019).

48.

Jiang, P., Du, W. & Wu, M. Regulation of the pentose phosphate pathway in cancer. Protein Cell 5, 592–602 (2014).

49.

Ma, L. et al. Control of nutrient stress-induced metabolic reprogramming by PKCζ in tumorigenesis. Cell 152, 599–611 (2013).

50.

Nanchen, A., Fuhrer, T. & Sauer, U. Determination of metabolic flux ratios from 13C-experiments and gas chromatography-mass spectrometry data: protocol and principles. Methods Mol. Biol. 358, 177–197 (2007).

51.

van Winden, W. A., Wittmann, C., Heinzle, E. & Heijnen, J. J. Correcting mass isotopomer distributions for naturally occurring isotopes. Biotechnol. Bioeng. 80, 477–479 (2002).

52.

Portnoy, V. A. et al. Deletion of genes encoding cytochrome oxidases and quinol monooxygenase blocks the aerobic-anaerobic shift in Escherichia coli K-12 MG1655. Appl. Environ. Microbiol. 76, 6529–6540 (2010).

53.

Millard, P., Letisse, F., Sokol, S. & Portais, J. C. IsoCor: correcting MS data in isotope labeling experiments. Bioinformatics 28, 1294–1296 (2012).

54.

Yuan, M., Breitkopf, S. B., Yang, X. & Asara, J. M. A positive/negative ion-switching, targeted mass spectrometry-based metabolomics platform for bodily fluids, cells, and fresh and fixed tissue. Nat. Protoc. 7, 872–881 (2012).

55.

Shen, X. et al. Metabolic reaction network-based recursive metabolite annotation for untargeted metabolomics. Nat. Commun. 10, 1516 (2019).

56.

Hu, L. et al. Association of vimentin overexpression and hepatocellular carcinoma metastasis. Oncogene 23, 298–302 (2004).

57.

Cai, X. et al. Background progenitor activation is associated with recurrence after hepatectomy of combined hepatocellular-cholangiocarcinoma. Hepatology 56, 1804–1816 (2012).
Acknowledgements
We acknowledge the help from D. Li at SIBS, CAS, A. D Richardson from Sanford Burnham Medical Research Institutes, S.-Cai Lin and S. Lin at Xiamen University and J. Rabinowitz at Princeton University. This work was financially supported by grants from Chinese National Natural Science Foundation: 31671231 and 91857112 to H.Y.Y.; 31401015 to Y.Z.T.; 61134013, 91029301, 81221061, 81125018 to S.Q.C. and Chinese Ministry of Science and Technology MOST (2016YFD0400205) to H.Y.Y. We thank the Mass Spectrometry platform, Molecular Biology/Biochemistry/cell Technology platform, Experimental Animal platform and Biological Sample Pathology Analysis platform at SINH, CAS.
Ethics declarations
Competing interests
The authors declare no competing interests.
Additional information
Publisher's note Springer Nature remains neutral with regard to jurisdictional claims in published maps and institutional affiliations.
Supplementary information
Supplementary Tables 1–4.
About this article
Cite this article
Li, M., He, X., Guo, W. et al. Aldolase B suppresses hepatocellular carcinogenesis by inhibiting G6PD and pentose phosphate pathways. Nat Cancer 1, 735–747 (2020). https://doi.org/10.1038/s43018-020-0086-7
Received:

Accepted:

Published:

Issue Date: