Abstract
Tumors are supported by cancer-associated fibroblasts (CAFs). CAFs are heterogeneous and carry out distinct cancer-associated functions. Understanding the full repertoire of CAFs and their dynamic changes as tumors evolve could improve the precision of cancer treatment. Here we comprehensively analyze CAFs using index and transcriptional single-cell sorting at several time points along breast tumor progression in mice, uncovering distinct subpopulations. Notably, the transcriptional programs of these subpopulations change over time and in metastases, transitioning from an immunoregulatory program to wound-healing and antigen-presentation programs, indicating that CAFs and their functions are dynamic. Two main CAF subpopulations are also found in human breast tumors, where their ratio is associated with disease outcome across subtypes and is particularly correlated with BRCA mutations in triple-negative breast cancer. These findings indicate that the repertoire of CAF changes over time in breast cancer progression, with direct clinical implications.
Relevant articles
Open Access articles citing this article.
Lee Shaashua

,

Aviad Ben-Shmuel

…

Ruth Scherz-Shouval

Nature Communications Open Access 31 October 2022

Elisa I. Rivas

,

Jenniffer Linares

…

Alexandre Calon

Nature Communications Open Access 09 September 2022

Samaneh Mostafavi

,

Hamidreza Zalpoor

&

Zuhair Mohammad Hassan

Cellular & Molecular Biology Letters Open Access 22 July 2022
Access options
Subscribe to Nature+
Get immediate online access to Nature and 55 other Nature journal
Subscribe to Journal
Get full journal access for 1 year
$119.00
only $9.92 per issue
All prices are NET prices.
VAT will be added later in the checkout.
Tax calculation will be finalised during checkout.
Buy article
Get time limited or full article access on ReadCube.
$32.00
All prices are NET prices.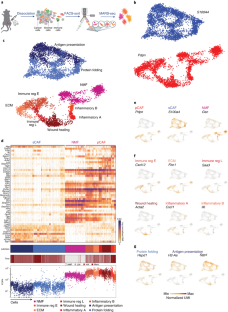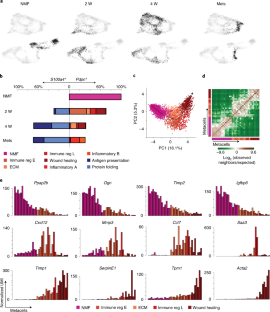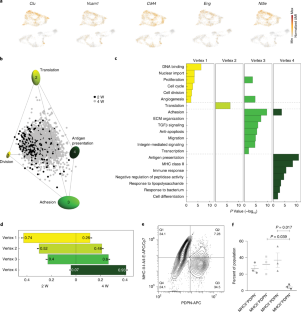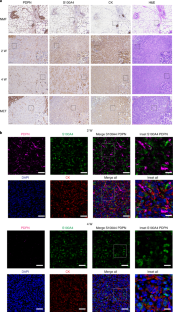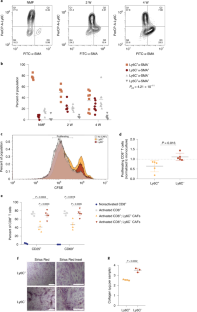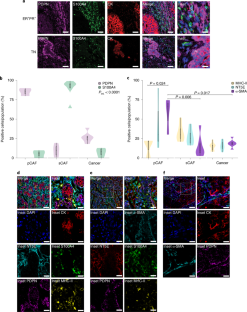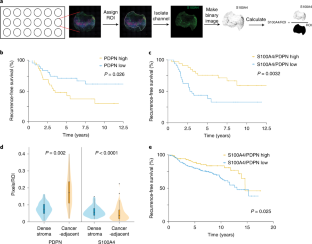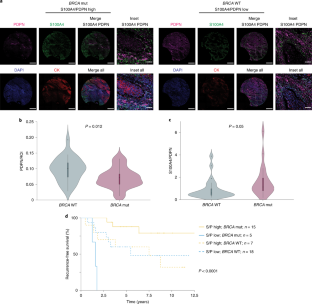 Data availability
Single-cell and bulk RNA-seq data that support the findings of this study have been deposited in the Gene Expression Omnibus under accession code GSE149636. All other data supporting the findings of this study are available from the corresponding author on reasonable request.
Code availability
FACS analysis was performed using FACS Diva v.8, FlowJo 10.1 and Kaluza 2.1 software. Image analysis was conducted using Fiji ImageJ 1.52g and QuPath program (v.0.2.0-m8). Read mapping of single-cell RNA-seq data was performed using HISAT v.0.1.6, followed by analysis with the custom-made MetaCell package in R (Methods). Gene-set enrichment analysis was conducted using Metascape software. Statistical analysis utilized R program (v.3.6.0; R Foundation for Statistical Computing). Packages used for analysis and visualization: tidyr v.1.0.0, reshape2 v.1.4.3, survival v.3.1-8, survminer v.0.4.6, ggplot2 v.3.2.1, ggthemes v.4.2.0, cowplot v.1.0.0 and corrplot v.0.84. Pareto data analysis was performed in Wolfram Mathematica 11.3.0, with custom-made Mathematica scripts. GO analysis was conducted with the Mathematica package MathIOmica. Scripts and auxiliary data needed to reconstruct analysis files from count matrices to full figures are available in a git repository (https://github.com/AlonLabWIS).
References
McGranahan, N. et al. Clonal status of actionable driver events and the timing of mutational processes in cancer evolution. Sci. Transl. Med. 7, 283ra254 (2015).

Pereira, B. et al. The somatic mutation profiles of 2,433 breast cancers refines their genomic and transcriptomic landscapes. Nat. Commun. 7, 11479 (2016).

Tabassum, D. P. & Polyak, K. Tumorigenesis: it takes a village. Nat. Rev. Cancer 15, 473–483 (2015).

Hanahan, D. & Coussens, L. M. Accessories to the crime: functions of cells recruited to the tumor microenvironment. Cancer Cell. 21, 309–322 (2012).

Kalluri, R. & Zeisberg, M. Fibroblasts in cancer. Nat. Rev. Cancer 6, 392–401 (2006).

Gascard, P. & Tlsty, T. D. Carcinoma-associated fibroblasts: orchestrating the composition of malignancy. Genes Dev. 30, 1002–1019 (2016).

Pallangyo, C. K., Ziegler, P. K. & Greten, F. R. IKKβ acts as a tumor suppressor in cancer-associated fibroblasts during intestinal tumorigenesis. J. Exp. Med. 212, 2253–2266 (2015).

Su, S. et al. CD10(+)GPR77(+) cancer-associated fibroblasts promote cancer formation and chemoresistance by sustaining cancer stemness. Cell. 172, 841–856 (2018).

Costa, A. et al. Fibroblast heterogeneity and immunosuppressive environment in human breast cancer. Cancer Cell. 33, 463–479 e410 (2018).

Raz, Y. et al. Bone marrow-derived fibroblasts are a functionally distinct stromal cell population in breast cancer. J. Exp. Med. 215, 3075–3093 (2018).

Cirri, P. & Chiarugi, P. Cancer-associated fibroblasts: the dark side of the coin. Am. J. Cancer Res. 1, 482–497 (2011).

Bochet, L. et al. Adipocyte-derived fibroblasts promote tumor progression and contribute to the desmoplastic reaction in breast cancer. Cancer Res. 73, 5657–5668 (2013).

Sugimoto, H., Mundel, T. M., Kieran, M. W. & Kalluri, R. Identification of fibroblast heterogeneity in the tumor microenvironment. Cancer Biol Ther. 5, 1640–1646 (2006).

Bartoschek, M. et al. Spatially and functionally distinct subclasses of breast cancer-associated fibroblasts revealed by single cell RNA sequencing. Nat. Commun. 9, 5150 (2018).

Jaitin, D. A. et al. Massively parallel single-cell RNA-seq for marker-free decomposition of tissues into cell types. Science 343, 776–779 (2014).

Baran, Y. et al. MetaCell: analysis of single-cell RNA-seq data using k-nn graph partitions. Genome Biol. 20, 206 (2019).

Yates, L. R. et al. Subclonal diversification of primary breast cancer revealed by multiregion sequencing. Nat. Med. 21, 751–759 (2015).

Murtaza, M. et al. Multifocal clonal evolution characterized using circulating tumour DNA in a case of metastatic breast cancer. Nat. Commun. 6, 8760 (2015).

Street, K. et al. Slingshot: cell lineage and pseudotime inference for single-cell transcriptomics. BMC Genomics. 19, 477 (2018).

Karnoub, A. E. et al. Mesenchymal stem cells within tumour stroma promote breast cancer metastasis. Nature 449, 557–563 (2007).

Hart, Y. et al. Inferring biological tasks using Pareto analysis of high-dimensional data. Nat. Methods 12, 233–235 (2015). 233 p following 235.

Korem, Y. et al. Geometry of the gene expression space of individual cells. PLoS Comput. Biol. 11, e1004224 (2015).

Adler, M., Mayo, A., Korem Kohanim, Y. & Tendler, A. Continuum of gene-expression profiles provides spatial division of labor within a differentiated cell type. Cell Syst. 8, 43–52 (2019).

Rueda, O. M. et al. Dynamics of breast-cancer relapse reveal late-recurring ER-positive genomic subgroups. Nature 567, 399–404 (2019).

Peshkin, B. N., Alabek, M. L. & Isaacs, C. BRCA1/2 mutations and triple negative breast cancers. Breast Dis. 32, 25–33 (2010).

Nolan, E. et al. Combined immune checkpoint blockade as a therapeutic strategy for BRCA1-mutated breast cancer. Sci. Transl. Med. 9, eaal4922 (2017).

Almendro, V. et al. Inference of tumor evolution during chemotherapy by computational modeling and in situ analysis of genetic and phenotypic cellular diversity. Cell Rep. 6, 514–527 (2014).

Lambert, G. et al. An analogy between the evolution of drug resistance in bacterial communities and malignant tissues. Nat. Rev. Cancer 11, 375–382 (2011).

Costa-Silva, B. et al. Pancreatic cancer exosomes initiate pre-metastatic niche formation in the liver. Nat. Cell Biol. 17, 816–826 (2015).

Elyada, E. et al. Cross-species single-cell analysis of pancreatic ductal adenocarcinoma reveals antigen-presenting cancer-associated fibroblasts. Cancer Discov. 9, 1102–1123 (2019).

Li, H. et al. Dysfunctional CD8 T cells form a proliferative, dynamically regulated compartment within human melanoma. Cell. 176, 775–789 (2019).

Ohlund, D. et al. Distinct populations of inflammatory fibroblasts and myofibroblasts in pancreatic cancer. J. Exp. Med. 214, 579–596 (2017).

Tirosh, I. et al. Dissecting the multicellular ecosystem of metastatic melanoma by single-cell RNA-seq. Science 352, 189–196 (2016).

Ohlund, D., Elyada, E. & Tuveson, D. Fibroblast heterogeneity in the cancer wound. J. Exp. Med. 211, 1503–1523 (2014).

Quante, M. et al. Bone marrow-derived myofibroblasts contribute to the mesenchymal stem cell niche and promote tumor growth. Cancer Cell. 19, 257–272 (2011).

Ilangumaran, S. et al. A positive regulatory role for suppressor of cytokine signaling 1 in IFN-λ-induced MHC class II expression in fibroblasts. J. Immunol. 169, 5010–5020 (2002).

Waldburger, J. M., Suter, T., Fontana, A., Acha-Orbea, H. & Reith, W. Selective abrogation of major histocompatibility complex class II expression on extrahematopoietic cells in mice lacking promoter IV of the class II transactivator gene. J. Exp. Med. 194, 393–406 (2001).

Boots, A. M., Wimmers-Bertens, A. J. & Rijnders, A. W. Antigen-presenting capacity of rheumatoid synovial fibroblasts. Immunology 82, 268–274 (1994).

Lord, C. J. & Ashworth, A. BRCAness revisited. Nat. Rev. Cancer 16, 110–120 (2016).

Curtis, C. et al. The genomic and transcriptomic architecture of 2,000 breast tumours reveals novel subgroups. Nature 486, 346–352 (2012).

Paul, F. et al. Transcriptional heterogeneity and lineage commitment in myeloid progenitors. Cell. 163, 1663–1677 (2015).

Kim, D., Langmead, B. & Salzberg, S. L. HISAT: a fast spliced aligner with low memory requirements. Nat. Methods 12, 357–360 (2015).

Giladi, A. et al. Single-cell characterization of haematopoietic progenitors and their trajectories in homeostasis and perturbed haematopoiesis. Nat. Cell Biol. 20, 836–846 (2018).

Shoval, O. et al. Response to comment on "evolutionary trade-offs, Pareto optimality, and the geometry of phenotype space". Science. 339, 757 (2013).

Mias, G. I. et al. MathIOmica: an integrative platform for dynamic omics. Sci. Rep. 6, 37237 (2016).

Dobin, A. et al. STAR: ultrafast universal RNA-seq aligner. Bioinformatics 29, 15–21 (2013).

Anders, S., Pyl, P. T. & Huber, W. HTSeq–a Python framework to work with high-throughput sequencing data. Bioinformatics. 31, 166–169 (2015).

Love, M. I., Huber, W. & Anders, S. Moderated estimation of fold change and dispersion for RNA-seq data with DESeq2. Genome Biol. 15, 550 (2014).

Schindelin, J. et al. Fiji: an open-source platform for biological-image analysis. Nat. Methods 9, 676–682 (2012).

Bankhead, P. et al. QuPath: open source software for digital pathology image analysis. Sci. Rep. 7, 16878 (2017).
Acknowledgements
We thank O. Golani and Y. Addadi (MICC Cell Observatory, WIS) for their assistance with imaging and image analysis. We thank V. Kiss (Department of Biomolecular Sciences, WIS) for his assistance with imaging. We thank Z. Granot (HUJI) and R. Alon for providing cell lines. We thank members of the Scherz-Shouval laboratory for valuable input on the manuscript. U.A. is supported by Cancer Research UK (grant C19767/A27145). I.A. is an Eden and Steven Romick Professorial Chair, supported by Merck KGaA, Darmstadt, Germany, the Chan Zuckerberg Initiative, the HHMI International Scholar award, the European Research Council Consolidator Grant (ERC-COG) 724471- HemTree2.0, an SCA award of the Wolfson Foundation and Family Charitable Trust, the Thompson Family Foundation, an MRA Established Investigator Award (509044), the Israel Science Foundation (703/15), the Ernest and Bonnie Beutler Research Program for Excellence in Genomic Medicine, the Helen and Martin Kimmel award for innovative investigation, the NeuroMac DFG/Transregional Collaborative Research Center Grant, an International Progressive MS Alliance/NMSS PA-1604 08459 and an Adelis Foundation grant. R.S.S. is supported by the Israel Science Foundation (grant nos. 401/17 and 1384/1), the European Research Council (ERC grant agreement 754320), the Israel Cancer Research Fund, the Laura Gurwin Flug Family Fund, the Peter and Patricia Gruber Awards, the Comisaroff Family Trust, the Estate of Annice Anzelewitz and the Estate of Mordecai M. Roshwal. R.S.S. is the incumbent of the Ernst and Kaethe Ascher Career Development Chair in Life Sciences.
Ethics declarations
Competing interests
The authors declare no competing interests.
Additional information
Publisher's note Springer Nature remains neutral with regard to jurisdictional claims in published maps and institutional affiliations.
Supplementary information
Supplementary Tables 1, 5, 8, 10 and 12.
Supplementary Tables 2, 3, 4, 6, 7, 9 and 11.
About this article
Cite this article
Friedman, G., Levi-Galibov, O., David, E. et al. Cancer-associated fibroblast compositions change with breast cancer progression linking the ratio of S100A4+ and PDPN+ CAFs to clinical outcome. Nat Cancer 1, 692–708 (2020). https://doi.org/10.1038/s43018-020-0082-y
Received:

Accepted:

Published:

Issue Date:

DOI: https://doi.org/10.1038/s43018-020-0082-y