Natural killer (NK) cells serve a critical role in the control of metastasis. NK cells are now shown to preferentially control monoclonal metastases derived from single circulating tumor cells rather than polyclonal metastases derived from cell clusters. These findings provide further evidence that NK cells are linked to metastatic cell immunoediting.
This is a preview of subscription content
Access options
Subscribe to Journal
Get full journal access for 1 year
$119.00
only $9.92 per issue
All prices are NET prices.
VAT will be added later in the checkout.
Tax calculation will be finalised during checkout.
Rent or Buy article
Get time limited or full article access on ReadCube.
from$8.99
All prices are NET prices.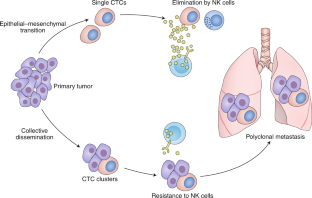 References
1.

Lambert, A. W., Pattabiraman, D. R. & Weinberg, R. A. Cell 168, 670–691 (2017).

2.

López-Soto, A., Gonzalez, S., Smyth, M. J. & Galluzzi, L. Cancer Cell 32, 135–154 (2017).

3.

Schreiber, R. D., Old, L. J. & Smyth, M. J. Science 331, 1565–1570 (2011).

4.

Lo, H.C. et al. Nat. Cancer https://doi.org/10.1038/s43018-020-0068-9 (2020).

5.

Mostert, B., Sleijfer, S., Foekens, J. A. & Gratama, J. W. Cancer Treat. Rev. 35, 463–474 (2009).

6.

Cristofanilli, M. et al. N. Engl. J. Med. 351, 781–791 (2004).

7.

Cheung, K. J. et al. Proc. Natl Acad. Sci. USA 113, E854–E863 (2016).

8.

Aceto, N. et al. Cell 158, 1110–1122 (2014).

9.

Wang, C. et al. Breast Cancer Res. Treat. 161, 83–94 (2017).

10.

Raulet, D. H. Nat. Rev. Immunol. 3, 781–790 (2003).

11.

Lamouille, S., Xu, J. & Derynck, R. Nat. Rev. Mol. Cell Biol. 15, 178–196 (2014).

12.

Laughney, A. M. et al. Nat. Med. 26, 259–269 (2020).

13.

Sceneay, J., Smyth, M. J. & Möller, A. Cancer Metastasis Rev. 32, 449–464 (2013).
Ethics declarations
Competing interests
The authors declare no competing interests.
About this article
Cite this article
Nakamura, K., Smyth, M.J. Immunoediting of cancer metastasis by NK cells. Nat Cancer 1, 670–671 (2020). https://doi.org/10.1038/s43018-020-0081-z