Abstract
Approximately 20–30% of human lung adenocarcinomas (LUADs) harbor mutations in Kelch-like ECH-associated protein 1 (KEAP1) that hyperactivate the nuclear factor, erythroid 2-like 2 (NFE2L2) antioxidant program. We previously showed that Kras-driven Keap1-mutant LUAD is highly aggressive and dependent on glutaminolysis. Here we performed a druggable genome CRISPR screen and uncovered a Keap1-mutant-specific dependency on solute carrier family 33 member 1 (Slc33a1), as well as several functionally related genes associated with the unfolded protein response. Genetic and biochemical experiments using mouse and human Keap1-mutant tumor lines, as well as preclinical genetically engineered mouse models, validate Slc33a1 as a robust Keap1-mutant-specific dependency. Furthermore, unbiased genome-wide CRISPR screening identified additional genes related to Slc33a1 dependency. Overall, our study provides a rationale for stratification of patients harboring KEAP1-mutant or NRF2-hyperactivated tumors as likely responders to targeted SLC33A1 inhibition and underscores the value of integrating functional genetic approaches with genetically engineered mouse models to identify and validate genotype-specific therapeutic targets.
Relevant articles
Open Access articles citing this article.
Fangfang Shen

,

Wei Guo

…

Bei Wang

Diagnostic Pathology Open Access 10 June 2023

Sumana Srivatsa

,

Hesam Montazeri

…

Niko Beerenwinkel

Nature Communications Open Access 14 December 2022

Long Gao

,

Yuan Liu

…

F. Xiao-Feng Qin

Cell Death & Disease Open Access 05 July 2021
Access options
Access Nature and 54 other Nature Portfolio journals
Get Nature+, our best-value online-access subscription
$29.99 / 30 days
cancel any time
Subscribe to this journal
Receive 12 digital issues and online access to articles
$119.00 per year
only $9.92 per issue
Rent or buy this article
Prices vary by article type
from$1.95
to$39.95
Prices may be subject to local taxes which are calculated during checkout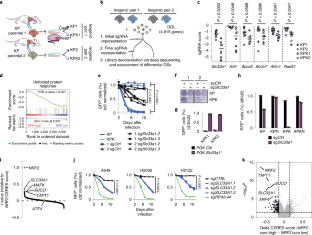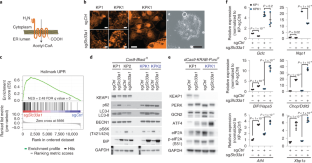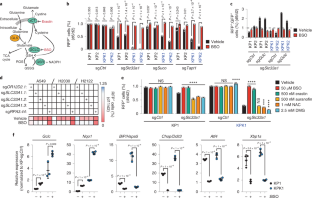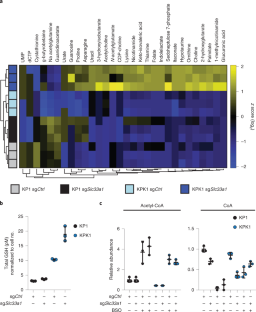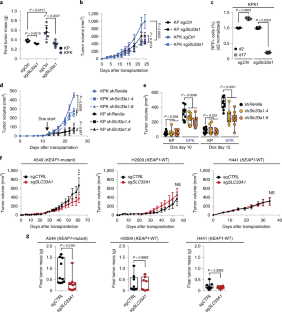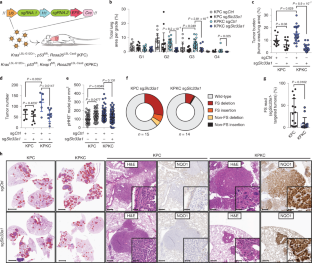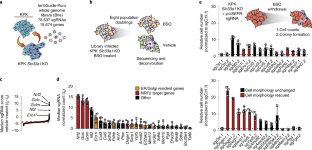 Data availability
RNA-seq data from this study have been deposited in the Gene Expression Omnibus under accession code GSE145945. CRISPR screen and target locus sequence datasets have been submitted to the Sequence Read Archive and are available under BioProject ID PRJNA611102. DepMap datasets analyzed here can be found in elsewhere64. Unedited western blots have been provided as Source Data Figs. 1 and 2. MS data have been deposited in MetaboLights with the primary accession code MTBLS1647. Numerical source data for Main and Extended Data Figures are provided as Source Data Extended Data Figs. 1–6. All other data supporting the findings of this study are available from the corresponding author on reasonable request.
References
Shen, R. et al. Harnessing clinical sequencing data for survival stratification of patients with metastatic lung adenocarcinomas. JCO Precis. Oncol. 3 (2019).

Jaramillo, M. C. & Zhang, D. D. The emerging role of the Nrf2-Keap1 signaling pathway in cancer. Genes Dev. 27, 2179–2191 (2013).

TCGA, L. U. A. D. et al. Comprehensive molecular profiling of lung adenocarcinoma. Nature 511, 543–550 (2014).

Berger, A. H. et al. High-throughput phenotyping of lung cancer somatic mutations. Cancer Cell 30, 214–228 (2016).

Hammerman, P. S. et al. Comprehensive genomic characterization of squamous cell lung cancers. Nature 489, 519–525 (2012).

Hast, B. E. et al. Cancer-derived mutations in KEAP1 impair NRF2 degradation but not ubiquitination. Cancer Res. 74, 808–817 (2014).

Rojo de la Vega, M., Chapman, E. & Zhang, D. D. NRF2 and the hallmarks of cancer. Cancer Cell 34, 21–43 (2018).

Itoh, K., Mimura, J. & Yamamoto, M. Discovery of the negative regulator of Nrf2, Keap1: A historical overview. Antioxid. Redox Signal. 13, 1665–1678 (2010).

Harris, I. S. & DeNicola, G. M. The Complex Interplay between Antioxidants and ROS in Cancer. Trends Cell Biol. 30, 440–451 (2020).

Wu, W. L. & Papagiannakopoulos, T. The Pleiotropic Role of the KEAP1/NRF2 Pathway in Cancer. Annu. Rev. Cancer Biol. 4, 413–435 (2020).

Todoric, J. et al. Stress-Activated NRF2-MDM2 Cascade Controls Neoplastic Progression in Pancreas. Cancer Cell 32, 824–839.e8 (2017).

Chio, I. I. C. et al. NRF2 Promotes Tumor Maintenance by Modulating mRNA Translation in Pancreatic Cancer. Cell 166, 963–976 (2016).

DeNicola, G. M. et al. Oncogene-induced Nrf2 transcription promotes ROS detoxification and tumorigenesis. Nature 475, 106–110 (2011).

Romero, R. et al. Keap1 loss promotes Kras-driven lung cancer and results in dependence on glutaminolysis. Nat. Med. 23, 1362–1368 (2017).

Sayin, V. I. et al. Activation of the NRF2 antioxidant program generates an imbalance in central carbon metabolism in cancer. eLife 6, 1–23 (2017).

DeNicola, G. M. et al. NRF2 regulates serine biosynthesis in non-small cell lung cancer. Nat. Genet. 47, 1475–1481 (2015).

Kang, Y. P. et al. Cysteine dioxygenase 1 is a metabolic liability for non-small cell lung cancer. eLife 8 (2019).

Mitsuishi, Y. et al. Nrf2 Redirects Glucose and Glutamine into Anabolic Pathways in Metabolic Reprogramming. Cancer Cell 22, 66–79 (2012).

LeBoeuf, S. E. et al. Activation of Oxidative Stress Response in Cancer Generates a Druggable Dependency on Exogenous Non-essential Amino Acids. Cell Metab. (2019).

Lignitto, L. et al. Nrf2 Activation Promotes Lung Cancer Metastasis by Inhibiting the Degradation of Bach1. Cell 178, 316–329.e18 (2019).

Li, L. et al. Identification of DHODH as a therapeutic target in small cell lung cancer. Sci. Transl. Med. 11, eaaw7852 (2019).

Pasetto, M. et al. Whole-genome RNAi screen highlights components of the endoplasmic reticulum/Golgi as a source of resistance to immunotoxin-mediated cytotoxicity. Proc. Natl Acad. Sci. 112, E1135–E1142 (2015).

Cui, J. et al. Competitive Inhibition of the Endoplasmic Reticulum Signal Peptidase by Non-cleavable Mutant Preprotein Cargos. J. Biol. Chem. 290, 28131–28140 (2015).

Yamamori, T., Meike, S., Nagane, M., Yasui, H. & Inanami, O. ER stress suppresses DNA double-strand break repair and sensitizes tumor cells to ionizing radiation by stimulating proteasomal degradation of Rad51. FEBS Lett. 587, 3348–3353 (2013).

Liu, Y. et al. Activation of the Unfolded Protein Response via Inhibition of Protein Disulfide Isomerase Decreases the Capacity for DNA Repair to Sensitize Glioblastoma to Radiotherapy. Cancer Res. 79, 2923–2932 (2019).

Cloer, E. W. et al. p62-Dependent Phase Separation of Patient-Derived KEAP1 Mutations and NRF2. Mol. Cell. Biol. 38, (2018).

Meyers, R. M. et al. Computational correction of copy number effect improves specificity of CRISPR–Cas9 essentiality screens in cancer cells. Nat. Genet. 49, 1779–1784 (2017).

Kim, E. et al. A network of human functional gene interactions from knockout fitness screens in cancer cells. Life Sci. Alliance 2, e201800278 (2019).

Igarashi, K. et al. Regulation of transcription by dimerization of erythroid factor NF-E2 p45 with small Maf proteins. Nature 367, 568–572 (1994).

Hein, M. Y. et al. A Human Interactome in Three Quantitative Dimensions Organized by Stoichiometries and Abundances. Cell 163, 712–723 (2015).

Jonas, M. C., Pehar, M. & Puglielli, L. AT-1 is the ER membrane acetyl-CoA transporter and is essential for cell viability. J. Cell Sci. 123, 3378–3388 (2010).

Pehar, M., Jonas, M. C., Hare, T. M. & Puglielli, L. SLC33A1/AT-1 Protein Regulates the Induction of Autophagy Downstream of IRE1/XBP1 Pathway. J. Biol. Chem. 287, 29921–29930 (2012).

Adamson, B. et al. A Multiplexed Single-Cell CRISPR Screening Platform Enables Systematic Dissection of the Unfolded Protein Response. Cell 167, 1867–1882.e21 (2016).

Meister, A. & Anderson, M. E. Glutathione. Annu. Rev. Biochem. 52, 711–760 (1983).

Ponsero, A. J. et al. Endoplasmic Reticulum Transport of Glutathione by Sec61 Is Regulated by Ero1 and Bip. Mol. Cell 67, 962–973.e5 (2017).

Griffith, O. W. & Meister, A. Potent and specific inhibition of glutathione synthesis by buthionine sulfoximine (S-n-butyl homocysteine sulfoximine). J. Biol. Chem. 254, 7558–7560 (1979).

Dolma, S., Lessnick, S. L., Hahn, W. C. & Stockwell, B. R. Identification of genotype-selective antitumor agents using synthetic lethal chemical screening in engineered human tumor cells. Cancer Cell 3, 285–296 (2003).

Criddle, D. N. et al. Menadione-induced Reactive Oxygen Species Generation via Redox Cycling Promotes Apoptosis of Murine Pancreatic Acinar Cells. J. Biol. Chem. 281, 40485–40492 (2006).

Marzano, C. et al. Inhibition of thioredoxin reductase by auranofin induces apoptosis in cisplatin-resistant human ovarian cancer cells. Free Radic. Biol. Med. 42, 872–881 (2006).

Harris, I. S. et al. Deubiquitinases Maintain Protein Homeostasis and Survival of Cancer Cells upon Glutathione Depletion. Cell Metab. 29, (2019).

Peng, Y. et al. Deficient Import of Acetyl-CoA into the ER Lumen Causes Neurodegeneration and Propensity to Infections, Inflammation, and Cancer. J. Neurosci. 34, 6772–6789 (2014).

Dieterich, I. A. et al. Acetyl-CoA flux regulates the proteome and acetyl-proteome to maintain intracellular metabolic crosstalk. Nat. Commun. 10, 3929 (2019).

DuPage, M., Dooley, A. L. & Jacks, T. Conditional mouse lung cancer models using adenoviral or lentiviral delivery of Cre recombinase. Nat. Protoc. 4, 1064–1072 (2009).

Davidson, S. M. et al. Environment Impacts the Metabolic Dependencies of Ras-Driven Non-Small Cell Lung Cancer. Cell Metab. 23, 517–528 (2016).

Muir, A. & Vander Heiden, M. G. The nutrient environment affects therapy. Science (80-.). 360, 962–963 (2018).

Jackson, E. L. et al. Analysis of lung tumor initiation and progression using conditional expression of oncogenic K-ras. Genes Dev. 15, 3243–3248 (2001).

Jackson, E. L. et al. The differential effects of mutant p53 alleles on advanced murine lung cancer. Cancer Res. 65, 10280–10288 (2005).

Winslow, M. M. et al. Suppression of lung adenocarcinoma progression by Nkx2-1. Nature 473, 101–104 (2011).

Blake, D. J. et al. Deletion of Keap1 in the lung attenuates acute cigarette smoke-induced oxidative stress and inflammation. Am. J. Respir. Cell Mol. Biol. 42, 524–536 (2010).

Platt, R. J. et al. CRISPR-Cas9 knockin mice for genome editing and cancer modeling. Cell 159, 440–455 (2014).

Doench, J. G. et al. Optimized sgRNA design to maximize activity and minimize off-target effects of CRISPR-Cas9. Nat. Biotechnol. 34, 184–191 (2016).

Brennan, M. S., Matos, M. F., Richter, K. E., Li, B. & Scannevin, R. H. The NRF2 transcriptional target, OSGIN1, contributes to monomethyl fumarate-mediated cytoprotection in human astrocytes. Sci. Rep. 7, 42054 (2017).

Li, H. et al. 6-Phosphogluconate Dehydrogenase Links Cytosolic Carbohydrate Metabolism to Protein Secretion via Modulation of Glutathione Levels. Cell Chem. Biol. 26, 1306–1314.e5 (2019).

Tu, B. P. & Weissman, J. S. Oxidative protein folding in eukaryotes: mechanisms and. J. Cell Biol. 164, 341–346 (2004).

Sevier, C. S. & Kaiser, C. A. Ero1 and redox homeostasis in the endoplasmic reticulum. Biochim. Biophys. Acta - Mol. Cell Res. 1783, 549–556 (2008).

McMillan, E. A. et al. Chemistry-First Approach for Nomination of Personalized Treatment in Lung Cancer. Cell 173, 864–878.e29 (2018).

Bar-Peled, L. et al. Chemical Proteomics Identifies Druggable Vulnerabilities in a Genetically Defined Cancer. Cell 171, 696–709.e23 (2017).

Li, M. et al. Genome-wide CRISPR-KO Screen Uncovers mTORC1-Mediated Gsk3 Regulation in Naive Pluripotency Maintenance and Dissolution. Cell Rep. 24, 489–502 (2018).

Hart, T. et al. High-Resolution CRISPR Screens Reveal Fitness Genes and Genotype-Specific Cancer Liabilities. Cell 163, 1515–1526 (2015).

Li, H. et al. The landscape of cancer cell line metabolism. Nat. Med. 25, 1–11 (2019).

Chen, S. et al. Genome-wide CRISPR Screen in a Mouse Model of Tumor Growth and Metastasis. Cell 160, 1246–1260 (2015).

Wang, T., Wei, J. J., Sabatini, D. M. & Lander, E. S. Genetic Screens in Human Cells Using the CRISPR-Cas9 System. Science (80-.). 343, 80–84 (2014).

Hart, T. et al. Evaluation and Design of Genome-Wide CRISPR/SpCas9 Knockout Screens. G3 Genes|Genomes|Genetics 7, 2719–2727 (2017).

DepMap Broad. DepMap Achilles 19Q2 Public. (2019). https://doi.org/10.6084/m9.figshare.8061398.v1

Akama-Garren, E. H. et al. A Modular Assembly Platform for Rapid Generation of DNA Constructs. Sci. Rep. 6, 16836 (2016).

Sanjana, N. E., Shalem, O. & Zhang, F. Improved vectors and genome-wide libraries for CRISPR screening. Nat. Methods 11, 783–784 (2014).

Fellmann, C. et al. An optimized microRNA backbone for effective single-copy RNAi. Cell Rep. 5, 1704–1713 (2013).

Horlbeck, M. A. et al. Compact and highly active next-generation libraries for CRISPR-mediated gene repression and activation. Elife 5, 1–20 (2016).

Barbie, D. A. et al. Systematic RNA interference reveals that oncogenic KRAS-driven cancers require TBK1. Nature 462, 108–112 (2009).

Cantor, J. R. et al. Physiologic Medium Rewires Cellular Metabolism and Reveals Uric Acid as an Endogenous Inhibitor of UMP Synthase. Cell 169, 258–272.e17 (2017).

Abouelhoda, M. I., Kurtz, S. & Ohlebusch, E. Replacing suffix trees with enhanced suffix arrays. J. Discret. Algorithms 2, 53–86 (2004).

Smith, T. F. & Waterman, M. S. Identification of common molecular subsequences. J. Mol. Biol. 147, 195–197 (1981).

Wang, K., Li, M. & Hakonarson, H. ANNOVAR: functional annotation of genetic variants from high-throughput sequencing data. Nucleic Acids Res. 38, e164 (2010).

Döring, A., Weese, D., Rausch, T. & Reinert, K. SeqAn An efficient, generic C++ library for sequence analysis. BMC Bioinformatics 9, 11 (2008).

Thorvaldsdottir, H., Robinson, J. T. & Mesirov, J. P. Integrative Genomics Viewer (IGV): high-performance genomics data visualization and exploration. Brief. Bioinform. 14, 178–192 (2013).

Li, H. & Durbin, R. Fast and accurate short read alignment with Burrows-Wheeler transform. Bioinformatics 25, 1754–1760 (2009).

Bullard, J. H., Purdom, E., Hansen, K. D. & Dudoit, S. Evaluation of statistical methods for normalization and differential expression in mRNA-Seq experiments. BMC Bioinformatics 11, 94 (2010).

Biton, A. et al. Independent component analysis uncovers the landscape of the bladder tumor transcriptome and reveals insights into luminal and basal subtypes. Cell Rep. 9, 1235–1245 (2014).

Subramanian, A. et al. Gene set enrichment analysis: a knowledge-based approach for interpreting genome-wide expression profiles. Proc. Natl Acad. Sci. USA 102, 15545–15550 (2005).

Mootha, V. K. et al. PGC-1α-responsive genes involved in oxidative phosphorylation are coordinately downregulated in human diabetes. Nat. Genet. 34, 267–273 (2003).
Acknowledgements
We thank J. Settleman, D. Stokoe, T. Papagiannakopoulos, I. Harris, L. Sullivan, M. Sullivan, Z. Li, G. DeNicola and M. Hemann for scientific discussions and feedback; T. Tammela and T. Westerling for contributions to Aiforia tumor deep neural network analyses; S. Levine for massively parallel sequencing expertise; M. Griffin, M. Jennings and G. Paradis for FACS support; K. Cormier and the Hope Babette Tang (1983) Histology Facility for histology support; B. Chan and the Whitehead Metabolomics core for LC–MS and metabolite analysis; K. Yee, A. Deconinck and J. Teixeira for administrative support; and the Swanson Biotechnology Center for excellent core facilities. This work was supported by the Howard Hughes Medical Institute, Calico Life Sciences and the Koch Institute Support (core) grant P30-CA14051 from the National Cancer Institute (NCI). R.R. was supported by the National Science Foundation Graduate Research Fellowship and the NCI of the National Institutes of Health under award numbers 1122374 and F31CA224796, respectively. P.P.H. is supported in part by the National Cancer Institute of the National Institutes of Health under award number 2T32CA071345-21A1. The content is solely the responsibility of the authors and does not necessarily represent the official views of the National Institutes of Health. M.G.V.H. is a Howard Hughes Medical Institute Faculty Scholar and acknowledges additional support from SU2C, the Ludwig Center for Molecular Oncology at MIT, the MIT Center for Precision Cancer Medicine and the NCI. T.J. is a Howard Hughes Medical Institute Investigator, David H. Koch Professor of Biology and Daniel K. Ludwig Scholar. We apologize for any relevant citations we have missed due to reference limitations.
Ethics declarations
Competing interests
M.G.V.H. is a consultant and scientific advisory board member for Agios Pharmaceuticals, Aeglea Biotherapeutics, iTeos and Auron Therapeutics. P.P.H. is a consultant for Auron Therapeutics. T.J. is a member of the Board of Directors of Amgen and Thermo Fisher Scientific. He is also a Co-founder of Dragonfly Therapeutics and T2 Biosystems. T.J. serves on the Scientific Advisory Board of Dragonfly Therapeutics, SQZ Biotech and Skyhawk Therapeutics. None of these affiliations represents a conflict of interest with respect to the design or execution of this study or interpretation of data presented in this manuscript. The laboratory of T.J. currently also receives funding from the Johnson & Johnson Lung Cancer Initiative, but this funding did not support the research described in this manuscript. This work was supported by the Howard Hughes Medical Institute and Calico Life Sciences.
Additional information
Publisher's note Springer Nature remains neutral with regard to jurisdictional claims in published maps and institutional affiliations.
About this article
Cite this article
Romero, R., Sánchez-Rivera, F.J., Westcott, P.M.K. et al. Keap1 mutation renders lung adenocarcinomas dependent on Slc33a1. Nat Cancer 1, 589–602 (2020). https://doi.org/10.1038/s43018-020-0071-1
Received:

Accepted:

Published:

Issue Date:

DOI: https://doi.org/10.1038/s43018-020-0071-1