Abstract
Primary tumor-derived factors act upon normal cells to generate a pre-metastatic niche, which promotes colonization of target organs by disseminated malignant cells. Here we report that tumor-derived factor-induced activation of the p38α kinase in lung fibroblasts plays a critical role in the formation of a pre-metastatic niche in the lungs and subsequent pulmonary metastases. Activation of p38α led to inactivation of type I interferon signaling and stimulation of expression of fibroblast activation protein. Fibroblast activation protein played a key role in remodeling of the extracellular matrix as well as inducing the expression of chemokines that enable lung infiltration by neutrophils. Increased activity of p38 in normal cells was associated with metastatic disease and poor prognosis in human patients with melanoma, whereas inactivation of p38 suppressed lung metastases. We discuss the p38α-driven mechanisms stimulating the metastatic processes and potential use of p38 inhibitors in adjuvant therapy of metastatic cancers.
Access options
Subscribe to Journal
Get full journal access for 1 year
$99.00
only $8.25 per issue
All prices are NET prices.
VAT will be added later in the checkout.
Tax calculation will be finalised during checkout.
Rent or Buy article
Get time limited or full article access on ReadCube.
from$8.99
All prices are NET prices.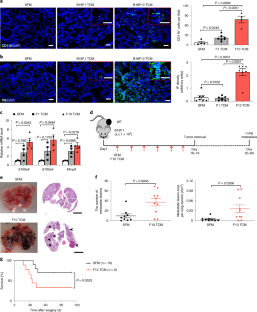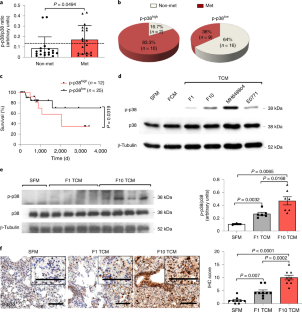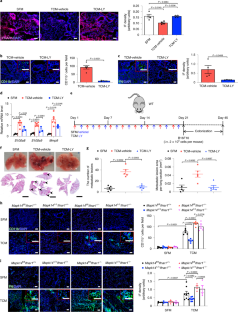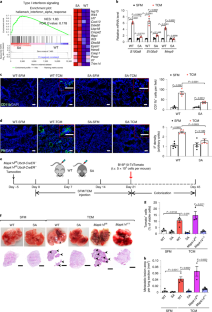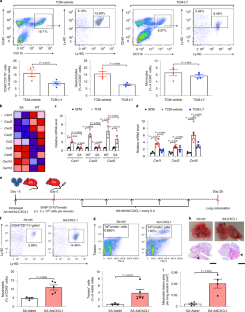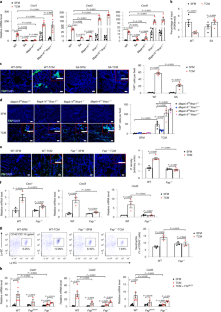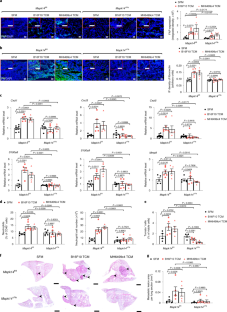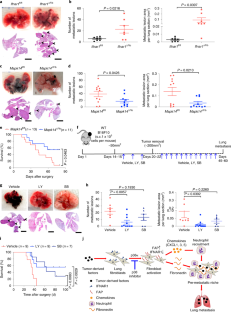 Data availability
RNA-sequencing data that support the findings of this study have been deposited in the Gene Expression Omnibus (GEO) under accession code GSE133781. Source data for Figs. 1–8 and Extended Data Figs. 1–8 have been provided as Source data files. All other data supporting the findings of this study are available from the corresponding author upon reasonable request.
References
1.

Joyce, J. A. & Pollard, J. W. Microenvironmental regulation of metastasis. Nat. Rev. Cancer 9, 239–252 (2009).

2.

Kaplan, R. N. et al. VEGFR1-positive haematopoietic bone marrow progenitors initiate the pre-metastatic niche. Nature 438, 820–827 (2005).

3.

Peinado, H., Lavotshkin, S. & Lyden, D. The secreted factors responsible for pre-metastatic niche formation: old sayings and new thoughts. Semin. Cancer Biol. 21, 139–146 (2011).

4.

Peinado, H. et al. Pre-metastatic niches: organ-specific homes for metastases. Nat. Rev. Cancer 17, 302–317 (2017).

5.

Francia, G., Cruz-Munoz, W., Man, S., Xu, P. & Kerbel, R. S. Mouse models of advanced spontaneous metastasis for experimental therapeutics. Nat. Rev. Cancer 11, 135–141 (2011).

6.

Woodard, P. K., Dehdashti, F. & Putman, C. E. Radiologic diagnosis of extrathoracic metastases to the lung. Oncology 12, 431–438 (1998).

7.

Kim, S. et al. Carcinoma-produced factors activate myeloid cells through TLR2 to stimulate metastasis. Nature 457, 102–106 (2009).

8.

Peinado, H. et al. Melanoma exosomes educate bone marrow progenitor cells toward a pro-metastatic phenotype through MET. Nat. Med. 18, 883–891 (2012).

9.

Liu, Y. et al. Tumor exosomal RNAs promote lung pre-metastatic niche formation by activating alveolar epithelial TLR3 to recruit neutrophils. Cancer Cell 30, 243–256 (2016).

10.

Erler, J. T. et al. Hypoxia-induced lysyl oxidase is a critical mediator of bone marrow cell recruitment to form the premetastatic niche. Cancer Cell 15, 35–44 (2009).

11.

Liu, Y. & Cao, X. Characteristics and significance of the pre-metastatic niche. Cancer Cell 30, 668–681 (2016).

12.

Arthur, J. S. & Ley, S. C. Mitogen-activated protein kinases in innate immunity. Nat. Rev. Immunol. 13, 679–692 (2013).

13.

Cuadrado, A. & Nebreda, A. R. Mechanisms and functions of p38 MAPK signalling. Biochem. J. 429, 403–417 (2010).

14.

Hui, L., Bakiri, L., Stepniak, E. & Wagner, E. F. p38ɑ: a suppressor of cell proliferation and tumorigenesis. Cell Cycle 6, 2429–2433 (2007).

15.

Wagner, E. F. & Nebreda, A. R. Signal integration by JNK and p38 MAPK pathways in cancer development. Nat. Rev. Cancer 9, 537–549 (2009).

16.

Huangfu, W. C. et al. Inflammatory signaling compromises cell responses to interferon alpha. Oncogene 31, 161–172 (2012).

17.

Katlinskaya, Y. V. et al. Suppression of type I interferon signaling overcomes oncogene-induced senescence and mediates melanoma development and progression. Cell Rep. 15, 171–180 (2016).

18.

Ortiz, A. et al. An interferon-driven oxysterol-based defense against tumor-derived extracellular vesicles. Cancer Cell 35, 33–45 e36 (2019).

19.

Fearon, D. T. The carcinoma-associated fibroblast expressing fibroblast activation protein and escape from immune surveillance. Cancer Immunol. Res. 2, 187–193 (2014).

20.

Kraman, M. et al. Suppression of antitumor immunity by stromal cells expressing fibroblast activation protein-ɑ. Science 330, 827–830 (2010).

21.

Pure, E. & Blomberg, R. Pro-tumorigenic roles of fibroblast activation protein in cancer: back to the basics. Oncogene 37, 4343–4357 (2018).

22.

Fidler, I. J. & Nicolson, G. L. Organ selectivity for implantation survival and growth of B16 melanoma variant tumor lines. J. Natl Cancer Inst. 57, 1199–1202 (1976).

23.

Bhattacharya, S. et al. Triggering ubiquitination of IFNAR1 protects tissues from inflammatory injury. EMBO Mol. Med. 6, 384–397 (2014).

24.

Bhattacharya, S. et al. Role of p38 protein kinase in the ligand-independent ubiquitination and down-regulation of the IFNAR1 chain of type I interferon receptor. J. Biol. Chem. 286, 22069–22076 (2011).

25.

Tcyganov, E., Mastio, J., Chen, E. & Gabrilovich, D. I. Plasticity of myeloid-derived suppressor cells in cancer. Curr. Opin. Immunol. 51, 76–82 (2018).

26.

Zhou, J., Nefedova, Y., Lei, A. & Gabrilovich, D. Neutrophils and PMN-MDSC: their biological role and interaction with stromal cells. Semin. Immunol. 35, 19–28 (2018).

27.

Andzinski, L. et al. Type I IFNs induce anti-tumor polarization of tumor associated neutrophils in mice and human. Int. J. Cancer 138, 1982–1993 (2016).

28.

Kumar, V. et al. Cancer-associated fibroblasts neutralize the anti-tumor effect of CSF1 receptor blockade by inducing PMN-MDSC infiltration of tumors. Cancer Cell 32, 654–668 e655 (2017).

29.

Li, J. et al. Tumor cell-intrinsic factors underlie heterogeneity of immune cell infiltration and response to immunotherapy. Immunity 49, 178–193 e177 (2018).

30.

Kroetz, D. N. et al. Type I interferon induced epigenetic regulation of macrophages suppresses innate and adaptive immunity in acute respiratory viral infection. PLoS Pathog. 11, e1005338 (2015).

31.

Schliehe, C. et al. The methyltransferase Setdb2 mediates virus-induced susceptibility to bacterial superinfection. Nat. Immunol. 16, 67–74 (2015).

32.

Hoye, A. M. & Erler, J. T. Structural ECM components in the premetastatic and metastatic niche. Am. J. Physiol. Cell Physiol. 310, C955–C967 (2016).

33.

Roberts, E. W. et al. Depletion of stromal cells expressing fibroblast activation protein-ɑ from skeletal muscle and bone marrow results in cachexia and anemia. J. Exp. Med. 210, 1137–1151 (2013).

34.

Santos, A. M., Jung, J., Aziz, N., Kissil, J. L. & Pure, E. Targeting fibroblast activation protein inhibits tumor stromagenesis and growth in mice. J. Clin. Invest. 119, 3613–3625 (2009).

35.

Alspach, E. et al. p38MAPK plays a crucial role in stromal-mediated tumorigenesis. Cancer Discov. 4, 716–729 (2014).

36.

Brichkina, A. et al. p38MAPK builds a hyaluronan cancer niche to drive lung tumorigenesis. Genes Dev. 30, 2623–2636 (2016).

37.

Matsuo, Y. et al. Involvement of p38ɑ mitogen-activated protein kinase in lung metastasis of tumor cells. J. Biol. Chem. 281, 36767–36775 (2006).

38.

Chen, X. W. et al. CYP4A in tumor-associated macrophages promotes pre-metastatic niche formation and metastasis. Oncogene 36, 5045–5057 (2017).

39.

Correa, D., Somoza, R. A., Lin, P., Schiemann, W. P. & Caplan, A. I. Mesenchymal stem cells regulate melanoma cancer cells extravasation to bone and liver at their perivascular niche. Int. J. Cancer 138, 417–427 (2016).

40.

Murgai, M. et al. KLF4-dependent perivascular cell plasticity mediates pre-metastatic niche formation and metastasis. Nat. Med. 23, 1176–1190 (2017).

41.

van Deventer, H. W., Palmieri, D. A., Wu, Q. P., McCook, E. C. & Serody, J. S. Circulating fibrocytes prepare the lung for cancer metastasis by recruiting Ly-6C+ monocytes via CCL2. J. Immunol. 190, 4861–4867 (2013).

42.

Zheng, H. et al. Vascular endothelial growth factor-induced elimination of the type 1 interferon receptor is required for efficient angiogenesis. Blood 118, 4003–4006 (2011).

43.

Qian, J. et al. Pathogen recognition receptor signaling accelerates phosphorylation-dependent degradation of IFNAR1. PLoS Pathog. 7, e1002065 (2011).

44.

Kalluri, R. The biology and function of exosomes in cancer. J. Clin. Invest. 126, 1208–1215 (2016).

45.

Lobb, R. J., Lima, L. G. & Moller, A. Exosomes: key mediators of metastasis and pre-metastatic niche formation. Semin. Cell Dev. Biol. 67, 3–10 (2017).

46.

Sceneay, J., Smyth, M. J. & Moller, A. The pre-metastatic niche: finding common ground. Cancer Metast. Rev. 32, 449–464 (2013).

47.

Rautela, J. et al. Loss of host type-I IFN signaling accelerates metastasis and impairs NK-cell antitumor function in multiple models of breast cancer. Cancer Immunol. Res. 3, 1207–1217 (2015).

48.

Feig, C. et al. Targeting CXCL12 from FAP-expressing carcinoma-associated fibroblasts synergizes with anti-PD-L1 immunotherapy in pancreatic cancer. Proc. Natl Acad. Sci. USA 110, 20212–20217 (2013).

49.

Ohlund, D., Elyada, E. & Tuveson, D. Fibroblast heterogeneity in the cancer wound. J. Exp. Med. 211, 1503–1523 (2014).

50.

Ohlund, D. et al. Distinct populations of inflammatory fibroblasts and myofibroblasts in pancreatic cancer. J. Exp. Med. 214, 579–596 (2017).

51.

Choudhury, S. R. et al. Dipeptidase-1 is an adhesion receptor for neutrophil recruitment in lungs and liver. Cell 178, 1205–1221 e1217 (2019).

52.

Lo, A. et al. Fibroblast activation protein augments progression and metastasis of pancreatic ductal adenocarcinoma. JCI Insight 2, pii: 92232 (2017).

53.

Albrengues, J. et al. Neutrophil extracellular traps produced during inflammation awaken dormant cancer cells in mice. Science 361, eaao4227 (2018).

54.

Steeg, P. S. Targeting metastasis. Nat. Rev. Cancer 16, 201–218 (2016).

55.

Bragado, P. et al. TGF-β2 dictates disseminated tumour cell fate in target organs through TGF-β-RIII and p38ɑ/β signalling. Nat. Cell Biol. 15, 1351–1361 (2013).

56.

Wu, X. et al. Ubiquitin-conjugating enzyme Ubc13 controls breast cancer metastasis through a TAK1-p38 MAP kinase cascade. Proc. Natl Acad. Sci. USA 111, 13870–13875 (2014).

57.

Katlinski, K. V. et al. Inactivation of interferon receptor promotes the establishment of immune privileged tumor microenvironment. Cancer Cell 31, 194–207 (2017).

58.

Patnaik, A. et al. A first-in-human phase I study of the oral p38 MAPK inhibitor, ralimetinib (LY2228820 dimesylate), in patients with advanced cancer. Clin. Cancer Res. 22, 1095–1102 (2016).

59.

Kumar, V. et al. CD45 phosphatase inhibits STAT3 transcription factor activity in myeloid cells and promotes tumor-associated macrophage differentiation. Immunity 44, 303–315 (2016).
Acknowledgements
This work was supported by the PA Department of Health 2017 Health Research Formula Fund (to S.Y.F.); by the NIH/NCI R01 grant no. CA216936 (to S.Y.F. and D.I.G.), grant no. CA092900 (to S.Y.F.), grant no. CA229803 (to B.Z.S) and grant no. P01 CA165997 (to C.K., J.A.D. and S.Y.F.); as well as by additional support from grant no. F32 CA206431 (to A.O.), grant no. T32 CA009140 (to K.V.K.) and grant no. CA121973 (to J.M.K.). We thank Y. Wang, S. Weiss and E. Brown for the reagents, and A. Gamero (Temple University) and the members of the Gabrilovich, Fuchs, Diehl and Koumenis laboratories for critical suggestions.
Ethics declarations
Competing interests
The authors declare no competing interests.
Additional information
Publisher's note Springer Nature remains neutral with regard to jurisdictional claims in published maps and institutional affiliations.
Supplementary information
Genotyping primers and qPCR primers.
About this article
Cite this article
Gui, J., Zahedi, F., Ortiz, A. et al. Activation of p38α stress-activated protein kinase drives the formation of the pre-metastatic niche in the lungs. Nat Cancer 1, 603–619 (2020). https://doi.org/10.1038/s43018-020-0064-0
Received:

Accepted:

Published:

Issue Date: