Abstract
Immunotherapy that targets lymphoid cell checkpoints holds great promise for curing cancer. However, many cancer patients do not respond to this form of therapy. In addition to lymphoid cells, myeloid cells play essential roles in controlling immunity to cancer. Whether myeloid checkpoints exist that can be targeted to treat cancer is not well established. Here we show that c-Rel, a member of the nuclear factor kappa-light-chain-enhancer of activated B cells (NF-κB) family, specified the generation of myeloid-derived suppressor cells by selectively turning on protumoral genes while switching off antitumoral genes through a c-Rel enhanceosome. c-Rel deficiency in myeloid cells markedly inhibited cancer growth in mice and pharmaceutical inhibition of c-Rel had the same effect. Combination therapy that blocked both c-Rel and the lymphoid checkpoint protein programmed cell death protein 1 was more effective in treating cancer than blocking either alone. Thus, c-Rel is a myeloid checkpoint that can be targeted for treating cancer.
Access options
Access Nature and 54 other Nature Portfolio journals
Get Nature+, our best-value online-access subscription
$29.99 / 30 days
cancel any time
Subscribe to this journal
Receive 12 digital issues and online access to articles
$119.00 per year
only $9.92 per issue
Rent or buy this article
Prices vary by article type
from$1.95
to$39.95
Prices may be subject to local taxes which are calculated during checkout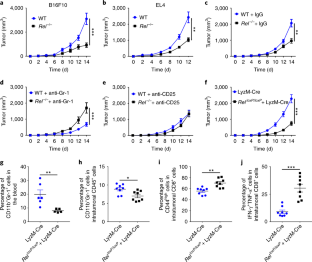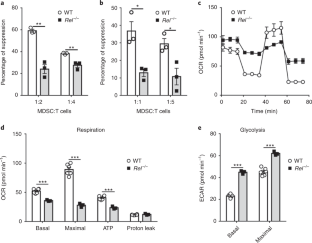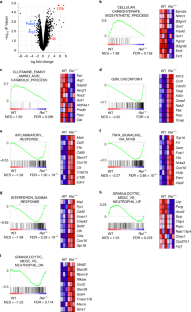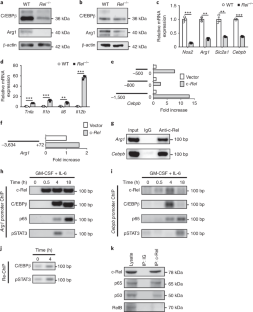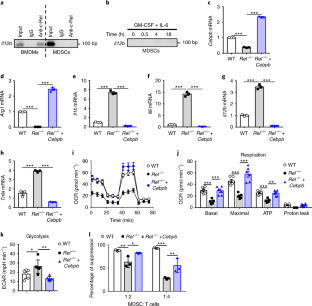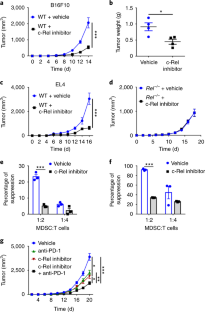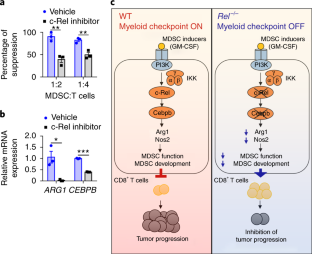 Similar content being viewed by others
Data availability
Microarray and RNA-seq data that support the findings of this study have been deposited in the ArrayExpress under accession nos. E-MTAB-8674 and E-MTAB-8714. Source data for Fig. 1 and Figs. 4–7 are provided with this paper and are available online. All other data supporting the findings of this study are available from the corresponding author upon reasonable request.
References
Topalian, S. L. et al. Safety, activity, and immune correlates of anti-PD-1 antibody in cancer. N. Engl. J. Med. 366, 2443–2454 (2012).

Havel, J. J., Chowell, D. & Chan, T. A. The evolving landscape of biomarkers for checkpoint inhibitor immunotherapy. Nat. Rev. Cancer 19, 133–150 (2019).

Pardoll, D. M. The blockade of immune checkpoints in cancer immunotherapy. Nat. Rev. Cancer 12, 252–264 (2012).

Kumar, V., Patel, S., Tcyganov, E. & Gabrilovich, D. I. The nature of myeloid-derived suppressor cells in the tumor microenvironment. Trends Immunol. 37, 208–220 (2016).

Manjili, M. H. Phenotypic plasticity of MDSC in cancers. Immunol. Invest. 41, 711–721 (2012).

Solito, S., Pinton, L., Damuzzo, V. & Mandruzzato, S. Highlights on molecular mechanisms of MDSC-mediated immune suppression: paving the way for new working hypotheses. Immunol. Invest. 41, 722–737 (2012).

Trikha, P. & Carson, W. E. 3rd Signaling pathways involved in MDSC regulation. Biochim. Biophys. Acta 1846, 55–65 (2014).

Bronte, V. et al. Recommendations for myeloid-derived suppressor cell nomenclature and characterization standards. Nat. Commun. 7, 12150 (2016).

Srivastava, M. K. et al. Myeloid suppressor cell depletion augments antitumor activity in lung cancer. PLoS ONE 7, e40677 (2012).

Stromnes, I. M. et al. Targeted depletion of an MDSC subset unmasks pancreatic ductal adenocarcinoma to adaptive immunity. Gut 63, 1769–1781 (2014).

Steinberg, S. M. et al. Myeloid cells that impair immunotherapy are restored in melanomas with acquired resistance to BRAF inhibitors. Cancer Res. 77, 1599–1610 (2017).

Enciso-Mora, V. et al. A genome-wide association study of Hodgkin's lymphoma identifies new susceptibility loci at 2p16.1 (REL), 8q24.21 and 10p14 (GATA3). Nat. Genet. 42, 1126–1130 (2010).

Trynka, G. et al. Coeliac disease-associated risk variants in TNFAIP3 and REL implicate altered NF-κB signalling. Gut 58, 1078–1083 (2009).

Gregersen, P. K. et al. REL, encoding a member of the NF-κB family of transcription factors, is a newly defined risk locus for rheumatoid arthritis. Nat. Genet. 41, 820–823 (2009).

Hussman, J. P. et al. GWAS analysis implicates NF-κB-mediated induction of inflammatory T cells in multiple sclerosis. Genes Immun. 17, 305–312 (2016).

Himmelstein, D. S. & Baranzini, S. E. Heterogeneous network edge prediction: a data integration approach to prioritize disease-associated genes. PLoS Comput. Biol. 11, e1004259 (2015).

Beecham, A. H. et al. Analysis of immune-related loci identifies 48 new susceptibility variants for multiple sclerosis. Nat. Genet. 45, 1353–1360 (2013).

Baranzini, S, E. et al. Network-based multiple sclerosis pathway analysis with GWAS data from 15,000 cases and 30,000 controls. Am. J. Hum. Genet. 92, 854–865 (2013).

Simek, S. & Rice, N. R. Detection and characterization of the protein encoded by the chicken c-rel protooncogene. Oncogene Res. 2, 103–119 (1988).

Grumont, R. J. & Gerondakis, S. The murine c-rel proto-oncogene encodes two mRNAs the expression of which is modulated by lymphoid stimuli. Oncogene Res. 5, 245–254 (1990).

Artis, D. et al. Differential requirement for NF-κB family members in control of helminth infection and intestinal inflammation. J. Immunol. 169, 4481–4487 (2002).

Carrasco, D. et al. Multiple hemopoietic defects and lymphoid hyperplasia in mice lacking the transcriptional activation domain of the c-Rel protein. J. Exp. Med. 187, 973–984 (1998).

Reinhard, K. et al. c-Rel promotes type 1 and type 17 immune responses during Leishmania major infection. Eur. J. Immunol. 41, 1388–1398 (2011).

Harling-McNabb, L. et al. Mice lacking the transcription factor subunit Rel can clear an influenza infection and have functional anti-viral cytotoxic T cells but do not develop an optimal antibody response. Int. Immunol. 11, 1431–1439 (1999).

Liou, H. C. et al. c-Rel is crucial for lymphocyte proliferation but dispensable for T cell effector function. Int. Immunol. 11, 361–371 (1999).

Köntgen, F. et al. Mice lacking the c-rel proto-oncogene exhibit defects in lymphocyte proliferation, humoral immunity, and interleukin-2 expression. Genes Dev. 9, 1965–1977 (1995).

Campbell, I. K., Gerondakis, S., O'Donnell, K. & Wicks, I. P. Distinct roles for the NF-κB1 (p50) and c-Rel transcription factors in inflammatory arthritis. J. Clin. Invest. 105, 1799–1806 (2000).

Hilliard, B. A. et al. Critical roles of c-Rel in autoimmune inflammation and helper T cell differentiation. J. Clin. Invest. 110, 843–850 (2002).

Lamhamedi-Cherradi, S.-E. et al. Transcriptional regulation of type I diabetes by NF-κB. J. Immunol. 171, 4886–4892 (2003).

Wang, Y. et al. c-Rel is essential for the development of innate and T cell-induced colitis. J. Immunol. 180, 8118–8125 (2008).

Jordan, K. A., Dupont, C. D., Tait, E. D., Liou, H.-C. & Hunter, C. A. Role of the NF-κB transcription factor c-Rel in the generation of CD8+ T-cell responses to Toxoplasma gondii. Int. Immunol. 22, 851–861 (2010).

Ruan, Q. et al. Development of Foxp3+ regulatory T cells is driven by the c-Rel enhanceosome. Immunity 31, 932–940 (2009).

Oh, H. An NF-κB transcription-factor-dependent lineage-specific transcriptional program promotes regulatory T cell identity and function. Immunity 47, 450–465.e5 (2017).

Grinberg-Bleyer, Y. et al. NF-κB c-Rel is crucial for the regulatory T cell immune checkpoint in cancer. Cell 170, 1096–1108.e13 (2017).

Ruan, Q. et al. The Th17 immune response is controlled by the Rel–RORγ–RORγT transcriptional axis. J. Exp. Med. 208, 2321–2333 (2011).

Youn, J. I., Collazo, M., Shalova, I. N., Biswas, S. K. & Gabrilovich, D. I. Characterization of the nature of granulocytic myeloid-derived suppressor cells in tumor-bearing mice. J. Leukoc. Biol. 91, 167–181 (2012).

Gato-Cañas, M. et al. A core of kinase-regulated interactomes defines the neoplastic MDSC lineage. Oncotarget 6, 27160–27175 (2015).

Chen Y. H., Murali R. & Sun J. Rel inhibitors and methods of use thereof. US patent 8609730 (PCT/US2009/030325) (2009).

Marvel, D. & Gabrilovich, D. I. Myeloid-derived suppressor cells in the tumor microenvironment: expect the unexpected. J. Clin. Invest. 125, 3356–3364 (2015).

Marigo, I. et al. Tumor-induced tolerance and immune suppression depend on the C/EBPβ transcription factor. Immunity 32, 790–802 (2010).

Kaneda, M. M. et al. PI3Kγ is a molecular switch that controls immune suppression. Nature 539, 437–442 (2016).

Ostrand-Rosenberg, S., Sinha, P., Beury, D. W. & Clements, V. K. Cross-talk between myeloid-derived suppressor cells (MDSC), macrophages, and dendritic cells enhances tumor-induced immune suppression. Semin. Cancer Biol. 22, 275–281 (2012).

Srivastava, M. K. et al. Targeting myeloid-derived suppressor cells augments antitumor activity against lung cancer. Immunotargets Ther. 2012, 7–12 (2012).

Zilio, S. & Serafini, P. Neutrophils and granulocytic MDSC: the Janus god of cancer immunotherapy. Vaccines (Basel) 4, 31 (2016).

Zhao, Y., Wu, T., Shao, S., Shi, B. & Zhao, Y. Phenotype, development, and biological function of myeloid-derived suppressor cells. Oncoimmunology 5, e1004983 (2016).

Knopp, M. M., Löbmann, K., Elder, D. P., Rades, T. & Holm, R. Recent advances and potential applications of modulated differential scanning calorimetry (mDSC) in drug development. Eur. J. Pharm. Sci. 87, 164–173 (2016).

Merika, M. & Thanos, D. Enhanceosomes. Curr. Opin. Genet. Dev. 11, 205–208 (2001).

Panne, D. The enhanceosome. Curr. Opin. Struct. Biol. 18, 236–242 (2008).

Arnosti, D. N. & Kulkarni, M. M. Transcriptional enhancers: intelligent enhanceosomes or flexible billboards? J. Cell. Biochem. 94, 890–898 (2005).

Tumang, J. R. et al. c-Rel is essential for B lymphocyte survival and cell cycle progression. Eur. J. Immunol. 28, 4299–4312 (1998).
Acknowledgements
We thank H.-C. Liou (Cornell University), W. Weinberg (US FDA) and J. Zakrzewski (Cornell University) for providing the breeding pair of the Rel−/− mice. We thank D. Gabrilovich, J. Goldsmith, P. Fang, L. Wan, M. Lin, D. Zhang, L. Guan, J. Devergiilis and J. Sun for valuable discussions, technical support and reagents. We thank the University of Pennsylvania Pancreatic Islet Cell Biology Core and D.P. Beiting from the University of Pennsylvania School of Veterinary Medicine for technical support. This work was supported in part by grants from the National Institutes of Health (nos. R01-AI152195, R01-AI099216, R01-AI121166, R01-AI143676 and R01-AI136945 to Y.H.C.); X.L. was partially supported by grant no. NIH-T32-DK007780.
Ethics declarations
Competing interests
Y.H.C. and R.M. are inventors of the following patent that describes the c-Rel inhibitor used in this study: Chen Y.H., Murali R. & Sun J. Rel inhibitors and methods of use thereof (USA patent no. US8609730B2). Y.H.C. is a member of the advisory board of Amshenn Pharmaceutical Company and Binde Company.
Additional information
Publisher's note Springer Nature remains neutral with regard to jurisdictional claims in published maps and institutional affiliations.
Supplementary information
Supplementary Tables 1 and 2.
About this article
Cite this article
Li, T., Li, X., Zamani, A. et al. c-Rel is a myeloid checkpoint for cancer immunotherapy. Nat Cancer 1, 507–517 (2020). https://doi.org/10.1038/s43018-020-0061-3
Received:

Accepted:

Published:

Issue Date:

DOI: https://doi.org/10.1038/s43018-020-0061-3