Abstract
The cytokine interferon (IFN)-γ produced by tumor-reactive T cells is a key effector molecule with pleiotropic effects during anti-tumor immune responses. Although IFN-γ production is targeted at the immunologic synapse, its spatiotemporal activity within the tumor remains elusive. In the present study, we report that, although IFN-γ secretion requires local antigen recognition, IFN-γ diffuses extensively to alter the tumor microenvironment in distant areas. Using intravital imaging and a reporter for STAT1 translocation, we provide evidence that T cells mediate sustained IFN-γ signaling in remote tumor cells. Furthermore, tumor phenotypic alterations required several hours of exposure to IFN-γ, a feature that disfavored local IFN-γ activity over diffusion and bystander activity. Finally, single-cell RNA-sequencing data from melanoma patients also suggested bystander IFN-γ activity in human tumors. Thus, tumor-reactive T cells act collectively to create large cytokine fields that profoundly modify the tumor microenvironment.
Access options
Subscribe to Journal
Get full journal access for 1 year
$99.00
only $8.25 per issue
All prices are NET prices.
VAT will be added later in the checkout.
Tax calculation will be finalised during checkout.
Rent or Buy article
Get time limited or full article access on ReadCube.
from$8.99
All prices are NET prices.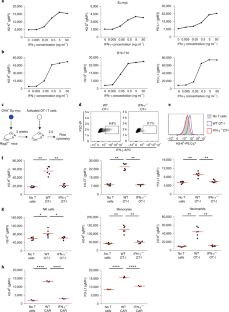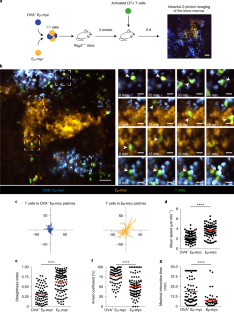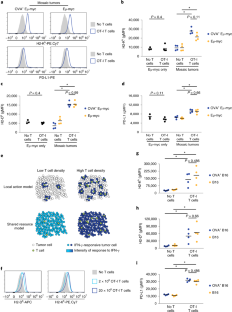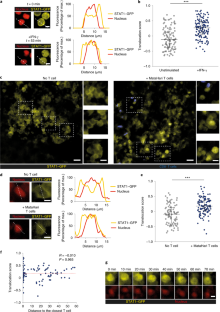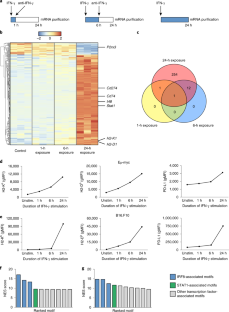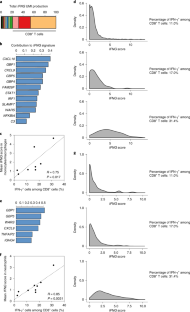 Data availability
RNA-seq data reported in this paper are deposited in the National Center for Biotechnology Information GEO database (GSE140191). Previously published human single-cell RNA-seq data that were reanalyzed in the present study are available under accession codes GSE123139 and GSE103322. All other data supporting the findings of the present study are available from the corresponding author on reasonable request.
References
1.

Kaplan, D. H. et al. Demonstration of an interferon gamma-dependent tumor surveillance system in immunocompetent mice. Proc. Natl Acad. Sci. USA 95, 7556–7561 (1998).

2.

Street, S. E., Cretney, E. & Smyth, M. J. Perforin and interferon-gamma activities independently control tumor initiation, growth, and metastasis. Blood 97, 192–197 (2001).

3.

Dunn, G. P., Koebel, C. M. & Schreiber, R. D. Interferons, immunity and cancer immunoediting. Nat. Rev. Immunol. 6, 836–848 (2006).

4.

Garris, C. S. et al. Successful anti-PD-1 cancer immunotherapy requires T cell–dendritic cell crosstalk involving the cytokines IFN-gamma and IL-12. Immunity 49, 1148–1161 e1147 (2018).

5.

Gao, J. et al. Loss of IFN-gamma pathway genes in tumor cells as a mechanism of resistance to anti-CTLA-4 therapy. Cell 167, 397–404 e399 (2016).

6.

Chin, Y. E. et al. Cell growth arrest and induction of cyclin-dependent kinase inhibitor p21 WAF1/CIP1 mediated by STAT1. Science 272, 719–722 (1996).

7.

Ikeda, H., Old, L. J. & Schreiber, R. D. The roles of IFN gamma in protection against tumor development and cancer immunoediting. Cytokine Growth Factor Rev. 13, 95–109 (2002).

8.

Braumuller, H. et al. T-helper-1-cell cytokines drive cancer into senescence. Nature 494, 361–365 (2013).

9.

Wang, W. et al. CD8+ T cells regulate tumour ferroptosis during cancer immunotherapy. Nature 569, 270–274 (2019).

10.

Kammertoens, T. et al. Tumour ischaemia by interferon-gamma resembles physiological blood vessel regression. Nature 545, 98–102 (2017).

11.

Meunier, M. C. et al. T cells targeted against a single minor histocompatibility antigen can cure solid tumors. Nat. Med. 11, 1222–1229 (2005).

12.

Groom, J. R. & Luster, A. D. CXCR3 ligands: redundant, collaborative and antagonistic functions. Immunol. Cell Biol. 89, 207–215 (2011).

13.

Takeda, K. et al. IFN-gamma is required for cytotoxic T cell-dependent cancer genome immunoediting. Nat. Commun. 8, 14607 (2017).

14.

Garcia-Diaz, A. et al. Interferon receptor signaling pathways regulating PD-L1 and PD-L2 expression. Cell Rep. 19, 1189–1201 (2017).

15.

Dong, H. et al. Tumor-associated B7-H1 promotes T-cell apoptosis: a potential mechanism of immune evasion. Nat. Med. 8, 793–800 (2002).

16.

Freeman, G. J. et al. Engagement of the PD-1 immunoinhibitory receptor by a novel B7 family member leads to negative regulation of lymphocyte activation. J. Exp. Med. 192, 1027–1034 (2000).

17.

Pai, C. S. et al. Clonal deletion of tumor-specific T cells by interferon-gamma confers therapeutic resistance to combination immune checkpoint blockade. Immunity 50, 477–492 e478 (2019).

18.

Benci, J. L. et al. Tumor interferon signaling regulates a multigenic resistance program to immune checkpoint blockade. Cell 167, 1540–1554 e1512 (2016).

19.

Altan-Bonnet, G. & Mukherjee, R. Cytokine-mediated communication: a quantitative appraisal of immune complexity. Nat. Rev. Immunol. 19, 205–217 (2019).

20.

Huse, M., Lillemeier, B. F., Kuhns, M. S., Chen, D. S. & Davis, M. M. T cells use two directionally distinct pathways for cytokine secretion. Nat. Immunol. 7, 247–255 (2006).

21.

Helmstetter, C. et al. Individual T helper cells have a quantitative cytokine memory. Immunity 42, 108–122 (2015).

22.

Honda, T. et al. Tuning of antigen sensitivity by T cell receptor-dependent negative feedback controls T cell effector function in inflamed tissues. Immunity 40, 235–247 (2014).

23.

Sanderson, N. S. et al. Cytotoxic immunological synapses do not restrict the action of interferon-gamma to antigenic target cells. Proc. Natl Acad. Sci. USA 109, 7835–7840 (2012).

24.

Perona-Wright, G., Mohrs, K. & Mohrs, M. Sustained signaling by canonical helper T cell cytokines throughout the reactive lymph node. Nat. Immunol. 11, 520–526 (2010).

25.

Müller, A. J. et al. CD4+ T cells rely on bystander effector activity to control local infection. Immunity 37, 147–157 (2012).

26.

Harris, A. W. et al. The E mu-myc transgenic mouse. A model for high-incidence spontaneous lymphoma and leukemia of early B cells. J. Exp. Med. 167, 353–371 (1988).

27.

Hart, I. R. The selection and characterization of an invasive variant of the B16 melanoma. Am. J. Pathol. 97, 587–600 (1979).

28.

Sugiura, K. & Stock, C. C. Studies in a tumor spectrum. I. Comparison of the action of methylbis(2-chloroethyl)amine and 3-bis(2-chloroethyl)aminomethyl-4-methoxymethyl-5-hydroxy-6-methylpyridine on the growth of a variety of mouse and rat tumors. Cancer 5, 382–402 (1952).

29.

Milo, I. et al. The immune system profoundly restricts intratumor genetic heterogeneity. Sci. Immunol. 3, eaat1435 (2018).

30.

Oyler-Yaniv, J. et al. Catch and release of cytokines mediated by tumor phosphatidylserine converts transient exposure into long-lived inflammation. Mol. Cell 66, 635–647 e637 (2017).

31.

Li, H. et al. Dysfunctional CD8 T cells form a proliferative, dynamically regulated compartment within human melanoma. Cell 176, 775–789 e718 (2019).

32.

Fan, J. et al. Characterizing transcriptional heterogeneity through pathway and gene set overdispersion analysis. Nat. Methods 13, 241–244 (2016).

33.

Kupfer, A., Mosmann, T. R. & Kupfer, H. Polarized expression of cytokines in cell conjugates of helper T cells and splenic B cells. Proc. Natl Acad. Sci. USA 88, 775–779 (1991).

34.

Egen, J. G. et al. Intravital imaging reveals limited antigen presentation and T cell effector function in mycobacterial granulomas. Immunity 34, 807–819 (2011).

35.

Olekhnovitch, R., Ryffel, B., Muller, A. J. & Bousso, P. Collective nitric oxide production provides tissue-wide immunity during leishmania infection. J. Clin. Invest. 124, 1711–1722 (2014).

36.

Postat, J., Olekhhnovitch, R., Lemaïtre, F. & Bousso, P. A metabolism-based quorum sensing mechanism contributes to termination of inflammatory responses. Immunity 49, 654–665 (2018).

37.

Oyler-Yaniv, A. et al. A tunable diffusion–consumption mechanism of cytokine propagation enables plasticity in cell-to-cell communication in the immune system. Immunity 46, 609–620 (2017).

38.

Stahl, P. L. et al. Visualization and analysis of gene expression in tissue sections by spatial transcriptomics. Science 353, 78–82 (2016).

39.

Shah, S., Lubeck, E., Zhou, W. & Cai, L. seqFISH accurately detects transcripts in single cells and reveals robust spatial organization in the hippocampus. Neuron 94, 752–758 e751 (2017).

40.

Wang, X. et al. Three-dimensional intact-tissue sequencing of single-cell transcriptional states. Science 361, pii: eaat5691 (2018).

41.

Cazaux, M. et al. Single-cell imaging of CAR T cell activity in vivo reveals extensive functional and anatomical heterogeneity. J. Exp. Med. 216, 1038–1049 (2019).

42.

Vincent, L. Morphological grayscale reconstruction in image analysis: applications and efficient algorithms. IEEE Trans. Image Process. 2, 176–201 (1993).

43.

Janky, R. et al. iRegulon: from a gene list to a gene regulatory network using large motif and track collections. PLoS Comput. Biol. 10, e1003731 (2014).

44.

Lake, B. B. et al. Integrative single-cell analysis of transcriptional and epigenetic states in the human adult brain. Nat. Biotechnol. 36, 70–80 (2018).

45.

McInnes, L., Healy, J. & Melville, J. UMAP: uniform manifold approximation and projection for dimension reduction. Preprint at arXiv https://arxiv.org/abs/1802.03426 (2018).
Acknowledgements
We thank members of P. Bousso's laboratory for critical review of the manuscript. We thank the mouse facility and Technology Core of the Center for Translational Science (CRT) at Institut Pasteur for support in conducting the present study. The work was supported by Institut Pasteur, INSERM, a starting grant (Lymphocytecontact) and an advanced grant (ENLIGHTEN) from the European Research Council (to P. Bousso) and by the Bristol-Myers Squibb Foundation for Research in Immuno-Oncology.
Ethics declarations
Competing interests
The authors declare no competing interests.
Additional information
Publisher's note Springer Nature remains neutral with regard to jurisdictional claims in published maps and institutional affiliations.
Supplementary information
About this article
Cite this article
Thibaut, R., Bost, P., Milo, I. et al. Bystander IFN-γ activity promotes widespread and sustained cytokine signaling altering the tumor microenvironment. Nat Cancer 1, 302–314 (2020). https://doi.org/10.1038/s43018-020-0038-2
Received:

Accepted:

Published:

Issue Date: