Abstract
2′3′-Cyclic GMP-AMP (cGAMP) is an intracellular second messenger that is synthesized in response to cytosolic double-stranded DNA and activates the innate immune STING pathway. Our previous discovery of its extracellular hydrolase ENPP1 hinted at the existence of extracellular cGAMP. Here we detected that cGAMP is continuously exported but then efficiently cleared by ENPP1, explaining why it has previously escaped detection. By developing potent, specific and cell-impermeable ENPP1 inhibitors, we found that cancer cells continuously export cGAMP in culture at steady state and at higher levels when treated with ionizing radiation (IR). In mouse tumors, depletion of extracellular cGAMP decreased tumor-associated immune cell infiltration and abolished the curative effect of IR. Boosting extracellular cGAMP with ENPP1 inhibitors synergized with IR to delay tumor growth. In conclusion, extracellular cGAMP is an anticancer immunotransmitter that could be harnessed to treat cancers with low immunogenicity.
Relevant articles
Open Access articles citing this article.
Feisheng Zhong

,

Xiaolong Wu

…

Mingyue Zheng

Protein & Cell Open Access 22 October 2021

Signal Transduction and Targeted Therapy Open Access 30 April 2021

Thomas J. Hayman

,

Marta Baro

…

Joseph N. Contessa

Nature Communications Open Access 19 April 2021
Access options
Subscribe to Nature+
Get immediate online access to Nature and 55 other Nature journal
Subscribe to Journal
Get full journal access for 1 year
$119.00
only $9.92 per issue
All prices are NET prices.
VAT will be added later in the checkout.
Tax calculation will be finalised during checkout.
Buy article
Get time limited or full article access on ReadCube.
$32.00
All prices are NET prices.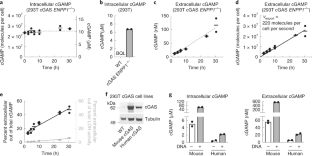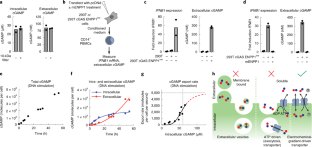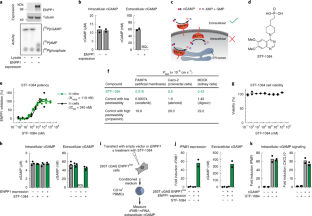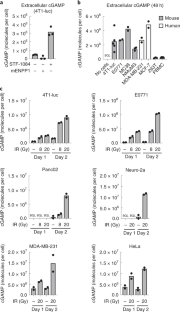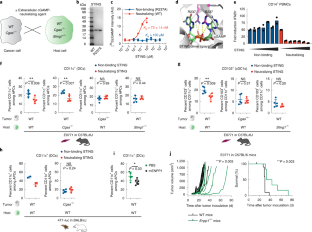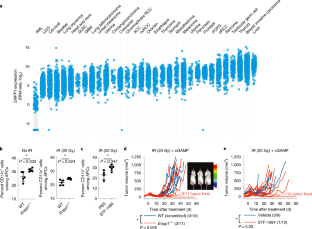 Data availability
The ENPP1 mRNA expression data were derived from the TCGA Research Network: http://cancergenome.nih.gov/. Source data for Figs. 1–5 and Extended Data Figs. 1–5, 7, 9 and 10 are provided with the paper. Independent validators for Figs. 1–5 are provided as Supplementary Figs. 1–5. All other data that support the findings of this study are available from the corresponding author upon request.
References
Wu, J. et al. Cyclic GMP-AMP is an endogenous second messenger in innate immune signaling by cytosolic DNA. Science 339, 826–830 (2013).

Sun, L., Wu, J., Du, F., Chen, X. & Chen, Z. J. Cyclic GMP-AMP synthase is a cytosolic DNA sensor that activates the type I interferon pathway. Science 339, 786–791 (2013).

Li, X.-D. et al. Pivotal roles of cGAS–cGAMP signaling in antiviral defense and immune adjuvant effects. Science 341, 1390–1394 (2013).

Barber, G. N. STING: infection, inflammation and cancer. Nat. Rev. Immunol. 15, 760–770 (2015).

Ishikawa, H., Ma, Z. & Barber, G. N. STING regulates intracellular DNA-mediated, type I interferon-dependent innate immunity. Nature 461, 788–792 (2009).

Ahn, J., Gutman, D., Saijo, S. & Barber, G. N. STING manifests self DNA-dependent inflammatory disease. Proc. Natl Acad. Sci. USA 109, 19386–19391 (2012).

Woo, S. R. et al. STING-dependent cytosolic DNA sensing mediates innate immune recognition of immunogenic tumors. Immunity 41, 830–842 (2014).

Ishikawa, H. & Barber, G. N. STING is an endoplasmic reticulum adaptor that facilitates innate immune signalling. Nature 455, 674–678 (2008).

Ablasser, A. et al. Cell intrinsic immunity spreads to bystander cells via the intercellular transfer of cGAMP. Nature 503, 530–534 (2013).

Patel, S. J., King, K. R., Casali, M. & Yarmush, M. L. DNA-triggered innate immune responses are propagated by gap junction communication. Proc. Natl Acad. Sci. USA 106, 12867–12872 (2009).

Patel, S. J. et al. Gap junction inhibition prevents drug-induced liver toxicity and fulminant hepatic failure. Nat. Biotechnol. 30, 179–183 (2012).

Chen, Q. et al. Carcinoma-astrocyte gap junctions promote brain metastasis by cGAMP transfer. Nature 533, 493–498 (2016).

Gentili, M. et al. Transmission of innate immune signaling by packaging of cGAMP in viral particles. Science 349, 1232–1236 (2015).

Bridgeman, A. et al. Viruses transfer the antiviral second messenger cGAMP between cells. Science 349, 1228–1232 (2015).

Marcus, A. et al. Tumor-derived cGAMP triggers a STING-mediated interferon response in non-tumor cells to activate the NK cell response. Immunity 49, 754–763 (2018).

Li, L. et al. Hydrolysis of 2′3′-cGAMP by ENPP1 and design of nonhydrolyzable analogs. Nat. Chem. Biol. 10, 1043–1048 (2014).

Gao, P. et al. Structure–function analysis of STING activation by c[G(2′,5′) pA(3′,5′)p] and targeting by antiviral DMXAA. Cell 154, 748–762 (2013).

Corrales, L. et al. Direct activation of STING in the tumor microenvironment leads to potent and systemic tumor regression and immunity. Cell Rep. 11, 1018–1030 (2015).

Ritchie, C., Cordova, A. F., Hess, G. T., Bassik, M. C. & Li, L. SLC19A1 is an importer of the immunotransmitter cGAMP. Mol. Cell 75, 372–381 (2019).

Luteijn, R. D. et al. SLC19A1 transports immunoreactive cyclic dinucleotides. Nature 573, 434–438 (2019).

Jønsson, K. L. et al. IFI16 is required for DNA sensing in human macrophages by promoting production and function of cGAMP. Nat. Commun. 8, 1–17 (2017).

Gao, D. et al. Activation of cyclic GMP-AMP synthase by self-DNA causes autoimmune diseases. Proc. Natl Acad. Sci. USA 112, E5699–E5705 (2015).

Sun, W. et al. ERIS, an endoplasmic reticulum IFN stimulator, activates innate immune signaling through dimerization. Proc. Natl Acad. Sci. USA 106, 8653–8658 (2009).

Belli, S., van Driel, I. & Goding, J. Identification and characterization of a soluble form of the plasma cell membrane glycoprotein PC-1. Eur. J. Biochem. 217, 421–428 (1993).

Mackenzie, K. J. et al. cGAS surveillance of micronuclei links genome instability to innate immunity. Nature 548, 461–465 (2017).

Harding, S. M. Mitotic progression following DNA damage enables pattern recognition within micronuclei. Nature 548, 466–470 (2017).

Bakhoum, S. F. et al. Chromosomal instability drives metastasis through a cytosolic DNA response. Nature 553, 467–472 (2018).

Zhou, W. et al. Structure of the human cGAS–DNA complex reveals enhanced control of immune surveillance. Cell 174, 300–311 (2018).

Zhao, Y. J., Lam, C. M. C. & Lee, H. C. The membrane-bound enzyme CD38 exists in two opposing orientations. Sci. Signal. 5, ra67 (2012).

Patel, S. D. et al. Quinazolin-4-piperidin-4-methyl sulfamide PC-1 inhibitors: alleviating hERG interactions through structure based design. Bioorganic Med. Chem. Lett. 19, 3339–3343 (2009).

Shayhidin, E. E. et al. Quinazoline-4-piperidine sulfamides are specific inhibitors of human NPP1 and prevent pathological mineralization of valve interstitial cells. Br. J. Pharmacol. 172, 4189–4199 (2015).

Hatch, E. M., Fischer, A. H., Deerinck, T. J. & Hetzer, M. W. Catastrophic nuclear envelope collapse in cancer cell micronuclei. Cell 154, 47 (2013).

Bakhoum, S. F. et al. Numerical chromosomal instability mediates susceptibility to radiation treatment. Nat. Commun. 6, 1–10 (2015).

Dou, Z. et al. Cytoplasmic chromatin triggers inflammation in senescence and cancer. Nature 550, 402–406 (2017).

Böttcher, J. P. & Reis e Sousa, C. The role of type 1 conventional dendritic cells in cancer immunity. Trends Cancer 4, 784–792 (2018).

Rutsch, F. et al. PC-1 nucleoside triphosphate pyrophosphohydrolase deficiency in idiopathic infantile arterial calcification. Am. J. Pathol. 158, 543–554 (2001).

Deng, L. et al. STING-dependent cytosolic DNA sensing promotes radiation-induced type I interferon-dependent antitumor immunity in immunogenic tumors. Immunity 41, 543–852 (2014).

Yang, H., Wang, H., Ren, J., Chen, Q. & Chen, Z. J. cGAS is essential for cellular senescence. Proc. Natl Acad. Sci. USA 114, E4612–E4620 (2017).

Lau, W. M. et al. Enpp1: a potential facilitator of breast cancer bone metastasis. PLoS One 8, 1–5 (2013).

Takahashi, R. U. et al. Loss of microRNA-27b contributes to breast cancer stem cell generation by activating ENPP1. Nat. Commun. 6, 1–15 (2015).

Umar, A. et al. Identification of a putative protein profile associated with tamoxifen therapy resistance in breast cancer. Mol. Cell Proteomics 8, 1278–1294 (2009).

Cerami, E. et al. The cBio cancer genomics portal: an open platform for exploring multidimensional cancer genomics data. Cancer Discov. 2, 401–404 (2012).

Gao, J. et al. Integrative analysis of complex cancer genomics and clinical profiles using the cBioPortal. Sci. Signal. 6, pl1 (2013).

Negrini, S., Gorgoulis, V. G. & Halazonetis, T. D. Genomic instability—an evolving hallmark of cancer. Nat. Rev. Mol. Cell Biol. 11, 220–228 (2010).

Bakhoum, S. F. & Cantley, L. C. The multifaceted role of chromosomal instability in cancer and its microenvironment. Cell 174, 1347–1360 (2018).

Konno, H., Konno, K. & Barber, G. N. Cyclic dinucleotides trigger ULK1 (ATG1) phosphorylation of STING to prevent sustained innate immune signaling. Cell 155, 688–698 (2013).

Xu, M. M. et al. Dendritic cells but not macrophages sense tumor mitochondrial DNA for cross-priming through signal regulatory protein A signaling. Immunity 47, 363–373 (2017).

Vanpouille-Box, C. et al. DNA exonuclease Trex1 regulates radiotherapy-induced tumour immunogenicity. Nat. Commun. 8, 15618 (2017).

Lau, L., Gray, E. E., Brunette, R. L. & Stetson, D. B. DNA tumor virus oncogenes antagonize the cGAS–STING DNA-sensing pathway. Science 350, 568–571 (2015).

Vilalta, M., Rafat, M., Giaccia, A. J. & Graves, E. E. Recruitment of circulating breast cancer cells is stimulated by radiotherapy. Cell Rep. 8, 402–409 (2014).

Kato, K. et al. Expression, purification, crystallization and preliminary X-ray crystallographic analysis of Enpp1. Acta Crystallogr. Sect. F Struct. Biol. Cryst. Commun. 68, 778–782 (2012).

Amend, S. R., Valkenburg, K. C. & Pienta, K. J. Murine hind limb long bone dissection and bone marrow isolation. J. Vis. Exp. https://doi.org/10.3791/53936 (2016).

Sanjana, N. E., Shalem, O. & Zhang, F. Improved vectors and genome-wide libraries for CRISPR screening. Nat. Methods 11, 783–784 (2014).

Kato, K. et al. Crystal structure of Enpp1, an extracellular glycoprotein involved in bone mineralization and insulin signaling. Proc. Natl Acad. Sci. USA 109, 16876–16881 (2012).
Acknowledgements
This work is dedicated to T. Mitchison to celebrate his 60th birthday and his remarkable achievements in understanding biochemical mechanisms of the cell. He taught L. Li the power of definitive experiments. We thank the following people (all affiliated with Stanford) for their help: the Stanford Small Animal Imaging Facility, S. Ergun for [35S]cGAMP, C. Patel for specificity assays, F. Sunden for enzyme assays, R. Stabler for chemical synthesis, N. Weng for protein purification, and C. Walsh, D. Herschlag and all members of the Li laboratory for helpful discussions. Flow cytometry analysis for this project was performed on instruments in the Stanford Shared FACS Facility. Data were collected on an instrument in the Shared FACS Facility obtained using NIH S10 Shared Instrument Grant S10RR027431-01. This research was supported by NIH grant 5F31CA239510 (J.A.C), a Xu Family Foundation Stanford Interdisciplinary Graduate Fellowship affiliated with Stanford ChEM-H (J.A.C.), NIH grant DP2CA228044 (L.L.), Department of Defense grant W81XWH-18-1-0041 (L.L.), NSF GRFP DGE1656518 (J.A.B.), U19AI109662 (J.S.G.), R01CA197136 and S10OD018208 (E.E.G.) and K99CA201304 (M.R.).
Ethics declarations
Competing interests
M.S. and L.L. are scientific cofounders of Angarus Therapeutics, which has exclusive licensing rights to patent PCT/US2018/50018. J.A.C., V.B., K.E.S., M.S. and L.L. are inventors on patent PCT/US2018/50018.
Additional information
Publisher's note Springer Nature remains neutral with regard to jurisdictional claims in published maps and institutional affiliations.
Supplementary information
About this article
Cite this article
Carozza, J.A., Böhnert, V., Nguyen, K.C. et al. Extracellular cGAMP is a cancer-cell-produced immunotransmitter involved in radiation-induced anticancer immunity. Nat Cancer 1, 184–196 (2020). https://doi.org/10.1038/s43018-020-0028-4
Received:

Accepted:

Published:

Issue Date:

DOI: https://doi.org/10.1038/s43018-020-0028-4