Abstract
Mutational signatures are patterns of mutations that arise during tumorigenesis. We present an enhanced, practical framework for mutational signature analyses. Applying these methods to 3,107 whole-genome-sequenced (WGS) primary cancers of 21 organs reveals known signatures and nine previously undescribed rearrangement signatures. We highlight interorgan variability of signatures and present a way of visualizing that diversity, reinforcing our findings in an independent analysis of 3,096 WGS metastatic cancers. Signatures with a high level of genomic instability are dependent on TP53 dysregulation. We illustrate how uncertainty in mutational signature identification and assignment to samples affects tumor classification, reinforcing that using multiple orthogonal mutational signature data is not only beneficial, but is also essential for accurate tumor stratification. Finally, we present a reference web-based tool for cancer and experimentally generated mutational signatures, called Signal (https://signal.mutationalsignatures.com), that also supports performing mutational signature analyses.
Access options
Subscribe to Journal
Get full journal access for 1 year
$99.00
only $8.25 per issue
All prices are NET prices.
VAT will be added later in the checkout.
Tax calculation will be finalised during checkout.
Rent or Buy article
Get time limited or full article access on ReadCube.
from$8.99
All prices are NET prices.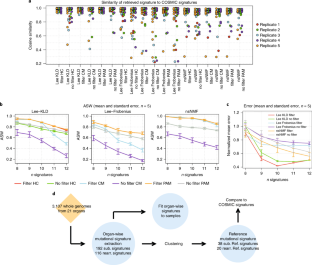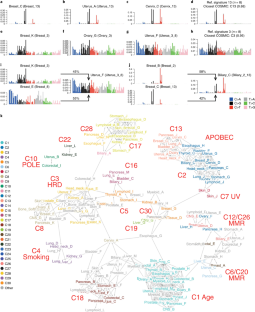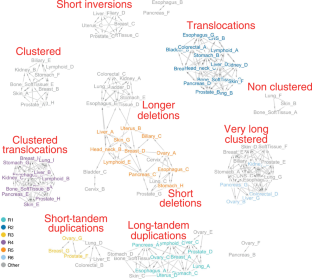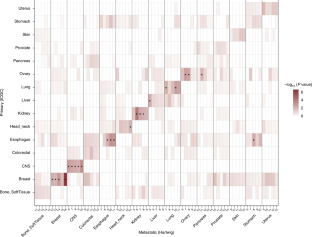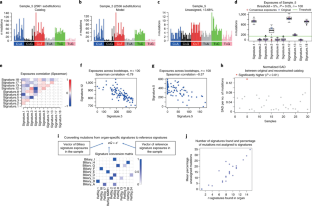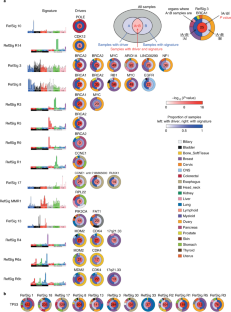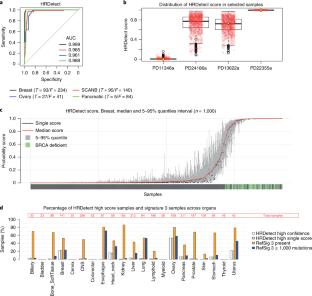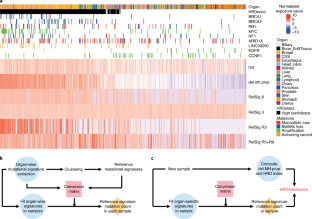 Data availability
Previously published WGS data that were reanalyzed here are available under accession codes EGAS00001001178 (a dataset of 560 breast cancers), EGAD00001002740 (a dataset of 80 breast cancers) and EGAS00001001692 (ICGC PCAWG). WGS data from the Hartwig cohort can be accessed from www.hartwigmedicalfoundation.nl/en. Signature networks are available as an interactive visualization at the web link https://signal.mutationalsignatures.com/explore/cancer/network.
Numerical source data for Fig. 1 and Extended Data Figs. 5a–h and 10 have been provided as Source Data file 1. Numerical source data for Figs. 2–8 and Extended Data Figs. 1–9 can be found in Supplementary Tables 1–113. All other data supporting the findings of this study are available from the corresponding author on reasonable request.
References
1.

Greenman, C. et al. Patterns of somatic mutation in human cancer genomes. Nature 446, 153–158 (2007).

2.

Nik-Zainal, S. et al. Mutational processes molding the genomes of 21 breast cancers. Cell 149, 979–993 (2012).

3.

Van Hoeck, A., Tjoonk, N. H., van Boxtel, R. & Cuppen, E. Portrait of a cancer: mutational signature analyses for cancer diagnostics. BMC Cancer 19, 457 (2019).

4.

Alexandrov, L. B., Nik-Zainal, S., Wedge, D. C., Campbell, P. J. & Stratton, M. R. Deciphering signatures of mutational processes operative in human cancer. Cell Rep. 3, 246–259 (2013).

5.

Baez-Ortega, A. & Gori, K. Computational approaches for discovery of mutational signatures in cancer. Brief Bioinform. 20, 77–88 (2019).

6.

Kim, J. et al. Somatic ERCC2 mutations are associated with a distinct genomic signature in urothelial tumors. Nat. Genet. 48, 600–606 (2016).

7.

Lee, D. D. & Seung, H. S. Learning the parts of objects by non-negative matrix factorization. Nature 401, 788–791 (1999).

8.

Lee, D. D. & Seung, H. S. Algorithms for non-negative matrix factorization. Adv. Neural Inform. Proc. Syst. 13, 556–562 (2001).

9.

Pascual-Montano, A., Carazo, J. M., Kochi, K., Lehmann, D. & Pascual-Marqui, R. D. Nonsmooth nonnegative matrix factorization (nsNMF). IEEE Trans. Pattern Anal. Mach. Intell. 28, 403–415 (2006).

10.

Campbell, P. J., Getz, G., Stuart, J. M., Korbel, J. O. & Stein, L. D. Pan-cancer analysis of whole genomes. Preprint at bioRxiv https://doi.org/10.1101/162784 (2017).

11.

Davies, H. et al. HRDetect is a predictor of BRCA1 and BRCA2 deficiency based on mutational signatures. Nat. Med. 23, 517–525 (2017).

12.

Nik-Zainal, S. et al. Landscape of somatic mutations in 560 breast cancer whole-genome sequences. Nature 534, 47–54 (2016).

13.

Alexandrov, L. et al. The repertoire of mutational signatures in human cancer. Preprint at bioRxiv https://doi.org/10.1101/322859 (2018).

14.

Priestley, P. et al. Pan-cancer whole-genome analyses of metastatic solid tumours. Nature 575, 210–216 (2019).

15.

Huang, X., Wojtowicz, D. & Przytycka, T. M. Detecting presence of mutational signatures in cancer with confidence. Bioinformatics 34, 330–337 (2017).

16.

Sabarinathan, R. et al. The whole-genome panorama of cancer drivers. Preprint at bioRxiv https://doi.org/10.1101/190330 (2017).

17.

Alexandrov, L. B. et al. Signatures of mutational processes in human cancer. Nature 500, 415–421 (2013).

18.

Popova, T. et al. Ovarian cancers harboring inactivating mutations in CDK12 display a distinct genomic instability pattern characterized by large tandem duplications. Cancer Res. 76, 1882–1891 (2016).

19.

Willis, N. A. et al. Mechanism of tandem duplication formation in BRCA1-mutant cells. Nature 551, 590–595 (2017).

20.

Polak, P. et al. A mutational signature reveals alterations underlying deficient homologous recombination repair in breast cancer. Nat. Genet. 49, 1476–1486 (2017).

21.

Morganella, S. et al. The topography of mutational processes in breast cancer genomes. Nat. Commun. 7, 11383 (2016).

22.

Glodzik, D. et al. A somatic-mutational process recurrently duplicates germline susceptibility loci and tissue-specific super-enhancers in breast cancers. Nat. Genet. 49, 341–348 (2017).

23.

Bertucci, F. et al. Genomic characterization of metastatic breast cancers. Nature 569, 560–564 (2019).

24.

Rheinbay, E. et al. Discovery and characterization of coding and non-coding driver mutations in more than 2,500 whole cancer genomes. Preprint at bioRxiv https://doi.org/10.1101/237313 (2017).

25.

Ferreira, A. M. et al. High frequency of RPL22 mutations in microsatellite-unstable colorectal and endometrial tumors. Hum. Mutat. 35, 1442–1445 (2014).

26.

Henderson, S., Chakravarthy, A., Su, X., Boshoff, C. & Fenton, T. R. APOBEC-mediated cytosine deamination links PIK3CA helical domain mutations to human papillomavirus-driven tumor development. Cell Rep. 7, 1833–1841 (2014).

27.

Li, Z. et al. Loss of the FAT1 tumor suppressor promotes resistance to CDK4/6 inhibitors via the hippo pathway. Cancer Cell 34, 893–905 e898 (2018).

28.

Zhao, E. Y. et al. Homologous recombination deficiency and platinum-based therapy outcomes in advanced breast cancer. Clin. Cancer Res. 23, 7521–7530 (2017).

29.

Staaf, J. et al. Whole-genome sequencing of triple-negative breast cancers in a population-based clinical study. Nat. Med. 25, 1526–1533 (2019).

30.

Kucab, J. E. et al. A compendium of mutational signatures of environmental agents. Cell 177, 821–836 e816 (2019).

31.

Gaujoux, R. & Seoighe, C. A flexible R package for nonnegative matrix factorization. BMC Bioinf. 11, 367 (2010).

32.

Wagstaff, K. et al. in Proc. Eighteenth International Conference on Machine Learning (eds., Brodley, C.E. and Pohoreckyj Danyluk, A.) 577–584 (Morgan Kaufmann Publishers, 2001).

33.

Martello, S. & Toth, P. in North-Holland Mathematics Studies (eds., Martello, S., Laporte, G., Minoux, M. & Ribeiro, C.) 132, 259–282 (Elsevier, 1987).

34.

Abkevich, V. et al. Patterns of genomic loss of heterozygosity predict homologous recombination repair defects in epithelial ovarian cancer. Brit. J. Cancer 107, 1776–1782 (2012).
Acknowledgements
This work was funded by a Cancer Research UK (CRUK) Pioneer Award (grant no. C60100/A23433), Wellcome-Beit Prize, CRUK Advanced Clinician Scientist Fellowship (grant no. C60100/A23916), Wellcome Trust Strategic Award (WT100126/B/13/Z) and CRUK PRECISION Grand Challenge award. We thank J. Zamora, Y. Xu, D. R. Jones, R. Harris and S. P. Jackson, for their support in the development of the SIGNAL website. We would also like to thank the International Cancer Genome Consortium for access to WGS primary cancer data. This work has been facilitated by Hartwig Medical Foundation (HMF) and the Center for Personalized Cancer Treatment (CPCT), which have generated and made available metastatic whole cancer genome data for this research.
Ethics declarations
Competing interests
S.N.Z., D.G. and H.D. are inventors on a patent application on HRDetect. All other authors declare no competing interests.
Additional information
Publisher's note Springer Nature remains neutral with regard to jurisdictional claims in published maps and institutional affiliations.
Supplementary information
About this article
Cite this article
Degasperi, A., Amarante, T.D., Czarnecki, J. et al. A practical framework and online tool for mutational signature analyses show intertissue variation and driver dependencies. Nat Cancer 1, 249–263 (2020). https://doi.org/10.1038/s43018-020-0027-5
Received:

Accepted:

Published:

Issue Date: