The response to immunotherapy has been linked to human leukocyte antigen (HLA) genotype in certain cancers. A new study examining the interaction between cancer type–specific mutational exposures and the B44 and B27 HLA supertypes finds that patients with mutant peptides complementary to these supertypes receive the most benefit from immune-checkpoint blockade.
This is a preview of subscription content
Access options
Subscribe to Journal
Get full journal access for 1 year
$119.00
only $9.92 per issue
All prices are NET prices.
VAT will be added later in the checkout.
Tax calculation will be finalised during checkout.
Rent or Buy article
Get time limited or full article access on ReadCube.
from$8.99
All prices are NET prices.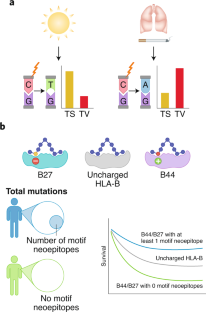 References
1.

Schumacher, T. N., Scheper, W. & Kvistborg, P. Annu. Rev. Immunol. 37, 173–200 (2019).

2.

Vinay, D. S. et al. Semin. Cancer Biol. 35, S185–S198 (2015).

3.

Chowell, D. et al. Science 359, 582–587 (2018).

4.

Arora, S. et al. Adv. Ther. 36, 2638–2678 (2019).

5.

Sidney, J., Peters, B., Frahm, N., Brander, C. & Sette, A. BMC Immunol. 9, 1 (2008).

6.

McGranahan, N. et al. Cell 171, 1259–1271.e11 (2017).

7.

Alexandrov, L. B. et al. Nature 500, 415–421 (2013).

8.

Alexandrov, L. B. et al. Science 354, 618–622 (2016).

9.

Cummings, A. L. et al. Nat. Cancer https://doi.org/10.1038/s43018-020-00140-1 (2020).

10.

Negrao, M. V. et al. J. Thorac. Oncol. 14, 1021–1031 (2019).

11.

Capietto, A.-H. et al. J. Exp. Med. 217, e20190179 (2020).

12.

Pham, T. V. et al. Mol. Oncol. 14, 1680–1694 (2020).

13.

Wood, M. A., Weeder, B. R., David, J. K., Nellore, A. & Thompson, R. F. Genome Med. 12, 33 (2020).

14.

Cabrera, T. et al. Hum. Immunol. 64, 941–950 (2003).
Ethics declarations
Competing interests
The authors declare no competing interests.
About this article
Cite this article
Castro, A., Carter, H. Mutagenic exposures shape immunotherapy responses. Nat Cancer 1, 1132–1133 (2020). https://doi.org/10.1038/s43018-020-00153-w