Abstract
Innate pattern recognition receptor agonists, including Toll-like receptors (TLRs), alter the tumor microenvironment and prime adaptive antitumor immunity. However, TLR agonists present toxicities associated with widespread immune activation after systemic administration. To design a TLR-based therapeutic suitable for systemic delivery and capable of safely eliciting tumor-targeted responses, we developed immune-stimulating antibody conjugates (ISACs) comprising a TLR7/8 dual agonist conjugated to tumor-targeting antibodies. Systemically administered human epidermal growth factor receptor 2 (HER2)-targeted ISACs were well tolerated and triggered a localized immune response in the tumor microenvironment that resulted in tumor clearance and immunological memory. Mechanistically, ISACs required tumor antigen recognition, Fcγ-receptor-dependent phagocytosis and TLR-mediated activation to drive tumor killing by myeloid cells and subsequent T-cell-mediated antitumor immunity. ISAC-mediated immunological memory was not limited to the HER2 ISAC target antigen since ISAC-treated mice were protected from rechallenge with the HER2− parental tumor. These results provide a strong rationale for the clinical development of ISACs.
Relevant articles
Open Access articles citing this article.
Thomas Grinda

,

Elie Rassy

&

Barbara Pistilli

Current Treatment Options in Oncology Open Access 25 March 2023

Louise Conilh

,

Lenka Sadilkova

…

Charles Dumontet

Journal of Hematology & Oncology Open Access 17 January 2023

Niamh Coleman

,

Timothy A. Yap

…

Xiuning Le

npj Precision Oncology Open Access 11 January 2023
Access options
Access Nature and 54 other Nature Portfolio journals
Get Nature+, our best-value online-access subscription
$29.99 / 30 days
cancel any time
Subscribe to this journal
Receive 12 digital issues and online access to articles
$119.00 per year
only $9.92 per issue
Rent or buy this article
Get just this article for as long as you need it
$39.95
Prices may be subject to local taxes which are calculated during checkout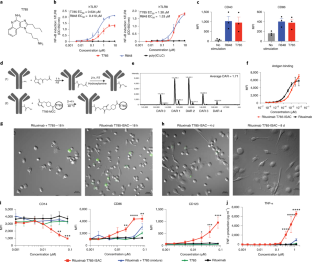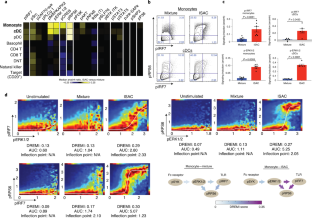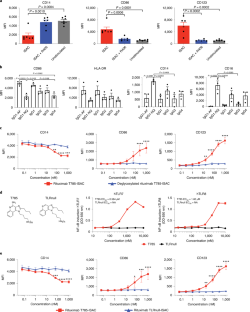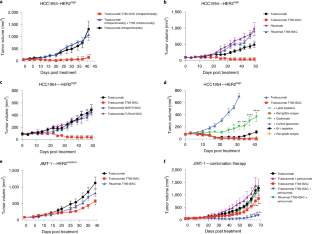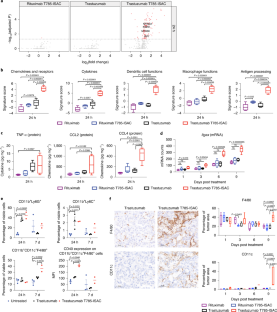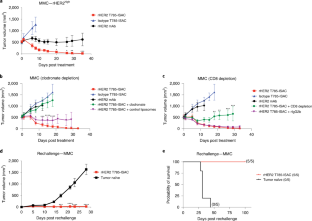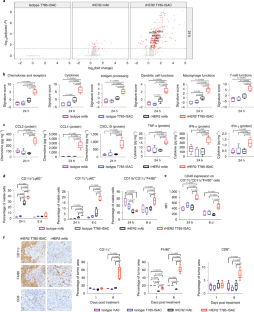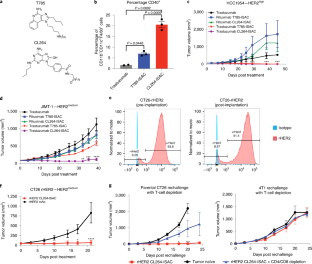 Data availability
The NanoString gene expression data that support the findings of this study have been deposited in the Gene Expression Omnibus under accession no. GSE157870. The source data for the structures shown in Extended Data Fig. 1c is available on the Protein Data Bank with accession no. 3W3N. All other source data of the figures and extended figures, as well as supporting experiments, are available from the corresponding author upon reasonable request. Biological materials will be made available upon reasonable request. Source data are provided with this paper.
Code availability
Code for the DREMI algorithm is available at https://github.com/KrishnaswamyLab/scprep/. The R code for the CyTOF analysis and to generate volcano plots utilizing nSolver-derived P values is available upon reasonable request.
References
Davis, T. A. et al. Rituximab anti-CD20 monoclonal antibody therapy in non-Hodgkin's lymphoma: safety and efficacy of re-treatment. J. Clin. Oncol. 18, 3135–3143 (2000).

Grillo-López, A. J. et al. Rituximab: the first monoclonal antibody approved for the treatment of lymphoma. Curr. Pharm. Biotechnol. 1, 1–9 (2000).

Fridman, W. H., Pagès, F., Sautès-Fridman, C. & Galon, J. The immune contexture in human tumours: impact on clinical outcome. Nat. Rev. Cancer 12, 298–306 (2012).

Galon, J. & Bruni, D. Approaches to treat immune hot, altered and cold tumours with combination immunotherapies. Nat. Rev. Drug Discov. 18, 197–218 (2019).

Gabrilovich, D. I., Ostrand-Rosenberg, S. & Bronte, V. Coordinated regulation of myeloid cells by tumours. Nat. Rev. Immunol. 12, 253–268 (2012).

Joyce, J. A. & Fearon, D. T. T cell exclusion, immune privilege, and the tumor microenvironment. Science 348, 74–80 (2015).

Urban-Wojciuk, Z. et al. The role of TLRs in anti-cancer immunity and tumor rejection. Front. Immunol. 10, 2388 (2019).

Carmi, Y. et al. Allogeneic IgG combined with dendritic cell stimuli induce antitumour T-cell immunity. Nature 521, 99–104 (2015).

Carmi, Y. et al. Akt and SHP-1 are DC-intrinsic checkpoints for tumor immunity. JCI Insight 1, e89020 (2016).

Sagiv-Barfi, I. et al. Eradication of spontaneous malignancy by local immunotherapy. Sci. Transl. Med. 10, eaan4488 (2018).

Spitzer, M. H. et al. Systemic immunity is required for effective cancer immunotherapy. Cell 168, 487–502.e15 (2017).

Jurk, M. et al. Human TLR7 or TLR8 independently confer responsiveness to the antiviral compound R-848. Nat. Immunol. 3, 499 (2002).

Saitoh, S.-I. et al. TLR7 mediated viral recognition results in focal type I interferon secretion by dendritic cells. Nat. Commun. 8, 1592 (2017).

Mattson, G. et al. A practical approach to crosslinking. Mol. Biol. Rep. 17, 167–183 (1993).

Gabay, C., Ben-Bassat, H., Schlesinger, M. & Laskov, R. Somatic mutations and intraclonal variations in the rearranged Vk genes of B-non-Hodgkin's lymphoma cell lines. Eur. J. Haematol. 63, 180–191 (1999).

Alonso, M. N. et al. TH1, TH2, and TH17 cells instruct monocytes to differentiate into specialized dendritic cell subsets. Blood 118, 3311–3320 (2011).

Clarke, S. R. et al. Characterization of the ovalbumin-specific TCR transgenic line OT-I: MHC elements for positive and negative selection. Immunol. Cell Biol. 78, 110–117 (2000).

Zehn, D., Lee, S. Y. & Bevan, M. J. Complete but curtailed T-cell response to very low-affinity antigen. Nature 458, 211–214 (2009).

Kondratova, M. et al. A multiscale signalling network map of innate immune response in cancer reveals cell heterogeneity signatures. Nat. Commun. 10, 4808 (2019).

Bendall, S. C. et al. Single-cell mass cytometry of differential immune and drug responses across a human hematopoietic continuum. Science 332, 687–696 (2011).

Qiu, P. et al. Extracting a cellular hierarchy from high-dimensional cytometry data with SPADE. Nat. Biotechnol. 29, 886–891 (2011).

Kawai, T. & Akira, S. TLR signaling. Cell Death Differ. 13, 816–825 (2006).

Sánchez-Mejorada, G. & Rosales, C. Signal transduction by immunoglobulin Fc receptors. J. Leukoc. Biol. 63, 521–533 (1998).

Krishnaswamy, S. et al. Systems biology. Conditional density-based analysis of T cell signaling in single-cell data. Science 346, 1250689 (2014).

Kiefer, F. et al. The Syk protein tyrosine kinase is essential for Fcγ receptor signaling in macrophages and neutrophils. Mol. Cell. Biol. 18, 4209–4220 (1998).

Braselmann, S. et al. R406, an orally available spleen tyrosine kinase inhibitor blocks Fc receptor signaling and reduces immune complex-mediated inflammation. J. Pharmacol. Exp. Ther. 319, 998–1008 (2006).

Bruhns, P. et al. Specificity and affinity of human Fcγ receptors and their polymorphic variants for human IgG subclasses. Blood 113, 3716–3725 (2009).

Nimmerjahn, F. & Ravetch, J. V. Divergent immunoglobulin G subclass activity through selective Fc receptor binding. Science 310, 1510–1512 (2005).

Jefferis, R. Recombinant antibody therapeutics: the impact of glycosylation on mechanisms of action. Trends Pharmacol. Sci. 30, 356–362 (2009).

Li, J. Y. et al. A biparatopic HER2-targeting antibody-drug conjugate induces tumor regression in primary models refractory to or ineligible for HER2-targeted therapy. Cancer Cell 29, 117–129 (2016).

Luque-Cabal, M., García-Teijido, P., Fernández-Pérez, Y., Sánchez-Lorenzo, L. & Palacio-Vázquez, I. Mechanisms behind the resistance to trastuzumab in HER2-amplified breast cancer and strategies to overcome it. Clin. Med. Insights Oncol. 10, 21–30 (2016).

Tanner, M. et al. Characterization of a novel cell line established from a patient with Herceptin-resistant breast cancer. Mol. Cancer Ther. 3, 1585–1592 (2004).

Xia, Z. et al. Innate immune response to human bone marrow fibroblastic cell implantation in CB17 scid/beige mice. J. Cell. Biochem. 98, 966–980 (2006).

Lewis Phillips, G. D. et al. Targeting HER2-positive breast cancer with trastuzumab-DM1, an antibody-cytotoxic drug conjugate. Cancer Res. 68, 9280–9290 (2008).

Ning, S., Pagano, J. S. & Barber, G. N. IRF7: activation, regulation, modification and function. Genes Immun. 12, 399–414 (2011).

Cao, Q. et al. Renal F4/80+ CD11c+ mononuclear phagocytes display phenotypic and functional characteristics of macrophages in health and in adriamycin nephropathy. J. Am. Soc. Nephrol. 26, 349–363 (2015).

Sheng, J. et al. A discrete subset of monocyte-derived cells among typical conventional type 2 dendritic cells can efficiently cross-present. Cell Rep. 21, 1203–1214 (2017).

Moynihan, K. D. et al. Eradication of large established tumors in mice by combination immunotherapy that engages innate and adaptive immune responses. Nat. Med. 22, 1402–1410 (2016).

Muller, W. J., Sinn, E., Pattengale, P. K., Wallace, R. & Leder, P. Single-step induction of mammary adenocarcinoma in transgenic mice bearing the activated c-neu oncogene. Cell 54, 105–115 (1988).

Lee, J. et al. Activation of anti-hepatitis C virus responses via Toll-like receptor 7. Proc. Natl Acad. Sci. USA 103, 1828–1833 (2006).

Bonaventura, P. et al. Cold tumors: a therapeutic challenge for immunotherapy. Front. Immunol. 10, 168 (2019).

Guilliams, M., Bruhns, P., Saeys, Y., Hammad, H. & Lambrecht, B. N. The function of Fcγ receptors in dendritic cells and macrophages. Nat. Rev. Immunol. 14, 94–108 (2014).

Nimmerjahn, F. & Ravetch, J. V. Fcγ receptors as regulators of immune responses. Nat. Rev. Immunol. 8, 34–47 (2008).

Regnault, A. et al. Fcγ receptor-mediated induction of dendritic cell maturation and major histocompatibility complex class I-restricted antigen presentation after immune complex internalization. J. Exp. Med. 189, 371–380 (1999).

Rafiq, K., Bergtold, A. & Clynes, R. Immune complex-mediated antigen presentation induces tumor immunity. J. Clin. Invest. 110, 71–79 (2002).

Genentech. Herceptin (trastuzumab). Package Insert (Roche, 2018).

Safina, B, & Lee, A. Protoc. Exch. https://doi.org/10.21203/rs.3.pex-1149/v1 (2020)..

Zunder, E. R. et al. Palladium-based mass tag cell barcoding with a doublet-filtering scheme and single-cell deconvolution algorithm. Nat. Protoc. 10, 316–333 (2015).
Acknowledgements
We thank P. Anand, S. Deol and M. Zhou for their bioconjugation expertise, L. B. Torrez Dulgeroff for experimental expertise and P. Basto, N. E. Reticker-Flynn, T. Prestwood and B. Mallet for helpful discussions. We also thank the Stanford Blood Center, specifically L. Tolentino, O. Choi, N. Wu and K. Kealoha, for their support and experimental expertise. We extend our appreciation to M. L. Disis and D. Cecil from the University of Washington who provided the MMC tumor cell line. We extend our warmest thanks to the Stanford blood donors who save lives and made this work possible. Funding was provided by a Stanford BioX Bowes Fellowship (S.E.A.), EMBO Long-Term Fellowship no. ALTF 1141-2017 (F.J.H.), Swiss National Science Foundation Early Postdoc Mobility Fellowship no. P2ZHP3-171741 (F.J.H.), National Institutes of Health (NIH)/National Institute and General Medical Sciences Cell and Molecular Biology Training grant no. T32GM007276 (S.C.K.) and NIH grant nos. CA209971 (E.G.E.), CA222969 (E.G.E.) and 1DP2OD022550-01 (S.C.B.).
Ethics declarations
Competing interests
All authors affiliated with Bolt Biotherapeutics are current or former employees. Bolt Biotherapeutics-affiliated authors and Y.C. may hold stock options and/or equity in Bolt Biotherapeutics. E.G.E. is a founder and shareholder of Bolt Biotherapeutics and a member of the company's board of directors. S.E.A., J.A.K., A. Lee, D.Y.J., E.G.E. and M.N.A. are Stanford- and/or Bolt Biotherapeutics-affiliated inventors of PCT/US2017/041268, which discloses T785-containing ISACs.
Additional information
Publisher's note Springer Nature remains neutral with regard to jurisdictional claims in published maps and institutional affiliations.
Supplementary information
Supplementary Tables 1 and 2
About this article
Cite this article
Ackerman, S.E., Pearson, C.I., Gregorio, J.D. et al. Immune-stimulating antibody conjugates elicit robust myeloid activation and durable antitumor immunity. Nat Cancer 2, 18–33 (2021). https://doi.org/10.1038/s43018-020-00136-x
Received:

Accepted:

Published:

Issue Date:

DOI: https://doi.org/10.1038/s43018-020-00136-x