Abstract
FoxM1 activates genes that regulate S–G2–M cell-cycle progression and, when overexpressed, is associated with poor clinical outcome in multiple cancers. Here we identify FoxM1 as a tumor suppressor in mice that, through its N-terminal domain, binds to and inhibits Ect2 to limit the activity of RhoA GTPase and its effector mDia1, a catalyst of cortical actin nucleation. FoxM1 insufficiency impedes centrosome movement through excessive cortical actin polymerization, thereby causing the formation of nonperpendicular mitotic spindles that missegregate chromosomes and drive tumorigenesis in mice. Importantly, low FOXM1 expression correlates with RhoA GTPase hyperactivity in multiple human cancer types, indicating that suppression of the newly discovered Ect2–RhoA–mDia1 oncogenic axis by FoxM1 is clinically relevant. Furthermore, by dissecting the domain requirements through which FoxM1 inhibits Ect2 guanine nucleotide-exchange factor activity, we provide mechanistic insight for the development of pharmacological approaches that target protumorigenic RhoA activity.
Access options
Subscribe to Journal
Get full journal access for 1 year
$99.00
only $8.25 per issue
All prices are NET prices.
VAT will be added later in the checkout.
Tax calculation will be finalised during checkout.
Rent or Buy article
Get time limited or full article access on ReadCube.
from$8.99
All prices are NET prices.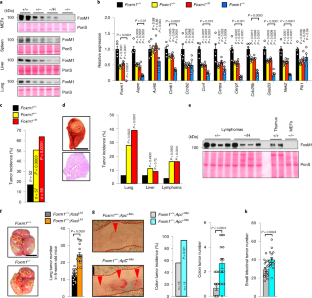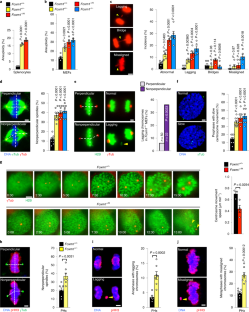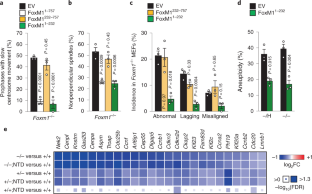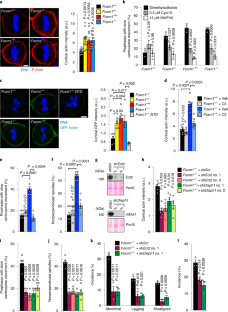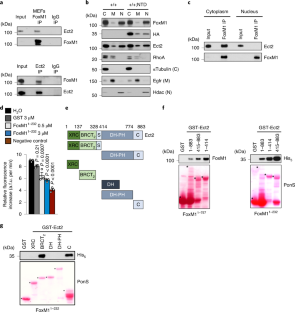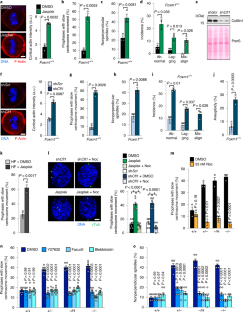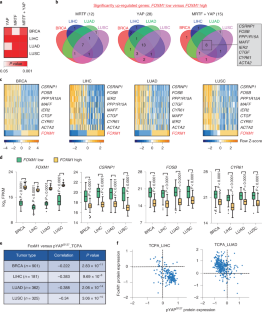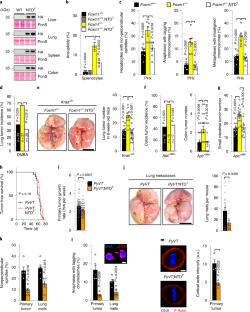 Data availability
RNA-sequencing data have been deposited in the Gene Expression Omnibus under the accession number GSE130410. Source data are provided with this paper. All other data supporting the findings of this study are available from the corresponding author on reasonable request.
References
1.

Jaffe, A. B. & Hall, A. Rho GTPases: biochemistry and biology. Annu. Rev. Cell Dev. Biol. 21, 247–269 (2005).

2.

Olson, M. F., Ashworth, A. & Hall, A. An essential role for Rho, Rac, and Cdc42 GTPases in cell cycle progression through G1. Science 269, 1270–1272 (1995).

3.

Gerhard, R. et al. Glucosylation of Rho GTPases by Clostridium difficile toxin A triggers apoptosis in intestinal epithelial cells. J. Med. Microbiol. 57, 765–770 (2008).

4.

Provenzano, P. P. & Keely, P. J. Mechanical signaling through the cytoskeleton regulates cell proliferation by coordinated focal adhesion and Rho GTPase signaling. J. Cell Sci. 124, 1195–1205 (2011).

5.

Haga, R. B. & Ridley, A. J. Rho GTPases: regulation and roles in cancer cell biology. Small GTPases 7, 207–221 (2016).

6.

Gomez del Pulgar, T., Benitah, S. A., Valeron, P. F., Espina, C. & Lacal, J. C. Rho GTPase expression in tumourigenesis: evidence for a significant link. Bioessays 27, 602–613 (2005).

7.

Horiuchi, A. et al. Up-regulation of small GTPases, RhoA and RhoC, is associated with tumor progression in ovarian carcinoma. Lab. Invest. 83, 861–870 (2003).

8.

Li, X. R. et al. Overexpression of RhoA is associated with poor prognosis in hepatocellular carcinoma. Eur. J. Surg. Oncol. 32, 1130–1134 (2006).

9.

Kamai, T. et al. Overexpression of RhoA, Rac1, and Cdc42 GTPases is associated with progression in testicular cancer. Clin. Cancer Res. 10, 4799–4805 (2004).

10.

Engers, R. et al. Prognostic relevance of increased Rac GTPase expression in prostate carcinomas. Endocr. Relat. Cancer 14, 245–256 (2007).

11.

Orgaz, J. L., Herraiz, C. & Sanz-Moreno, V. Rho GTPases modulate malignant transformation of tumor cells. Small GTPases 5, e29019 (2014).

12.

Porter, A. P., Papaioannou, A. & Malliri, A. Deregulation of Rho GTPases in cancer. Small GTPases 7, 123–138 (2016).

13.

Fields, A. P. & Justilien, V. The guanine nucleotide exchange factor (GEF) Ect2 is an oncogene in human cancer. Adv. Enzyme Regul. 50, 190–200 (2010).

14.

Tatsumoto, T., Xie, X., Blumenthal, R., Okamoto, I. & Miki, T. Human ECT2 is an exchange factor for Rho GTPases, phosphorylated in G2/M phases, and involved in cytokinesis. J. Cell Biol. 147, 921–928 (1999).

15.

Bandla, S. et al. Comparative genomics of esophageal adenocarcinoma and squamous cell carcinoma. Ann. Thorac. Surg. 93, 1101–1106 (2012).

16.

Sonoda, G. et al. Comparative genomic hybridization detects frequent overrepresentation of chromosomal material from 3q26, 8q24, and 20q13 in human ovarian carcinomas. Genes Chromosomes Cancer 20, 320–328 (1997).

17.

Kim, J. E., Billadeau, D. D. & Chen, J. The tandem BRCT domains of Ect2 are required for both negative and positive regulation of Ect2 in cytokinesis. J. Biol. Chem. 280, 5733–5739 (2005).

18.

Justilien, V., Jameison, L., Der, C. J., Rossman, K. L. & Fields, A. P. Oncogenic activity of Ect2 is regulated through protein kinase C iota-mediated phosphorylation. J. Biol. Chem. 286, 8149–8157 (2011).

19.

Saito, S. et al. Deregulation and mislocalization of the cytokinesis regulator ECT2 activate the Rho signaling pathways leading to malignant transformation. J. Biol. Chem. 279, 7169–7179 (2004).

20.

Justilien, V. et al. Ect2-dependent rRNA synthesis is required for KRAS-TRP53-driven lung adenocarcinoma. Cancer Cell 31, 256–269 (2017).

21.

Laoukili, J. et al. FoxM1 is required for execution of the mitotic programme and chromosome stability. Nat. Cell Biol. 7, 126–136 (2005).

22.

Pilarsky, C., Wenzig, M., Specht, T., Saeger, H. D. & Grutzmann, R. Identification and validation of commonly overexpressed genes in solid tumors by comparison of microarray data. Neoplasia 6, 744–750 (2004).

23.

Halasi, M. & Gartel, A. L. Targeting FOXM1 in cancer. Biochem. Pharmacol. 85, 644–652 (2013).

24.

Barger, C. J., Branick, C., Chee, L. & Karpf, A. R. Pan-cancer analyses reveal genomic features of FOXM1 overexpression in cancer. Cancers (Basel) 11, 251 (2019).

25.

Krupczak-Hollis, K. et al. The mouse Forkhead Box m1 transcription factor is essential for hepatoblast mitosis and development of intrahepatic bile ducts and vessels during liver morphogenesis. Dev. Biol. 276, 74–88 (2004).

26.

Thompson, S. L., Bakhoum, S. F. & Compton, D. A. Mechanisms of chromosomal instability. Curr. Biol. 20, R285–R295 (2010).

27.

Nam, H. J., Naylor, R. M. & van Deursen, J. M. Centrosome dynamics as a source of chromosomal instability. Trends Cell Biol. 25, 65–73 (2015).

28.

Kanakkanthara, A. et al. Cyclin A2 is an RNA binding protein that controls Mre11 mRNA translation. Science 353, 1549–1552 (2016).

29.

van Ree, J. H., Nam, H. J., Jeganathan, K. B., Kanakkanthara, A. & van Deursen, J. M. Pten regulates spindle pole movement through Dlg1-mediated recruitment of Eg5 to centrosomes. Nat. Cell Biol. 18, 814–821 (2016).

30.

Park, H. J. et al. An N-terminal inhibitory domain modulates activity of FoxM1 during cell cycle. Oncogene 27, 1696–1704 (2008).

31.

Laoukili, J. et al. Activation of FoxM1 during G2 requires cyclin A/Cdk-dependent relief of autorepression by the FoxM1 N-terminal domain. Mol. Cell. Biol. 28, 3076–3087 (2008).

32.

Chugh, P. & Paluch, E. K. The actin cortex at a glance. J. Cell Sci. 131, https://doi.org/10.1242/jcs.186254 (2018).

33.

Rosenblatt, J., Cramer, L. P., Baum, B. & McGee, K. M. Myosin II-dependent cortical movement is required for centrosome separation and positioning during mitotic spindle assembly. Cell 117, 361–372 (2004).

34.

Bovellan, M. et al. Cellular control of cortical actin nucleation. Curr. Biol. 24, 1628–1635 (2014).

35.

Matthews, H. K. et al. Changes in Ect2 localization couple actomyosin-dependent cell shape changes to mitotic progression. Dev. Cell 23, 371–383 (2012).

36.

Basant, A. & Glotzer, M. Spatiotemporal regulation of Rhoa during cytokinesis. Curr. Biol. 28, R570–R580 (2018).

37.

Piekny, A. J. & Glotzer, M. Anillin is a scaffold protein that links RhoA, actin, and myosin during cytokinesis. Curr. Biol. 18, 30–36 (2008).

38.

Chugh, P. et al. Actin cortex architecture regulates cell surface tension. Nat. Cell Biol. 19, 689–697 (2017).

39.

Foster, C. T., Gualdrini, F. & Treisman, R. Mutual dependence of the MRTF-SRF and YAP-TEAD pathways in cancer-associated fibroblasts is indirect and mediated by cytoskeletal dynamics. Genes Dev. 31, 2361–2375 (2017).

40.

Yu, O. M. et al. YAP and MRTF-A, transcriptional co-activators of RhoA-mediated gene expression, are critical for glioblastoma tumorigenicity. Oncogene 37, 5492–5507 (2018).

41.

Wang, Y. et al. Comprehensive molecular characterization of the hippo signaling pathway in cancer. Cell Rep. 25, e1305 (2018).

42.

Oka, T., Mazack, V. & Sudol, M. Mst2 and Lats kinases regulate apoptotic function of Yes kinase-associated protein (YAP). J. Biol. Chem. 283, 27534–27546 (2008).

43.

Dupont, S. et al. Role of YAP/TAZ in mechanotransduction. Nature 474, 179–183 (2011).

44.

Feng, X. et al. Hippo-independent activation of YAP by the GNAQ uveal melanoma oncogene through a trio-regulated rho GTPase signaling circuitry. Cancer Cell 25, 831–845 (2014).

45.

Guy, C. T., Cardiff, R. D. & Muller, W. J. Induction of mammary tumors by expression of polyomavirus middle T oncogene: a transgenic mouse model for metastatic disease. Mol. Cell. Biol. 12, 954–961 (1992).

46.

Nobis, M. et al. A RhoA-FRET biosensor mouse for intravital imaging in normal tissue homeostasis and disease contexts. Cell Rep. 21, 274–288 (2017).

47.

Glotzer, M. The molecular requirements for cytokinesis. Science 307, 1735–1739 (2005).

48.

Fields, A. P., Ali, S. A., Justilien, V. & Murray, N. R. Protein kinase Ciota: a versatile oncogene in the lung. Mol. Cell. Oncol. 5, e1190886 (2018).

49.

Thompson, L. L., Jeusset, L. M., Lepage, C. C. & McManus, K. J. Evolving therapeutic strategies to exploit chromosome instability in cancer. Cancers (Basel) 9, 151 (2017).

50.

Chan, K. S., Koh, C. G. & Li, H. Y. Mitosis-targeted anti-cancer therapies: where they stand. Cell Death Dis. 3, e411 (2012).

51.

Bakhoum, S. F. et al. Chromosomal instability drives metastasis through a cytosolic DNA response. Nature 553, 467–472 (2018).

52.

Bolhaqueiro, A. C. F. et al. Ongoing chromosomal instability and karyotype evolution in human colorectal cancer organoids. Nat. Genet. 51, 824–834 (2019).

53.

Burrell, R. A. & Swanton, C. Tumour heterogeneity and the evolution of polyclonal drug resistance. Mol. Oncol. 8, 1095–1111 (2014).

54.

Jamal-Hanjani, M. et al. Tracking the evolution of non-small-cell lung cancer. N. Engl. J. Med. 376, 2109–2121 (2017).

55.

McGranahan, N. & Swanton, C. Biological and therapeutic impact of intratumor heterogeneity in cancer evolution. Cancer Cell 27, 15–26 (2015).

56.

Turajlic, S. & Swanton, C. Metastasis as an evolutionary process. Science 352, 169–175 (2016).

57.

Babu, J. R. et al. Rae1 is an essential mitotic checkpoint regulator that cooperates with Bub3 to prevent chromosome missegregation. J. Cell Biol. 160, 341–353 (2003).

58.

Moffat, J. et al. A lentiviral RNAi library for human and mouse genes applied to an arrayed viral high-content screen. Cell 124, 1283–1298 (2006).

59.

Mitchell, C. & Willenbring, H. A reproducible and well-tolerated method for 2/3 partial hepatectomy in mice. Nat. Protoc. 3, 1167–1170 (2008).

60.

Aziz, K. et al. Ccne1 overexpression causes chromosome instability in liver cells and liver tumor development in mice. Gastroenterology 157, 210–226.e12 (2019).

61.

Jeganathan, K. B., Malureanu, L. & van Deursen, J. M. The Rae1–Nup98 complex prevents aneuploidy by inhibiting securin degradation. Nature 438, 1036–1039 (2005).

62.

Nam, H. J. & van Deursen, J. M. Cyclin B2 and p53 control proper timing of centrosome separation. Nat. Cell Biol. 16, 538–549 (2014).

63.

Macedo, J. C. et al. FoxM1 repression during human aging leads to mitotic decline and aneuploidy-driven full senescence. Nat. Commun. 9, 2834 (2018).

64.

Goldman, M. J. et al. Visualizing and interpreting cancer genomics data via the Xena platform. Nat. Biotechnol. 38, 675–678 (2020).

65.

Ritchie, M. E. et al. limma powers differential expression analyses for RNA-sequencing and microarray studies. Nucleic Acids Res. 43, e47 (2015).
Acknowledgements
We thank B. Childs, R. Naylor and C. Sieben for helpful discussions, and G. Nelson for managing the mouse colony. We thank the transgenic and gene knockout core at Mayo Clinic for generation of all mutant mouse strains, D. Billadeau (Mayo Clinic, Rochester) for the Cofilin 1 antibody, G. Razidlo (Mayo Clinic, Rochester) for Cytochalasin D and GST-PBD construct, S. Kaufmann (Mayo Clinic, Rochester) for H1299 and A549 cell lines and R. Thaler for assistance with the in vitro GEF activity assay. The human tumor results shown here are in whole or part based upon data generated by TCGA Research Network: https://www.cancer.gov/tcga. This work was supported by NIH grant nos. R01 CA096985, CA126828 and CA168709 to J.M.v.D. J.F.L is supported by Mayo Clinic Graduate School of Biomedical Sciences and J.A.K. by NIH grant no. T32 GM65841.
Ethics declarations
Competing interests
The authors declare no competing interests.
Additional information
Publisher's note Springer Nature remains neutral with regard to jurisdictional claims in published maps and institutional affiliations.
Supplementary information
Supplementary Tables 1–5.
About this article
Cite this article
Limzerwala, J.F., Jeganathan, K.B., Kloeber, J.A. et al. FoxM1 insufficiency hyperactivates Ect2–RhoA–mDia1 signaling to drive cancer. Nat Cancer 1, 1010–1024 (2020). https://doi.org/10.1038/s43018-020-00116-1
Received:

Accepted:

Published:

Issue Date: