Abstract
SWI/SNF chromatin remodelers play critical roles in development and cancer. The causal links between SWI/SNF complex disassembly and carcinogenesis are obscured by redundancy between paralogous components. Canonical BAF (cBAF)-specific paralogs ARID1A and ARID1B are synthetic lethal in some contexts, but simultaneous mutations in both ARID1s are prevalent in cancer. To understand if and how cBAF abrogation causes cancer, we examined the physiological and biochemical consequences of ARID1A/ARID1B loss. In double-knockout liver and skin, aggressive carcinogenesis followed dedifferentiation and hyperproliferation. In double-mutant endometrial cancer, add-back of either induced senescence. Biochemically, residual cBAF subcomplexes resulting from loss of ARID1 scaffolding were unexpectedly found to disrupt a polybromo-containing BAF (pBAF) function. Of 69 mutations in the conserved scaffolding domains of ARID1 proteins observed in human cancer, 37 caused complex disassembly, partially explaining their mutation spectra. ARID1-less, cBAF-less states promote carcinogenesis across tissues, and suggest caution against paralog-directed therapies for ARID1-mutant cancer.
Relevant articles
Open Access articles citing this article.
Divya Reddy

,

Saikat Bhattacharya

&

Jerry L. Workman

Cancer and Metastasis Reviews Open Access 24 April 2023

Dantong Sun

,

Fei Teng

…

Junling Li

Molecular Medicine Open Access 29 October 2021

Xue-Ying Shang

,

Yi Shi

…

Ze-Guang Han

Cell Death & Disease Open Access 23 October 2021
Access options
Access Nature and 54 other Nature Portfolio journals
Get Nature+, our best-value online-access subscription
$29.99 / 30 days
cancel any time
Subscribe to this journal
Receive 12 digital issues and online access to articles
$119.00 per year
only $9.92 per issue
Rent or buy this article
Prices vary by article type
from$1.95
to$39.95
Prices may be subject to local taxes which are calculated during checkout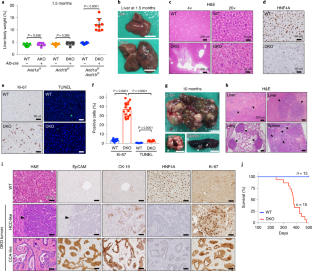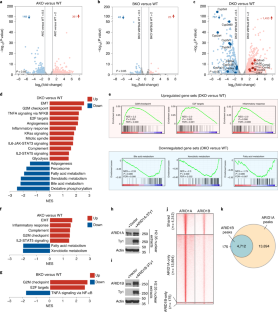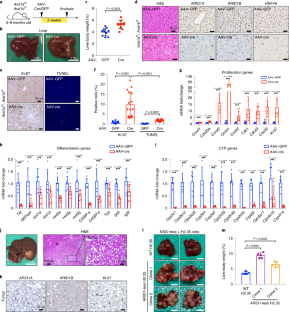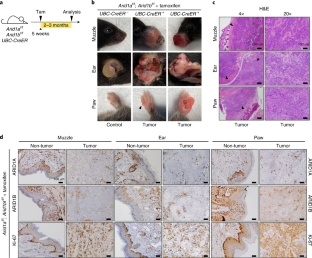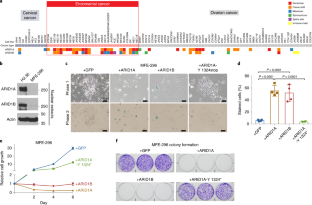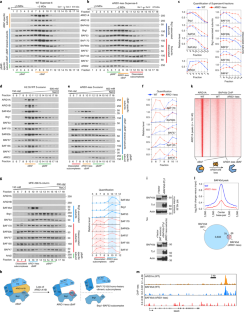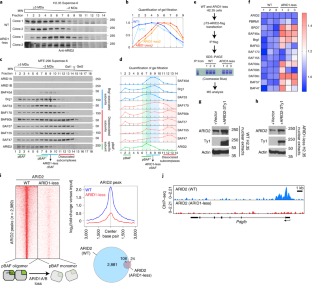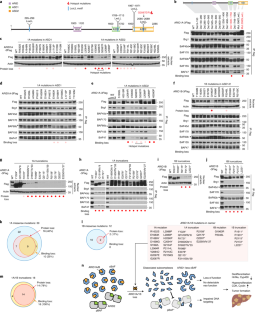 Data availability
All sequencing data have been deposited in the Gene Expression Omnibus with the accession nos. GSE147664 for mRNA-seq and GSE140183 for ChIP–seq. Source data are provided with this paper. All other data supporting the findings of the present study are available from the corresponding author on reasonable request.
References
Kadoch, C. & Crabtree, G. R. Mammalian SWI/SNF chromatin remodeling complexes and cancer: mechanistic insights gained from human genomics. Sci. Adv. 1, e1500447 (2015).

Hodges, C., Kirkland, J. G. & Crabtree, G. R. The many roles of BAF (mSWI/SNF) and PBAF complexes in cancer. Cold Spring Harb. Perspect. Med. 6, a026930 (2016).

Ronan, J. L., Wu, W. & Crabtree, G. R. From neural development to cognition: unexpected roles for chromatin. Nat. Rev. Genet. 14, 347–359 (2013).

Son, E. Y. & Crabtree, G. R. The role of BAF (mSWI/SNF) complexes in mammalian neural development. Am. J. Med. Genet. C Semin. Med. Genet. 166C, 333–349 (2014).

Staahl, B. T. & Crabtree, G. R. Creating a neural specific chromatin landscape by npBAF and nBAF complexes. Curr. Opin. Neurobiol. 23, 903–913 (2013).

Wang, W. et al. Purification and biochemical heterogeneity of the mammalian SWI-SNF complex. EMBO J. 15, 5370–5382 (1996).

Gatchalian, J. et al. A non-canonical BRD9-containing BAF chromatin remodeling complex regulates naive pluripotency in mouse embryonic stem cells. Nat. Commun. 9, 5139 (2018).

Wang, X. et al. BRD9 defines a SWI/SNF sub-complex and constitutes a specific vulnerability in malignant rhabdoid tumors. Nat. Commun. 10, 1881 (2019).

Mashtalir, N. et al. Modular organization and assembly of SWI/SNF family chromatin remodeling complexes. Cell 175, 1272–1288 e1220 (2018).

Raab, J. R., Resnick, S. & Magnuson, T. Genome-wide transcriptional regulation mediated by biochemically distinct swi/snf complexes. PLoS Genet. 11, e1005748 (2015).

Kadoch, C. et al. Proteomic and bioinformatic analysis of mammalian SWI/SNF complexes identifies extensive roles in human malignancy. Nat. Genet. 45, 592–601 (2013).

Biegel, J. A., Busse, T. M. & Weissman, B. E. SWI/SNF chromatin remodeling complexes and cancer. Am. J. Med. Genet. C Semin. Med. Genet. 166C, 350–366 (2014).

Jones, S. et al. Frequent mutations of chromatin remodeling gene ARID1A in ovarian clear cell carcinoma. Science 330, 228–231 (2010).

Mathur, R. et al. ARID1A loss impairs enhancer-mediated gene regulation and drives colon cancer in mice. Nat. Genet. 49, 296–302 (2017).

Sun, X. et al. Arid1a has context-dependent oncogenic and tumor suppressor functions in liver cancer. Cancer Cell 33, 151–152 (2018).

Bitler, B. G. et al. Synthetic lethality by targeting EZH2 methyltransferase activity in ARID1A-mutated cancers. Nat. Med. 21, 231–238 (2015).

Fukumoto, T. et al. Repurposing pan-HDAC Inhibitors for ARID1A-mutated ovarian cancer. Cell Rep. 22, 3393–3400 (2018).

Lissanu Deribe, Y. et al. Mutations in the SWI/SNF complex induce a targetable dependence on oxidative phosphorylation in lung cancer. Nat. Med. 24, 1047–1057 (2018).

McDonald, E. R. 3rd et al. Project DRIVE: a compendium of cancer dependencies and synthetic lethal relationships uncovered by large-scale, deep RNAi screening. Cell 170, 577–592 e510 (2017).

Michel, B. C. et al. A non-canonical SWI/SNF complex is a synthetic lethal target in cancers driven by BAF complex perturbation. Nat. Cell Biol. 20, 1410–1420 (2018).

Ogiwara, H. et al. Targeting the vulnerability of glutathione metabolism in ARID1A-deficient cancers. Cancer Cell 35, 177–190 e178 (2019).

Williamson, C. T. et al. ATR inhibitors as a synthetic lethal therapy for tumours deficient in ARID1A. Nat. Commun. 7, 13837 (2016).

Wu, C. et al. Targeting AURKA-CDC25C axis to induce synthetic lethality in ARID1A-deficient colorectal cancer cells. Nat. Commun. 9, 3212 (2018).

Shen, J. et al. ARID1A deficiency promotes mutability and potentiates therapeutic antitumor immunity unleashed by immune checkpoint blockade. Nat. Med. 24, 556–562 (2018).

Hoffman, G. R. et al. Functional epigenetics approach identifies BRM/SMARCA2 as a critical synthetic lethal target in BRG1-deficient cancers. Proc. Natl Acad. Sci. USA 111, 3128–3133 (2014).

Viswanathan, S. R. et al. Genome-scale analysis identifies paralog lethality as a vulnerability of chromosome 1p loss in cancer. Nat. Genet. 50, 937–943 (2018).

Helming, K. C. et al. ARID1B is a specific vulnerability in ARID1A-mutant cancers. Nat. Med. 20, 251–254 (2014).

Kelso, T. W. R. et al. Chromatin accessibility underlies synthetic lethality of SWI/SNF subunits in ARID1A-mutant cancers. eLife. 6, e30506 (2017).

Coatham, M. et al. Concurrent ARID1A and ARID1B inactivation in endometrial and ovarian dedifferentiated carcinomas. Mod. Pathol. 29, 1586–1593 (2016).

Sun, X. et al. Suppression of the SWI/SNF component Arid1a Promotes mammalian regeneration. Cell Stem Cell 18, 456–466 (2016).

Celen, C. et al. Arid1b haploinsufficient mice reveal neuropsychiatric phenotypes and reversible causes of growth impairment. eLife 6, e25730 (2017).

Oba, A. et al. ARID2 modulates DNA damage response in human hepatocellular carcinoma cells. J. Hepatol. 66, 942–951 (2017).

Zhao, H. et al. ARID2: a new tumor suppressor gene in hepatocellular carcinoma. Oncotarget 2, 886–891 (2011).

Jiang, H. et al. Chromatin remodeling factor ARID2 suppresses hepatocellular carcinoma metastasis via DNMT1-Snail axis. Proc. Natl Acad. Sci. USA 117, 4770–4780 (2020).

Li, M. et al. Inactivating mutations of the chromatin remodeling gene ARID2 in hepatocellular carcinoma. Nat. Genet. 43, 828–829 (2011).

Kirmitzoglou, I. & Promponas, V. J. LCR-eXXXplorer: a web platform to search, visualize and share data for low complexity regions in protein sequences. Bioinformatics 31, 2208–2210 (2015).

Santen, G. W. et al. Mutations in SWI/SNF chromatin remodeling complex gene ARID1B cause Coffin–Siris syndrome. Nat. Genet. 44, 379–380 (2012).

Wang, K. et al. Exome sequencing identifies frequent mutation of ARID1A in molecular subtypes of gastric cancer. Nat. Genet. 43, 1219–1223 (2011).

Tsurusaki, Y. et al. Mutations affecting components of the SWI/SNF complex cause Coffin–Siris syndrome. Nat. Genet. 44, 376–378 (2012).

Sausen, M. et al. Integrated genomic analyses identify ARID1A and ARID1B alterations in the childhood cancer neuroblastoma. Nat. Genet. 45, 12–17 (2013).

Jiao, Y. et al. Exome sequencing identifies frequent inactivating mutations in BAP1, ARID1A and PBRM1 in intrahepatic cholangiocarcinomas. Nat. Genet. 45, 1470–1473 (2013).

Holz-Schietinger, C., Matje, D. M., Harrison, M. F. & Reich, N. O. Oligomerization of DNMT3A controls the mechanism of de novo DNA methylation. J. Biol. Chem. 286, 41479–41488 (2011).

Jurkowska, R. Z. et al. Oligomerization and binding of the Dnmt3a DNA methyltransferase to parallel DNA molecules: heterochromatic localization and role of Dnmt3L. J. Biol. Chem. 286, 24200–24207 (2011).

Nemeth, A., Guibert, S., Tiwari, V. K., Ohlsson, R. & Langst, G. Epigenetic regulation of TTF-I-mediated promoter-terminator interactions of rRNA genes. EMBO J. 27, 1255–1265 (2008).

Zhu, H. et al. Lin28a transgenic mice manifest size and puberty phenotypes identified in human genetic association studies. Nat. Genet. 42, 626–630 (2010).
Acknowledgements
We thank C. Kadoch, S. McBrayer, J. Wu, J. Xu, L. Banaszynski, X. Liu and S. Wang for constructive comments on the manuscript; C. Lewis and J. Shelton for histopathology; Proteomics Core at UTSW (A. Lemoff) for MS; and the CRI Sequencing Core (J. Xu) for genomics. Funding sources: NIH R03ES026397-01 (to T.W.), CPRIT RP150596 (to T.W.), CPRIT RP170267 (to H.Z.), NIH/NIDDK R01DK111588 (to H.Z.) and Stand Up To Cancer Innovative Research Grant (no. SU2C-AACR-IRG 10-16 to H.Z.).
Ethics declarations
Competing interests
At the time of publication, H.Z. owned Ionis Pharmaceuticals stock worth less than $US10,000 and has active collaboration with Alnylam Pharmaceuticals and Twenty-Eight Seven Therapeutics. The remaining authors declare no competing interests.
Additional information
Publisher's note Springer Nature remains neutral with regard to jurisdictional claims in published maps and institutional affiliations.
Supplementary information
Supplementary Tables 1 and 2.
About this article
Cite this article
Wang, Z., Chen, K., Jia, Y. et al. Dual ARID1A/ARID1B loss leads to rapid carcinogenesis and disruptive redistribution of BAF complexes. Nat Cancer 1, 909–922 (2020). https://doi.org/10.1038/s43018-020-00109-0
Received:

Accepted:

Published:

Issue Date:

DOI: https://doi.org/10.1038/s43018-020-00109-0