Abstract
Primary melanomas >1 mm thickness are potentially curable by resection, but can recur metastatically. We assessed the prognostic value of the T-cell fraction (TCFr) and repertoire T-cell clonality, measured by high-throughput sequencing of the T-cell receptor β-chain in T2–T4 primary melanomas (n = 199). TCFr accurately predicted progression-free survival and was independent of thickness, ulceration, mitotic rate and age. TCFr was second only to tumor thickness in its predictive value, using a gradient-boosted model. For accurate progression-free survival prediction, adding TCFr to tumor thickness was superior to adding any other histopathological variable. Furthermore, a TCFr >20% was protective regardless of tumor ulceration status, mitotic rate or presence of nodal disease. TCFr is a quantitative molecular assessment that predicts metastatic recurrence in primary melanoma patients whose disease has been resected surgically. The present study suggests that a successful T-cell-mediated, antitumour response can be present in primary melanomas.
Access options
Subscribe to Journal
Get full journal access for 1 year
$119.00
only $9.92 per issue
All prices are NET prices.
VAT will be added later in the checkout.
Tax calculation will be finalised during checkout.
Rent or Buy article
Get time limited or full article access on ReadCube.
from$8.99
All prices are NET prices.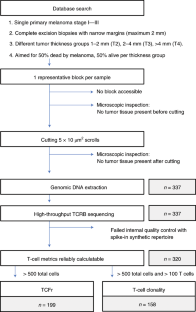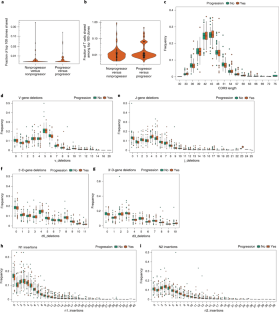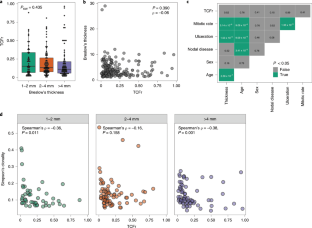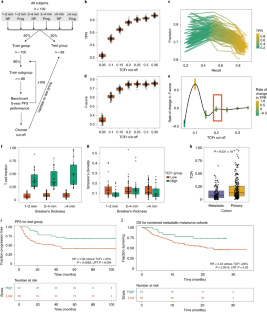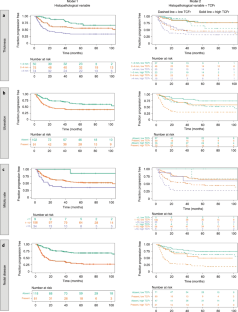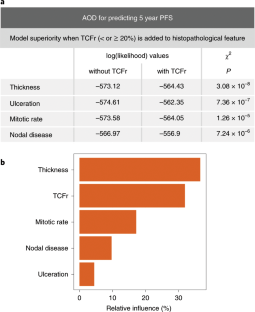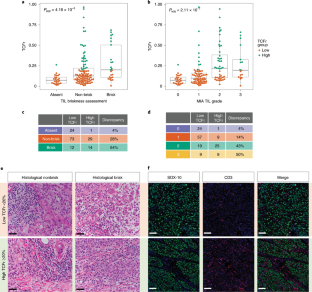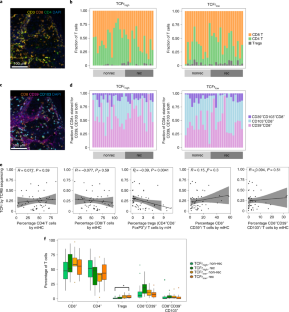 Code availability
All code was performed using R v.3.5.1 and publicly available packages. Cox's regressions were performed using the survival package v.2.43. Plots were generated using ggplot2 v.3.2.0. Heatmaps of V-family and J-gene usage were generated using the LymphoSeq package (https://doi.org/10.18129/B9.bioc.LymphoSeq) v.3.10. No custom packages were written for the analysis. Code underlying the analysis is available upon request from the corresponding author.
References
1.

Matthews, N. H., Li, W. Q., Qureshi, A. A., Weinstock, M. A. & Cho, E. Epidemiology of melanoma. in Cutaneous Melanoma: Etiology and Therapy (eds., Ward, W. H. & Farma, J. M.) Chapter 1 (Codon Publications, 2017).

2.

Shaikh, W. R. et al. Melanoma thickness and survival trends in the United States, 1989 to 2009. J. Natl Cancer Inst. 108, djv294 (2016).

3.

Gershenwald, J. E. et al. Melanoma staging: evidence-based changes in the American Joint Committee on Cancer eighth edition cancer staging manual. CA Cancer J. Clin. 67, 472–492 (2017).

4.

Elsaesser, O. et al. Prognosis of sentinel node staged patients with primary cutaneous melanoma. PLoS ONE 7, e29791 (2012).

5.

Lawrence, M. S. et al. Mutational heterogeneity in cancer and the search for new cancer-associated genes. Nature 499, 214–218 (2013).

6.

Hayward, N. K. et al. Whole-genome landscapes of major melanoma subtypes. Nature 545, 175–180 (2017).

7.

Snyder, A. et al. Genetic basis for clinical response to CTLA-4 blockade in melanoma. N. Engl. J. Med. 371, 2189–2199 (2014).

8.

Clemente, C. G. et al. Prognostic value of tumor infiltrating lymphocytes in the vertical growth phase of primary cutaneous melanoma. Cancer 77, 1303–1310 (1996).

9.

Clark, W. H. Jr. et al. Model predicting survival in stage I melanoma based on tumor progression. J. Natl Cancer Inst. 81, 1893–1904 (1989).

10.

Azimi, F. et al. Tumor-infiltrating lymphocyte grade is an independent predictor of sentinel lymph node status and survival in patients with cutaneous melanoma. J. Clin. Oncol. 30, 2678–2683 (2012).

11.

Mansson-Brahme, E. et al. Prognostic factors in thin cutaneous malignant melanoma. Cancer 73, 2324–2332 (1994).

12.

Tuthill, R. J., Unger, J. M., Liu, P. Y., Flaherty, L. E. & Sondak, V. K. Risk assessment in localized primary cutaneous melanoma: a Southwest Oncology Group study evaluating nine factors and a test of the Clark logistic regression prediction model. Am. J. Clin. Pathol. 118, 504–511 (2002).

13.

van Houdt, I. S. et al. Favorable outcome in clinically stage II melanoma patients is associated with the presence of activated tumor infiltrating T-lymphocytes and preserved MHC class I antigen expression. Int. J. Cancer 123, 609–615 (2008).

14.

Krynitz, B., Rozell, B. L., Lyth, J., Smedby, K. E. & Lindelof, B. Cutaneous malignant melanoma in the Swedish organ transplantation cohort: a study of clinicopathological characteristics and mortality. J. Am. Acad. Dermatol. 73, 106–113 e102 (2015).

15.

Thomas, N. E. et al. Tumor-infiltrating lymphocyte grade in primary melanomas is independently associated with melanoma-specific survival in the population-based genes, environment and melanoma study. J. Clin. Oncol. 31, 4252–4259 (2013).

16.

Burton, A. L. et al. Prognostic significance of tumor infiltrating lymphocytes in melanoma. Am. Surg. 77, 188–192 (2011).

17.

Kruper, L. L. et al. Predicting sentinel node status in AJCC stage I/II primary cutaneous melanoma. Cancer 107, 2436–2445 (2006).

18.

Taylor, R. C., Patel, A., Panageas, K. S., Busam, K. J. & Brady, M. S. Tumor-infiltrating lymphocytes predict sentinel lymph node positivity in patients with cutaneous melanoma. J. Clin. Oncol. 25, 869–875 (2007).

19.

Mandala, M. et al. Clinical and histopathological risk factors to predict sentinel lymph node positivity, disease-free and overall survival in clinical stages I–II AJCC skin melanoma: outcome analysis from a single-institution prospectively collected database. Eur. J. Cancer 45, 2537–2545 (2009).

20.

Donizy, P. et al. Paucity of tumor-infiltrating lymphocytes is an unfavorable prognosticator and predicts lymph node metastases in cutaneous melanoma patients. Anticancer Res. 35, 351–358 (2015).

21.

Thorn, M., Ponten, F., Bergstrom, R., Sparen, P. & Adami, H. O. Clinical and histopathologic predictors of survival in patients with malignant melanoma: a population-based study in Sweden. J. Natl Cancer Inst. 86, 761–769 (1994).

22.

Barnhill, R. L., Fine, J. A., Roush, G. C. & Berwick, M. Predicting five-year outcome for patients with cutaneous melanoma in a population-based study. Cancer 78, 427–432 (1996).

23.

Saldanha, G., Flatman, K., Teo, K. W. & Bamford, M. A novel numerical scoring system for melanoma tumor-infiltrating lymphocytes has better prognostic value than standard scoring. Am. J. Surg. Pathol. 41, 906–914 (2017).

24.

Larkin, J. et al. Combined nivolumab and ipilimumab or monotherapy in untreated melanoma. N. Engl. J. Med. 373, 23–34 (2015).

25.

Prieto, P. A. et al. CTLA-4 blockade with ipilimumab: long-term follow-up of 177 patients with metastatic melanoma. Clin. Cancer Res. 18, 2039–2047 (2012).

26.

Hogan, S. A., Levesque, M. P. & Cheng, P. F. Melanoma immunotherapy: next-generation biomarkers. Front. Oncol. 8, 178 (2018).

27.

Robert, L. et al. Distinct immunological mechanisms of CTLA-4 and PD-1 blockade revealed by analyzing TCR usage in blood lymphocytes. Oncoimmunology 3, e29244 (2014).

28.

Postow, M. A. et al. Peripheral T cell receptor diversity is associated with clinical outcomes following ipilimumab treatment in metastatic melanoma. J. Immunother. Cancer 3, 23 (2015).

29.

Cha, E. et al. Improved survival with T cell clonotype stability after anti-CTLA-4 treatment in cancer patients. Sci. Transl. Med. 6, 238ra270 (2014).

30.

Tumeh, P. C. et al. PD-1 blockade induces responses by inhibiting adaptive immune resistance. Nature 515, 568–571 (2014).

31.

Roh, W. et al. Integrated molecular analysis of tumor biopsies on sequential CTLA-4 and PD-1 blockade reveals markers of response and resistance. Sci. Transl. Med. 9, eaah3560 (2017).

32.

Riaz, N. et al. Tumor and microenvironment evolution during immunotherapy with nivolumab. Cell 171, 934–949 e915 (2017).

33.

Inoue, H. et al. Intratumoral expression levels of PD-L1, GZMA, and HLA-A along with oligoclonal T cell expansion associate with response to nivolumab in metastatic melanoma. Oncoimmunology 5, e1204507 (2016).

34.

Yusko, E. et al. Association of tumor microenvironment T-cell repertoire and mutational load with clinical outcome after sequential checkpoint blockade in melanoma. Cancer Immunol. Res. 7, 458–465 (2019).

35.

Elith, J., Leathwick, J. R. & Hastie, T. A working guide to boosted regression trees. J. Animal Ecol. 77, 802–813 (2008).

36.

Simoni, Y. et al. Bystander CD8+ T cells are abundant and phenotypically distinct in human tumour infiltrates. Nature 557, 575–579 (2018).

37.

Duhen, T. et al. Co-expression of CD39 and CD103 identifies tumor-reactive CD8 T cells in human solid tumors. Nat. Commun. 9, 2724 (2018).

38.

Vasaturo, A. et al. T-cell landscape in a primary melanoma predicts the survival of patients with metastatic disease after their treatment with dendritic cell vaccines. Cancer Res. 76, 3496–3506 (2016).

39.

Nsengimana, J. et al. beta-Catenin-mediated immune evasion pathway frequently operates in primary cutaneous melanomas. J. Clin. Invest. 128, 2048–2063 (2018).

40.

Scheper, W. et al. Low and variable tumor reactivity of the intratumoral TCR repertoire in human cancers. Nat. Med. 25, 89–94 (2019).

41.

Rosato, P. C. et al. Virus-specific memory T cells populate tumors and can be repurposed for tumor immunotherapy. Nat. Commun. 10, 567 (2019).

42.

Camisaschi, C., Vallacchi, V., Castelli, C., Rivoltini, L. & Rodolfo, M. Immune cells in the melanoma microenvironment hold information for prediction of the risk of recurrence and response to treatment. Expert Rev. Mol. Diagn. 14, 643–646 (2014).

43.

Ladanyi, A. et al. T-cell activation marker expression on tumor-infiltrating lymphocytes as prognostic factor in cutaneous malignant melanoma. Clin. Cancer Res. 10, 521–530 (2004).

44.

Park, C. K. & Kim, S. K. Clinicopathological significance of intratumoral and peritumoral lymphocytes and lymphocyte score based on the histologic subtypes of cutaneous melanoma. Oncotarget 8, 14759–14769 (2017).

45.

Huang, A. C. et al. A single dose of neoadjuvant PD-1 blockade predicts clinical outcomes in resectable melanoma. Nat. Med. 25, 454–461 (2019).

46.

Carlson, C. S. et al. Using synthetic templates to design an unbiased multiplex PCR assay. Nat. Commun. 4, 2680 (2013).

47.

Robins, H. S. et al. Comprehensive assessment of T-cell receptor beta-chain diversity in alphabeta T cells. Blood 114, 4099–4107 (2009).

48.

R Core Team. R: A Language and Environment for Statistical Computing Version 3.4.3 (R Foundation for Statistical Computing, 2017).

49.

McShane, L. M. et al. Reporting recommendations for tumor marker prognostic studies (REMARK). J. Natl Cancer Inst. 97, 1180–1184 (2005).
Acknowledgements
This work was supported by National Institutes of Health grant nos. R01 AI127654 (to T.S.K.) and R01 CA203721 (to R.A.C. and T.S.K.). W.P. was supported by a grant of the German Research Foundation (grant no. PR 1621/1-1), B.D.-A. received grant support from the Novo Nordisk Foundation and the Lundbeck Foundation. Laboratory services were provided at no cost by Adaptive Biotechnologies. We thank Dana-Farber/Harvard Cancer Center in Boston, MA, for the use of the Pathology Specimen Locator Core, which is supported in part by a National Cancer Institute Cancer Center support grant (no. NIH 5 P30 CA06516). We thank J. Lock Andersen for help providing clinical data related to the collected archival melanoma samples. Support from colleagues of the MIA and the Australian National Health and Medical Research Council is also gratefully acknowledged. J.S.W. and R.A.S. are supported by Australian National Health and Medical Research Council Fellowships. J.F.T. is supported by the Medical Foundation of the University of Sydney. G.A. is supported by a scholarship from the University of Sydney. immunoSEQ, immuneACCESS and their associated designs are trademarks of Adaptive Biotechnologies. Other trademarks are the property of their respective owners. immunoSEQ Assays are for research use only and not for use in diagnostic procedures.
Ethics declarations
Competing interests
J.R., P.F., E.Y. and H.R. are or were employed by and have financial interest in Adaptive Biotechnologies. H.R. owns intellectual property associated with Adaptive Biotechnologies. T.S.K. serves on the Scientific Advisory Board (Hematology) of Adaptive Biotechnologies but does not own stock or receive compensation.
Additional information
Publisher's note Springer Nature remains neutral with regard to jurisdictional claims in published maps and institutional affiliations.
Supplementary information
Supplementary Tables 1–5.
Source data
Histological TIL grading data.
About this article
Cite this article
Pruessmann, W., Rytlewski, J., Wilmott, J. et al. Molecular analysis of primary melanoma T cells identifies patients at risk for metastatic recurrence. Nat Cancer 1, 197–209 (2020). https://doi.org/10.1038/s43018-019-0019-5
Received:

Accepted:

Published:

Issue Date:
Further reading
Manik Garg

,

Dominique-Laurent Couturier

,

Jérémie Nsengimana

,

Nuno A. Fonseca

,

Matthew Wongchenko

,

Yibing Yan

,

Martin Lauss

,

Göran B. Jönsson

,

Julia Newton-Bishop

,

Christine Parkinson

,

Mark R. Middleton

,

D. Timothy Bishop

,

Sarah McDonald

,

Nikki Stefanos

,

John Tadross

,

Ismael A. Vergara

,

Serigne Lo

,

Felicity Newell

,

James S. Wilmott

,

John F. Thompson

,

Georgina V. Long

,

Richard A. Scolyer

,

Pippa Corrie

,

David J. Adams

,

Alvis Brazma

&

Roy Rabbie

Nature Communications (2021)