Identifying cancer driver mutations is essential to understand disease biology and devise effective therapies, but remains a complex endeavor. A focused analytical approach is now presented that defines driver mutations affecting ubiquitin-mediated proteolysis through machine learning and mining of cancer multi-omics data.
Access options
Subscribe to Journal
Get full journal access for 1 year
$99.00
only $8.25 per issue
All prices are NET prices.
VAT will be added later in the checkout.
Tax calculation will be finalised during checkout.
Rent or Buy article
Get time limited or full article access on ReadCube.
from$8.99
All prices are NET prices.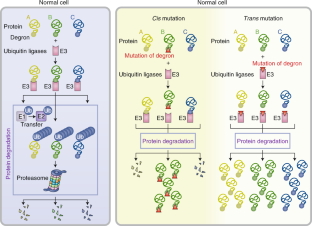 References
1.

Cheng, F., Liang, H., Butte, A. J., Eng, C. & Nussinov, R. Pharmacol. Rev. 71, 1–19 (2019).

2.

Martincorena, I. & Campbell, P. J. Science 349, 1483–1489 (2015).

3.

Bailey, M. H. et al. Cell 173, 371–385.e18 (2018).

4.

Ng, P. K. et al. Cancer Cell 33, 450–462.e10 (2018).

5.

Martínez-Jiménez, F., Muiños, F., López-Arribillaga, E., Lopez-Bigas, N. & Gonzalez-Perez, A. Nat. Cancer https://doi.org/10.1038/s43018-019-0001-2 (2019).

6.

Laney, J. D. & Hochstrasser, M. Cell 97, 427–430 (1999).

7.

Meszaros, B., Kumar, M., Gibson, T. J., Uyar, B. & Dosztanyi, Z. Sci. Signal. 10, eaak9982 (2017).

8.

Li, J. et al. Nat. Methods 10, 1046–1047 (2013).

9.

Ge, Z. et al. Cell Rep. 23, 213–226.e3 (2018).

10.

Dinkel, H. et al. Nucleic Acids Res. 44, D294–D300 (2016).
Ethics declarations
Competing interests
The author declares no competing interests.
About this article
Cite this article
Liang, H. Finding cancer drivers in the UPS system. Nat Cancer 1, 20–21 (2020). https://doi.org/10.1038/s43018-019-0013-y