Abstract
Warming temperatures tend to damage crop yields, yet the influence of water supply on global yields and its relation to temperature stress remains unclear. Here we use satellite-based measurements to provide empirical estimates of how root zone soil moisture and surface air temperature jointly influence the global productivity of maize, soybeans, millet and sorghum. Relative to empirical models using precipitation as a proxy for water supply, we find that models using soil moisture explain 30–120% more of the interannual yield variation across crops. Models using soil moisture also better separate water-supply stress from correlated heat stress and show that soil moisture and temperature contribute roughly equally to historical variations in yield. Globally, our models project yield damages of −9% to −32% across crops by end-of-century under Shared Socioeconomic Pathway 5-8.5 from changes in temperature and soil moisture. By contrast, projections using temperature and precipitation overestimate damages by 28% to 320% across crops both because they confound stresses from dryness and heat and because changes in soil moisture and temperature diverge from their historical association due to climate change. Our results demonstrate the importance of accurately representing water supply for predicting changes in global agricultural productivity and for designing effective adaptation strategies.
Access options
Subscribe to Nature+
Get immediate online access to the entire Nature family of 50+ journals
Subscribe to Journal
Get full journal access for 1 year
$119.00
only $9.92 per issue
All prices are NET prices.
VAT will be added later in the checkout.
Tax calculation will be finalised during checkout.
Buy article
Get time limited or full article access on ReadCube.
$32.00
All prices are NET prices.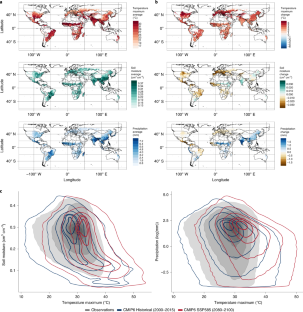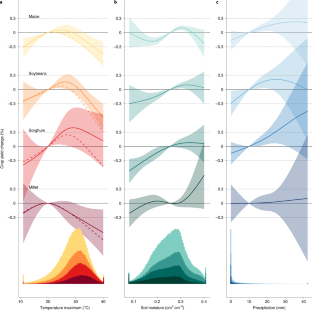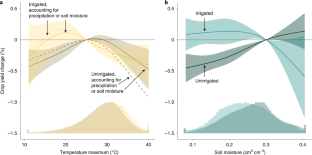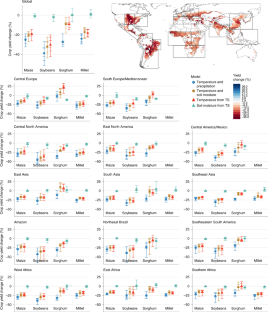 References
Schlenker, W. & Roberts, M. J. Nonlinear temperature effects indicate severe damages to US crop yields under climate change. Proc. Natl Acad. Sci. USA 106, 15594–15598 (2009).

IPCC Food Security (eds Mbow, C. et al.) (IPCC, 2019).

Schlenker, W. & Lobell, D. B. Robust negative impacts of climate change on African agriculture. Environ. Res. Lett. 5, 014010 (2010).

Lobell, D. B., Schlenker, W. & Costa-Roberts, J. Climate trends and global crop production since 1980. Science 333, 616–620 (2011).

Ortiz-Bobea, A., Ault, T. R., Carrillo, C. M., Chambers, R. G. & Lobell, D. B. Anthropogenic climate change has slowed global agricultural productivity growth. Nat. Clim. Chang. 11, 306–312 (2021).

Proctor, J., Hsiang, S., Burney, J., Burke, M. & Schlenker, W. Estimating global agricultural effects of geoengineering using volcanic eruptions. Nature 560, 480–483 (2018).

Vogel, E. et al. The effects of climate extremes on global agricultural yields. Environ. Res. Lett. 14, 054010 (2019).

Agnolucci, P. et al. Impacts of rising temperatures and farm management practices on global yields of 18 crops. Nat. Food 1, 562–571 (2020).

Zhao, C. et al. Temperature increase reduces global yields of major crops in four independent estimates. Proc. Natl Acad. Sci USA 114, 9326–9331 (2017).

Buckley, T. N. How do stomata respond to water status? New Phytol. 224, 21–36 (2019).

Chaves, M. M. et al. How plants cope with water stress in the field. Photosynthesis and growth. Ann. Bot. 89, 907–916 (2002).

Siega, T. D. C., Bertoldo, E. & Vismara, L. D. S. Cavitation and embolism in plants: literature review. Aust. J. Basic Appl. Sci. 12, 1–4 (2018).

Waqas, M. A. et al. Thermal stresses in maize: effects and management strategies. Plants 10, 1–23 (2021).

Schauberger, B. et al. Consistent negative response of US crops to high temperatures in observations and crop models. Nat. Commun. 8, 1–9 (2017).

Rajendra Prasad, V. B. et al. Drought and high temperature stress in sorghum: physiological, genetic, and molecular insights and breeding approaches. Int. J. Mol. Sci. 22, 9826 (2021).

Lobell, D. B. & Asseng, S. Comparing estimates of climate change impacts from process-based and statistical crop models. Environ. Res. Lett. 12, 015001 (2017).

Jones, J. W. et al. Toward a new generation of agricultural system data, models, and knowledge products: state of agricultural systems science. Agric. Syst. 155, 269–288 (2017).

Ewert, F. et al. Crop modelling for integrated assessment of risk to food production from climate change. Environ. Model. Softw. 72, 287–303 (2015).

Boote, K. J., Jones, J. W., White, J. W., Asseng, S. & Lizaso, J. I. Putting mechanisms into crop production models. Plant Cell Environ. 36, 1658–1672 (2013).

Seneviratne, S. I. et al. Investigating soil moisture–climate interactions in a changing climate: a review. Earth Sci Rev 99, 125–161 (2010).

Wooldridge, J. M. Econometric Analysis of Cross Section and Panel Data (MIT Press, 2002).

Zeppetello, L. R., Tetreault-Pinard, E., Battisti, D. S. & Baker, M. B. Identifying the sources of continental summertime temperature variance using a diagnostic model of land-atmosphere interactions. J. Clim. 33, 3547–3564 (2020).

Carter, E. K., Melkonian, J., Riha, S. J. & Shaw, S. B. Separating heat stress from moisture stress: analyzing yield response to high temperature in irrigated maize. Environ. Res. Lett. 11, 094012 (2016).

Ortiz-Bobea, A., Wang, H., Carrillo, C. M. & Ault, T. R. Unpacking the climatic drivers of US agricultural yields. Environ. Res. Lett. 14, 064003 (2019).

Rigden, A. J., Mueller, N. D., Holbrook, N. M., Pillai, N. & Huybers, P. Combined influence of soil moisture and atmospheric evaporative demand is important for accurately predicting US maize yields. Nat. Food 1, 127–133 (2020).

Zhu, P. & Burney, J. Untangling irrigation effects on maize water and heat stress alleviation using satellite data. Hydrol. Earth Syst. Sci. 26, 827–840 (2021).

Novick, K. A. et al. The increasing importance of atmospheric demand for ecosystem water and carbon fluxes. Nat. Clim. Chang. 6, 1023–1027 (2016).

Liu, L. et al. Soil moisture dominates dryness stress on ecosystem production globally. Nat. Commun. 11, 1–9 (2020).

Wijewardana, C. et al. Quantifying soil moisture deficit effects on soybean yield and yield component distribution patterns. Irrig. Sci. 36, 241–255 (2018).

Lesk, C. et al. Stronger temperature–moisture couplings exacerbate the impact of climate warming on global crop yields. Nat. Food 2, 683–691 (2021).

Dorigo, W. et al. ESA CCI soil moisture for improved Earth system understanding: state-of-the art and future directions. Remote Sens. Environ. 203, 185–215 (2017).

Gruber, A., Scanlon, T., Van Der Schalie, R., Wagner, W. & Dorigo, W. Evolution of the ESA CCI soil moisture climate data records and their underlying merging methodology. Earth Syst. Sci. Data 11, 717–739 (2019).

CPC Global Unified Gauge-Based Analysis of Daily Precipitation (NOAA, 2020); https://psl.noaa.gov/data/gridded/data.cpc.globalprecip.html

FAOSTAT Crops and Livestock Products (FAO, 2020); https://www.fao.org/faostat

Lesk, C., Coffel, E. & Horton, R. Net benefits to US soy and maize yields from intensifying hourly rainfall. Nat. Clim. Chang. 10, 819–822 (2020).

Hsiang, S. M. Climate econometrics. Annu. Rev. Resource Econ. 8, 43–75 (2016).

Eyring, V. et al. Overview of the Coupled Model Intercomparison Project Phase 6 (CMIP6) experimental design and organization. Geosci. Model Dev. 9, 1937–1958 (2016).

Hastie, T., Tibshirani, R. & Friedman, J. H. The Elements of Statistical Learning: Data Mining, Inference, and Prediction, Vol. 2 (Springer, 2009).

Sánchez, B., Rasmussen, A. & Porter, J. R. Temperatures and the growth and development of maize and rice: a review. Glob. Change Biol. 20, 408–417 (2014).

Stone, L. R. & Schlegel, A. J. Yield–water supply relationships of grain sorghum and winter wheat. Agron. J. 98, 1359–1366 (2006).

Lobell, D. B. et al. The critical role of extreme heat for maize production in the United States. Nat. Clim. Chang. 3, 497–501 (2013).

Hirasawa, T. & Hsiao, T. C. Some characteristics of reduced leaf photosynthesis at midday in maize growing in the field. Field Crops Res. 62, 53–62 (1999).

Troy, T. J., Kipgen, C. & Pal, I. The impact of climate extremes and irrigation on US crop yields. Environ. Res. Lett. 10, 054013 (2015).

Ashraf, M. & Habib-ur-Rehman. Interactive effects of nitrate and long-term waterlogging on growth, water relations, and gaseous exchange properties of maize (Zea mays L.). Plant Sci. 144, 35–43 (1999).

Li, Y., Guan, K., Schnitkey, G. D., DeLucia, E. & Peng, B. Excessive rainfall leads to maize yield loss of a comparable magnitude to extreme drought in the United States. Glob. Change Biol. 25, 2325–2337 (2019).

Rosenzweig, C., Tubiello, F. N., Goldberg, R., Mills, E. & Bloomfield, J. Increased crop damage in the US from excess precipitation under climate change. Glob. Environ. Change 12, 197–202 (2002).

Voesenek, L. A. & Bailey-Serres, J. Flood adaptive traits and processes: an overview. New Phytol. 206, 57–73 (2015).

Elliott, J. et al. Constraints and potentials of future irrigation water availability on agricultural production under climate change. Proc. Natl Acad. Sci. USA 111, 3239–3244 (2014).

Myhre, G. et al. Frequency of extreme precipitation increases extensively with event rareness under global warming. Sci. Rep. 9, 2–11 (2019).

Berg, A., Sheffield, J. & Milly, P. C. D. Divergent surface and total soil moisture projections under global warming. Geophys. Res. Lett. 44, 236–244 (2017).

Lorenz, D. J., Nieto-Lugilde, D., Blois, J. L., Fitzpatrick, M. C. & Williams, J. W. Downscaled and debiased climate simulations for North America from 21,000 years ago to 2100AD. Sci. Data 3, 1–19 (2016).

Douville, H., Raghavan, K. & Renwick, J. Water cycle changes. In Climate Change 2021: The Physical Science Basis. Contribution of Working Group I to the Sixth Assessment Report of the IPCC (eds Masson-Delmotte, V. et al.) 1055–1210 (Cambridge University Press, 2021).

Mueller, N. D. et al. Cooling of US Midwest summer temperature extremes from cropland intensification. Nat. Clim. Chang. 6, 317–322 (2015).

Shortridge, J. Observed trends in daily rainfall variability result in more severe climate change impacts to agriculture. Clim. Change 157, 429–444 (2019).

Sun, Q. et al. A review of global precipitation data sets: data sources, estimation, and intercomparisons. Rev. Geophys. 56, 79–107 (2018).

Proctor, J. Atmospheric opacity has a nonlinear effect on global crop yields. Nat. Food 2, 166–173 (2021).

Taylor, C. A. & Schlenker, W. Environmental Drivers of Agricultural Productivity Growth: CO2 Fertilization of US Field Crops, Working Paper Series No. 29320 (National Bureau of Economic Research, 2021).

Feldman, A. et al. Satellites capture soil moisture dynamics deeper than a few centimeters and are relevant to plant water uptake. Preprint at https://doi.org/10.1002/essoar.10511280.1 (2022).

Ford, T. W., Harris, E. & Quiring, S. M. Estimating root zone soil moisture using near-surface observations from SMOS. Hydrol. Earth Syst. Sci. 18, 139–154 (2014).

CPC Global Daily Temperature (NOAA, 2020); https://psl.noaa.gov/data/gridded/data.cpc.globaltemp.html

Monfreda, C., Ramankutty, N. & Foley, J. A. Farming the planet: 2. Geographic distribution of crop areas, yields, physiological types, and net primary production in the year 2000. Glob. Biogeochem. Cycles 22, 1–19 (2008).

Sacks, W. J., Deryng, D., Foley, J. A. & Ramankutty, N. Crop planting dates: an analysis of global patterns. Glob. Ecol. Biogeog. 19, 607–620 (2010).

Algorithm Theoretical Baseline Document (ATBD) Supporting Product Version 06.1, Technical Report (Earth Observation Data Centre for Water Resources Monitoring, 2021).

Stefan, S., Verena, H., Karen, F. & Burke, J. AQUASTAT Global Map of Irrigation Areas version 5 (FAO, 2013).

Ray, D. K., Gerber, J. S., Macdonald, G. K. & West, P. C. Climate variation explains a third of global crop yield variability. Nat. Commun. 6, 1–9 (2015).

Jägermeyr, J. et al. Climate impacts on global agriculture emerge earlier in new generation of climate and crop models. Nat. Food 2, 873–885 (2021).
Acknowledgements
We thank seminar participants at the University of California Santa Barbara, Harvard University, the University of British Columbia, the Woods Hole Oceanographic Institution, the Gordon Research Conference on Climate Engineering, the American Geophysical Union, the Planetary Health Colloquium, and the Seminar on Planetary Management for useful comments. Funding for this project was provided by the Harvard Google Data+Climate Project.
Ethics declarations
Competing interests
The authors declare no competing interests.
Peer review
Peer review information
Nature Food thanks Adriaan J. Teuling, Corey Lesk and the other, anonymous, reviewer(s) for their contribution to the peer review of this work.
Additional information
Publisher's note Springer Nature remains neutral with regard to jurisdictional claims in published maps and institutional affiliations.
Supplementary information
Supplementary Discussion 1–5, Tables 1 and 2, and Figs. 1–9.
Rights and permissions
Springer Nature or its licensor holds exclusive rights to this article under a publishing agreement with the author(s) or other rightsholder(s); author self-archiving of the accepted manuscript version of this article is solely governed by the terms of such publishing agreement and applicable law.
About this article
Cite this article
Proctor, J., Rigden, A., Chan, D. et al. More accurate specification of water supply shows its importance for global crop production. Nat Food 3, 753–763 (2022). https://doi.org/10.1038/s43016-022-00592-x
Received:

Accepted:

Published:

Issue Date:

DOI: https://doi.org/10.1038/s43016-022-00592-x