Abstract
Seafood is expected to become increasingly important in future food systems and healthy diets. This transition will require the seafood sector to adapt business practices to respond to environmental and social challenges while increasing resilience. Here, we develop the circular economy-resilience framework for business models (CERF-BM) and, through exploring the current literature, apply this framework to business models in the seafood sector. We find that the majority of business models incorporate elements of circular economy and resilience in a limited way. The reviewed business models often fail to consider other supply chain actors and, instead, focus on the business itself and its customers. The CERF-BM helps to elucidate this disconnect through assessing business models against company-level actions towards circularity in combination with systems-level resilience mechanisms. To reap the synergies between the circular economy and resilience mechanisms, seafood businesses could extract more value from organic waste and dematerialize their business models.
Access options
Subscribe to Nature+
Get immediate online access to Nature and 55 other Nature journal
Subscribe to Journal
Get full journal access for 1 year
$119.00
only $9.92 per issue
All prices are NET prices.
VAT will be added later in the checkout.
Tax calculation will be finalised during checkout.
Buy article
Get time limited or full article access on ReadCube.
$32.00
All prices are NET prices.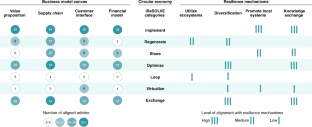 References
The State of World Fisheries and Aquaculture 2018: Meeting the Sustainable Development Goals (FAO, 2018).

Avadi, A., Freon, P. & Tam, J.Coupled ecosystem/supply chain modelling of fish products from sea to shelf: the Peruvian Anchoveta case. PLoS ONE 9, e102057 (2014).

Lam, M. E. The ethics and sustainability of capture fisheries and aquaculture. J. Agric. Environ. Ethics 29, 35–65 (2016).

Farmery, A. K., Gardner, C., Jennings, S., Green, B. S. & Watson, R. A.Assessing the inclusion of seafood in the sustainable diet literature. Fish Fish. 18, 607–618 (2017).

Drakou, E. G., Pendleton, L., Effron, M., Ingram, J. C. & Teneva, L. When ecosystems and their services are not co-located: oceans and coasts. ICES J. Mar. Sci. 74, 1531–1539 (2017).

Tendall, D. M. et al. Food system resilience: defining the concept. Glob. Food Sec. 6, 17–23 (2015).

Schipanski, M. E. et al. Realizing resilient food systems. BioScience 66, 600–610 (2016).

Palzkill, A. & Augenstein, K. Business model resilience—understanding the role of companies in societal transformation processes. uwf 25, 61–70 (2017).

Ingram, J. A food systems approach to researching food security and its interactions with global environmental change. Food Sec. 3, 417–431 (2011).

Helfgott, A. Operationalising systemic resilience. Eur. J. Oper. Res. 268, 852–864 (2018).

What is a Circular Economy? (Ellen MacArthur Foundation, 2017); https://www.ellenmacarthurfoundation.org/circular-economy/concept

Korhonen, J., Nuur, C., Feldmann, A. & Birkie, S. E. Circular economy as an essentially contested concept. J. Clean. Prod. 175, 544–552 (2018).

Calisto Friant, M., Vermeulen, W. J. V. & Salomone, R. A typology of circular economy discourses: navigating the diverse visions of a contested paradigm. Resour. Conserv. Recycl. 161, 104917 (2020).

Mendoza, J. M. F., Sharmina, M., Gallego-Schmid, A., Heyes, G. & Azapagic, A.Integrating backcasting and eco-design for the circular economy: the BECE framework. J. Ind. Ecol. 21, 526–544 (2017).

Osterwalder, A. Business Model Generation: a Handbook for Visionaries, Game Changers, and Challengers (John Wiley & Sons, 2010).

Cavalcante, S. Business model dynamics and innovation: (re)establishing the missing linkages. Manage. Decis. 49, 1327–1342 (2011).

Bocken, N. M. P., Short, S. W., Rana, P. & Evans, S. A literature and practice review to develop sustainable business model archetypes. J. Clean. Prod. 65, 42–56 (2014).

Eayrs, S., Cadrin, S. X. & Glass, C. W. Managing change in fisheries: a missing key to fishery-dependent data collection? ICES J. Mar. Sci. 72, 1152–1158 (2015).

Cameron, E. & Green, M. Making Sense of Change Management: a Complete Guide to the Models, Tools & Techniques of Organizational Change (Kogan Page, 2004).

Richardson, J. E.The business model: an integrative framework for strategy execution. Strategic Change 17, 133–144 (2005).

Rosa, P., Sassanelli, C. & Terzi, S. Towards circular business models: a systematic literature review on classification frameworks and archetypes. J. Clean. Prod. 236, 117696 (2019).

Boons, F. & Luedeke-Freund, F. Business models for sustainable innovation: state-of-the-art and steps towards a research agenda. J. Clean. Prod. 45, 9–19 (2013).

Schulze, G. Growth Within: A Circular Economy Vision For A Competitive Europe (Ellen MacArthur Foundation, 2016).

Veronesi Burch, M., Rigaud, A., Binet, T. & Barthelemy, C. Farnet Guide (Directorate-General for Maritime Affairs and Fisheries, 2019).

Baden-Fuller, C., Giudici, A. & Morgan, M. S.Business models and value. Acad. Manage. Proc. 2017, 11635 (2017).

Campbell, L. M., Boucquey, N., Stoll, J., Coppola, H. & Smith, M. D. From vegetable box to seafood cooler: applying the community-supported agriculture model to fisheries. Soc. Nat. Resour. 27, 88–106 (2014).

Greenfeld, A., Becker, N., McIlwain, J., Fotedar, R. & Bornman, J. F. Economically viable aquaponics? Identifying the gap between potential and current uncertainties. Rev. Aquacult. 11, 848–862 (2019).

Pullman, M. E., Maloni, M. J. & Carter, C. R. Food for thought: social versus environmental sustainability practices and performance outcomes. J. Supply Chain Manage. 45, 38–54 (2009).

Bush, S. R., Toonen, H., Oosterveer, P. & Mol, A. P. The 'devils triangle' of MSC certification: balancing credibility, accessibility and continuous improvement. Mar. Policy 37, 288–293 (2013).

Jacquet, J. et al. Seafood stewardship in crisis. Nature 467, 28–29 (2010).

Ponte, S. The Marine Stewardship Council (MSC) and the making of a market for 'sustainable fish'. J. Agrar. Change 12, 300–315 (2012).

Commission Staff Working Document (European Commission, 2019).

Green Public Procurement (European Commission, 2020); https://ec.europa.eu/environment/gpp/index_en.htm

What is a European Standard (EN)? (CEN-CENELEC, 2020); https://www.cencenelec.eu/standards/DefEN/Pages/default.aspx

Bukenya, J. O. & Ssebisubi, M. Price integration in the farmed and wild fish markets in Uganda. Fish. Sci. 80, 1347–1358 (2014).

Leadbitter, D. & Benguerel, R. Sustainable tuna—can the marketplace improve fishery management? Bus. Strategy Environ. 23, 417–432 (2014).

Jonell, M., Phillips, M., Rönnbäck, P. & Troell, M. Eco-certification of farmed seafood: will it make a difference? AMBIO 42, 659–674 (2013).

Van Putten, I. et al. Shifting focus: the impacts of sustainable seafood certification. PLoS ONE 15, e0233237 (2020).

Blasiak, R. et al. Promoting diversity and inclusiveness in seafood certification and ecolabelling: prospects for Asia. Mar. Policy 85, 42–47 (2017).

Overland, I. & Sovacool, B. K. The misallocation of climate research funding. Energy Res. Soc. Sci. 62, 101349 (2020).

Gale, N. K., Heath, G., Cameron, E., Rashid, S. & Redwood, S. Using the framework method for the analysis of qualitative data in multi-disciplinary health research. BMC Med. Res. Methodol. 13, 117 (2013).

Smith, J. & Firth, J. Qualitative data analysis: the framework approach. Nurse Res. 18, 52–62 (2011).
Acknowledgements
This research is part of the 'Diverseafood: evaluating the potential of multi-trophic aquaculture to improve nutrition and ecosystem sustainability in the UK' research project funded by UK Research and Innovation (grant reference BB/S014144/1) and has benefitted from the supportive and collegiate atmosphere of the Tyndall Centre for Climate Change Research (Manchester). We are particularly grateful to S. Mander for thorough and insightful comments on a revised version of this paper.
Ethics declarations
Competing interests
The authors declare no competing interests.
Additional information
Peer review information Nature Food thanks the anonymous reviewers for their contribution to the peer review of this work.
Publisher's note Springer Nature remains neutral with regard to jurisdictional claims in published maps and institutional affiliations.
Supplementary information
About this article
Cite this article
Fletcher, C.A., St Clair, R. & Sharmina, M. Seafood businesses' resilience can benefit from circular economy principles. Nat Food 2, 228–232 (2021). https://doi.org/10.1038/s43016-021-00262-4
Received:

Accepted:

Published:

Issue Date:

DOI: https://doi.org/10.1038/s43016-021-00262-4