Abstract
Habitual consumption of poor quality diets is linked directly to risk factors for many non-communicable diseases. This has resulted in the vast majority of countries and the World Health Organization developing policies for healthy eating to reduce the prevalence of non-communicable diseases in the population. However, there is mounting evidence of variability in individual metabolic responses to any dietary intervention. We have developed a method for applying a pipeline for understanding interindividual differences in response to diet, based on coupling data from highly controlled dietary studies with deep metabolic phenotyping. In this feasibility study, we create an individual Dietary Metabotype Score (DMS) that embodies interindividual variability in dietary response and captures consequent dynamic changes in concentrations of urinary metabolites. We find an inverse relationship between the DMS and blood glucose concentration. There is also a relationship between the DMS and urinary metabolic energy loss. Furthermore, we use a metabolic entropy approach to visualize individual and collective responses to dietary interventions. Potentially, the DMS offers a method to target and to enhance dietary response at the individual level, thereby reducing the burden of non-communicable diseases at the population level.
This is a preview of subscription content
Access options
Subscribe to Journal
Get full journal access for 1 year
$119.00
only $9.92 per issue
All prices are NET prices.
VAT will be added later in the checkout.
Tax calculation will be finalised during checkout.
Rent or Buy article
Get time limited or full article access on ReadCube.
from$8.99
All prices are NET prices.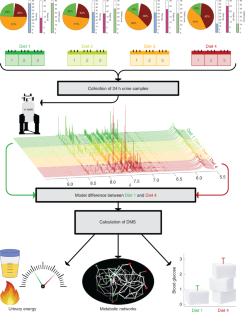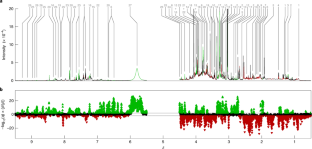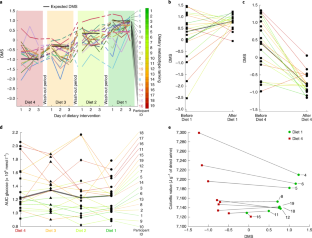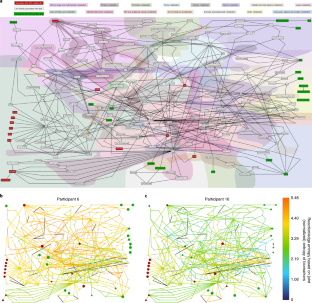 Data availability
All presented data are tabulated and detailed in the main text and the Supplementary Information. The study protocol availability is detailed in the Methods. Diets provided to participants are detailed in the Supplementary Information. Quantified NMR data, DMS, AUC glucose and calorific value for Diets 1 and 4 presented here are freely available (CC BY-NC 3.0) from Mendeley Data at https://doi.org/10.17632/6xvt7cnffd.1.
References
1.

Forouhi, N. G. & Unwin, N. Global diet and health: old questions, fresh evidence, and new horizons. Lancet 393, 1916–1918 (2019).

2.

GBD 2017 Diet Collaborators Health effects of dietary risks in 195 countries, 1990–2017: a systematic analysis for the Global Burden of Disease Study 2017. Lancet 393, 1958–1972 (2019).

3.

Zeevi, D. et al. Personalized nutrition by prediction of glycemic responses. Cell 163, 1079–1094 (2015).

4.

Price, N. D. et al. A wellness study of 108 individuals using personal, dense, dynamic data clouds. Nat. Biotechnol. 35, 747–756 (2017).

5.

Minot, S. et al. The human gut virome: inter-individual variation and dynamic response to diet. Genome Res. 21, 1616–1625 (2011).

6.

Holmes, E. et al. Human metabolic phenotype diversity and its association with diet and blood pressure. Nature 453, 396–400 (2008).

7.

Stella, C. et al. Susceptibility of human metabolic phenotypes to dietary modulation. J. Proteome Res. 5, 2780–2788 (2006).

8.

Loo, R. L., Zou, X., Appel, L. J., Nicholson, J. K. & Holmes, E. Characterization of metabolic responses to healthy diets and association with blood pressure: application to the Optimal Macronutrient Intake Trial for Heart Health (OmniHeart), a randomized controlled study. Am. J. Clin. Nutr. 107, 323–334 (2018).

9.

Lefevre, M., Champagne, C. M., Tulley, R. T., Rood, J. C. & Most, M. M. Individual variability in cardiovascular disease risk factor responses to low-fat and low-saturated-fat diets in men: body mass index, adiposity, and insulin resistance predict changes in LDL cholesterol. Am. J. Clin. Nutr. 82, 1145–1146 (2005). 957-963; quiz.

10.

Kirwan, L. et al. Phenotypic factors influencing the variation in response of circulating cholesterol level to personalised dietary advice in the Food4Me study. Br. J. Nutr. 116, 2011–2019 (2016).

11.

Katan, M. B., Beynen, A. C., de Vries, J. H. & Nobels, A. Existence of consistent hypo- and hyperresponders to dietary cholesterol in man. Am. J. Epidemiol. 123, 221–234 (1986).

12.

Heinzmann, S. S. et al. Stability and robustness of human metabolic phenotypes in response to sequential food challenges. J. Proteome Res. 11, 643–655 (2012).

13.

Griffin, N. W. et al. Prior dietary practices and connections to a human gut microbial metacommunity alter responses to diet interventions. Cell Host Microbe 21, 84–96 (2017).

14.

de Toro-Martin, J., Arsenault, B. J., Despres, J. P. & Vohl, M. C. Precision nutrition: a review of personalized nutritional approaches for the prevention and management of metabolic syndrome. Nutrients 9, 913 (2017).

15.

Wang, D. D. & Hu, F. B. Precision nutrition for prevention and management of type 2 diabetes. Lancet Diabetes Endocrinol. 6, 416–426 (2018).

16.

Poslusna, K., Ruprich, J., de Vries, J. H., Jakubikova, M. & van't Veer, P. Misreporting of energy and micronutrient intake estimated by food records and 24 hour recalls, control and adjustment methods in practice. Br. J. Nutr. 101 (Suppl. 2), S73–S85 (2009).

17.

Celis-Morales, C. et al. Effect of personalized nutrition on health-related behaviour change: evidence from the Food4Me European randomized controlled trial. Int. J. Epidemiol. 46, 578–588 (2017).

18.

Cheng, S. et al. Metabolite profiling identifies pathways associated with metabolic risk in humans. Circulation 125, 2222–2231 (2012).

19.

Elliott, P. et al. Urinary metabolic signatures of human adiposity. Sci. Transl. Med. 7, 285ra6 (2015).

20.

Nicholson, J. K. et al. Host–gut microbiota metabolic interactions. Science 336, 1262–1267 (2012).

21.

Garcia-Perez, I. et al. Objective assessment of dietary patterns by use of metabolic phenotyping: a randomised, controlled, crossover trial. Lancet Diabetes Endocrinol. 5, 184–195 (2017).

22.

Global Strategy on Diet, Physical Activity and Health (WHO, 2004).

23.

Krupp, D., Doberstein, N., Shi, L. & Remer, T. Hippuric acid in 24-hour urine collections is a potential biomarker for fruit and vegetable consumption in healthy children and adolescents. J. Nutr. 142, 1314–1320 (2012).

24.

Cheung, W. et al. A metabolomic study of biomarkers of meat and fish intake. Am. J. Clin. Nutr. 105, 600–608 (2017).

25.

Slupsky, C. M. et al. Investigations of the effects of gender, diurnal variation, and age in human urinary metabolomic profiles. Anal. Chem. 79, 6995–7004 (2007).

26.

Rose, C., Parker, A., Jefferson, B. & Cartmell, E. The characterization of feces and urine: a review of the literature to inform advanced treatment technology. Crit. Rev. Environ. Sci. Technol. 45, 1827–1879 (2015).

27.

Posma, J. M., Robinette, S. L., Holmes, E. & Nicholson, J. K. MetaboNetworks, an interactive Matlab-based toolbox for creating, customizing and exploring sub-networks from KEGG. Bioinformatics 30, 893–895 (2014).

28.

Rubner, M. The energy value of the human diet. Z. Biol. 42, 261–305 (1901).

29.

Degen, L. P. & Phillips, S. F. Variability of gastrointestinal transit in healthy women and men. Gut 39, 299–305 (1996).

30.

Cummings, J. H., Beatty, E. R., Kingman, S. M., Bingham, S. A. & Englyst, H. N. Digestion and physiological properties of resistant starch in the human large bowel. Br. J. Nutr. 75, 733–747 (1996).

31.

Jumpertz, R. et al. Energy-balance studies reveal associations between gut microbes, caloric load, and nutrient absorption in humans. Am. J. Clin. Nutr. 94, 58–65 (2011).

32.

Gibbons, H. et al. Metabolomic-based identification of clusters that reflect dietary patterns. Mol. Nutr. Food Res. 61, 1601050 (2017).

33.

Posma, J. M. et al. Subset Optimization by Reference Matching (STORM): an optimized statistical approach for recovery of metabolic biomarker structural information from 1H NMR spectra of biofluids. Anal. Chem. 84, 10694–10701 (2012).

34.

Posma, J. M. et al. Integrated analytical and statistical two-dimensional spectroscopy strategy for metabolite identification: application to dietary biomarkers. Anal. Chem. 89, 3300–3309 (2017).

35.

Posma, J. M. et al. Optimized phenotypic biomarker discovery and confounder elimination via covariate-adjusted projection to latent structures from metabolic spectroscopy data. J. Proteome Res. 17, 1586–1595 (2018).

36.

Manach, C., Williamson, G., Morand, C., Scalbert, A. & Remesy, C. Bioavailability and bioefficacy of polyphenols in humans. I. Review of 97 bioavailability studies. Am. J. Clin. Nutr. 81, 230S–242S (2005).

37.

Storey, J. D. & Tibshirani, R. Statistical significance for genomewide studies. Proc. Natl Acad. Sci. USA 100, 9440–9445 (2003).

38.

Eckburg, P. B. et al. Diversity of the human intestinal microbial flora. Science 308, 1635–1638 (2005).

39.

Human Microbiome Project Consortium Structure, function and diversity of the healthy human microbiome. Nature 486, 207–214 (2012).

40.

Veselkov, K. A. et al. A metabolic entropy approach for measurements of systemic metabolic disruptions in patho-physiological states. J. Proteome Res. 9, 3537–3544 (2010).

41.

Garcia-Perez, I. et al. An analytical pipeline for quantitative characterization of dietary intake: application to assess grape intake. J. Agric. Food Chem. 64, 2423–2431 (2016).
Acknowledgements
This Article presents independent research funded by the UK National Institute for Health Research (NIHR) and Medical Research Council (MRC). The views expressed are those of the authors and not necessarily those of the UK National Health Service (NHS), the NIHR or the UK Department of Health. I.G.-P. is supported by a NIHR Career Development Research Fellowship (NIHR-CDF-2017-10-032). J.M.P. is supported by a Rutherford Fund Fellowship at Health Data Research (HDR) UK (MR/S004033/1). G.F. is supported by an NIHR Senior Investigator award. J.C.M., J.D., M.B., E.H. and G.F. are supported by an MRC grant entitled 'Metabolomics for Monitoring Dietary Exposure' (MR/J010308/1). E.H. is supported by the Department of Jobs, Tourism, Science and Innovation, Government of Western Australian through the Premier's Science Fellowship Program. This study was supported by the NIHR/Wellcome Trust Imperial Clinical Research Facility, infrastructure support was provided by the NIHR Imperial Biomedical Research Centre (BRC) in line with the Gut Health research theme. The Section of Investigative Medicine is funded by grants from the MRC, UK Biotechnology and Biological Sciences Research Council, NIHR and an Integrative Mammalian Biology (IMB) Capacity Building Award. We also thank IKA Werke GmbH & Co for granting access to the C1-bomb calorimeter. We gratefully acknowledge the NutriTech consortium (European Union Framework 7 programme, grant agreement ID 289511) for sharing their data with us. The samples from the validation study are part of an ongoing clinical trial and we acknowledge the Egg Nutrition Center – American Egg Board for funding (to I.G.-P.), and J. Brignardello and J. McLean for conducting the clinical trial. We acknowledge funding from the Australian Medical Research Futures Fund for the Australian National Phenome Centre.
Ethics declarations
Competing interests
J.D. has worked on the Cook to Health project (of which Groupe SEB is a collaborator and partly funded by EIT-Health) and the FACET project (of which Abbott, Spain, is a collaborator and partly funded by EIT-Health), both outside the submitted work. G.F. is lead for the Imperial Nestlé Collaboration and reports personal fees from Unilever, both outside the submitted work. All other authors declare no competing interests.
Additional information
Publisher's note Springer Nature remains neutral with regard to jurisdictional claims in published maps and institutional affiliations.
Supplementary information
The Supplementary Information contains 19 figures and 4 tables.
About this article
Cite this article
Garcia-Perez, I., Posma, J.M., Chambers, E.S. et al. Dietary metabotype modelling predicts individual responses to dietary interventions. Nat Food 1, 355–364 (2020). https://doi.org/10.1038/s43016-020-0092-z
Received:

Accepted:

Published:

Issue Date:
Further reading
Nature Food (2020)

Joram M. Posma
Isabel Garcia-Perez
Jeremy K. Nicholson

Nature Food (2020)