Tom Arnold has a wealth of experience in humanitarian and development approaches to combatting hunger. In his roles in food and agriculture, including with Scaling Up Nutrition and Task Force Rural Africa, he advocates for policy consistency and supportive relationships between civil society, business and government.
With Concern Worldwide you oversaw humanitarian work in hunger and severe malnutrition. Have you witnessed a change in the nature of malnutrition?
In the past decade, there has been a significant shift in the nature of — and narrative around — 'malnutrition'. In the early years of the twenty-first century, there was a particular focus on tackling severe undernourishment, which accounted for a high level of child mortality. In the early 2000s, Concern Worldwide, in collaboration with Valid International and with support from Irish Aid, pioneered a new approach to dealing with severe acute malnutrition using a community-based approach and ready-to-use therapeutic food. This Community Management of Acute Malnutrition (CMAM) was adopted by the UN in 2007 as the standard for treating acute malnutrition in young children — and that represented a great advance in a relatively short period of time.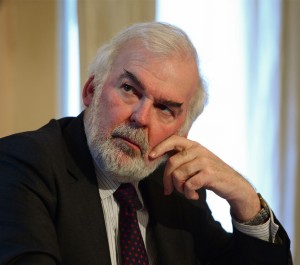 In 2008, The Lancet series on Maternal and Child Mortality presented evidence on the cost of undernutrition in terms of child mortality and stunting, as well as proposing a set of costed measures that, if implemented, could reduce the levels of mortality and stunting. The adoption of CMAM and the publication of the Lancet report coincided with the 2007–2008 food price crisis, which had increased the number of hungry people globally. This led to increased political and policy attention, as well as additional resources, to food and nutrition security. It also led to the establishment in 2010 of the Scaling Up Nutrition (SUN) Movement aimed at supporting countries in developing their own national nutrition policies. Today, over 60 counties and three Indian states are members of SUN — another significant advance over the course of a decade.
For several decades, there has been a steady decline in the number of undernourished or 'hungry' people, both in absolute terms and, even more strikingly, as a percentage of the world's population. But we now talk about 'malnutrition in all its forms' and malnutrition as a spectrum involving undernutrition, micronutrient deficiency, and overweight and obesity. There are 821 million undernourished/hungry people in today's world, over 2 billion people have micronutrient deficiencies and 2 billion people are overweight or obese. Overweight and obesity are caused by a combination of food systems and lifestyle. Malnutrition is just one of the reasons for the much greater focus in policy discussions about the role of food systems, and it is likely that the link between food, health and climate will increase in political importance over the next decade.
The political importance and global interdependencies of food systems are evident with the establishment of Task Force Rural Africa, which you chaired. What were the political motivations for establishing the task force?
There has been an increasing level of interaction between Africa and Europe since 2000, with a series of high-level political EU–African summits tackling issues like migration. Commission President Juncker's 2018 State of the Union message announced the Africa–Europe Alliance for Sustainable Investment and Jobs, aimed at creating up to 10 million jobs in Africa over the next five years. Sustainable development of Africa's agri-food sector and rural economy is central to the EU–African political agenda, and meetings between African and EU agriculture ministers led to the establishment by the EU Commission of the Task Force Rural Africa in the first half of 2018. Eleven appointees to the task force — seven Europeans and four Africans — had broad expertise in agriculture, food systems, policy, economics and sustainability. Our report, with recommendations, was launched in March 2019.
What course of action has the task force recommended for the sustainable development of Africa's agri-food sector?
We have made recommendations on what should be done (strategies and policies) and how it should be done (process and partnership). In terms of what should be done, four strategic areas of action were recommended for the medium- to long-term: a territorial approach for job creation and income growth, sustainable land and natural resource management and climate action, sustainable transformation of African agriculture, and development of the African food industry and food markets. These were allied to six short- to medium-term initiatives aimed at securing 'early wins' in terms of development outcomes. The report's central recommendation on how it should be done, was that Africa and the EU should implement an innovative partnership for the inclusive and sustainable transformation of Africa's agri-food sector and rural economy. Such a partnership should be based on African political and policy leadership, supported by European experience, expertise and finance. The partnership should operate at three levels: people to people, business to business and government to government.
In June 2019, the Third African Union–EU Agriculture Ministerial Conference in Rome adopted a political declaration committing both unions to further strengthening their partnership in food and farming, and to an action agenda of nine policy initiatives ranging from food safety to digital agriculture. The action agenda was based on the task force recommendations.
What are the challenges and opportunities for transforming the African food sector?
It is clear that the agri-food sector has to become more sustainable and productive right along the value chain. The agri-food sector and rural economy fits into the wider political and economic context of the massive population and jobs challenges facing the African continent. Over the next 30 years to 2050, the African population is projected to double, to reach 2.5 billion, and the workforce will increase by 800 million — an average of 27 million a year. Simply put, a transformation of African economies is needed if there is to be any chance of those jobs targets being met. We believe that the transformation of the agri-food sector and rural economy has to be central to that policy agenda and we argue that it deserves more serious political and policy priority, and additional resources, within Africa and in terms of the African–European partnership than it currently receives.
There is extraordinary opportunity for Africa in terms of its growing domestic food market. The population is growing, incomes are growing, people's food tastes are changing and there has been a large growth in imported food — not always nutritious food — into the continent. For Africa to meet a growing proportion of its own food needs, the African food industry will have to become much more competitive, which is going to require finance and more private sector involvement. A number of other basic issues will also have to be tackled, such as meeting food safety, sanitary and phytosanitary standards, and improving customs procedures. All these issues have to be improved if there is to be increased trade within Africa, which is much lower than it should be. Africa has now committed to the development of the African Continental Free Trade Agreement. This is a really important political and economic objective — but it will take a long time to achieve. The Task Force Rural Africa report highlighted the need for laying the foundations towards this objective, and suggests that systematic and structural cooperation between Africa and Europe could play a vital role in this.
What do you see as the main impediment to sustainable agri-food development?
I would argue that the main impediment to sustainable agri-food development in many countries is weakness in policy formulation and administrative capacity. The Task Force Rural Africa report, as an example, has been concerned with policy consistency (the 'what needs to be done') and advancing systematic long-term, supportive relationships (the 'how to do it'). I see the 'how', in many scenarios that relate to food system transformations, as being more systematic collaborations at the three levels mentioned before: people to people, business to business and government to government.
You advocate for the role of business in food system transformation, but what about a specific role in enhancing nutrition?
Considering a food system in its entirety, as something that has to contribute to improving diet, nutrition, health and climate, one has to talk about the private sector. One of the valuable things about the SUN Movement is that it was set up on the assumption that the different elements would actually talk to each other — it has a very inclusive approach. SUN operates through different networks: the business network, the civil society network, the donor network and, in certain countries, a research network. The SUN business network mobilizes business at global and national level to act and invest responsibly in improving nutrition. It works alongside partners from governments, civil society, UN agencies and donors. It has the potential to bring to scale a number of important nutrition initiatives, which could make a real impact in the coming years — but for this potential to be realized, governments have a key role in setting national nutrition policies and in agreeing with business targets for reductions in the salt, sugar and fat content of food.
What is the importance and contribution of political will to tackling malnutrition?
Political will is an essential precondition for making progress. Ten years ago, in the wake of the food price crisis, which pushed up the number of hungry people to almost one billion, it was political will that led to more policy priority and additional resources being devoted to food and nutrition security, the establishment of SUN, and the setting up of ambitious targets to reduce the number of stunted children.
Now, ten years on, political will must be applied to tackle 'malnutrition in all its forms'. There are two important events in the next 18 months that will provide the opportunity for political leaders to commit to such action.
The first is the Nutrition for Growth summit, hosted by the Japanese government in Tokyo in December 2020. Five working groups are preparing for this summit involving governments, business and civil society. The hope is that this work will prepare the ground for political leaders to sign off on policy and financial commitments at the summit. The second is the Food Systems Summit in New York in September 2021. This will aim to situate food systems in working towards sustainable food production, improved health outcomes and sustainable environmental policy.
Taken together, these two meetings provide a real hope that political leaders will adopt ambitious and practical measures to tackle the great interlocking challenges of food, health and climate into the third decade of the twenty-first century and beyond.
About this article
Cite this article
Mullen, A. Where there is political will, there is a way. Nat Food 1, 11–12 (2020). https://doi.org/10.1038/s43016-019-0021-1