A programme developed across five UK universities aims to equip graduate professionals with the skills, tools and capabilities to better understand and manage food-system complexity for food security, for the environment and for enterprise.
Access options
Subscribe to Journal
Get full journal access for 1 year
$99.00
only $8.25 per issue
All prices are NET prices.
VAT will be added later in the checkout.
Tax calculation will be finalised during checkout.
Rent or Buy article
Get time limited or full article access on ReadCube.
from$8.99
All prices are NET prices.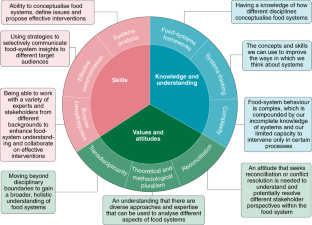 References
1.

FAO, IFAD, UNICEF & WFP. The state of food security and nutrition in the world 2017 (FAO, 2018).

2.

Haddad, L. et al. J. Nutrit. 145, 663–671 (2015).

3.

Fanzo, J. et al. 2018 Global Nutrition Report: Shining a light to spur action on nutrition (FAO, 2018).

4.

Garnett, T. Food Policy 36, 23–32 (2011).

5.

Bélanger, J. & Pilling, D. (eds) The State of the World's Biodiversity for Food and Agriculture (FAO, 2019).

6.

Willett, W. et al. The Lancet 393, 447–492 (2019).

7.

Westhoek, H., Ingram, J., van Berkum, S. & Hajer, M. Food systems and natural resources. (UN Environment Programme, 2016).

8.

Food Loss and Food Waste (FAO, 2019).

9.

Kneafsey, M. et al. Short food supply chains and local food systems in the EU: a state of play of their socio-economic characteristics (eds Santini, F. et al.) JRC Scientific and Policy Reports (European Commission, 2013).

10.

The Food and Drink Industry: economic contribution and growth opportunities (FDF, 2018).

11.

Holt-Giménez, E. Inst. Food Dev. Pol. 24, 1–4 (2018).

12.

Tu, C., Suweis, S. & D'Odorico, P. Nat. Sust. 2, 283–289 (2019).

13.

Preiser, R., Biggs, R., De Vos, A. & Folke, C. Ecology and Society 23, 4 (2018).

14.

Reed, K. et al. Exch. Int. Res. J. 4, 201–218 (2017).

15.

Ingram, J. Food Security 3, 417–431 (2011).

16.

O'Flaherty, J. & Phillips, C. Internet High. Edu. 25, 85–95 (2015).

17.

Spelt, E. J. H., Biemans, H. J. A., Tobi, H., Luning, P. A. & Mulder, M. Edu. Psychol. Rev. 21, 365 (2009).

18.

Stentoft, D. Act. Learn. High. Edu. 18, 51–61 (2017).

19.

Wakeham, W. Wakeham review of STEM degree provision and graduate employability (UK Government, 2016).

20.

Researcher Development Framework (Vitae, 2019).
About this article
Cite this article
Ingram, J., Ajates, R., Arnall, A. et al. A future workforce of food-system analysts. Nat Food 1, 9–10 (2020). https://doi.org/10.1038/s43016-019-0003-3