Abstract
Crystal-structure phase mapping is a core, long-standing challenge in materials science that requires identifying crystal phases, or mixtures thereof, in X-ray diffraction measurements of synthesized materials. Phase mapping algorithms have been developed that excel at solving systems with up to several unique phase mixtures, where each phase has a readily distinguishable diffraction pattern. However, phase mapping is often beyond materials scientists' capabilities and also poses challenges to state-of-the-art algorithms due to complexities such as the existence of dozens of phase mixtures, alloy-dependent variation in the diffraction patterns and multiple compositional degrees of freedom, creating a major bottleneck in high-throughput materials discovery. Here we show how to automate crystal-structure phase mapping. We formulate phase mapping as an unsupervised pattern demixing problem and describe how to solve it using deep reasoning networks (DRNets). DRNets combine deep learning with constraint reasoning for incorporating prior scientific knowledge and consequently require only a modest amount of (unlabelled) data. DRNets compensate for the limited data by exploiting and magnifying the rich prior knowledge about the thermodynamic rules governing the mixtures of crystals. DRNets are designed with an interpretable latent space for encoding prior-knowledge domain constraints and seamlessly integrate constraint reasoning into neural network optimization. DRNets surpass previous approaches on crystal-structure phase mapping, unravelling the Bi–Cu–V oxide phase diagram and aiding the discovery of solar fuels materials.
Relevant articles
Open Access articles citing this article.
Xiuying Zhang

,

Jun Zhou

…

Lei Shen

npj Computational Materials Open Access 19 August 2022

Dan Guevarra

,

Lan Zhou

…

John M. Gregoire

npj Computational Materials Open Access 05 April 2022

Kamal Choudhary

,

Brian DeCost

…

Chris Wolverton

npj Computational Materials Open Access 05 April 2022
Access options
Access Nature and 54 other Nature Portfolio journals
Get Nature+, our best-value online-access subscription
$29.99 per month
cancel any time
Subscribe to this journal
Receive 12 digital issues and online access to articles
$99.00 per year
only $8.25 per issue
Rent or buy this article
Get just this article for as long as you need it
$39.95
Prices may be subject to local taxes which are calculated during checkout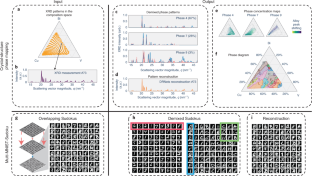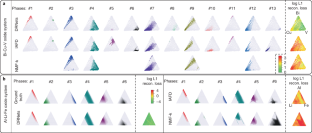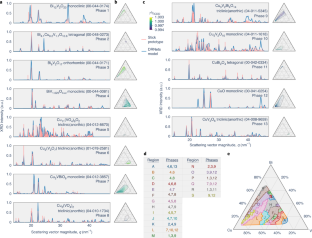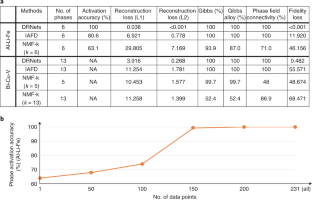 References
Stajic, J., Stone, R., Chin, G. & Wible, B. Rise of the machines. Science 349, 248–249 (2015).

Szegedy, C. et al. Going deeper with convolutions. In Proc. 2015 IEEE Conference on Computer Vision and Pattern Recognition 1–9 (IEEE, 2015).

Taigman, Y., Yang, M., Ranzato, M. & Wolf, L. DeepFace: closing the gap to human-level performance in face verification. In Proc. 2014 IEEE Conference on Computer Vision and Pattern Recognition 1701–1708 (IEEE, 2014).

Graves, A., Mohamed, A. R. & Hinton, G. Speech recognition with deep recurrent neural networks. In Proc. 2013 IEEE International Conference on Acoustics, Speech and Signal Processing 6645–6649 (IEEE, 2013).

Gil, Y., Greaves, M., Hendler, J. & Hirsh, H. Amplify scientific discovery with artificial intelligence. Science 346, 171–172 (2014).

Ball, P. Learning from the big picture. Nat. Mater. 17, 1062 (2018).

Tabor, D. P. et al. Accelerating the discovery of materials for clean energy in the era of smart automation. Nat. Rev. Mater. 3, 5–20 (2018).

Sanchez-Lengeling, B. & Aspuru-Guzik, A. Inverse molecular design using machine learning: generative models for matter engineering. Science 361, 360–365 (2018).

Sun, S. et al. Accelerated development of perovskite-inspired materials via high-throughput synthesis and machine-learning diagnosis. Joule 3, 1437–1451 (2019).

Kusne, A. G. et al. On-the-fly closed-loop materials discovery via Bayesian active learning. Nat. Commun. 11, 5966 (2020).

LeCun, Y., Bengio, Y. & Hinton, G. Deep learning. Nature 521, 436–444 (2015).

Chen, D. et al. Deep reasoning networks for unsupervised pattern de-mixingwith constraint reasoning. In Proc. 37th International Conference on Machine Learning (ICML-2020) Vol. 119, 1500–1509 (PMLR, 2020).

Yato, T. & Seta, T. Complexity and completeness of finding another solution and its application to puzzles. IEICE Trans. Fundamentals Electron. Commun. Comput. Sci. 86, 1052–1060 (2003).

Rossi, F., Van Beek, P. & Walsh, T. Handbook of Constraint Programming (Elsevier, 2006).

Gravel, S. & Elser, V. Divide and concur: a general approach to constraint satisfaction. Phys. Rev. E 78, 036706 (2008).

Elser, V., Rankenburg, I. & Thibault, P. Searching with iterated maps. Proc. Natl Acad. Sci. USA 104, 418–423 (2007).

LeBras, R. et al. Constraint reasoning and kernel clustering for pattern decomposition with scaling. In International Conference on Principles and Practice of Constraint Programming 508–522 (Springer, 2011).

d'Avila Garcez, A. & Lamb, L. C. Neurosymbolic AI: the 3rd wave. Preprint at https://arxiv.org/pdf/2012.05876.pdf (2020).

LeCun, Y. et al. Gradient-based learning applied to document recognition. Proc. IEEE 86, 2278–2324 (1998).

Cohen, G., Afshar, S., Tapson, J. & van Schaik, A. EMNIST: Extending MNIST to handwritten letters. In Proc. 2017 International Joint Conference on Neural Networks (IJCNN) 2921–2926 (2017).

Sabour, S., Frosst, N. & Hinton, G. E. Dynamic routing between capsules. In Advances in Neural Information Processing Systems 3856–3866 (NIPS, 2017).

He, K., Zhang, X., Ren, S. & Sun, J. Deep residual learning for image recognition. In Proc. 2016 IEEE Conference on Computer Vision and Pattern Recognition 770–778 (IEEE, 2016).

Ludwig, A. Discovery of new materials using combinatorial synthesis and high-throughput characterization of thin-film materials libraries combined with computational methods. npj Comput. Mater. 5, 70 (2019).

Green, M. L. et al. Fulfilling the promise of the materials genome initiative with high-throughput experimental methodologies. Appl. Phys. Rev. 4, 011105 (2017).

Kusne, A. G., Keller, D., Anderson, A., Zaban, A. & Takeuchi, I. High-throughput determination of structural phase diagram and constituent phases using grendel. Nanotechnology 26, 444002 (2015).

Stanev, V. et al. Unsupervised phase mapping of X-ray diffraction data by nonnegative matrix factorization integrated with custom clustering. npj Comput. Mater. 4, 43 (2018).

Gomes, C. P. et al. Crystal: a multi-agent AI system for automated mapping of materials' crystal structures.MRS Commun. 9, 600–608 (2019).

Park, W. B. et al. Classification of crystal structure using a convolutional neural network. IUCrJ 4, 486–494 (2017).

Oviedo, F. et al. Fast and interpretable classification of small X-ray diffraction datasets using data augmentation and deep neural networks. npj Comput. Mater. 5, 60 (2019).

Lee, J. W., Park, W. B., Lee, J. H., Singh, S. P. & Sohn, K. S. A deep-learning technique for phase identification in multiphase inorganic compounds using synthetic XRD powder patterns. Nat. Commun. 11, 86 (2020).

Bunn, J. K. et al. Generalized machine learning technique for automatic phase attribution in time variant high-throughput experimental studies. J. Mater. Res. 30, 879–889 (2015).

Rossouw, D. et al. Multicomponent signal unmixing from nanoheterostructures: overcoming the traditional challenges of nanoscale X-ray analysis via machine learning. Nano Lett. 15, 2716–2720 (2015).

Le Bras, R. et al. Challenges in materials discovery—synthetic generator and real datasets. In Proc. Twenty-Eighth AAAI Conference on Artificial Intelligence Vol. 28, 438–443 (AAAI, 2014).

Chen, D., Xue, Y., Chen, S., Fink, D. & Gomes, C. Deep multi-species embedding. In Proc. Twenty-Sixth International Joint Conference on Artificial Intelligence 3639–3646 (IJCAI, 2017); https://doi.org/10.24963/ijcai.2017/509

Chen, D., Xue, Y. & Gomes, C. P. End-to-end learning for the deep multivariate probit model. In Proc. International Conference on Machine Learning 932–941 (2018).

Sullivan, B. L. et al. The eBird enterprise: an integrated approach to development and application of citizen science. Biol. Conserv. 169, 31–40 (2014).

Sutherland, W. J. et al. A horizon scan of emerging issues for global conservation in 2019. Trends Ecol. Evol. 34, 83–94 (2019).

Kong, S., Guevarra, D., Gomes, C. P. & Gregoire, J. M. Materials representation and transfer learning for multi-property prediction. Appl. Phys. Rev. 8, 021409 (2021).

Mirza, M. & Osindero, S. Conditional generative adversarial nets. Preprint at https://arxiv.org/pdf/1411.1784.pdf (2014).

Hu, Z., Ma, X., Liu, Z., Hovy, E. & Xing, E. Harnessing deep neural networks with logic rules. In Proc. 54th Annual Meeting of the Association for Computational Linguistics (Association for Computational Linguistics, Berlin) https://aclanthology.org/P16-1228 (2016).

Xu, J., Zhang, Z., Friedman, T., Liang, Y. & Broeck, G. V. D. A semantic loss function for deep learning with symbolic knowledge. In Proc. International Conference on Machine Learning. 5502–5511 (2018).

You, J., Ying, R., Ren, X., Hamilton, W. L. & Leskovec, J. GraphRNN: generating realistic graphs with deep auto-regressive models. In Proc. International Conference on Machine Learning. 5708–5717 (2018).

Kingma, D. & Ba, J. Adam: a method for stochastic optimization. Preprint at https://arxiv.org/pdf/1412.6980.pdf (2014).
Acknowledgements
The development of DRNets was supported by the US National Science Foundation, under the Expeditions in Computing award CCF-1522054 (C.P.G., B.S., J.M.G., D.C., S.A., Y.B. and W.Z.) and award CNS-1059284 (C.P.G.). DRNets for phase mapping and corresponding experimental work were also supported by the US AFOSR Multidisciplinary University Research Initiative (MURI) under award FA9550-18-1-0136 (R.B.v.D., C.P.G., B.S., J.M.G., D.C., Y.B. and S.A.), a compute cluster under the Defense University Research Instrumentation Program (DURIP), award W911NF-17-1-0187 (C.P.G.) and an award from the Toyota Research Institute (J.M.G., C.P.G., D.C., Y.B. and S.A.). Solar fuels experiments were supported by the US Department of Energy (DOE) under award DESC0004993 (J.M.G., D.A. and L.Z.) and solar photochemistry analysis in the context of the DRNets solution was supported by the US DOE under award DE-SC0020383 (J.M.G. and D.A.). We also thank J. Bai for assistance with running the IAFD baseline, A. Shinde for photoelectrochemistry experiments and R. Berstein for assistance with figure generation.
Ethics declarations
Competing interests
The authors declare no competing interests.
Additional information
Peer review information Nature Machine Intelligence thanks Artur Garcez, Olga Kononova and the other, anonymous, reviewer(s) for their contribution to the peer review of this work.
Publisher's note Springer Nature remains neutral with regard to jurisdictional claims in published maps and institutional affiliations.
Supplementary information
About this article
Cite this article
Chen, D., Bai, Y., Ament, S. et al. Automating crystal-structure phase mapping by combining deep learning with constraint reasoning. Nat Mach Intell 3, 812–822 (2021). https://doi.org/10.1038/s42256-021-00384-1
Received:

Accepted:

Published:

Issue Date:

DOI: https://doi.org/10.1038/s42256-021-00384-1