Abstract
Radiomics refers to the high-throughput extraction of quantitative features from radiological scans and is widely used to search for imaging biomarkers for the prediction of clinical outcomes. Current radiomic signatures suffer from limited reproducibility and generalizability, because most features are dependent on imaging modality and tumour histology, making them sensitive to variations in scan protocol. Here, we propose novel radiological features that are specially designed to ensure compatibility across diverse tissues and imaging contrast. These features provide systematic characterization of tumour morphology and spatial heterogeneity. In an international multi-institution study of 1,682 patients, we discover and validate four unifying imaging subtypes across three malignancies and two major imaging modalities. These tumour subtypes demonstrate distinct molecular characteristics and prognoses after conventional therapies. In advanced lung cancer treated with immunotherapy, one subtype is associated with improved survival and increased tumour-infiltrating lymphocytes compared with the others. Deep learning enables automatic tumour segmentation and reproducible subtype identification, which can facilitate practical implementation. The unifying radiological tumour classification may inform prognosis and treatment response for precision medicine.
Relevant articles
Open Access articles citing this article.
Luis R. Soenksen

,

Yu Ma

…

Dimitris Bertsimas

npj Digital Medicine Open Access 20 September 2022

Rami S. Vanguri

,

Jia Luo

…

Sohrab P. Shah

Nature Cancer Open Access 29 August 2022

Sergey P. Primakov

,

Abdalla Ibrahim

…

Philippe Lambin

Nature Communications Open Access 14 June 2022
Access options
Subscribe to Nature+
Get immediate online access to Nature and 55 other Nature journal
Subscribe to Journal
Get full journal access for 1 year
$99.00
only $8.25 per issue
All prices are NET prices.
VAT will be added later in the checkout.
Tax calculation will be finalised during checkout.
Buy article
Get time limited or full article access on ReadCube.
$32.00
All prices are NET prices.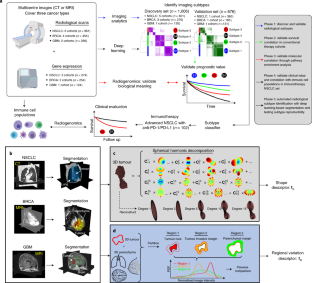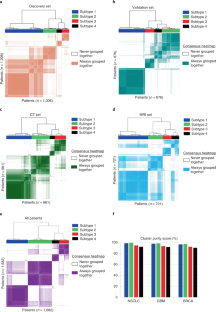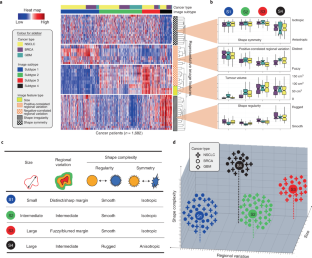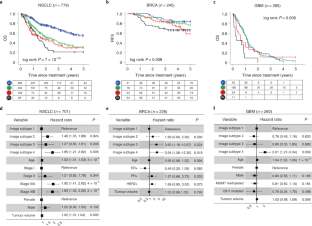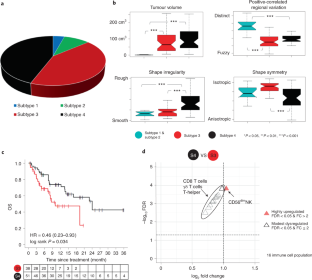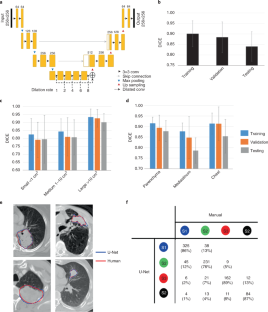 References
Lambin, P. et al. Radiomics: extracting more information from medical images using advanced feature analysis. Eur. J. Cancer 48, 441–446 (2012).

Gillies, R. J., Kinahan, P. E. & Hricak, H. Radiomics: images are more than pictures, they are data. Radiology 278, 563–577 (2015).

Itakura, H. et al. Magnetic resonance image features identify glioblastoma phenotypic subtypes with distinct molecular pathway activities. Sci. Transl. Med. 7, 303ra138 (2015).

Sun, R. et al. A radiomics approach to assess tumour-infiltrating CD8 cells and response to anti-PD-1 or anti-PD-L1 immunotherapy: an imaging biomarker, retrospective multicohort study. Lancet Oncol. 19, 1180–1191 (2018).

Jiang, Y. et al. Noninvasive imaging evaluation of tumor immune microenvironment to predict outcomes in gastric cancer. Ann. Oncol. 31, 760–768 (2020).

Vaidya, P. et al. CT derived radiomic score for predicting the added benefit of adjuvant chemotherapy following surgery in stage I, II resectable non-small cell lung cancer: a retrospective multi-cohort study for outcome prediction. Lancet Digit. Health 2, e116–e128 (2020).

Fan, M., Xia, P., Clarke, R., Wang, Y. & Li, L. Radiogenomic signatures reveal multiscale intratumour heterogeneity associated with biological functions and survival in breast cancer. Nat. Commun. 11, 4861 (2020).

Wu, J. et al. Magnetic resonance imaging and molecular features associated with tumor-infiltrating lymphocytes in breast cancer. Breast Cancer Res. 20, 101 (2018).

Berenguer, R. et al. Radiomics of CT features may be nonreproducible and redundant: influence of CT acquisition parameters. Radiology 288, 407–415 (2018).

Mackin, D. et al. Measuring computed tomography scanner variability of radiomics features. Invest. Radiol. 50, 757–765 (2015).

Traverso, A., Wee, L., Dekker, A. & Gillies, R. Repeatability and reproducibility of radiomic features: a systematic review. Int. J. Radiat. Oncol. Biol. Phys. 102, 1143–1158 (2018).

Limkin, E. et al. Promises and challenges for the implementation of computational medical imaging (radiomics) in oncology. Ann. Oncol. 28, 1191–1206 (2017).

Lambin, P. et al. Radiomics: the bridge between medical imaging and personalized medicine. Nat. Rev. Clin. Oncol. 14, 749–762 (2017).

Hoadley, K. A. et al. Cell-of-origin patterns dominate the molecular classification of 10,000 tumors from 33 types of cancer. Cell 173, 291–304 (2018).

Pestana, R. C., Sen, S., Hobbs, B. P. & Hong, D. S. Histology-agnostic drug development-considering issues beyond the tissue. Nat. Rev. Clin. Oncol. 17, 555–568 (2020).

O'Connor, J. P. B. et al. Imaging biomarker roadmap for cancer studies. Nat. Rev. Clin. Oncol. 14, 169–186 (2017).

Wu, J., Mayer, A. T. & Li, R. Seminars in Cancer Biology (Elsevier, 2020).

Chalkidou, A., O'Doherty, M. J. & Marsden, P. K. False discovery rates in PET and CT studies with texture features: a systematic review. PLoS ONE 10, e0124165 (2015).

Zhang, Y. J. Geometric Modeling and Mesh Generation from Scanned Images (CRC Press, 2018).

Wu, J. et al. Intratumoral spatial heterogeneity by perfusion MR imaging predicts recurrence-free survival in locally advanced breast cancer treated with neoadjuvant chemotherapy. Radiology 288, 26–35 (2018).

Braman, N. M. et al. Intratumoral and peritumoral radiomics for the pretreatment prediction of pathological complete response to neoadjuvant chemotherapy based on breast DCE-MRI. Breast Cancer Res. 19, 57 (2017).

Wu, J. et al. Robust intra-tumor partitioning to identify high-risk subregions in lung cancer: a pilot study. Int. J. Radiat. Oncol. Biol. Phys. 95, 1504–1512 (2016).

Yankeelov, T. E. et al. Clinically relevant modeling of tumor growth and treatment response. Sci. Transl. Med. 5, 187ps19 (2013).

Wu, J. et al. Tumor subregion evolution-based imaging features to assess early response and predict prognosis in oropharyngeal cancer. J. Nucl. Med. 61, 327–336 (2020).

Syed, A. K., Whisenant, J. G., Barnes, S. L., Sorace, A. G. & Yankeelov, T. E. Multiparametric analysis of longitudinal quantitative MRI data to identify distinct tumor habitats in preclinical models of breast cancer. Cancers 12, 1682 (2020).

Welch, M. L. et al. Vulnerabilities of radiomic signature development: the need for safeguards. Radiother. Oncol. 130, 2–9 (2019).

Cristescu, R. et al. Pan-tumor genomic biomarkers for PD-1 checkpoint blockade-based immunotherapy. Science 362, eaar3593 (2018).

Zhang, Y. J., Jing, Y. M., Liang, X. H., Xu, G. L. & Dong, L. in Computational Modelling of Objects Represented in Images: Fundamentals, Methods and Applications III (eds Di Giamberardino, P. et al.) 215–220 (2012).

Shukla-Dave, A. et al. Quantitative imaging biomarkers alliance (QIBA) recommendations for improved precision of DWI and DCE-MRI derived biomarkers in multicenter oncology trials. J. Magn. Reson. Imaging 49, e101–e121 (2019).

Lawson, D. A., Kessenbrock, K., Davis, R. T., Pervolarakis, N. & Werb, Z. Tumour heterogeneity and metastasis at single-cell resolution. Nat. Cell Biol. 20, 1349–1360 (2018).

Lou, B. et al. An image-based deep learning framework for individualising radiotherapy dose: a retrospective analysis of outcome prediction. Lancet Digit. Health 1, e136–e147 (2019).

Coudray, N. et al. Classification and mutation prediction from non-small cell lung cancer histopathology images using deep learning. Nat. Med. 24, 1559–1567 (2018).

Jiang, Y. et al. Radiographic assessment of tumor stroma and treatment outcomes using deep learning: a retrospective multicohort study. Lancet Digit. Health 3, e371–e382 (2021).

Li, A., Chen, R., Farimani, A. B. & Zhang, Y. J. Reaction diffusion system prediction based on convolutional neural network. Sci. Rep. 10, 3894 (2020).

Li, A., Farimani, A. B. & Zhang, Y. J. Deep learning of material transport in complex neurite networks. Sci. Rep. 11, 11280 (2021).

Tajdari, M. et al. Image-based modelling for adolescent idiopathic scoliosis: mechanistic machine learning analysis and prediction. Comput. Methods Appl. Mech. Eng. 374, 113590 (2021).

Kickingereder, P. et al. Automated quantitative tumour response assessment of MRI in neuro-oncology with artificial neural networks: a multicentre, retrospective study. Lancet Oncol. 20, 728–740 (2019).

Barajas, R. F. et al. Regional variation in histopathologic features of tumor specimens from treatment-naive glioblastoma correlates with anatomic and physiologic MR Imaging. Neuro Oncol. 14, 942–954 (2012).

Nasha, Z. R. et al. Early response evaluation using primary tumor and nodal imaging features to predict progression-free survival of locally advanced non-small cell lung cancer. Theranostics 10, 11707–11718 (2020).

Reynolds, A. P., Richards, G., de la Iglesia, B. & Rayward-Smith, V. J. Clustering rules: a comparison of partitioning and hierarchical clustering algorithms. J. Math. Model. Algorithms 5, 475–504 (2006).

Kapp, A. V. & Tibshirani, R. Are clusters found in one dataset present in another dataset? Biostatistics 8, 9–31 (2007).

Thorsson, V. et al. The immune landscape of cancer. Immunity 48, 812–830 (2018).

Barbie, D. A. et al. Systematic RNA interference reveals that oncogenic KRAS-driven cancers require TBK1. Nature 462, 108–112 (2009).

Ritchie, M. E. et al. limma powers differential expression analyses for RNA-sequencing and microarray studies. Nucleic Acids Res. 43, e47 (2015).

Ronneberger, O., Fischer, P. & Brox, T. U-Net: convolutional networks for biomedical image segmentation. In International Conference on Medical Image Computing and Computer-Assisted Intervention (eds Navab, N. et al.) 234–241 (Springer, 2015).

WuLabMDA/PanCancer: first release (Zenodo); https://doi.org/10.5281/zenodo.4906510
Acknowledgements
This research was partially supported by the National Institutes of Health (NIH) grants R01 CA233578, R01 CA222512 and R01 CA193730 (R.L.). J.W. acknowledges the NIH K99/R00 CA218667 and University of Texas MD Anderson Cancer Center Lung Moon Shot Program. S.J.P. is funded by a National Institute for Health Research (NIHR), Career Development Fellowship (CDF-18-11-ST2-003) and NIHR Brain Injury MedTech Co-operative based at Cambridge University Hospitals NHS Foundation Trust and University of Cambridge. The views expressed are those of the authors and not necessarily those of the NHS, the NIHR or the Department of Health and Social Care. C.-B.S. acknowledges support from EPSRC Centre grant no. EP/N014588/1. C.L. acknowledges Cancer Research UK grant no. CRUK/A19732 and EPSRC Centre grant no. EP/N014588/1. We thank TCGA and TCIA for sharing the imaging and genomics data for a subset of patients used in this study.
Ethics declarations
Competing interests
J.H. reports fees for advisory committees from AstraZeneca, Boehringer Ingelheim, Bristol Myers Squibb, Catalyst, EMD Serono, Foundation Medicine, Hengrui Therapeutics, Genentech, GSK, Guardant Health, Eli Lilly, Merck, Novartis, Pfizer, Roche, Sanofi, Seattle Genetics, Spectrum and Takeda, research support from AstraZeneca, GlaxoSmithKline, Spectrum, and royalties and licensing fees from Spectrum. M.D. reports research funding from AstraZeneca, Varian Medical Systems and Illumina, ownership interest in CiberMed and Foresight Diagnostics, patent filings related to cancer biomarkers, and paid consultancy from Roche, Genentech, AstraZeneca, Novartis, Boehringer Ingelheim, Gritstone Oncology, RefleXion and BioNTech.
Additional information
Peer review information Nature Machine Intelligence thanks Anum Kazerouni, Yue Wang and Yongjie Zhang for their contribution to the peer review of this work.
Publisher's note Springer Nature remains neutral with regard to jurisdictional claims in published maps and institutional affiliations.
Supplementary information
Supplementary methods, Tables 1–13 and Figs. 1–3.
About this article
Cite this article
Wu, J., Li, C., Gensheimer, M. et al. Radiological tumour classification across imaging modality and histology. Nat Mach Intell 3, 787–798 (2021). https://doi.org/10.1038/s42256-021-00377-0
Received:

Accepted:

Published:

Issue Date:

DOI: https://doi.org/10.1038/s42256-021-00377-0