Abstract
Generalization of time series prediction remains an important open issue in machine learning; earlier methods have either large generalization errors or local minima. Here, we develop an analytically solvable, unsupervised learning scheme that extracts the most informative components for predicting future inputs, which we call predictive principal component analysis (PredPCA). Our scheme can effectively remove unpredictable noise and minimize test prediction error through convex optimization. Mathematical analyses demonstrate that, provided with sufficient training samples and sufficiently high-dimensional observations, PredPCA can asymptotically identify hidden states, system parameters and dimensionalities of canonical nonlinear generative processes, with a global convergence guarantee. We demonstrate the performance of PredPCA using sequential visual inputs comprising handwritten digits, rotating three-dimensional objects and natural scenes. It reliably estimates distinct hidden states and predicts future outcomes of previously unseen test input data, based exclusively on noisy observations. The simple architecture and low computational cost of PredPCA are highly desirable for neuromorphic hardware.
Access options
Subscribe to Journal
Get full journal access for 1 year
$99.00
only $8.25 per issue
All prices are NET prices.
VAT will be added later in the checkout.
Tax calculation will be finalised during checkout.
Rent or Buy article
Get time limited or full article access on ReadCube.
from$8.99
All prices are NET prices.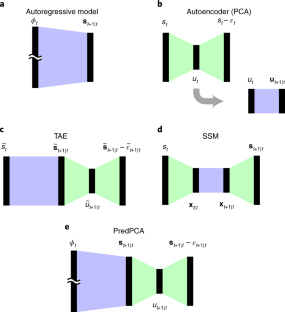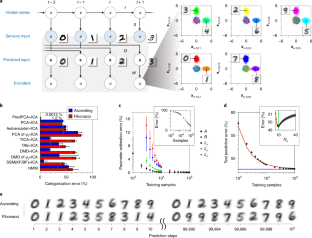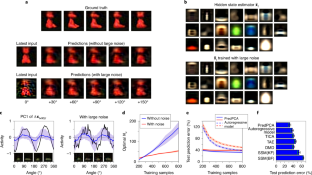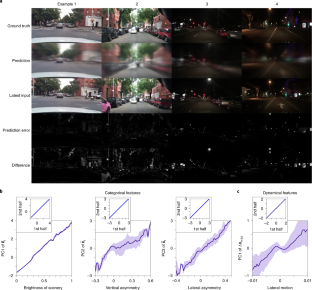 References
1.

Rao, R. P. & Ballard, D. H. Predictive coding in the visual cortex: a functional interpretation of some extra-classical receptive-field effects. Nat. Neurosci. 2, 79–87 (1999).

2.

Rao, R. P. & Sejnowski, T. J. Predictive sequence learning in recurrent neocortical circuits. Adv. Neural Info. Proc. Syst. 12, 164–170 (2000).

3.

Friston, K. A theory of cortical responses. Phil. Trans. R. Soc. Lond. B 360, 815–836 (2005).

4.

Srivastava, N., Mansimov, E. & Salakhudinov, R. Unsupervised learning of video representations using LSTMs. In Int. Conf. Machine Learning 843−852 (ML Research Press, 2015).

5.

Mathieu, M., Couprie, C. & LeCun, Y. Deep multi-scale video prediction beyond mean square error. Preprint at https://arxiv.org/abs/1511.05440 (2015).

6.

Lotter, W., Kreiman, G. & Cox, D. Deep predictive coding networks for video prediction and unsupervised learning. Preprint at https://arxiv.org/abs/1605.08104 (2016).

7.

Hurvich, C. M. & Tsai, C. L. Regression and time series model selection in small samples. Biometrika 76, 297–307 (1989).

8.

Hurvich, C. M. & Tsai, C. L. A corrected Akaike information criterion for vector autoregressive model selection. J. Time Series Anal. 14, 271–279 (1993).

9.

Cunningham, J. P. & Ghahramani, Z. Linear dimensionality reduction: survey, insights, and generalizations. J. Mach. Learn. Res. 16, 2859–2900 (2015).

10.

Hinton, G. E. & Salakhutdinov, R. R. Reducing the dimensionality of data with neural networks. Science 313, 504–507 (2006).

11.

Kingma, D. P. & Welling, M. Auto-encoding variational Bayes. Preprint at https://arxiv.org/abs/1312.6114 (2013).

12.

Hochreiter, S. & Schmidhuber, J. Long short-term memory. Neural Comput. 9, 1735–1780 (1997).

13.

Wehmeyer, C. & Noé, F. Time-lagged autoencoders: deep learning of slow collective variables for molecular kinetics. J. Chem. Phys. 148, 241703 (2018).

14.

Pérez-Hernández, G., Paul, F., Giorgino, T., De Fabritiis, G. & Noé, F. Identification of slow molecular order parameters for Markov model construction. J. Chem. Phys. 139, 015102 (2013).

15.

Klus, S. et al. Data-driven model reduction and transfer operator approximation. J. Nonlinear Sci. 28, 985–1010 (2018).

16.

Kalman, R. E. A new approach to linear filtering and prediction problems. J. Basic Eng. 82, 35–45 (1960).

17.

Julier, S. J. & Uhlmann, J. K. New extension of the Kalman filter to nonlinear systems. In Signal Processing, Sensor Fusion, And Target Recognition VI Vol. 3068, 182−193 (International Society for Optics and Photonics, 1997).

18.

Friston, K. J., Trujillo-Barreto, N. & Daunizeau, J. DEM: A variational treatment of dynamic systems. NeuroImage 41, 849–885 (2008).

19.

Akaike, H. A new look at the statistical model identification. IEEE Trans. Automat. Contr. 19, 716–723 (1974).

20.

Murata, N., Yoshizawa, S. & Amari, S. I. Network information criterion—determining the number of hidden units for an artificial neural network model. IEEE Trans. Neural Netw. 5, 865–872 (1994).

21.

Schwarz, G. Estimating the dimension of a model. Ann. Stat. 6, 461–464 (1978).

22.

Vapnik, V. Principles of risk minimization for learning theory. Adv. Neural Info. Proc. Syst. 4, 831–838 (1992).

23.

Arlot, S. & Celisse, A. A survey of cross-validation procedures for model selection. Stat. Surv. 4, 40–79 (2010).

24.

Comon, P. & Jutten, C. (eds) Handbook of Blind Source Separation: Independent Component Analysis And Applications (Academic Press, 2010).

25.

Ljung, L. System Identification: Theory for the User 2nd edn (Prentice-Hall, 1999).

26.

Schoukens, J. & Ljung, L. Nonlinear system identification: a user-oriented roadmap. Preprint at https://arxiv.org/abs/1902.00683 (2019).

27.

Akaike, H. Prediction and entropy. In Selected Papers of Hirotugu Akaike 387−410 (Springer, 1985).

28.

Oja, E. Neural networks, principal components, and subspaces. Int. J. Neural Syst. 1, 61–68 (1989).

29.

Xu, L. Least mean square error reconstruction principle for self-organizing neural-nets. Neural Netw. 6, 627–648 (1993).

30.

Chen, T., Hua, Y. & Yan, W. Y. Global convergence of Oja's subspace algorithm for principal component extraction. IEEE Trans. Neural Netw. 9, 58–67 (1998).

31.

Bell, A. J. & Sejnowski, T. J. An information-maximization approach to blind separation and blind deconvolution. Neural Comput. 7, 1129–1159 (1995).

32.

Amari, S. I., Cichocki, A. & Yang, H. H. A new learning algorithm for blind signal separation. Adv. Neural Info. Proc. Syst. 8, 757–763 (1996).

33.

LeCun, Y., Bottou, L., Bengio, Y. & Haffner, P. Gradient-based learning applied to document recognition. Proc. IEEE 86, 2278–2324 (1998).

34.

Isomura, T. & Toyoizumi, T. On the achievability of blind source separation for high-dimensional nonlinear source mixtures. Preprint at https://arxiv.org/abs/1808.00668 (2018).

35.

Dimigen, O. Optimizing the ICA-based removal of ocular EEG artifacts from free viewing experiments. Neuroimage 207, 116117 (2020).

36.

Geusebroek, J. M., Burghouts, G. J. & Smeulders, A. W. The Amsterdam library of object images. Int. J. Comput. Vis. 61, 103–112 (2005).

37.

Yu, F. et al. BDD100K: a diverse driving video database with scalable annotation tooling. Preprint at https://arxiv.org/abs/1805.04687 (2018).

38.

Schrödinger, E. What Is Life? The Physical Aspect of the Living Cell and Mind (Cambridge Univ. Press, 1944).

39.

Palmer, S. E., Marre, O., Berry, M. J. & Bialek, W. Predictive information in a sensory population. Proc. Natl Acad. Sci. USA 112, 6908–6913 (2015).

40.

Friston, K., Kilner, J. & Harrison, L. A free energy principle for the brain. J. Physiol. Paris 100, 70–87 (2006).

41.

Oymak, S., Fabian, Z., Li, M. & Soltanolkotabi, M. Generalization guarantees for neural networks via harnessing the low-rank structure of the Jacobian. Preprint at https://arxiv.org/abs/1906.05392 (2019).

42.

Suzuki, T. et al. Spectral-pruning: compressing deep neural network via spectral analysis. Preprint at https://arxiv.org/abs/1808.08558 (2018).

43.

Neftci, E. Data and power efficient intelligence with neuromorphic learning machines. iScience 5, 52–68 (2018).

44.

Fouda, M., Neftci, E., Eltawil, A. M. & Kurdahi, F. Independent component analysis using RRAMs. IEEE Trans. Nanotech. 18, 611–615 (2018).

45.

Lee, T. W., Girolami, M., Bell, A. J. & Sejnowski, T. J. A unifying information-theoretic framework for independent component analysis. Comput. Math. Appl. 39, 1–21 (2000).

46.

Isomura, T. & Toyoizumi, T. A local learning rule for independent component analysis. Sci. Rep. 6, 28073 (2016).

47.

Isomura, T. & Toyoizumi, T. Error-gated Hebbian rule: a local learning rule for principal and independent component analysis. Sci. Rep. 8, 1835 (2018).

48.

Dayan, P., Hinton, G. E., Neal, R. M. & Zemel, R. S. The Helmholtz machine. Neural Comput. 7, 889–904 (1995).

49.

Frémaux, N. & Gerstner, W. Neuromodulated spike-timing-dependent plasticity, and theory of three-factor learning rules. Front. Neural Circuits 9, 85 (2016).

50.

Kuśmierz, Ł., Isomura, T. & Toyoizumi, T. Learning with three factors: modulating Hebbian plasticity with errors. Curr. Opin. Neurobiol. 46, 170–177 (2017).

51.

Zhu, B., Jiao, J. & Tse, D. Deconstructing generative adversarial networks. IEEE Trans. Inf. Theory 66, 7155–7179 (2020).

52.

Lusch, B., Kutz, J. N. & Brunton, S. L. Deep learning for universal linear embeddings of nonlinear dynamics. Nat. Commun. 9, 4950 (2018).

53.

Isomura, T. & Toyoizumi, T. Multi-context blind source separation by error-gated Hebbian rule. Sci. Rep. 9, 7127 (2019).

54.

Hornik, K., Stinchcombe, M. & White, H. Multilayer feedforward networks are universal approximators. Neural Netw. 2, 359–366 (1989).

55.

Barron, A. R. Universal approximation bounds for superpositions of a sigmoidal function. IEEE Trans. Info. Theory 39, 930–945 (1993).

56.

Rahimi, A. & Recht, B. Uniform approximation of functions with random bases. In Proc. 46th Ann. Allerton Conf. on Communication, Control, and Computing 555−561 (2008).

57.

Rahimi, A. & Recht, B. Weighted sums of random kitchen sinks: replacing minimization with randomization in learning. Adv. Neural Info. Process. Syst. 21, 1313–1320 (2008).

58.

Hyvärinen, A. & Pajunen, P. Nonlinear independent component analysis: existence and uniqueness results. Neural Netw. 12, 429–439 (1999).

59.

Jutten, C. & Karhunen, J. Advances in blind source separation (BSS) and independent component analysis (ICA) for nonlinear mixtures. Int. J. Neural Syst. 14, 267–292 (2004).

60.

Koopman, B. O. Hamiltonian systems and transformation in Hilbert space. Proc. Natl Acad. Sci. USA 17, 315–318 (1931).

61.

Ljung, L. Asymptotic behavior of the extended Kalman filter as a parameter estimator for linear systems. IEEE Trans. Automat. Contr. 24, 36–50 (1979).
Acknowledgements
We are grateful to S.-I. Amari for discussions. This work was supported by RIKEN Center for Brain Science (T.I. and T.T.), Brain/MINDS from AMED under grant number JP20dm020700 (T.T.), and JSPS KAKENHI under grant number JP18H05432 (T.T.). The funders had no role in the study design, data collection and analysis, decision to publish, or preparation of the manuscript.
Ethics declarations
Competing interests
The authors declare no competing interests.
Additional information
Peer review information Nature Machine Intelligence thanks the anonymous reviewers for their contribution to the peer review of this work.
Publisher's note Springer Nature remains neutral with regard to jurisdictional claims in published maps and institutional affiliations.
Supplementary information
About this article
Cite this article
Isomura, T., Toyoizumi, T. Dimensionality reduction to maximize prediction generalization capability. Nat Mach Intell (2021). https://doi.org/10.1038/s42256-021-00306-1
Received:

Accepted:

Published: