Abstract
The output of physical systems, such as the scrambled pattern formed by shining the spot of a laser pointer through fog, is often easily accessible by direct measurements. However, selection of the input of such a system to obtain a desired output is difficult, because it is an ill-posed problem; that is, there are multiple inputs yielding the same output. Information transmission through scattering media is an example of this problem. Machine learning approaches for imaging have been implemented very successfully in photonics to recover the original input phase and amplitude objects of the scattering system from the distorted intensity diffraction pattern outputs. However, controlling the output of such a system, without having examples of inputs that can produce outputs in the class of the output objects the user wants to produce, is a challenging problem. Here, we propose an online learning approach for the projection of arbitrary shapes through a multimode fibre when a sample of intensity-only measurements is taken at the output. This projection system is nonlinear, because the intensity, not the complex amplitude, is detected. We show an image projection fidelity as high as ~90%, which is on par with the gold-standard methods that characterize the system fully by phase and amplitude measurements. The generality and simplicity of the proposed approach could potentially provide a new way of target-oriented control in real-world applications when only partial measurements are available.
Access options
Subscribe to Journal
Get full journal access for 1 year
$99.00
only $8.25 per issue
All prices are NET prices.
VAT will be added later in the checkout.
Rent or Buy article
Get time limited or full article access on ReadCube.
from$8.99
All prices are NET prices.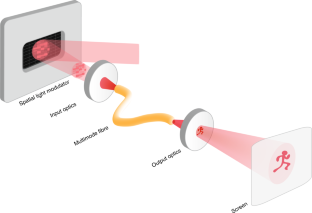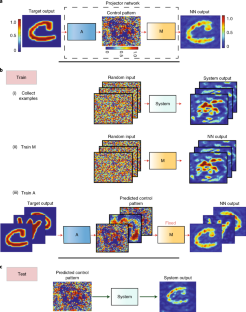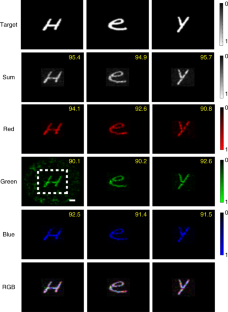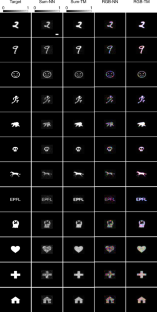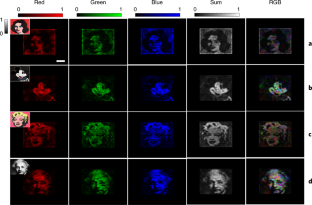 References
1.

Spitz, E. & Werts, A. Transmission des images à travers une fibre optique. C. R. Hebd. Des. Seances De. L. Acad. Des. Sci. Ser. B 264, 1015 (1967).

2.

Di Leonardo, R. & Bianchi, S. Hologram transmission through multi-mode optical fibers. Opt. Express 19, 247–254 (2011).

3.

Čižmár, T. & Dholakia, K. Shaping the light transmission through a multimode optical fibre: complex transformation analysis and applications in biophotonics. Opt. Express 19, 18871–18884 (2011).

4.

Čižmár, T. & Dholakia, K. Exploiting multimode waveguides for pure fibre-based imaging. Nat. Commun. 3, 1027 (2012).

5.

Bianchi, S. & Di Leonardo, R. A multi-mode fiber probe for holographic micromanipulation and microscopy. Lab Chip 12, 635–639 (2012).

6.

Andresen, E. R., Bouwmans, G., Monneret, S. & Rigneault, H. Toward endoscopes with no distal optics: video-rate scanning microscopy through a fiber bundle. Opt. Lett. 38, 609–611 (2013).

7.

Gover, A., Lee, C. P. & Yariv, A. Direct transmission of pictorial information in multimode optical fibers. J. Opt. Soc. Am. 66, 306–311 (1976).

8.

Friesem, A. A., Levy, U. & Silberberg, Y. Parallel transmission of images through single optical fibers. Proc. IEEE 71, 208–221 (1983).

9.

Yariv, A., AuYeung, J., Fekete, D. & Pepper, D. M. Image phase compensation and real‐time holography by four‐wave mixing in optical fibers. Appl. Phys. Lett. 32, 635–637 (1978).

10.

Yamaguchi, I. & Zhang, T. Phase-shifting digital holography. Opt. Lett. 22, 1268–1270 (1997).

11.

Cuche, E., Bevilacqua, F. & Depeursinge, C. Digital holography for quantitative phase-contrast imaging. Opt. Lett. 24, 291–293 (1999).

12.

Papadopoulos, I. N., Farahi, S., Moser, C. & Psaltis, D. Focusing and scanning light through a multimode optical fiber using digital phase conjugation. Opt. Express 20, 10583–10590 (2012).

13.

Papadopoulos, I. N., Farahi, S., Moser, C. & Psaltis, D. High-resolution, lensless endoscope based on digital scanning through a multimode optical fiber. Biomed. Opt. Express 4, 260–270 (2013).

14.

Choi, Y. et al. Scanner-free and wide-field endoscopic imaging by using a single multimode optical fiber. Phys. Rev. Lett. 109, 203901 (2012).

15.

Caravaca-Aguirre, A. M., Niv, E., Conkey, D. B. & Piestun, R. Real-time resilient focusing through a bending multimode fiber. Opt. Express 21, 12881–12887 (2013).

16.

Gu, R. Y., Mahalati, R. N. & Kahn, J. M. Design of flexible multi-mode fiber endoscope. Opt. Express 23, 26905–26918 (2015).

17.

Loterie, D. et al. Digital confocal microscopy through a multimode fiber. Opt. Express 23, 23845–23858 (2015).

18.

Popoff, S., Lerosey, G., Fink, M., Boccara, A. C. & Gigan, S. Image transmission through an opaque material. Nat. Commun. 1, 81 (2010).

19.

LeCun, Y., Bengio, Y. & Hinton, G. Deep learning. Nature 521, 436–444 (2015).

20.

McCann, M. T., Jin, K. H. & Unser, M. Convolutional neural networks for inverse problems in imaging: a review. IEEE Signal Process Mag. 34, 85–95 (2017).

21.

Rivenson, Y. et al. Deep learning microscopy. Optica 4, 1437–1443 (2017).

22.

Molesky, S. et al. Inverse design in nanophotonics. Nat. Photon. 12, 659–670 (2018).

23.

Paruzzo, F. M. et al. Chemical shifts in molecular solids by machine learning. Nat. Commun. 9, 4501 (2018).

24.

Rahmani, B., Loterie, D., Konstantinou, G., Psaltis, D. & Moser, C. Multimode optical fiber transmission with a deep learning network. Light Sci. Appl. 7, 69 (2018).

25.

Borhani, N., Kakkava, E., Moser, C. & Psaltis, D. Learning to see through multimode fibers. Optica 5, 960–966 (2018).

26.

Caramazza, P., Moran, O., Murray-Smith, R. & Faccio, D. Transmission of natural scene images through a multimode fibre. Nat. Commun. 10, 2029 (2019).

27.

Li, Y., Xue, Y. & Tian, L. Deep speckle correlation: a deep learning approach toward scalable imaging through scattering media. Optica 5, 1181–1190 (2018).

28.

Li, S., Deng, M., Lee, J., Sinha, A. & Barbastathis, G. Imaging through glass diffusers using densely connected convolutional networks. Optica 5, 803–813 (2018).

29.

Turpin, A., Vishniakou, I. & d Seelig, J. Light scattering control in transmission and reflection with neural networks. Opt. Express 26, 30911–30929 (2018).

30.

Psaltis, D., Sideris, A. & Yamamura, A. A. A multilayered neural network controller. IEEE Control Syst. Mag. 8, 17–21 (1988).

31.

Xu, Z., Yang, P., Hu, K., Xu, B. & Li, H. Deep learning control model for adaptive optics systems. Appl. Opt. 58, 1998–2009 (2019).

32.

Sutton, R. S. & Barto, A. G. Reinforcement Learning: An Introduction (MIT Press, 2011).

33.

Cohen, G., Afshar, S., Tapson, J. & van Schaik, A. EMNIST: an extension of MNIST to handwritten letters. Preprint at https://arxiv.org/pdf/1702.05373.pdf (2017).

34.

Närhi, M. et al. Machine learning analysis of extreme events in optical fibre modulation instability. Nat. Commun. 9, 4923 (2018).

35.

Xiong, W. et al. Deep learning of ultrafast pulses with a multimode fiber. Preprint at https://arxiv.org/pdf/1911.00649.pdf (2019).

36.

Salmela, L., Lapre, C., Dudley, J. M. & Genty, G. Machine learning analysis of rogue solitons in supercontinuum generation. Sci. Rep. 10, 9596 (2020).

37.

Teğin, U. et al. Controlling spatiotemporal nonlinearities in multimode fibers with deep neural networks. APL Photonics 5, 030804 (2020).

38.

Davis, J. A., Cottrell, D. M., Campos, J., Yzuel, M. J. & Moreno, I. Encoding amplitude information onto phase-only filters. Appl. Opt. 38, 5004–5013 (1999).
Acknowledgements
C.M. and D.L. acknowledge financial support from Gebert Rüf Stiftung via the grant 'Flexprint' (GRS-057/18, Pilot Projects track).
Ethics declarations
Competing interests
The authors declare no competing interests.
Additional information
Publisher's note Springer Nature remains neutral with regard to jurisdictional claims in published maps and institutional affiliations.
Supplementary information
The video accompanying the manuscript containing animations of several projected images captured on the camera.
About this article
Cite this article
Rahmani, B., Loterie, D., Kakkava, E. et al. Actor neural networks for the robust control of partially measured nonlinear systems showcased for image propagation through diffuse media. Nat Mach Intell 2, 403–410 (2020). https://doi.org/10.1038/s42256-020-0199-9
Received:

Accepted:

Published:

Issue Date: