As robotic systems become more autonomous, it gets less straightforward to determine liability when humans are harmed. This is an emerging challenge, with legal implications, in the field of surgical robotic systems. The iRobotSurgeon Survey explores public opinions about responsibility and liability in the area of surgical robotics.
Access options
Subscribe to Journal
Get full journal access for 1 year
$99.00
only $8.25 per issue
All prices are NET prices.
VAT will be added later in the checkout.
Tax calculation will be finalised during checkout.
Rent or Buy article
Get time limited or full article access on ReadCube.
from$8.99
All prices are NET prices.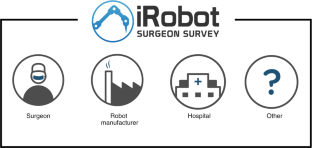 References
1.

Yang, G.-Z. et al. Sci. Robot. 2, eaam8638 (2017).

2.

Nathoo, N., Çavuşoğlu, M. C., Vogelbaum, M. A. & Barnett, G. H. Neurosurgery 56, 421–433 (2005).

3.

Ahmed, A. K. et al. Comput. Assist. Surg. 24, 13–17 (2019).

4.

Li, Z. & Chiu, P. W.-Y. Visc. Med. 34, 45–51 (2018).

5.

Shademan, A. et al. Sci. Transl. Med. 8, 337ra64 (2016).

6.

Barfield, W. Paladyn 9, 193–203 (2018).

7.

Jones versus W+M Automation 31 AD 3d 1099 (2006).

8.

Abraham, K. The Forms and Functions of Tort Law (Foundation, 1997).

9.

O'Sullivan, S. et al. Int. J. Med. Robot. Comput. Assist. Surg. 15, e1968 (2019).

10.

Piao, J. et al. Transp. Res. Procedia 14, 2168–2177 (2016).

11.

Gurney, J. K. J. Law Technol. Pol. 2, 247–277 (2013).

12.

Elish, M. C. Engag. Sci. Technol. Soc. 5, 40–60 (2019).

13.

Awad, E. et al. Nature 563, 59–64 (2018).
Acknowledgements
The authors would like to extend their thanks to D. Stoyanov, P. Palmisciano, D. Taylor, H. Lambert, E. Vayena, K. Kerr, J. Collins and J. Davidson for their support and contribution in developing the iRobotSurgeon Survey.
Ethics declarations
Competing interests
The authors declare no competing interests.
About this article
Cite this article
Jamjoom, A.A.B., Jamjoom, A.M.A. & Marcus, H.J. Exploring public opinion about liability and responsibility in surgical robotics. Nat Mach Intell 2, 194–196 (2020). https://doi.org/10.1038/s42256-020-0169-2
Further reading
Eduard Fosch-Villaronga

,

Pranav Khanna

,

Hadassah Drukarch

&

Bart H. M. Custers

Nature Machine Intelligence (2021)

James W. Martin

,

Bruno Scaglioni

,

Joseph C. Norton

,

Venkataraman Subramanian

,

Alberto Arezzo

,

Keith L. Obstein

&

Pietro Valdastri

Nature Machine Intelligence (2020)