A valid machine model is predictive, but a predictive model may not be valid. The gap between these two can be larger than many practitioners may expect.
Access options
Subscribe to Journal
Get full journal access for 1 year
$99.00
only $8.25 per issue
All prices are NET prices.
VAT will be added later in the checkout.
Tax calculation will be finalised during checkout.
Rent or Buy article
Get time limited or full article access on ReadCube.
from$8.99
All prices are NET prices.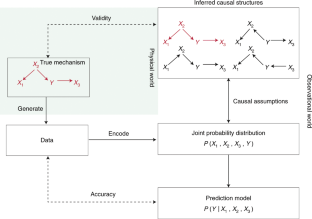 References
1.

Nat. Genet. 51, 1 (2019).

2.

Runge, J. et al. Nat. Commun. 10, 2553 (2019).

3.

Hussein, A. A. et al. Br. J. Cancer 119, 724–736 (2018).

4.

Tam, V. et al. Nat. Rev. Genet. 20, 467–484 (2019).

5.

Lewis, R. A., Rao, J. M. & Reiley, D. H. in Proc. 20th International Conference on World Wide Web 157–166 (ACM, 2011).

6.

Pearl, J. Causality: Models, Reasoning, and Inference (Cambridge Univ. Press, 2009).

7.

Imbens, G. W. & Rubin, D. B. Causal Inference for Statistics, Social, and Biomedical Sciences: An Introduction (Cambridge Univ. Press, 2015).

8.

Reichstein, M. et al. Nature 566, 195–204 (2019).

9.

Hill, A. B. Proc. R. Soc. Med. 58, 295–300 (1965).

10.

Pearl, J. Commun. ACM 62, 54–60 (2019).
Acknowledgements
This work has been supported by ARC Discovery Project grant DP170101306 and NHMRC grant 1123042.
Ethics declarations
Competing interests
The authors declare no competing interests.
About this article
Cite this article
Li, J., Liu, L., Le, T.D. et al. Accurate data-driven prediction does not mean high reproducibility. Nat Mach Intell 2, 13–15 (2020). https://doi.org/10.1038/s42256-019-0140-2
Further reading
Anthony Culos

,

Amy S. Tsai

,

Natalie Stanley

,

Martin Becker

,

Mohammad S. Ghaemi

,

David R. McIlwain

,

Ramin Fallahzadeh

,

Athena Tanada

,

Huda Nassar

,

Camilo Espinosa

,

Maria Xenochristou

,

Edward Ganio

,

Laura Peterson

,

Xiaoyuan Han

,

Ina A. Stelzer

,

Kazuo Ando

,

Dyani Gaudilliere

,

Thanaphong Phongpreecha

,

Ivana Marić

,

Alan L. Chang

,

Gary M. Shaw

,

David K. Stevenson

,

Sean Bendall

,

Kara L. Davis

,

Wendy Fantl

,

Garry P. Nolan

,

Trevor Hastie

,

Robert Tibshirani

,

Martin S. Angst

,

Brice Gaudilliere

&

Nima Aghaeepour

Nature Machine Intelligence (2020)