To be useful in a variety of daily tasks, robots must be able to interact physically with humans and infer how to be most helpful. A new theory for interactive robot control allows a robot to learn when to assist or challenge a human during reaching movements.
Access options
Subscribe to Journal
Get full journal access for 1 year
$99.00
only $8.25 per issue
All prices are NET prices.
VAT will be added later in the checkout.
Rent or Buy article
Get time limited or full article access on ReadCube.
from$8.99
All prices are NET prices.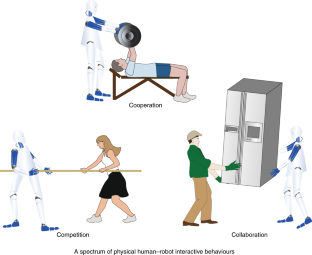 References
1.

Sawers, A. & Ting, L. H. J. Neuroeng. Rehabil. 11, 142–155 (2014).

2.

Li, Y., Carboni, G., Gonzalez, F., Campolo, D. & Burdet, E. Nat. Mach. Intell. https://doi.org/10.1038/s42256-018-0010-3 (2018).

3.

Jarassé, N., Charalambous, T. & Burdet, E. PLOS One 7, e49945 (2012).

4.

Colombo, G., Joerg, M., Schreier, R. & Dietz, V. J. Rehabil. Res. Dev. 37, 693–700 (2000).

5.

Losey, D. P. & O'Malley, M. K. IEEE Trans. Robot. 34, 126–138 (2018).

6.

Krebs, H. I., Hogan, N., Aisen, M. L. & Volpe, B. T. IEEE Trans. Rehabil. Eng. 6, 75–87 (1998).

7.

Mihelj, M., Nef, T. & Reiner, R. Adv. Robot. 21, 843–867 (2007).

8.

Smith, B. W., Rowe, J. B. & Reinkensmeyer, D. J. J. Neurophysiol. 120, 2107–2120 (2018).

9.

Duarte, J. E. & Reinkensmeyer, D. J. J. Neurophysiol. 113, 2682–2691 (2015).
About this article
Cite this article
Drnach, L., Ting, L.H. Ask this robot for a helping hand. Nat Mach Intell 1, 8–9 (2019). https://doi.org/10.1038/s42256-018-0013-0