Abstract
Recurrent loss-of-function deletions cause frequent inactivation of tumour suppressor genes but often also involve the collateral deletion of essential genes in chromosomal proximity, engendering dependence on paralogues that maintain similar function. Although these paralogues are attractive anticancer targets, no methodology exists to uncover such collateral lethal genes. Here we report a framework for collateral lethal gene identification via metabolic fluxes, CLIM, and use it to reveal MTHFD2 as a collateral lethal gene in UQCR11-deleted ovarian tumours. We show that MTHFD2 has a non-canonical oxidative function to provide mitochondrial NAD+, and demonstrate the regulation of systemic metabolic activity by the paralogue metabolic pathway maintaining metabolic flux compensation. This UQCR11–MTHFD2 collateral lethality is confirmed in vivo, with MTHFD2 inhibition leading to complete remission of UQCR11-deleted ovarian tumours. Using CLIM's machine learning and genome-scale metabolic flux analysis, we elucidate the broad efficacy of targeting MTHFD2 despite distinct cancer genetic profiles co-occurring with UQCR11 deletion and irrespective of stromal compositions of tumours.
Access options
Access Nature and 54 other Nature Portfolio journals
Get Nature+, our best-value online-access subscription
$29.99 / 30 days
cancel any time
Subscribe to this journal
Receive 12 digital issues and online access to articles
$119.00 per year
only $9.92 per issue
Rent or buy this article
Prices vary by article type
from$1.95
to$39.95
Prices may be subject to local taxes which are calculated during checkout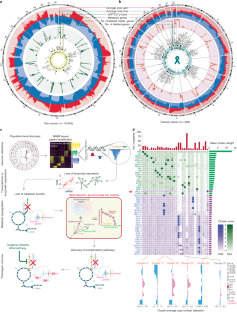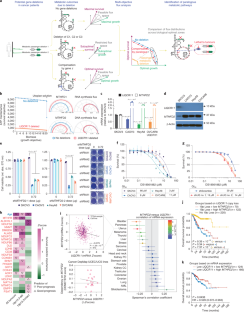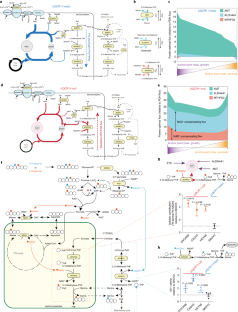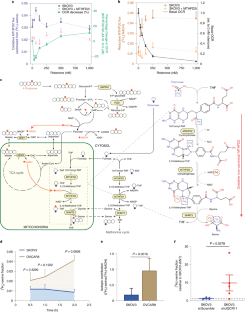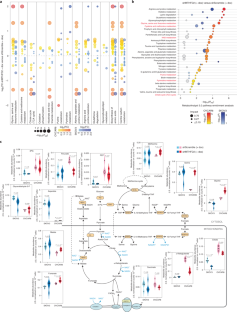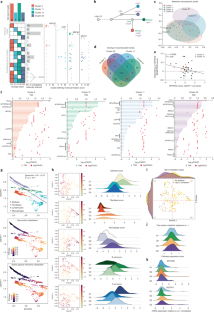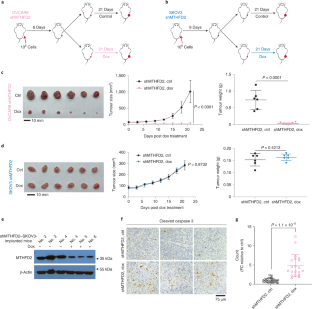 Data availability
The authors declare that the data supporting the findings of this study are available within the paper and its Supplementary Information files. Source data for all figures are provided with this paper. RNA-seq data were obtained from GSE146026 (ref. 80), GSE118828 (ref. 85) and GSE115635 (ref. 88). TCGA sample data were obtained from the CBioPortal for datasets ov_tcga_pan_can_atlas_2018 (ovarian cancer), ucec_tcga_pan_can_atlas_2018 (uterine endometrial carcinoma) and ucs_tcga_pan_can_atlas_2018 (uterine serous carcinoma). Cell line genomics data were obtained from the CBioPortal using datasets cellline_nci60 and ccle_broad_2019 datasets. CCLE metabolomics data were obtained from https://doi.org/10.1038/s41591-019-0404-8. Cancer DepMap data were obtained from the DepMap Portal (CRISPR Public 20Q1). Metabolic pathways and genes were obtained from KEGG for Homo sapiens (kegg.jp). All other data supporting the findings of this study are available from the corresponding authors upon reasonable request.
Code availability
Input data files used for all scripts and the generated output files are available on GitHub at https://github.com/DNagrathLab/CLIM/. Model reconstruction was performed using scripts from Quek and Turner89. MOMFA scripts were developed using the COBRA toolbox (v.3.0)72. The scripts for tumour stratification, multilayer machine learning, random survival forests and bulk and single-cell RNA-seq analysis developed for this study are available on GitHub at https://github.com/DNagrathLab/CLIM/.
References
Pertesi, M. et al. Essential genes shape cancer genomes through linear limitation of homozygous deletions. Commun. Biol. 2, 262 (2019).

Dey, P. et al. Genomic deletion of malic enzyme 2 confers collateral lethality in pancreatic cancer. Nature 542, 119–123 (2017).

Muller, F. L., Aquilanti, E. A. & DePinho, R. A. Collateral lethality: a new therapeutic strategy in oncology. Trends Cancer 1, 161–173 (2015).

Muller, F. L. et al. Passenger deletions generate therapeutic vulnerabilities in cancer. Nature 488, 337–342 (2012).

Sanderson, S. M., Mikhael, P. G., Ramesh, V., Dai, Z. & Locasale, J. W. Nutrient availability shapes methionine metabolism in p16/MTAP-deleted cells. Sci. Adv. 5, eaav7769 (2019).

Ryland, G. L. et al. Loss of heterozygosity: what is it good for? BMC Med. Genet. 8, 45 (2015).

Liu, Y. et al. TP53 loss creates therapeutic vulnerability in colorectal cancer. Nature 520, 697–701 (2015).

Hart, T., Koh, C. & Moffat, J. Coessentiality and cofunctionality: a network approach to learning genetic vulnerabilities from cancer cell line fitness screens. Preprint at bioRxiv https://doi.org/10.1101/134346 (2017).

Wang, T. et al. Gene essentiality profiling reveals gene networks and synthetic lethal interactions with oncogenic Ras. Cell 168, 890–903 (2017).

Wainberg, M. et al. A genome-wide atlas of co-essential modules assigns function to uncharacterized genes. Nat. Genet. 53, 638–649 (2021).

Ku, A. A. et al. Integration of multiple biological contexts reveals principles of synthetic lethality that affect reproducibility. Nat. Commun. 11, 2375 (2020).

Bayraktar, E. C. et al. Metabolic coessentiality mapping identifies C12orf49 as a regulator of SREBP processing and cholesterol metabolism. Nat. Metab. 2, 487–498 (2020).

Molina, J. R. et al. An inhibitor of oxidative phosphorylation exploits cancer vulnerability. Nat. Med. 24, 1036–1046 (2018).

Mermel, C. H. et al. GISTIC2.0 facilitates sensitive and confident localization of the targets of focal somatic copy-number alteration in human cancers. Genome Biol. 12, R41 (2011).

Lee, J. Y. et al. A distinct region of chromosome 19p13.3 associated with the sporadic form of adenoma malignum of the uterine cervix. Cancer Res. 58, 1140–1143 (1998).

Wang, Z. J. et al. Allele loss and mutation screen at the Peutz–Jeghers (LKB1) locus (19p13.3) in sporadic ovarian tumours. Br. J. Cancer 80, 70–72 (1999).

Chang, K. et al. The Cancer Genome Atlas Pan-Cancer analysis project. Nat. Genet. 45, 1113–1120 (2013).

Fernández-Vizarra, E. & Zeviani, M. Nuclear gene mutations as the cause of mitochondrial complex III deficiency. Front. Genet. 6, 134 (2015).

Owens, K. M., Kulawiec, M., Desouki, M. M., Vanniarajan, A. & Singh, K. K. Impaired OXPHOS complex III in breast cancer. PLoS ONE 6, e23846 (2011).

Hsu, C.-C., Tseng, L.-M. & Lee, H.-C. Role of mitochondrial dysfunction in cancer progression. Exp. Biol. Med. 241, 1281–1295 (2016).

Acı́n-Pérez, R. et al. Respiratory complex III is required to maintain complex I in mammalian mitochondria. Mol. Cell 13, 805–815 (2004).

DeBerardinis, R. J. & Chandel, N. S. Fundamentals of cancer metabolism. Sci. Adv. 2, e1600200 (2016).

Weinberg, S. E. & Chandel, N. S. Targeting mitochondria metabolism for cancer therapy. Nat. Chem. Biol. 11, 9–15 (2015).

Kawai, J. et al. Discovery of a potent, selective, and orally available MTHFD2 inhibitor (DS18561882) with in vivo antitumor activity. J. Med. Chem. 62, 10204–10220 (2019).

Martinez-Reyes, I. et al. Mitochondrial ubiquinol oxidation is necessary for tumour growth. Nature 585, 288–292 (2020).

Martínez-Reyes, I. et al. TCA cycle and mitochondrial membrane potential are necessary for diverse biological functions. Mol. Cell 61, 199–209 (2016).

Sommer, N. et al. Bypassing mitochondrial complex III using alternative oxidase inhibits acute pulmonary oxygen sensing. Sci. Adv. https://doi.org/10.1126/sciadv.aba0694 (2020).

Zhu, Z. & Leung, G. K. K. More than a metabolic enzyme: MTHFD2 as a novel target for anticancer therapy? Front. Oncol. https://doi.org/10.3389/fonc.2020.00658 (2020).

Liu, M. et al. The identification of key genes and pathways in glioma by bioinformatics analysis. J. Immunol. Res. 2017, 1278081 (2017).

Contreras, C. M. et al. Lkb1 inactivation is sufficient to drive endometrial cancers that are aggressive yet highly responsive to mTOR inhibitor monotherapy. Dis. Model. Mech. 3, 181–193 (2010).

Peña, C. G. & Castrillón, D. H. In Molecular Genetics of Endometrial Carcinoma (ed. Ellenson, L. H.) 211–241 (Springer International Publishing, 2017).

Ghandi, M. et al. Next-generation characterization of the Cancer Cell Line Encyclopedia. Nature 569, 503–508 (2019).

Lin, Y. H. et al. An enolase inhibitor for the targeted treatment of ENO1-deleted cancers. Nat. Metab. 2, 1413–1426 (2020).

Leonard, P. G. et al. SF2312 is a natural phosphonate inhibitor of enolase. Nat. Chem. Biol. 12, 1053–1058 (2016).

Fox, J. T. & Stover, P. J. In Vitamins & Hormones Vol. 79 (ed. Litwack, G.) 1–44 (Academic Press, 2008).

Lewis, CarolineA. et al. Tracing compartmentalized NADPH metabolism in the cytosol and mitochondria of mammalian cells. Mol. Cell 55, 253–263 (2014).

Gustafsson Sheppard, N. et al. The folate-coupled enzyme MTHFD2 is a nuclear protein and promotes cell proliferation. Sci. Rep. 5, 15029 (2015).

Ducker, G. S. et al. Reversal of cytosolic one-carbon flux compensates for loss of the mitochondrial folate pathway. Cell Metab. 23, 1140–1153 (2016).

Morscher, R. J. et al. Mitochondrial translation requires folate-dependent tRNA methylation. Nature 554, 128–132 (2018).

Yang, L. et al. Serine catabolism feeds NADH when respiration is impaired. Cell Metab. 31, 809–821 (2020).

Fan, J. et al. Quantitative flux analysis reveals folate-dependent NADPH production. Nature 510, 298–302 (2014).

Lim, E. W., Parker, S. J. & Metallo, C. M. In Metabolic Flux Analysis in Eukaryotic Cells: Methods and Protocols (ed. Nagrath, D.) 51–71 (Springer US, 2020).

Ma, Y., Wang, L. & Jia, R. The role of mitochondrial dynamics in human cancers. Am. J. Cancer Res. 10, 1278–1293 (2020).

Macleod, K. F. Mitophagy and mitochondrial dysfunction in cancer. Annu. Rev. Cancer Biol. 4, 41–60 (2020).

Li, H. et al. The landscape of cancer cell line metabolism. Nat. Med. 25, 850–860 (2019).

Birsoy, K. et al. An essential role of the mitochondrial electron transport chain in cell proliferation is to enable aspartate synthesis. Cell 162, 540–551 (2015).

Khutornenko Anastasia, A. et al. Pyrimidine biosynthesis links mitochondrial respiration to the p53 pathway. Proc. Natl Acad. Sci. USA 107, 12828–12833 (2010).

Spinelli, J. B. et al. Fumarate is a terminal electron acceptor in the mammalian electron transport chain. Science 374, 1227–1237 (2021).

Lee, W. D., Mukha, D., Aizenshtein, E. & Shlomi, T. Spatial-fluxomics provides a subcellular-compartmentalized view of reductive glutamine metabolism in cancer cells. Nat. Commun. 10, 1351 (2019).

Yang, L. et al. Targeting stromal glutamine synthetase in tumors disrupts tumor microenvironment-regulated cancer cell growth. Cell Metab. 24, 685–700 (2016).

Viswanathan, S. R. et al. Genome-scale analysis identifies paralog lethality as a vulnerability of chromosome 1p loss in cancer. Nat. Genet. 50, 937–943 (2018).

Kryukov, G. V. et al. MTAP deletion confers enhanced dependency on the PRMT5 arginine methyltransferase in cancer cells. Science 351, 1214–1218 (2016).

Neggers, J. E. et al. Synthetic lethal interaction between the ESCRT paralog enzymes VPS4A and VPS4B in cancers harboring loss of chromosome 18q or 16q. Cell Rep. 33, 108493 (2020).

Nilsson, R. et al. Metabolic enzyme expression highlights a key role for MTHFD2 and the mitochondrial folate pathway in cancer. Nat. Commun. 5, 3128 (2014).

Wei, Y. et al. The effect of MTHFD2 on the proliferation and migration of colorectal cancer cell lines. Onco Targets Ther. 12, 6361–6370 (2019).

Wan, X. et al. Cisplatin inhibits SIRT3-deacetylation MTHFD2 to disturb cellular redox balance in colorectal cancer cell. Cell Death Dis. 11, 649 (2020).

Shukla, K. et al. MTHFD2 blockade enhances the efficacy of β-lapachone chemotherapy with ionizing radiation in head and neck squamous cell cancer. Front. Oncol. 10, 536377 (2020).

Ben-Sahra, I., Hoxhaj, G., Ricoult, S. J. H., Asara, J. M. & Manning, B. D. mTORC1 induces purine synthesis through control of the mitochondrial tetrahydrofolate cycle. Science 351, 728–733 (2016).

Bindra, S. et al. Mitochondria in epithelial ovarian carcinoma exhibit abnormal phenotypes and blunted associations with biobehavioral factors. Sci. Rep. 11, 11595 (2021).

Judge, M. T. et al. Continuous in vivo metabolism by NMR. Front. Mol. Biosci. https://doi.org/10.3389/fmolb.2019.00026 (2019).

Cerami, E. et al. The cBio cancer genomics portal: an open platform for exploring multidimensional cancer genomics data. Cancer Discov. 2, 401–404 (2012).

Gao, J. et al. Integrative analysis of complex cancer genomics and clinical profiles using the cBioPortal. Sci. Signal. 6, pl1 (2013).

AACR Project GENIE Consortium. AACR Project GENIE: powering precision medicine through an international consortium. Cancer Discov. 7, 818–831 (2017).

Reich, M. et al. GenePattern 2.0. Nat. Genet. 38, 500–501 (2006).

Krzywinski, M. I. et al. Circos: an information aesthetic for comparative genomics. Genome Res. 19, 1639–1645 (2009).

Creed, J. H., Gerke, T. A. & Berglund, A. E. MatSurv: survival analysis and visualization in MATLAB. J. Open Source Softw. https://doi.org/10.21105/joss.01830 (2020).

Moffitt, R. A. et al. Virtual microdissection identifies distinct tumor- and stroma-specific subtypes of pancreatic ductal adenocarcinoma. Nat. Genet. 47, 1168–1178 (2015).

Tate, J. G. et al. COSMIC: the catalogue of somatic mutations in cancer. Nucleic Acids Res. 47, D941–D947 (2018).

Conway, J. R., Lex, A. & Gehlenborg, N. UpSetR: an R package for the visualization of intersecting sets and their properties. Bioinformatics 33, 2938–2940 (2017).

Nagrath, D. et al. Soft constraints-based multiobjective framework for flux balance analysis. Metab. Eng. 12, 429–445 (2010).

Nagrath, D. et al. Integrated energy and flux balance based multiobjective framework for large-scale metabolic networks. Ann. Biomed. Eng. 35, 863–885 (2007).

Heirendt, L. et al. Creation and analysis of biochemical constraint-based models using the COBRA Toolbox v.3.0. Nat. Protoc. 14, 639–702 (2019).

Messac, A., Ismail-Yahaya, A. & Mattson, C. A. The normalized normal constraint method for generating the Pareto frontier. Struct. Multidiscip. Optim. 25, 86–98 (2003).

Chen, T. & Guestrin, C. XGBoost: A scalable tree boosting system. In Proc. 22nd ACM SIGKDD International Conference on Knowledge Discovery and Data Mining (eds Krishnapuram, B. et al.) 785–794 (ACM Digital, 2016).

Achreja, A., Meurs, N. & Nagrath, D. Quantifying metabolic transfer mediated by extracellular vesicles using Exo-MFA: an integrated empirical and computational platform. Methods Mol. Biol. 2088, 205–221 (2020).

Achreja, A. et al. Exo-MFA – a 13C metabolic flux analysis framework to dissect tumor microenvironment-secreted exosome contributions towards cancer cell metabolism. Metab. Eng. 43, 156–172 (2017).

Yang, L. et al. Metabolic shifts toward glutamine regulate tumor growth, invasion and bioenergetics in ovarian cancer. Mol. Syst. Biol. 10, 728 (2014).

Zhao, H. et al. Tumor microenvironment derived exosomes pleiotropically modulate cancer cell metabolism. eLife 5, e10250 (2016).

Zhu, Z. et al. Tumour-reprogrammed stromal BCAT1 fuels branched-chain ketoacid dependency in stromal-rich PDAC tumours. Nat. Metab. https://doi.org/10.1038/s42255-020-0226-5 (2020).

Izar, B. et al. A single-cell landscape of high-grade serous ovarian cancer. Nat. Med. 26, 1271–1279 (2020).

Van Dijk, D. et al. Recovering gene interactions from single-cell data using data diffusion. Cell 174, 716–729 (2018).

Moon, K. R. et al. Visualizing structure and transitions in high-dimensional biological data. Nat. Biotechnol. 37, 1482–1492 (2019).

Wickham, H. et al. ggplot2: Elegant Graphics for Data Analysis 2nd edn. Use R! (Springer-Verlag, 2016).

Cerami, E. et al. The cBio cancer genomics portal: an open platform for exploring multidimensional cancer genomics data. Cancer Discov. 2, 401–404 (2012); correction 2, 960 (2012).

Shih, A. J. et al. Identification of grade and origin specific cell populations in serous epithelial ovarian cancer by single cell RNA-seq. PLoS ONE 13, e0206785 (2018).

Satija, R., Farrell, J. A., Gennert, D., Schier, A. F. & Regev, A. Spatial reconstruction of single-cell gene expression data. Nat. Biotechnol. 33, 495–502 (2015).

Newman, A. M. et al. Determining cell type abundance and expression from bulk tissues with digital cytometry. Nat. Biotechnol. 37, 773–782 (2019).

Yeung, T. L. et al. Systematic identification of druggable epithelial-stromal crosstalk signaling networks in ovarian cancer. J. Natl Cancer Inst. 111, 272–282 (2019).

Quek, L. E. & Turner, N. Using the human genome-scale metabolic model Recon 2 for steady-state flux analysis of cancer cell metabolism. Methods Mol. Biol. 1928, 479–489 (2019).
Acknowledgements
D.N. is supported by NCI grant nos. R01CA227622 and R01CA204969, and D.N. and X.L. by R01CA222251. D.N. is also supported by grants from the Rogel Cancer Center and the Forbes Institute for Cancer Discovery. The Orbitrap Fusion Tribrid Lumos mass spectrometer used in this work is supported by grant no. S10OD021619 and operated by the Chemistry Mass Spectrometry Facility, University of Michigan. A.A. is partially supported by the University of Michigan Precision Health Scholars award. S.D.M., A.A. and J.H.J. are funded by the Breast Cancer Research Foundation.
Ethics declarations
Competing interests
The authors declare no competing interests.
Peer review
Peer review information
Nature Metabolism thanks Navdeep Chandel, Rune Linding and the other, anonymous, reviewer(s) for their contribution to the peer review of this work. Primary Handling Editors: Isabella Samuelson and George Caputa, in collaboration with the Nature Metabolism team.
Additional information
Publisher's note Springer Nature remains neutral with regard to jurisdictional claims in published maps and institutional affiliations.
Supplementary information
Supplementary Notes 1–5, Methods, Figs. 1–9 and Tables 1–5.
Rights and permissions
Springer Nature or its licensor holds exclusive rights to this article under a publishing agreement with the author(s) or other rightsholder(s); author self-archiving of the accepted manuscript version of this article is solely governed by the terms of such publishing agreement and applicable law.
About this article
Cite this article
Achreja, A., Yu, T., Mittal, A. et al. Metabolic collateral lethal target identification reveals MTHFD2 paralogue dependency in ovarian cancer. Nat Metab 4, 1119–1137 (2022). https://doi.org/10.1038/s42255-022-00636-3
Received:

Accepted:

Published:

Issue Date:

DOI: https://doi.org/10.1038/s42255-022-00636-3