Abstract
Regulatory T (Treg) cells are critical for maintaining immune homeostasis and preventing autoimmunity. Here, we show that the non-oxidative pentose phosphate pathway (PPP) regulates Treg function to prevent autoimmunity. Deletion of transketolase (TKT), an indispensable enzyme of non-oxidative PPP, in Treg cells causes a fatal autoimmune disease in mice, with impaired Treg suppressive capability despite regular Treg numbers and normal Foxp3 expression levels. Mechanistically, reduced glycolysis and enhanced oxidative stress induced by TKT deficiency triggers excessive fatty acid and amino acid catabolism, resulting in uncontrolled oxidative phosphorylation and impaired mitochondrial fitness. Reduced α-KG levels as a result of reductive TCA cycle activity leads to DNA hypermethylation, thereby limiting functional gene expression and suppressive activity of TKT-deficient Treg cells. We also find that TKT levels are frequently downregulated in Treg cells of people with autoimmune disorders. Our study identifies the non-oxidative PPP as an integrator of metabolic and epigenetic processes that control Treg function.
Relevant articles
Open Access articles citing this article.
Chun Zhang

,

Jing Xiao

…

Zhuping Xu

BMC Ophthalmology Open Access 10 August 2023

Lihua Qu

,

Tong Yin

…

Huifen Dong

Cell Death Discovery Open Access 23 June 2023

Fangming Zhu

,

Ryan J. McMonigle

…

Hui Hu

Nature Communications Open Access 17 June 2023
Access options
Access Nature and 54 other Nature Portfolio journals
Get Nature+, our best-value online-access subscription
$29.99 / 30 days
cancel any time
Subscribe to this journal
Receive 12 digital issues and online access to articles
$119.00 per year
only $9.92 per issue
Rent or buy this article
Prices vary by article type
from$1.95
to$39.95
Prices may be subject to local taxes which are calculated during checkout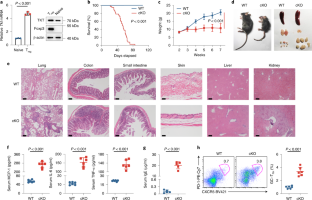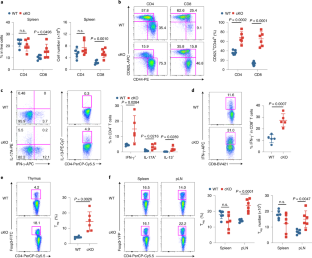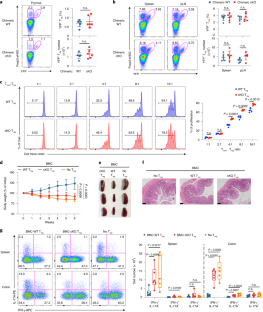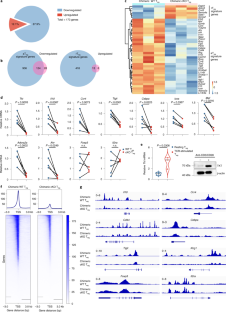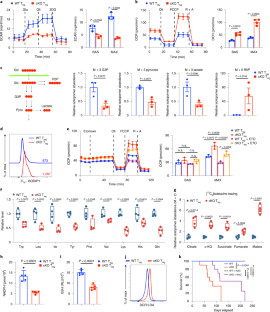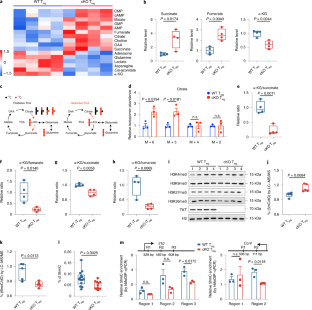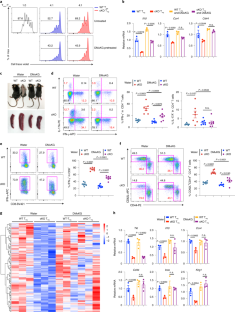 Data availability
The GEO accession numbers for our RNA-seq and ATAC-seq data are GSE172048 and GSE198995. The link of mm10_gencodewe used for the ATAC-seq analysis is: https://hgdownload.cse.ucsc.edu/goldenpath/mm10/chromosomes/. The data used to generate the results in this paper are available as source data. All data and mouse lines included in this study are available from the corresponding authors upon reasonable request. Source data are provided with this paper.
References
Chen, Y., Kuchroo, V. K., Inobe, J., Hafler, D. A. & Weiner, H. L. Regulatory T cell clones induced by oral tolerance: suppression of autoimmune encephalomyelitis. Science 265, 1237–1240 (1994).

Hori, S., Nomura, T. & Sakaguchi, S. Control of regulatory T cell development by the transcription factor Foxp3. Science 299, 1057–1061 (2003).

Fontenot, J. D., Gavin, M. A. & Rudensky, A. Y. Foxp3 programs the development and function of CD4+CD25+ regulatory T cells. Nat. Immunol. 4, 330–336 (2003).

Li, M. O. & Rudensky, A. Y. T cell receptor signalling in the control of regulatory T cell differentiation and function. Nat. Rev. Immunol. 16, 220–233 (2016).

Savage, P. A., Klawon, D. E. J. & Miller, C. H. Regulatory T cell development. Annu Rev. Immunol. 38, 421–453 (2020).

Su, W. et al. Protein prenylation drives discrete signaling programs for the differentiation and maintenance of effector Treg cells. Cell Metab. 32, 996–1011.e1017 (2020).

Xu, M. et al. c-MAF-dependent regulatory T cells mediate immunological tolerance to a gut pathobiont. Nature 554, 373–377 (2018).

Vasanthakumar, A. et al. The TNF receptor superfamily–NF-κB axis is critical to maintain effector regulatory T cells in lymphoid and non-lymphoid tissues. Cell Rep. 20, 2906–2920 (2017).

Vasanthakumar, A. et al. The transcriptional regulators IRF4, BATF and IL-33 orchestrate development and maintenance of adipose tissue-resident regulatory T cells. Nat. Immunol. 16, 276–285 (2015).

Koizumi, S. I. & Ishikawa, H. Transcriptional regulation of differentiation and functions of effector T regulatory cells. Cells 8, 939 (2019).

Cretney, E. et al. The transcription factors Blimp-1 and IRF4 jointly control the differentiation and function of effector regulatory T cells. Nat. Immunol. 12, 304–311 (2011).

Dominguez-Villar, M. & Hafler, D. A. Regulatory T cells in autoimmune disease. Nat. Immunol. 19, 665–673 (2018).

Alissafi, T. et al. Mitochondrial oxidative damage underlies regulatory T cell defects in autoimmunity. Cell Metab. 32, 591–604.e597 (2020).

Campbell, C. et al. Bacterial metabolism of bile acids promotes generation of peripheral regulatory T cells. Nature 581, 475–479 (2020).

Zeng, H. et al. mTORC1 couples immune signals and metabolic programming to establish Treg-cell function. Nature 499, 485–490 (2013).

Pacella, I. et al. Fatty acid metabolism complements glycolysis in the selective regulatory T cell expansion during tumor growth. Proc. Natl Acad. Sci. USA 115, E6546–e6555 (2018).

Zeng, H. & Chi, H. Metabolic control of regulatory T cell development and function. Trends Immunol. 36, 3–12 (2015).

MacIver, N. J., Michalek, R. D. & Rathmell, J. C. Metabolic regulation of T lymphocytes. Annu Rev. Immunol. 31, 259–283 (2013).

Michalek, R. D. et al. Cutting edge: distinct glycolytic and lipid oxidative metabolic programs are essential for effector and regulatory CD4+ T cell subsets. J. Immunol. 186, 3299–3303 (2011).

Gerriets, V. A. et al. Foxp3 and Toll-like receptor signaling balance Treg cell anabolic metabolism for suppression. Nat. Immunol. 17, 1459–1466 (2016).

Field, C. S. et al. Mitochondrial integrity regulated by lipid metabolism is a cell-intrinsic checkpoint for Treg suppressive function. Cell Metab. 31, 422–437.e425 (2020).

Tian, N. et al. Transketolase deficiency in adipose tissues protects mice from diet-induced obesity by promoting lipolysis. Diabetes 69, 1355–1367 (2020).

Li, M. et al. Transketolase deficiency protects the liver from DNA damage by increasing levels of ribose 5-phosphate and nucleotides. Cancer Res. 79, 3689–3701 (2019).

Wang, T. et al. Inosine is an alternative carbon source for CD8+-T-cell function under glucose restriction. Nat. Metab. 2, 635–647 (2020).

Ge, T. et al. The role of the pentose phosphate pathway in diabetes and cancer. Front. Endocrinol. 11, 365 (2020).

Rubtsov, Y. P. et al. Regulatory T cell-derived interleukin-10 limits inflammation at environmental interfaces. Immunity 28, 546–558 (2008).

Crotty, S. T follicular helper cell biology: a decade of discovery and diseases. Immunity 50, 1132–1148 (2019).

Sakaguchi, S., Yamaguchi, T., Nomura, T. & Ono, M. Regulatory T cells and immune tolerance. Cell 133, 775–787 (2008).

Zhu, J. & Shevach, E. M. TCR signaling fuels Treg cell suppressor function. Nat. Immunol. 15, 1002–1003 (2014).

Ren, J. et al. Foxp1 is critical for the maintenance of regulatory T-cell homeostasis and suppressive function. PLoS Biol. 17, e3000270 (2019).

Xu, I. M. et al. Transketolase counteracts oxidative stress to drive cancer development. Proc. Natl Acad. Sci. USA 113, E725–E734 (2016).

Patra, K. C. & Hay, N. The pentose phosphate pathway and cancer. Trends Biochem. Sci. 39, 347–354 (2014).

Chen, L. et al. NADPH production by the oxidative pentose-phosphate pathway supports folate metabolism. Nat. Metab. 1, 404–415 (2019).

Martínez-Reyes, I. & Chandel, N. S. Mitochondrial TCA cycle metabolites control physiology and disease. Nat. Commun. 11, 102 (2020).

Steinert, E. M., Vasan, K. & Chandel, N. S. Mitochondrial metabolism regulation of T cell-mediated immunity. Annu Rev. Immunol. 39, 395–416 (2021).

Jiang, L. et al. Reductive carboxylation supports redox homeostasis during anchorage-independent growth. Nature 532, 255–258 (2016).

Mullen, A. R. et al. Reductive carboxylation supports growth in tumour cells with defective mitochondria. Nature 481, 385–388 (2011).

Mullen, A. R. et al. Oxidation of alpha-ketoglutarate is required for reductive carboxylation in cancer cells with mitochondrial defects. Cell Rep. 7, 1679–1690 (2014).

Zhang, G. F. et al. Reductive TCA cycle metabolism fuels glutamine- and glucose-stimulated insulin secretion. Cell Metab. 33, 804–817.e805 (2021).

Xiao, M. et al. Inhibition of α-KG-dependent histone and DNA demethylases by fumarate and succinate that are accumulated in mutations of FH and SDH tumor suppressors. Genes Dev. 26, 1326–1338 (2012).

Arts, R. J. et al. Glutaminolysis and fumarate accumulation integrate immunometabolic and epigenetic programs in trained immunity. Cell Metab. 24, 807–819 (2016).

Carey, B. W., Finley, L. W., Cross, J. R., Allis, C. D. & Thompson, C. B. Intracellular α-ketoglutarate maintains the pluripotency of embryonic stem cells. Nature 518, 413–416 (2015).

Kaelin, W. G. Jr. Cancer and altered metabolism: potential importance of hypoxia-inducible factor and 2-oxoglutarate-dependent dioxygenases. Cold Spring Harb. Symp. Quant. Biol. 76, 335–345 (2011).

Weinberg, S. E. et al. Mitochondrial complex III is essential for suppressive function of regulatory T cells. Nature 565, 495–499 (2019).

Ohkura, N., Kitagawa, Y. & Sakaguchi, S. Development and maintenance of regulatory T cells. Immunity 38, 414–423 (2013).

Ohkura, N. et al. T cell receptor stimulation-induced epigenetic changes and Foxp3 expression are independent and complementary events required for Treg cell development. Immunity 37, 785–799 (2012).

Xu, W. et al. Oncometabolite 2-hydroxyglutarate is a competitive inhibitor of α-ketoglutarate-dependent dioxygenases. Cancer Cell 19, 17–30 (2011).

Yue, X., Lio, C. J., Samaniego-Castruita, D., Li, X. & Rao, A. Loss of TET2 and TET3 in regulatory T cells unleashes effector function. Nat. Commun. 10, 2011 (2019).

Asadi Shahmirzadi, A. et al. Alpha-ketoglutarate, an endogenous metabolite, extends lifespan and compresses morbidity in aging mice. Cell Metab. 32, 447–456.e446 (2020).

Pearce, E. L. & Pearce, E. J. Metabolic pathways in immune cell activation and quiescence. Immunity 38, 633–643 (2013).

Dias, S. et al. Effector regulatory T cell differentiation and immune homeostasis depend on the transcription factor Myb. Immunity 46, 78–91 (2017).

Oh, H. et al. An NF-κB transcription-factor-dependent lineage-specific transcriptional program promotes regulatory T cell identity and function. Immunity 47, 450–465.e455 (2017).

De Rosa, V. et al. Glycolysis controls the induction of human regulatory T cells by modulating the expression of FOXP3 exon 2 splicing variants. Nat. Immunol. 16, 1174–1184 (2015).

Procaccini, C. et al. The proteomic landscape of human ex vivo regulatory and conventional T cells reveals specific metabolic requirements. Immunity 44, 406–421 (2016).

Franco, F., Jaccard, A., Romero, P., Yu, Y. R. & Ho, P. C. Metabolic and epigenetic regulation of T-cell exhaustion. Nat. Metab. 2, 1001–1012 (2020).

Roy, D. G. et al. Methionine metabolism shapes T helper cell responses through regulation of epigenetic reprogramming. Cell Metab. 31, 250–266.e259 (2020).

He, H. et al. Histone methylation mediates plasticity of human FOXP3+ regulatory T cells by modulating signature gene expressions. Immunology 141, 362–376 (2014).

Liu, Y. et al. Epigenome-wide association data implicate DNA methylation as an intermediary of genetic risk in rheumatoid arthritis. Nat. Biotechnol. 31, 142–147 (2013).

Dor, Y. & Cedar, H. Principles of DNA methylation and their implications for biology and medicine. Lancet 392, 777–786 (2018).
Acknowledgements
We thank members of Xuemei Tong's and Bin Li's laboratory for their suggestions. We thank Nan Shen and Pingjing Zhang for technical supports and advice. We acknowledge Tianle Xu for Tktfl/fl mice. We are grateful for the support from Core Facility of Basic Medical Sciences, Shanghai Jiao Tong University School of Medicine. This work was supported by grants from National Key Research and Development Program of China (2021YFF0702100 to X.T.; 2019YFA0906100 to B.L. and X.T.), the National Natural Science Foundation of China (92057117 and 81972210 to X.T.; 32130041, 81830051 and 31961133011 to B.L.) and the Shanghai Municipal Science and Technology Major Project (19JC1410200 to X.T.).
Ethics declarations
Competing interests
B. L. is a co-founder of Biotheus and chair of its scientific advisory board. The remaining authors declare no competing interests.
Peer review
Peer review information
Nature Metabolism thanks Navdeep Chandel, Margarita Dominguez-Villar and Wayne Hancock for their contribution to the peer review of this work. Primary handling editors: Christoph Schmitt and George Caputa, in collaboration with the Nature Cardiovascular Research team.
Additional information
Publisher's note Springer Nature remains neutral with regard to jurisdictional claims in published maps and institutional affiliations.
Supplementary information
Supplementary Figure 1 and Supplementary Tables 1–4
About this article
Cite this article
Liu, Q., Zhu, F., Liu, X. et al. Non-oxidative pentose phosphate pathway controls regulatory T cell function by integrating metabolism and epigenetics. Nat Metab 4, 559–574 (2022). https://doi.org/10.1038/s42255-022-00575-z
Received:

Accepted:

Published:

Issue Date:

DOI: https://doi.org/10.1038/s42255-022-00575-z