Small extracellular vesicles (SEVs) can be used for the selective delivery of therapeutic agents from the blood to the brain. Milbank et al. make use of SEVs to selectively target neurons in the ventromedial hypothalamus of mice, extending this exciting approach to potential applications for the treatment of obesity.
This is a preview of subscription content
Access options
Subscribe to Journal
Get full journal access for 1 year
$119.00
only $9.92 per issue
All prices are NET prices.
VAT will be added later in the checkout.
Tax calculation will be finalised during checkout.
Rent or Buy article
Get time limited or full article access on ReadCube.
from$8.99
All prices are NET prices.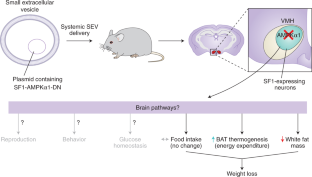 References
1.

Milbank, E. et al. Nat. Metab. https://doi.org/10.1038/s42255-021-00467-8 (2021).

2.

Choi, Y. H., Fujikawa, T., Lee, J., Reuter, A. & Kim, K. W. Front. Neurosci. 7, 71 (2013).

3.

Alvarez-Erviti, L. et al. Nat. Biotechnol. 29, 341–345 (2011).

4.

Fernández-Verdejo, R., Marlatt, K. L., Ravussin, E. & Galgani, J. E. Mol. Aspects Med. 68, 82–89 (2019).

5.

Enerbäck, S. Cell Metab. 11, 248–252 (2010).

6.

Feldmann, H. M., Golozoubova, V., Cannon, B. & Nedergaard, J. Cell Metab. 9, 203–209 (2009).

7.

Cypess, A. M. et al. Cell Metab. 21, 33–38 (2015).

8.

Khodai, T. & Luckman, S. M. Endocrinology 162, bqab141 (2021).

9.

Xu, Y. et al. Cell Metab. 14, 453–465 (2011).

10.

Morrison, S. F. & Madden, C. J. Compr. Physiol. 4, 1677–1713 (2014).
Acknowledgements
This work was supported by National Institutes of Health NIDDK grant R01 DK112198 (to C.J.M.). We thank S. Morrison for critical reading of this work.
Ethics declarations
Competing interests
The authors declare no competing interests.
About this article
Cite this article
Mota, C.M.D., Madden, C.J. A blood-to-brain delivery system to treat obesity. Nat Metab 3, 1288–1289 (2021). https://doi.org/10.1038/s42255-021-00463-y