Exosomes mediate endocrine crosstalk between distant organs and contribute to disease development. Here, Ji, Luo et al. report that hepatocyte-derived exosomes exert temporally divergent roles in glucose regulation. Exosomal roles strongly differ between early and chronic obesity and this shift in function likely reflects altered exosomal miRNA cargos.
Access options
Subscribe to Journal
Get full journal access for 1 year
$119.00
only $9.92 per issue
All prices are NET prices.
VAT will be added later in the checkout.
Tax calculation will be finalised during checkout.
Rent or Buy article
Get time limited or full article access on ReadCube.
from$8.99
All prices are NET prices.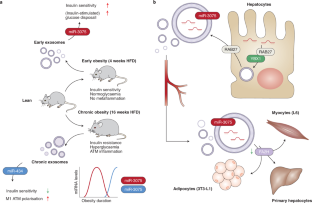 References
1.

Cheng, N. et al. Trends Biotechnol. 37, 1236–1254 (2019).

2.

Sun, S. J. et al. Stem Cell Rep. 16, 1662–1673 (2021).

3.

Ying, W. et al. Cell Metab. 33, 781–790.e5 (2021).

4.

Thomou, T. et al. Nature 542, 450–455 (2017).

5.

Zhang, Y. et al. Cell Biosci. 9, 19 (2019).

6.

Guay, C. et al. Cell Metab. 29, 348–361.e6 (2019).

7.

Pan, Y. et al. J. Clin. Invest. 129, 834–849 (2019).

8.

Ji, Y. et al. Nat. Metab. https://doi.org/10.1038/s42255-021-00444-1 (2021).

9.

Zhao, Y. et al. Nat. Commun. 11, 719 (2020).

10.

Guo, L. et al. J. Biol. Chem. 285, 25438–25447 (2010).
Ethics declarations
Competing interests
The authors declare no competing interests.
About this article
Cite this article
Park, J.H., Kornfeld, JW. ExomiRs at the crossroads—divergent role of exosomal miRNAs in early and chronic obesity. Nat Metab 3, 1137–1138 (2021). https://doi.org/10.1038/s42255-021-00446-z