Over-nutrition is a major driver of obesity, but the mechanisms that promote and perpetuate it remain poorly understood. A recent study explores a role for umami taste in driving leptin resistance, hyperphagia and hypothalamic inflammation via overproduction of uric acid.
Access options
Subscribe to Journal
Get full journal access for 1 year
$119.00
only $9.92 per issue
All prices are NET prices.
VAT will be added later in the checkout.
Tax calculation will be finalised during checkout.
Rent or Buy article
Get time limited or full article access on ReadCube.
from$8.99
All prices are NET prices.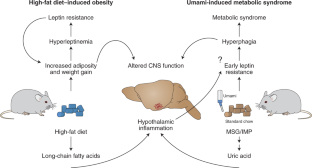 References
1.

Rossi, M. A. & Stuber, G. D. Cell Metab. 27, 42–56 (2018).

2.

Andres-Hernando, A. et al. Nat. Metab. https://doi.org/10.1038/s42255-021-00454-z (2021).

3.

Hannou, S. A., Haslam, D. E., McKeown, N. M. & Herman, M. A. J. Clin. Invest. 128, 545–555 (2018).

4.

Maffei, M. et al. Proc. Natl Acad. Sci. USA 92, 6957–6960 (1995).

5.

Myers, M. G. Jr., Leibel, R. L., Seeley, R. J. & Schwartz, M. W. Trends Endocrinol. Metab. 21, 643–651 (2010).

6.

Knight, Z. A., Hannan, K. S., Greenberg, M. L. & Friedman, J. M. PLoS One 5, e11376 (2010).

7.

Zhao, S. et al. Cell Metab. 30, 706–719.e6 (2019).

8.

Thaler, J. P. et al. J. Clin. Invest. 122, 153–162 (2012).

9.

Lu, W. et al. Sci. Rep. 5, 12144 (2015).

10.

Denis, R. G. et al. Cell Metab. 22, 646–657 (2015).
Ethics declarations
Competing interests
The author declares no competing interests.
About this article
Cite this article
Beutler, L.R. Umami taste—a novel mechanism driving food intake and obesity. Nat Metab 3, 1142–1143 (2021). https://doi.org/10.1038/s42255-021-00445-0