Abstract
Obesity and its consequences are among the greatest challenges in healthcare. The gut microbiome is recognized as a key factor in the pathogenesis of obesity. Using a mouse model, we show here that a wild-derived microbiome protects against excessive weight gain, severe fatty liver disease and metabolic syndrome during a 10-week course of high-fat diet. This phenotype is transferable only during the first weeks of life. In adult mice, neither transfer nor severe disturbance of the wild-type microbiome modifies the metabolic response to a high-fat diet. The protective phenotype is associated with increased secretion of metabolic hormones and increased energy expenditure through activation of brown adipose tissue. Thus, we identify a microbiome that protects against weight gain and its negative consequences through metabolic programming in early life. Translation of these results to humans may identify early-life therapeutics that protect against obesity.
Access options
Subscribe to Journal
Get full journal access for 1 year
$119.00
only $9.92 per issue
All prices are NET prices.
VAT will be added later in the checkout.
Tax calculation will be finalised during checkout.
Rent or Buy article
Get time limited or full article access on ReadCube.
from$8.99
All prices are NET prices.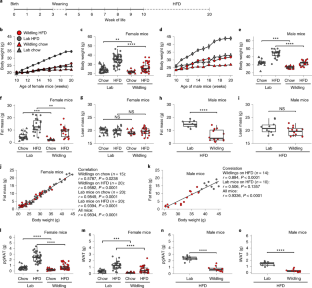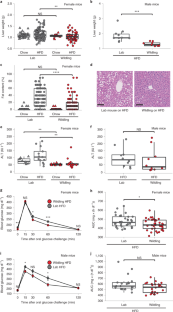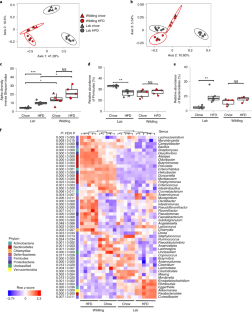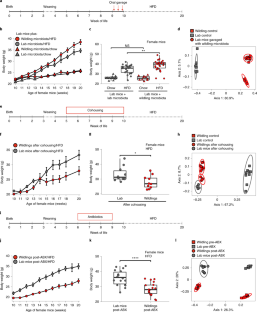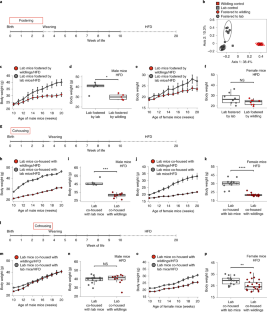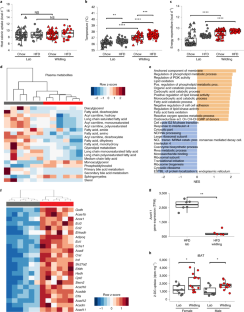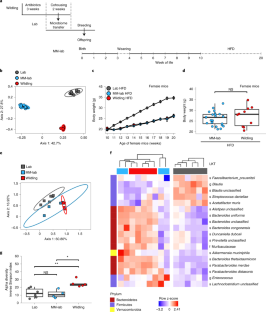 Data availability
Raw sequence data from all 16S, shotgun metagenomics and RNA-sequencing experiments are deposited in the NCBI Sequence Read Archive under BioProject accession number PRJNA735448. Source data for the western blot are provided with this paper. Additional information and materials will be made available upon reasonable request.
References
1.

WHO. The Global Health Observatory https://www.who.int/data/gho/data/themes/mortality-and-global-health-estimates/ghe-leading-causes-of-death (2020).

2.

Flegal, K. M., Kruszon-Moran, D., Carroll, M. D., Fryar, C. D. & Ogden, C. L. Trends in obesity among adults in the united states, 2005 to 2014. JAMA 315, 2284–2291 (2016).

3.

Ogden, C. L. et al. Trends in obesity prevalence among children and adolescents in the united states, 1988–1994 through 2013–2014. JAMA 315, 2292–2299 (2016).

4.

Shreiner, A. B., Kao, J. Y. & Young, V. B. The gut microbiome in health and in disease. Curr. Opin. Gastroenterol. 31, 69–75 (2015).

5.

Belkaid, Y. & Hand, T. W. Role of the microbiota in immunity and inflammation. Cell 157, 121–141 (2014).

6.

Beura, L. K. et al. Normalizing the environment recapitulates adult human immune traits in laboratory mice. Nature 532, 512–516 (2016).

7.

Clemente, J. C., Ursell, L. K., Parfrey, L. W. & Knight, R. The impact of the gut microbiota on human health: an integrative view. Cell 148, 1258–1270 (2012).

8.

Tilg, H., Zmora, N., Adolph, T. E. & Elinav, E. The intestinal microbiota fuelling metabolic inflammation. Nat. Rev. Immunol. 20, 40–54 (2020).

9.

Turnbaugh, P. J. et al. An obesity-associated gut microbiome with increased capacity for energy harvest. Nature 444, 1027–1031 (2006).

10.

Kuang, Z. et al. The intestinal microbiota programs diurnal rhythms in host metabolism through histone deacetylase 3. Science 365, 1428–1434 (2019).

11.

Ridaura, V. K. et al. Gut microbiota from twins discordant for obesity modulate metabolism in mice. Science 341, 1241214 (2013).

12.

Ferretti, P. et al. Mother-to-infant microbial transmission from different body sites shapes the developing infant gut microbiome. Cell Host Microbe 24, 133–145 e135 (2018).

13.

Moeller, A. H. et al. Cospeciation of gut microbiota with hominids. Science 353, 380–382 (2016).

14.

Sonnenburg, E. D. et al. Diet-induced extinctions in the gut microbiota compound over generations. Nature 529, 212–215 (2016).

15.

Clemente, J. C. et al. The microbiome of uncontacted Amerindians. Sci. Adv. https://doi.org/10.1126/sciadv.1500183 (2015).

16.

Pasolli, E. et al. Extensive unexplored human microbiome diversity revealed by over 150,000 genomes from metagenomes spanning age, geography, and lifestyle. Cell 176, 649–662.e620 (2019).

17.

Sonnenburg, J. L. & Sonnenburg, E. D. Vulnerability of the industrialized microbiota. Science https://doi.org/10.1126/science.aaw9255 (2019).

18.

Collaborators, G. B. D. R. F. Global, regional, and national comparative risk assessment of 79 behavioural, environmental and occupational, and metabolic risks or clusters of risks, 1990–2015: a systematic analysis for the Global Burden of Disease Study 2015. Lancet 388, 1659–1724 (2016).

19.

Blaser, M. J. The theory of disappearing microbiota and the epidemics of chronic diseases. Nat. Rev. Immunol. 17, 461–463 (2017).

20.

Sonnenburg, E. D. & Sonnenburg, J. L. The ancestral and industrialized gut microbiota and implications for human health. Nat. Rev. Microbiol 17, 383–390 (2019).

21.

Rosshart, S. P. et al. Laboratory mice born to wild mice have natural microbiota and model human immune responses. Science https://doi.org/10.1126/science.aaw4361 (2019).

22.

Rosshart, S. P. et al. Wild mouse gut microbiota promotes host fitness and improves disease resistance. Cell 171, 1015–1028.e1013 (2017).

23.

Chung, H. et al. Gut immune maturation depends on colonization with a host-specific microbiota. Cell 149, 1578–1593 (2012).

24.

Abdelaal, M., le Roux, C. W. & Docherty, N. G. Morbidity and mortality associated with obesity. Ann. Transl. Med. 5, 161 (2017).

25.

Janochova, K., Haluzik, M. & Buzga, M. Visceral fat and insulin resistance—what we know? Biomed. Pap. Med. Fac. Univ. Palacky Olomouc Czech Repub. 163, 19–27 (2019).

26.

Deng, F., Li, Y. & Zhao, J. The gut microbiome of healthy long-living people. Aging (Albany NY) 11, 289–290 (2019).

27.

Duvallet, C., Gibbons, S. M., Gurry, T., Irizarry, R. A. & Alm, E. J. Meta-analysis of gut microbiome studies identifies disease-specific and shared responses. Nat. Commun. 8, 1784 (2017).

28.

Bisanz, J. E., Upadhyay, V., Turnbaugh, J. A., Ly, K. & Turnbaugh, P. J. Meta-analysis reveals reproducible gut microbiome alterations in response to a high-fat diet. Cell Host Microbe 26, 265–272 e264 (2019).

29.

Guo, J. & Hall, K. D. Estimating the continuous-time dynamics of energy and fat metabolism in mice. PLoS Comput. Biol. 5, e1000511 (2009).

30.

Rui, L. Energy metabolism in the liver. Compr. Physiol. 4, 177–197 (2014).

31.

von Essen, G., Lindsund, E., Cannon, B. & Nedergaard, J. Adaptive facultative diet-induced thermogenesis in wild-type but not in UCP1-ablated mice. Am. J. Physiol. Endocrinol. Metab. 313, E515–E527 (2017).

32.

Zhang, Y. et al. Targeted deletion of thioesterase superfamily member 1 promotes energy expenditure and protects against obesity and insulin resistance. Proc. Natl Acad. Sci. USA 109, 5417–5422 (2012).

33.

Boushey, R. P. & Drucker, D. J. Encyclopedia of Endocrine Disease (ed. Martini, L.) 183–188 (Elsevier, 2004) .

34.

Kirchner, H., Tong, J., Tschop, M. H. & Pfluger, P. T. Ghrelin and PYY in the regulation of energy balance and metabolism: lessons from mouse mutants. Am. J. Physiol. Endocrinol. Metab. 298, E909–E919 (2010).

35.

Vrang, N., Madsen, A. N., Tang-Christensen, M., Hansen, G. & Larsen, P. J. PYY(3–36) reduces food intake and body weight and improves insulin sensitivity in rodent models of diet-induced obesity. Am. J. Physiol. Regul. Integr. Comp. Physiol. 291, R367–R375 (2006).

36.

Boey, D. et al. PYY transgenic mice are protected against diet-induced and genetic obesity. Neuropeptides 42, 19–30 (2008).

37.

Breton, J. et al. Gut commensal E. coli proteins activate host satiety pathways following nutrient-induced bacterial growth. Cell Metab. 23, 324–334 (2016).

38.

Kleinert, M., Sachs, S., Habegger, K. M., Hofmann, S. M. & Muller, T. D. Glucagon regulation of energy expenditure. Int. J. Mol. Sci. https://doi.org/10.3390/ijms20215407 (2019).

39.

Kinoshita, K. et al. Glucagon is essential for adaptive thermogenesis in brown adipose tissue. Endocrinology 155, 3484–3492 (2014).

40.

Al Nabhani, Z. et al. A weaning reaction to microbiota is required for resistance to immunopathologies in the adult. Immunity 50, 1276–1288 e1275 (2019).

41.

Cox, L. M. et al. Altering the intestinal microbiota during a critical developmental window has lasting metabolic consequences. Cell 158, 705–721 (2014).

42.

Lynch, S. V. & Pedersen, O. The human intestinal microbiome in health and disease. N. Engl. J. Med. 375, 2369–2379 (2016).

43.

Negron, S. G., Ercan-Sencicek, A. G., Freed, J., Walters, M. & Lin, Z. Both proliferation and lipogenesis of brown adipocytes contribute to postnatal brown adipose tissue growth in mice. Sci. Rep. 10, 20335 (2020).

44.

Dominguez-Bello, M. G., Godoy-Vitorino, F., Knight, R. & Blaser, M. J. Role of the microbiome in human development. Gut 68, 1108–1114 (2019).

45.

Ribo, S. et al. Increasing breast milk betaine modulates Akkermansia abundance in mammalian neonates and improves long-term metabolic health. Sci. Transl. Med. https://doi.org/10.1126/scitranslmed.abb0322 (2021).

46.

Wolf, M. J. et al. Metabolic activation of intrahepatic CD8+ T cells and NKT cells causes nonalcoholic steatohepatitis and liver cancer via cross-talk with hepatocytes. Cancer Cell 26, 549–564 (2014).

47.

Rakoff-Nahoum, S., Paglino, J., Eslami-Varzaneh, F., Edberg, S. & Medzhitov, R. Recognition of commensal microflora by toll-like receptors is required for intestinal homeostasis. Cell 118, 229–241 (2004).

48.

Evans, A. M. et al. High resolution mass spectrometry improves data quantity and quality as compared to unit mass resolution mass spectrometry in high-throughput profiling metabolomics. Metabolomics (Los Angel.) 2014, 2 (2014).

49.

Ford, L. et al. Precision of a clinical metabolomics profiling platform for use in the identification of inborn errors of metabolism. J. Appl. Lab. Med. 5, 342–356 (2020).

50.

Dehaven, C. D., Evans, A. M., Dai, H. & Lawton, K. A. Organization of GC/MS and LC/MS metabolomics data into chemical libraries. J. Cheminform. 2, 9 (2010).

51.

Evans, A. M., DeHaven, C. D., Barrett, T., Mitchell, M. & Milgram, E. Integrated, nontargeted ultrahigh performance liquid chromatography/electrospray ionization tandem mass spectrometry platform for the identification and relative quantification of the small-molecule complement of biological systems. Anal. Chem. 81, 6656–6667 (2009).

52.

Callahan, B. J. et al. DADA2: high-resolution sample inference from Illumina amplicon data. Nat. Methods 13, 581–583 (2016).

53.

McMurdie, P. J. & Holmes, S. phyloseq: an R package for reproducible interactive analysis and graphics of microbiome census data. PLoS ONE 8, e61217 (2013).

54.

Gower, J. C. Some distance properties of latent root and vector methods used in multivariate analysis. Biometrika 53, 325–338 (1966).

55.

Anderson, M. J. A new method for non-parametric multivariate analysis of variance. Austral. Ecol. 26, 32–46 (2001).

56.

Love, M. I., Huber, W. & Anders, S. Moderated estimation of fold change and dispersion for RNA-seq data with DESeq2. Genome Biol. 15, 550 (2014).

57.

Bolger, A. M., Lohse, M. & Usadel, B. Trimmomatic: a flexible trimmer for Illumina sequence data. Bioinformatics 30, 2114–2120 (2014).

58.

Langmead, B. & Salzberg, S. L. Fast gapped-read alignment with Bowtie 2. Nat. Methods 9, 357–359 (2012).

59.

Li, D., Liu, C. M., Luo, R., Sadakane, K. & Lam, T. W. MEGAHIT: an ultra-fast single-node solution for large and complex metagenomics assembly via succinct de Bruijn graph. Bioinformatics 31, 1674–1676 (2015).

60.

Seemann, T. Prokka: rapid prokaryotic genome annotation. Bioinformatics 30, 2068–2069 (2014).

61.

Wood, D. E. & Salzberg, S. L. Kraken: ultrafast metagenomic sequence classification using exact alignments. Genome Biol. 15, R46 (2014).

62.

Gu, S. et al. Mechanisms for complex chromosomal insertions. PLoS Genet. 12, e1006446 (2016).

63.

Andrews, S. FastQC: A quality control tool for high throughput sequence data. http://www.bioinformatics.babraham.ac.uk/projects/fastqc/ (2010).

64.

Dobin, A. et al. STAR: ultrafast universal RNA-seq aligner. Bioinformatics 29, 15–21 (2013).

65.

Liao, Y., Smyth, G. K. & Shi, W. featureCounts: an efficient general purpose program for assigning sequence reads to genomic features. Bioinformatics 30, 923–930 (2014).
Acknowledgements
We thank Y. Ma, Mouse Metabolism Core, NIDDK, for assistance with 14C-DG uptake studies; M. Walters and Yuhai Dai, NIDDK Clinical Core, for assistance with the Mesoscale assay; C. Ohuigin, W. Yuan, G. Wallace and V. Thovarai (Cancer Inflammation Program Microbiome and Genetics Core, NCI) for 16S rRNA gene sequencing; B. Tran (Sequencing Facility at Leidos Biomedical Research, Inc./Frederick National Laboratory for Cancer Research) for sequencing; A. M. Cypress, R. Wess, J. Pydi (NIDDK) and R. Das Neves (NCI) for discussion; and the University of Michigan Animal Phenotyping Core for faecal bomb calorimetry. This study was funded by the intramural research programmes of the NIDDK and NCI, NIH; and by the NIH Director's Challenge Award program and the DDIR Innovation Award program (B.R.). B.H. was supported by research fellowship no. HI 2088/1–1 from the Deutsche Forschungsgemeinschaft (DFG), Bonn, Germany.
Ethics declarations
Competing interests
The authors declare no competing interests.
Additional information
Peer review information Primary handling editor: George Caputa. Nature Metabolism thanks Gerard Eberl, Cathryn Nagler and the other, anonymous, reviewer(s) for their contribution to the peer review of this work.
Publisher's note Springer Nature remains neutral with regard to jurisdictional claims in published maps and institutional affiliations.
Supplementary information
Supplementary Table 1. Pathogen profile of wildling and lab mice.
About this article
Cite this article
Hild, B., Dreier, M.S., Oh, J.H. et al. Neonatal exposure to a wild-derived microbiome protects mice against diet-induced obesity. Nat Metab 3, 1042–1057 (2021). https://doi.org/10.1038/s42255-021-00439-y
Received:

Accepted:

Published:

Issue Date: