Abstract
Identifying secreted mediators that drive the cognitive benefits of exercise holds great promise for the treatment of cognitive decline in ageing or Alzheimer's disease (AD). Here, we show that irisin, the cleaved and circulating form of the exercise-induced membrane protein FNDC5, is sufficient to confer the benefits of exercise on cognitive function. Genetic deletion of Fndc5/irisin (global Fndc5 knock-out (KO) mice; F5KO) impairs cognitive function in exercise, ageing and AD. Diminished pattern separation in F5KO mice can be rescued by delivering irisin directly into the dentate gyrus, suggesting that irisin is the active moiety. In F5KO mice, adult-born neurons in the dentate gyrus are morphologically, transcriptionally and functionally abnormal. Importantly, elevation of circulating irisin levels by peripheral delivery of irisin via adeno-associated viral overexpression in the liver results in enrichment of central irisin and is sufficient to improve both the cognitive deficit and neuropathology in AD mouse models. Irisin is a crucial regulator of the cognitive benefits of exercise and is a potential therapeutic agent for treating cognitive disorders including AD.
Relevant articles
Open Access articles citing this article.
Charalampos Lyssikatos

,

Zhiying Wang

…

Lynda Bonewald

Scientific Reports Open Access 11 October 2023

Longfei Xu

,

Ran Liu

…

Tianhui Wang

Translational Neurodegeneration Open Access 26 June 2023

Yi Lu

,

Fa-Qian Bu

…

Xiu-Ying Hu

Translational Neurodegeneration Open Access 27 February 2023
Access options
Access Nature and 54 other Nature Portfolio journals
Get Nature+, our best-value online-access subscription
$29.99 / 30 days
cancel any time
Subscribe to this journal
Receive 12 digital issues and online access to articles
$119.00 per year
only $9.92 per issue
Rent or buy this article
Prices vary by article type
from$1.95
to$39.95
Prices may be subject to local taxes which are calculated during checkout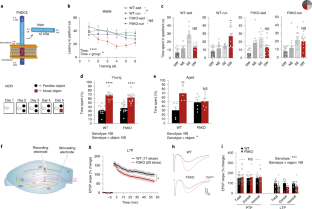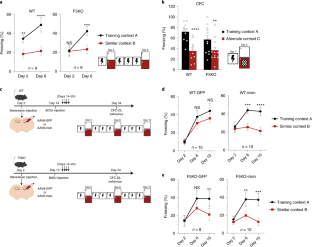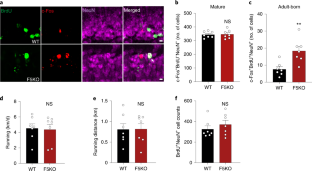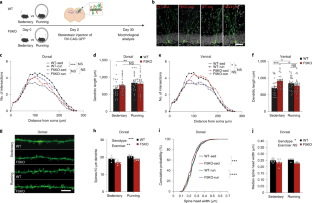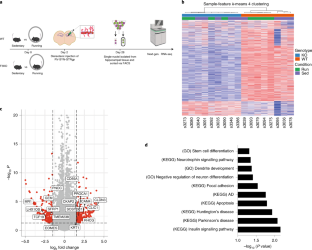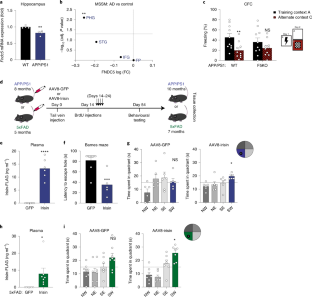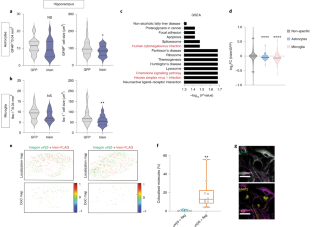 References
Maass, A. et al. Vascular hippocampal plasticity after aerobic exercise in older adults. Mol. Psychiatry 20, 585–593 (2015).

Colcombe, S. & Kramer, A. F. Fitness effects on the cognitive function of older adults: a meta-analytic study. Psychol. Sci. 14, 125–130 (2003).

Voss, M. W. et al. Exercise and hippocampal memory systems. Trends Cogn. Sci. 23, 318–333 (2019).

Buchman, A. S. et al. Total daily physical activity and the risk of AD and cognitive decline in older adults. Neurology 78, 1323–1329 (2012).

van Praag, H., Christie, B. R., Sejnowski, T. J. & Gage, F. H. Running enhances neurogenesis, learning and long-term potentiation in mice. Proc. Natl Acad. Sci. USA 96, 13427–13431 (1999).

Choi, S. H. et al. Combined adult neurogenesis and BDNF mimic exercise effects on cognition in an Alzheimer's mouse model. Science 361, (2018).

Nichol, K. E. et al. Exercise alters the immune profile in Tg2576 Alzheimer mice toward a response coincident with improved cognitive performance and decreased amyloid. J. Neuroinflammation 5, 13 (2008).

Bostrom, P. et al. A PGC1-alpha-dependent myokine that drives brown-fat-like development of white fat and thermogenesis. Nature 481, 463–468 (2012).

Wrann, C. D. et al. Exercise induces hippocampal BDNF through a PGC-1α/FNDC5 pathway. Cell Metab. 18, 649–659 (2013).

Jedrychowski, M. P. et al. Detection and quantitation of circulating human Irisin by tandem mass spectrometry. Cell Metab. 22, 734–740 (2015).

Kim, H. et al. Irisin mediates effects on bone and fat via αV integrin receptors. Cell 175, 1756–1768 (2018).

Lourenco, M. V. et al. Exercise-linked FNDC5/irisin rescues synaptic plasticity and memory defects in Alzheimer's models. Nat. Med. 25, 165–175 (2019).

Mustroph, M. L. et al. Aerobic exercise is the critical variable in an enriched environment that increases hippocampal neurogenesis and water maze learning in male C57BL/6J mice. Neuroscience 219, 62–71 (2012).

Kobilo, T. et al. Running is the neurogenic and neurotrophic stimulus in environmental enrichment. Learn. Mem. 18, 605–609 (2011).

Bolz, L., Heigele, S. & Bischofberger, J. Running improves pattern separation during novel object recognition. Brain Plast. 1, 129–141 (2015).

van Praag, H., Shubert, T., Zhao, C. & Gage, F. H. Exercise enhances learning and hippocampal neurogenesis in aged mice. J. Neurosci. 25, 8680–8685 (2005).

McNaughton, B. L., Barnes, C. A., Meltzer, J. & Sutherland, R. J. Hippocampal granule cells are necessary for normal spatial learning but not for spatially selective pyramidal cell discharge. Exp. Brain Res. 76, 485–496 (1989).

Garthe, A. & Kempermann, G. An old test for new neurons: refining the Morris water maze to study the functional relevance of adult hippocampal neurogenesis. Front. Neurosci. 7, 63 (2013).

McHugh, T. J. et al. Dentate gyrus NMDA receptors mediate rapid pattern separation in the hippocampal network. Science 317, 94–99 (2007).

Hunsaker, M. R. & Kesner, R. P. Evaluating the differential roles of the dorsal dentate gyrus, dorsal CA3 and dorsal CA1 during a temporal ordering for spatial locations task. Hippocampus 18, 955–964 (2008).

Clelland, C. D. et al. A functional role for adult hippocampal neurogenesis in spatial pattern separation. Science 325, 210–213 (2009).

Creer, D. J., Romberg, C., Saksida, L. M., van Praag, H. & Bussey, T. J. Running enhances spatial pattern separation in mice. Proc. Natl Acad. Sci. USA 107, 2367–2372 (2010).

Ally, B. A., Hussey, E. P., Ko, P. C. & Molitor, R. J. Pattern separation and pattern completion in Alzheimer's disease: evidence of rapid forgetting in amnestic mild cognitive impairment. Hippocampus 23, 1246–1258 (2013).

Déry, N. et al. Adult hippocampal neurogenesis reduces memory interference in humans: opposing effects of aerobic exercise and depression. Front. Neurosci. 7, 66 (2013).

Sahay, A. et al. Increasing adult hippocampal neurogenesis is sufficient to improve pattern separation. Nature 472, 466–470 (2011).

Besnard, A., Miller, S. M. & Sahay, A. Distinct dorsal and ventral hippocampal CA3 outputs govern contextual fear discrimination. Cell Rep. 30, 2360–2373 (2020).

Rhodes, J. S., Garland, T. Jr. & Gammie, S. C. Patterns of brain activity associated with variation in voluntary wheel-running behavior. Behav. Neurosci. 117, 1243–1256 (2003).

Oladehin, A. & Waters, R. S. Location and distribution of Fos protein expression in rat hippocampus following acute moderate aerobic exercise. Exp. Brain Res. 137, 26–35 (2001).

Sahay, A., Wilson, D. A. & Hen, R. Pattern separation: a common function for new neurons in hippocampus and olfactory bulb. Neuron 70, 582–588 (2011).

Aimone, J. B., Deng, W. & Gage, F. H. Adult neurogenesis: integrating theories and separating functions. Trends Cogn. Sci. 14, 325–337 (2010).

Colgin, L. L., Moser, E. I. & Moser, M. B. Understanding memory through hippocampal remapping. Trends Neurosci. 31, 469–477 (2008).

Tapia-Rojas, C., Aranguiz, F., Varela-Nallar, L. & Inestrosa, N. C. Voluntary running attenuates memory loss, decreases neuropathological changes and induces neurogenesis in a mouse model of Alzheimer's disease. Brain Pathol. 26, 62–74 (2016).

Moreno-Jiménez, E. P. et al. Adult hippocampal neurogenesis is abundant in neurologically healthy subjects and drops sharply in patients with Alzheimer's disease. Nat. Med. 25, 554–560 (2019).

Spalding, K. L. et al. Dynamics of hippocampal neurogenesis in adult humans. Cell 153, 1219–1227 (2013).

Tobin, M. K. et al. Human hippocampal neurogenesis persists in aged adults and Alzheimer's disease patients. Cell Stem Cell 24, 974–982 (2019).

Mu, Y. & Gage, F. H. Adult hippocampal neurogenesis and its role in Alzheimer's disease. Mol. Neurodegener. 6, 85 (2011).

McAvoy, K. M. et al. Modulating neuronal competition dynamics in the dentate gyrus to rejuvenate aging memory circuits. Neuron 91, 1356–1373 (2016).

Zhao, C., Jou, J., Wolff, L. J., Sun, H. & Gage, F. H. Spine morphogenesis in newborn granule cells is differentially regulated in the outer and middle molecular layers. J. Comp. Neurol. 522, 2756–2766 (2014).

Zhao, C., Teng, E. M., Summers, R. G. Jr., Ming, G. L. & Gage, F. H. Distinct morphological stages of dentate granule neuron maturation in the adult mouse hippocampus. J. Neurosci. 26, 3–11 (2006).

Piatti, V. C. et al. The timing for neuronal maturation in the adult hippocampus is modulated by local network activity. J. Neurosci. 31, 7715–7728 (2011).

van Praag, H. et al. Functional neurogenesis in the adult hippocampus. Nature 415, 1030–1034 (2002).

Goncalves, J. T. et al. In vivo imaging of dendritic pruning in dentate granule cells. Nat. Neurosci. 19, 788–791 (2016).

Anacker, C. et al. Hippocampal neurogenesis confers stress resilience by inhibiting the ventral dentate gyrus. Nature 559, 98–102 (2018).

Duman, J. G. et al. The adhesion-GPCR BAI1 shapes dendritic arbors via Bcr-mediated RhoA activation causing late growth arrest. eLife 8, e47566 (2019).

Saunders, A. et al. Molecular diversity and specializations among the cells of the adult mouse brain. Cell 174, 1015–1030 (2018).

Vivar, C. et al. Monosynaptic inputs to new neurons in the dentate gyrus. Nat. Commun. 3, 1107 (2012).

Huang da, W., Sherman, B. T. & Lempicki, R. A. Systematic and integrative analysis of large gene lists using DAVID bioinformatics resources. Nat. Protoc. 4, 44–57 (2009).

Huang da, W., Sherman, B. T. & Lempicki, R. A. Bioinformatics enrichment tools: paths toward the comprehensive functional analysis of large gene lists. Nucleic Acids Res. 37, 1–13 (2009).

Subramanian, A. et al. Gene-set enrichment analysis: a knowledge-based approach for interpreting genome-wide expression profiles. Proc. Natl Acad. Sci. USA 102, 15545 (2005).

Mootha, V. K. et al. PGC-1α-responsive genes involved in oxidative phosphorylation are coordinately downregulated in human diabetes. Nat. Genet. 34, 267–273 (2003).

Jankowsky, J. L. et al. Mutant presenilins specifically elevate the levels of the 42 residue beta-amyloid peptide in vivo: evidence for augmentation of a 42-specific gamma secretase. Hum. Mol. Genet. 13, 159–170 (2004).

Fang, E. F. et al. Mitophagy inhibits amyloid-β and tau pathology and reverses cognitive deficits in models of Alzheimer's disease. Nat. Neurosci. 22, 401–412 (2019).

Wan, Y.-W. et al. Meta-analysis of the Alzheimer's disease human brain transcriptome and functional dissection in mouse models. Cell Rep. 32, 107908 (2020).

Haass, C. & Selkoe, D. J. Soluble protein oligomers in neurodegeneration: lessons from the Alzheimer's amyloid β-peptide. Nat. Rev. Mol. Cell Biol. 8, 101–112 (2007).

Stakos, D. A. et al. The Alzheimer's disease amyloid-beta hypothesis in cardiovascular aging and disease: JACC Focus Seminar. J. Am. Coll. Cardiol. 75, 952–967 (2020).

Oakley, H. et al. Intraneuronal beta-amyloid aggregates, neurodegeneration, and neuron loss in transgenic mice with five familial Alzheimer's disease mutations: potential factors in amyloid plaque formation. J. Neurosci. 26, 10129–10140 (2006).

Pluvinage, J. V. & Wyss-Coray, T. Systemic factors as mediators of brain homeostasis, ageing and neurodegeneration. Nat. Rev. Neurosci. 21, 93–102 (2020).

Leyns, C. E. G. & Holtzman, D. M. Glial contributions to neurodegeneration in tauopathies. Mol. neurodegener. 12, 50 (2017).

Hochgerner, H., Zeisel, A., Lonnerberg, P. & Linnarsson, S. Conserved properties of dentate gyrus neurogenesis across postnatal development revealed by single-cell RNA sequencing. Nat. Neurosci. 21, 290–299 (2018).

Hong, S. et al. Complement and microglia mediate early synapse loss in Alzheimer mouse models. Science 352, 712–716 (2016).

Guo, W. et al. Ablation of Fmrp in adult neural stem cells disrupts hippocampus-dependent learning. Nat. Med. 17, 559–565 (2011).

Guo, W., Patzlaff, N. E., Jobe, E. M. & Zhao, X. Isolation of multipotent neural stem or progenitor cells from both the dentate gyrus and subventricular zone of a single adult mouse. Nat. Protoc. 7, 2005–2012 (2012).

Sah, N., Peterson, B. D., Lubejko, S. T., Vivar, C. & van Praag, H. Running reorganizes the circuitry of one-week-old adult-born hippocampal neurons. Sci. Rep. 7, 10903 (2017).

Nuber, S. et al. Abrogating native α-synuclein tetramers in mice causes a L-DOPA-responsive motor syndrome closely resembling Parkinson's disease. Neuron 100, 75–90 (2018).

Liu, B. et al. Space-like 56Fe irradiation manifests mild, early sex-specific behavioral and neuropathological changes in wild-type and Alzheimer's-like transgenic mice. Sci. Rep. 9, 12118 (2019).

Caldarone, B. J. et al. The novel triple reuptake inhibitor JZAD-IV-22 exhibits an antidepressant pharmacological profile without locomotor stimulant or sensitization properties. J. Pharmacol. Exp. Ther. 335, 762–770 (2010).

Shi, Q. et al. Complement C3-deficient mice fail to display age-related hippocampal decline. J. Neurosci. 35, 13029–13042 (2015).

Morris, R. Developments of a water-maze procedure for studying spatial learning in the rat. J. Neurosci. Methods 11, 47–60 (1984).

Vorhees, C. V. & Williams, M. T. Morris water maze: procedures for assessing spatial and related forms of learning and memory. Nat. Protoc. 1, 848–858 (2006).

Leger, M. et al. Object recognition test in mice. Nat. Protoc. 8, 2531–2537 (2013).

Wolf, A., Bauer, B., Abner, E. L., Ashkenazy-Frolinger, T. & Hartz, A. M. A comprehensive behavioral test battery to assess learning and memory in 129S6/Tg2576 mice. PLoS ONE 11, e0147733 (2016).

Faizi, M. et al. Thy1-hAPP(Lond/Swe+) mouse model of Alzheimer's disease displays broad behavioral deficits in sensorimotor, cognitive and social function. Brain Behav. 2, 142–154 (2012).

Zhao, X. & van Praag, H. Steps towards standardized quantification of adult neurogenesis. Nat. Commun. 11, 4275 (2020).

Young, K. & Morrison, H. Quantifying microglia morphology from photomicrographs of immunohistochemistry prepared tissue using ImageJ. J. Vis. Exp. 136, (2018).

Fontaine, C. J. et al. Impaired bidirectional synaptic plasticity in juvenile offspring following prenatal ethanol exposure. Alcohol. Clin. Exp. Res. 43, 2153–2166 (2019).

Peñasco, S. et al. Endocannabinoid long-term depression revealed at medial perforant path excitatory synapses in the dentate gyrus. Neuropharmacology 153, 32–40 (2019).

Schmittgen, T. D. & Livak, K. J. Analyzing real-time PCR data by the comparative CT method. Nat. Protoc. 3, 1101–1108 (2008).

Schmider, A. B. et al. Two- and three-color STORM analysis reveals higher-order assembly of leukotriene synthetic complexes on the nuclear envelope of murine neutrophils. J. Biol. Chem. 295, 5761–5770 (2020).

Bilsland, J. G. et al. Behavioral and neurochemical alterations in mice deficient in anaplastic lymphoma kinase suggest therapeutic potential for psychiatric indications. Neuropsychopharmacology 33, 685–700 (2008).

Kim, W. B. & Cho, J.-H. Encoding of contextual fear memory in hippocampal–amygdala circuit. Nat. Commun. 11, 1382 (2020).
Acknowledgements
This work was supported by National Institutes of Health (NIH) grant nos. NS087096, AG062904 and AG064580 (to C.D.W.), 1R01AR065538, 1R01CA193520, R01DK062472 and S10RR027931 (to R.J.S.), K01DK089145 and R01DK062472 (to A.B.S.); the Cure Alzheimer's Fund (to C.D.W., S.H.C. and R.E.T.); an Alzheimer Association Research Grant (to C.D.W.), a SPARC Award from the McCance Center for Brain Health (to C.D.W.), the NeuroBehavior Laboratory Pilot Project Research Award from the Harvard NeuroDiscovery Center (to C.D.W.), the Hassenfeld Clinical Scholar Award (to C.D.W.), the Claflin Distinguished Scholar Award (to C.D.W.), the Harvard Brain Science Initiative Young Scientist Travel Award (to M.R.I.), the MSFHR (to B.R.C. and L.E.B.B.), the FRAXA (to B.R.C. and L.E.B.B.), the FXRFC (to B.R.C. and L.E.B.B.), the NSERC (to B.R.C. and L.E.B.B.), the CIHR (to B.R.C. and L.E.B.B.), the JPB Foundation (to B.M.S.) and the MGH Molecular Imaging Core (to R.J.S.). We thank H. Van Praag for critical comments on the study design, data analysis and the manuscript, and for providing us with the RV-CAG-GFP and RV-SYN-GTRgp. We acknowledge K. Gerber for technical assistance. We thank all members of the laboratory of C.D.W. for helpful discussions. We thank L. Djenoune for great help with Adobe Illustrator. We thank Z. Herbert from the Molecular Biology Core Facilities at the Dana-Farber Cancer Institute for support. We acknowledge J. Long for help with designing the AAV8-irisin. We acknowledge the MGH Viral Vector Core (supported by NIH/NINDS P30NS04776) and the Penn Vector core for technical and instrument support. Schematic icons in Figs. 4 and 5 were created with BioRender.com.
Ethics declarations
Competing interests
The authors declare the following competing interests: B.M.S. and C.D.W. hold a patent related to irisin (WO2015051007A1). B.M.S. and C.D.W. are academic co-founders and consultants for Aevum Therapeutics. C.D.W. has a financial interest in Aevum Therapeutics, a company developing drugs that harness the protective molecular mechanisms of exercise to treat neurodegenerative and neuromuscular disorders. C.D.W.'s interests were reviewed and are managed by MGH and Mass General Brigham in accordance with their conflict-of-interest policies. The other authors declare no competing interests.
Additional information
Peer review information Primary Handling Editor: Christoph Schmitt. Nature Metabolism thanks the anonymous reviewers for their contribution to the peer review of this work.
Publisher's note Springer Nature remains neutral with regard to jurisdictional claims in published maps and institutional affiliations.
Supplementary information
Supplementary Methods, Supplementary Data 1–3, references and code
About this article
Cite this article
Islam, M.R., Valaris, S., Young, M.F. et al. Exercise hormone irisin is a critical regulator of cognitive function. Nat Metab 3, 1058–1070 (2021). https://doi.org/10.1038/s42255-021-00438-z
Received:

Accepted:

Published:

Issue Date:

DOI: https://doi.org/10.1038/s42255-021-00438-z