Diabetes therapeutic approaches continue to expand and to be refined. As the field moves toward more intensive insulin- and cell-based therapies, care must be taken to mimic healthy physiological insulin dynamics and avoid hyperinsulinemia, with its deleterious downstream complications.
This is a preview of subscription content
Access options
Subscribe to Journal
Get full journal access for 1 year
$119.00
only $9.92 per issue
All prices are NET prices.
VAT will be added later in the checkout.
Tax calculation will be finalised during checkout.
Rent or Buy article
Get time limited or full article access on ReadCube.
from$8.99
All prices are NET prices.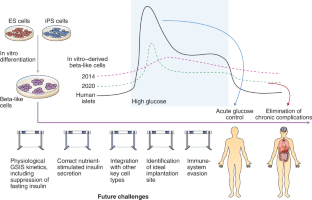 References
1.

Gregory, J. M., Cherrington, A. D. & Moore, D. J. Diabetes 69, 837–847 (2020).

2.

Heller, S. Diabetes Res. Clin. Pract. 65 (Suppl. 1), S23–S27 (2004).

3.

Warnock, G. L. et al. Transplantation 86, 1762–1766 (2008).

4.

Gamble, A., Pepper, A. R., Bruni, A. & Shapiro, A. M. J. Islets 10, 80–94 (2018).

5.

Kolic, J. et al. Endocrinology 161, bqaa162 (2020).

6.

Pagliuca, F. W. et al. Cell 159, 428–439 (2014).

7.

Rezania, A. et al. Nat. Biotechnol. 32, 1121–1133 (2014).

8.

Mahaddalkar, P. U. et al. Nat. Biotechnol. 38, 1061–1072 (2020).

9.

Velazco-Cruz, L. et al. Stem Cell Rep. 12, 351–365 (2019).

10.

Marchetti, P. et al. Diabetes 43, 827–830 (1994).

11.

Seino, S., Shibasaki, T. & Minami, K. J. Clin. Invest. 121, 2118–2125 (2011).

12.

Satin, L. S., Butler, P. C., Ha, J. & Sherman, A. S. Mol. Aspects Med. 42, 61–77 (2015).

13.

Lin, J. M., Fabregat, M. E., Gomis, R. & Bergsten, P. Diabetes 51, 988–993 (2002).

14.

Wortham, M. et al. Preprint at bioRxiv https://doi.org/10.1101/742403 (2019).

15.

Zhang, A. M. Y., Wellberg, E. A., Kopp, J. L. & Johnson, J. D. Diabetes Metab. J. 45, 285–311 (2021).
Acknowledgements
We thank many colleagues, including J. Kushner, F. Lynn and T. Kieffer, for illuminating discussions on this topic over the years. We thank all of the authors whose work has inspired us.
Ethics declarations
Competing interests
The authors declare no competing interests.
Additional information
Peer review information Nature Metabolism thanks the anonymous reviewers for their contribution to the peer review of this work.
About this article
Cite this article
Kolic, J., Johnson, J.D. Promises and pitfalls of beta cell–replacement therapies. Nat Metab 3, 1036–1037 (2021). https://doi.org/10.1038/s42255-021-00433-4