Abstract
Males and females exhibit striking differences in the prevalence of metabolic traits including hepatic steatosis, a key driver of cardiometabolic morbidity and mortality. RNA methylation is a widespread regulatory mechanism of transcript turnover. Here, we show that presence of the RNA modification N6-methyladenosine (m6A) triages lipogenic transcripts for degradation and guards against hepatic triglyceride accumulation. In male but not female mice, this protective checkpoint stalls under lipid-rich conditions. Loss of m6A control in male livers increases hepatic triglyceride stores, leading to a more 'feminized' hepatic lipid composition. Crucially, liver-specific deletion of the m6A complex protein Mettl14 from male and female mice significantly diminishes sex-specific differences in steatosis. We further surmise that the m6A installing machinery is subject to transcriptional control by the sex-responsive BCL6–STAT5 axis in response to dietary conditions. These data show that m6A is essential for precise and synchronized control of lipogenic enzyme activity and provide insights into the molecular basis for the existence of sex-specific differences in hepatic lipid traits.
Your institute does not have access to this article
Access options
Subscribe to Nature+
Get immediate online access to the entire Nature family of 50+ journals
Subscribe to Journal
Get full journal access for 1 year
$119.00
only $9.92 per issue
All prices are NET prices.
VAT will be added later in the checkout.
Tax calculation will be finalised during checkout.
Buy article
Get time limited or full article access on ReadCube.
$32.00
All prices are NET prices.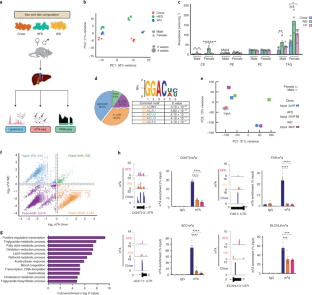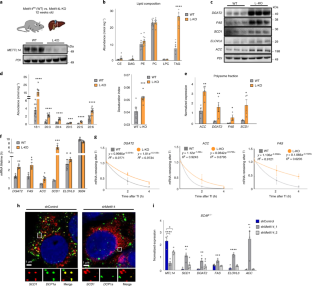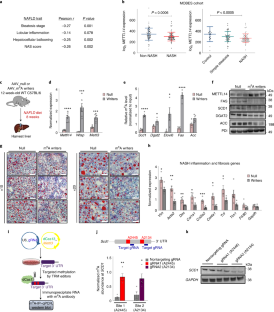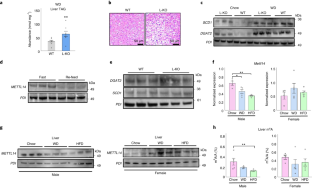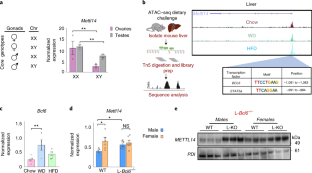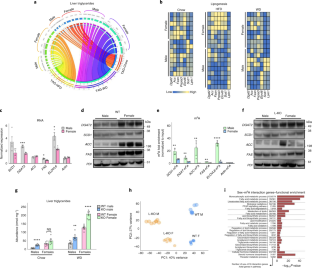 Data availability
RNA-seq, m6A-seq and ATAC–seq data can be accessed at the NIH Sequence Read Archive repository under accessions PRJNA663718 and GSE157907. Source data are provided with this paper.
References
Horton, J. D., Goldstein, J. L. & Brown, M. S. SREBPs: activators of the complete program of cholesterol and fatty acid synthesis in the liver. J. Clin. Investi 109, 1125–1131 (2002).

Shimomura, I. et al. Insulin selectively increases SREBP-1c mRNA in the livers of rats with streptozotocin-induced diabetes. Proc. Natl Acad. Sci. USA 96, 13656–13661 (1999).

Shimano, H. et al. Isoform 1c of sterol regulatory element-binding protein is less active than isoform 1a in livers of transgenic mice and in cultured cells. J. Clin. Invest. 99, 846–854 (1997).

Lee, K. N., Pariza, M. W. & Ntambi, J. M. Differential expression of hepatic stearoyl-CoA desaturase gene 1 in male and female mice. Biochim. Biophys. Acta 1304, 85–88 (1996).

Horton, J. D., Shimano, H., Hamilton, R. L., Brown, M. S. & Goldstein, J. L. Disruption of LDL receptor gene in transgenic SREBP-1a mice unmasks hyperlipidemia resulting from production of lipid-rich VLDL. J. Clin. Invest. 103, 1067–1076 (1999).

Roundtree, I. A., Evans, M. E., Pan, T. & He, C. Dynamic RNA modifications in gene expression regulation. Cell 169, 1187–1200 (2017).

Frye, M., Harada, B. T., Behm, M. & He, C. RNA modifications modulate gene expression during development. Science 361, 1346–1349 (2018).

Meyer, K. D. & Jaffrey, S. R. The dynamic epitranscriptome: N6-methyladenosine and gene expression control. Nat. Rev. Mol. Cell Biol. 15, 313–326 (2014).

Zaccara, S., Ries, R. J. & Jaffrey, S. R. Reading, writing and erasing mRNA methylation. Nat. Rev. Mol. Cell Biol. 20, 608–624 (2019).

Wang, X. et al. N6-methyladenosine-dependent regulation of messenger RNA stability. Nature 505, 117–120 (2014).

Engel, M. et al. The role of m6A/m-RNA methylation in stress response regulation. Neuron 99, 389–403 (2018).

Linder, B. et al. Single-nucleotide-resolution mapping of m6A and m6Am throughout the transcriptome. Nat. Methods 12, 767–772 (2015).

Weng, H. et al. METTL14 inhibits hematopoietic stem/progenitor differentiation and promotes leukemogenesis via mRNA m6A modification. Cell Stem Cell 22, 191–205 (2018).

Liu, J. et al. N6-methyladenosine of chromosome-associated regulatory RNA regulates chromatin state and transcription. Science 367, 580–586 (2020).

Sun, Z. et al. Hepatic Hdac3 promotes gluconeogenesis by repressing lipid synthesis and sequestration. Nat. Med. 18, 934–942 (2012).

Lu, M. et al. Insulin regulates liver metabolism in vivo in the absence of hepatic Akt and Foxo1. Nat. Med. 18, 388–395 (2012).

Ries, R. J. et al. m6A enhances the phase separation potential of mRNA. Nature 571, 424–428 (2019).

Zaccara, S. & Jaffrey, S. R. A unified model for the function of YTHDF proteins in regulating m6A-modified mRNA. Cell 181, 1582–1595 (2020).

Attie, A. D. et al. Relationship between stearoyl-CoA desaturase activity and plasma triglycerides in human and mouse hypertriglyceridemia. J. Lipid Res. 43, 1899–1907 (2002).

Ou, J. et al. Unsaturated fatty acids inhibit transcription of the sterol regulatory element-binding protein-1c (SREBP-1c) gene by antagonizing ligand-dependent activation of the LXR. Proc. Natl Acad. Sci. USA 98, 6027–6032 (2001).

Dentin, R. et al. Polyunsaturated fatty acids suppress glycolytic and lipogenic genes through the inhibition of ChREBP nuclear protein translocation. J. Clin. Invest. 115, 2843–2854 (2005).

Matsuda, M. et al. SREBP cleavage-activating protein (SCAP) is required for increased lipid synthesis in liver induced by cholesterol deprivation and insulin elevation. Genes Dev. 15, 1206–1216 (2001).

Shao, W., Machamer, C. E. & Espenshade, P. J. Fatostatin blocks ER exit of SCAP but inhibits cell growth in a SCAP-independent manner. J. Lipid Res. 57, 1564–1573 (2016).

Xiong, X. et al. Landscape of intercellular crosstalk in healthy and NASH liver revealed by single-cell secretome gene analysis. Mol. Cell 75, 644–660 (2019).

Kleiner, D. E. et al. Design and validation of a histological scoring system for non-alcoholic fatty liver disease. Hepatology 41, 1313–1321 (2005).

Wilson, C., Chen, P. J., Miao, Z. & Liu, D. R. Programmable m6A modification of cellular RNAs with a Cas13-directed methyltransferase. Nat. Biotechnol. 38, 1431–1440 (2020).

Liu, X. M., Zhou, J., Mao, Y., Ji, Q. & Qian, S. B. Programmable RNA N6-methyladenosine editing by CRISPR–Cas9 conjugates. Nat. Chem. Biol. 15, 865–871 (2019).

Link, J. C. et al. X chromosome dosage of histone demethylase KDM5C determines sex differences in adiposity. J. Clin. Invest. 130, 5688–5702 (2020).

Buenrostro, J. D., Giresi, P. G., Zaba, L. C., Chang, H. Y. & Greenleaf, W. J. Transposition of native chromatin for fast and sensitive epigenomic profiling of open chromatin, DNA-binding proteins and nucleosome position. Nat. Methods 10, 1213–1218 (2013).

Sommars, M. A. et al. Dynamic repression by BCL6 controls the genome-wide liver response to fasting and steatosis. eLife 8, e43922 (2019).

Senagolage, M. D. et al. Loss of transcriptional repression by BCL6 confers insulin sensitivity in the setting of obesity. Cell Rep. 25, 3283–3298 (2018).

Kutyavin, V. I. & Chawla, A. BCL6 regulates brown adipocyte dormancy to maintain thermogenic reserve and fitness. Proc. Natl Acad. Sci. USA 116, 17071–17080 (2019).

Zhang, Y., Laz, E. V. & Waxman, D. J. Dynamic, sex-differential STAT5 and BCL6 binding to sex-biased, growth hormone-regulated genes in adult mouse liver. Mol. Cell. Biol. 32, 880–896 (2012).

Connerney, J., Lau-Corona, D., Rampersaud, A. & Waxman, D. J. Activation of male liver chromatin accessibility and STAT5-dependent gene transcription by plasma growth hormone pulses. Endocrinology 158, 1386–1405 (2017).

Qasem, R. J. et al. Decreased liver triglyceride content in adult rats exposed to protein restriction during gestation and lactation: role of hepatic triglyceride utilization. Clin. Exp. Pharmacol. Physiol. 42, 380–388 (2015).

Zhang, W. et al. FoxO1 regulates multiple metabolic pathways in the liver: effects on gluconeogenic, glycolytic, and lipogenic gene expression. J. Biol. Chem. 281, 10105–10117 (2006).

Link, J. C. & Reue, K. Genetic basis for sex differences in obesity and lipid metabolism. Annu Rev. Nutr. 37, 225–245 (2017).

Rinn, J. L. & Snyder, M. Sexual dimorphism in mammalian gene expression. Trends Genet. 21, 298–305 (2005).

Wang, B. & Tontonoz, P. Liver X receptors in lipid signalling and membrane homeostasis. Nat. Rev. Endocrinol. 14, 452–463 (2018).

Lonardo, A. et al. Sex differences in non-alcoholic fatty liver disease: state of the art and identification of research gaps. Hepatology 70, 1457–1469 (2019).

McIntyre, A. B. R. et al. Limits in the detection of m6A changes using MeRIP/m6A-seq. Sci. Rep. 10, 6590 (2020).

Xu, J., Teran-Garcia, M., Park, J. H., Nakamura, M. T. & Clarke, S. D. Polyunsaturated fatty acids suppress hepatic sterol regulatory element-binding protein-1 expression by accelerating transcript decay. J. Biol. Chem. 276, 9800–9807 (2001).

Sessler, A. M., Kaur, N., Palta, J. P. & Ntambi, J. M. Regulation of stearoyl-CoA desaturase 1 mRNA stability by polyunsaturated fatty acids in 3T3-L1 adipocytes. J. Biol. Chem. 271, 29854–29858 (1996).

Wang, X. et al. Hepatocyte TAZ/WWTR1 promotes inflammation and fibrosis in non-alcoholic steatohepatitis. Cell Metab. 24, 848–862 (2016).

Rong, X. et al. LXRs regulate ER stress and inflammation through dynamic modulation of membrane phospholipid composition. Cell Metab. 18, 685–697 (2013).

Sallam, T. et al. Feedback modulation of cholesterol metabolism by the lipid-responsive non-coding RNA LeXis. Nature 534, 124–128 (2016).

Zhang, L. et al. Inhibition of cholesterol biosynthesis through RNF145-dependent ubiquitination of SCAP. eLife 6, e28766 (2017).

Sallam, T. et al. Transcriptional regulation of macrophage cholesterol efflux and atherogenesis by a long noncoding RNA. Nat. Med. 24, 304–312 (2018).

Zhang, Z. et al. Collaborative interactions of heterogenous ribonucleoproteins contribute to transcriptional regulation of sterol metabolism in mice. Nat. Commun. 11, 984 (2020).

Dobin, A. et al. STAR: ultrafast universal RNA-seq aligner. Bioinformatics 29, 15–21 (2013).

Casero, D. et al. Long non-coding RNA profiling of human lymphoid progenitor cells reveals transcriptional divergence of B cell and T cell lineages. Nat. Immunol. 16, 1282–1291 (2015).

Love, M. I., Huber, W. & Anders, S. Moderated estimation of fold change and dispersion for RNA-seq data with DESeq2. Genome Biol. 15, 550 (2014).

Si, Y., Liu, P., Li, P. & Brutnell, T. P. Model-based clustering for RNA-seq data. Bioinformatics 30, 197–205 (2013).

Zhou, Y. et al. Metascape provides a biologist-oriented resource for the analysis of systems-level datasets. Nat. Commun. 10, 1523 (2019).

Dominissini, D. et al. Topology of the human and mouse m6A RNA methylomes revealed by m6A-seq. Nature 485, 201–206 (2012).

Salmon-Divon, M., Dvinge, H., Tammoja, K. & Bertone, P. PeakAnalyzer: genome-wide annotation of chromatin binding and modification loci. BMC Bioinformatics 11, 415 (2010).

Bailey, T. L. & Machanick, P. Inferring direct DNA binding from ChIP–seq. Nucleic Acids Res. 40, e128 (2012).

Rogers, G. W. et al. High-throughput microplate respiratory measurements using minimal quantities of isolated mitochondria. PLoS ONE 6, e21746 (2011).

Kedersha, N. & Anderson, P. Mammalian stress granules and processing bodies. Methods Enzymol. 431, 61–81 (2007).
Acknowledgements
This work was supported by National Institute of Health (NIH) grants (DK118086 to T.S., HL139549 to T.S., HL149766 to T.S., NS111631 to S.R.J., CA186702 to S.R.J., CA236399 to J.C., CA214965 to J.C. and CA243386 to J.C.), an American Heart Association Transformational Project grant (to T.S.) and a Burroughs Wellcome Fund Career Award for Medical Scientists (to T.S.). J.C. is a Leukemia & Lymphoma Society (LLS) Scholar. Schematics for Fig. 1a were created with BioRender.com.
Ethics declarations
Competing interests
J.C. is a scientific founder of Genovel Biotech and holds equities with the company, and is also a Scientific Advisor for Race Oncology. A patent related to this work is issued to T.S. The other authors declare no competing interests.
Additional information
Peer review information Nature Metabolism thanks Fabienne Foufelle and the other, anonymous, reviewer(s) for their contribution to the peer review of this work. Primary Handling Editor: Isabella Samuelson.
Publisher's note Springer Nature remains neutral with regard to jurisdictional claims in published maps and institutional affiliations.
Supplementary information
About this article
Cite this article
Salisbury, D.A., Casero, D., Zhang, Z. et al. Transcriptional regulation of N6-methyladenosine orchestrates sex-dimorphic metabolic traits. Nat Metab 3, 940–953 (2021). https://doi.org/10.1038/s42255-021-00427-2
Received:

Accepted:

Published:

Issue Date:

DOI: https://doi.org/10.1038/s42255-021-00427-2