Abstract
Chronic pain is the leading cause of disability worldwide1 and is commonly associated with comorbid disorders2. However, the role of diet in chronic pain is poorly understood. Of particular interest is the Western-style diet, enriched with ω-6 polyunsaturated fatty acids (PUFAs) that accumulate in membrane phospholipids and oxidise into pronociceptive oxylipins3,4. Here we report that mice administered an ω-6 PUFA-enriched diet develop persistent nociceptive hypersensitivities, spontaneously active and hyper-responsive glabrous afferent fibres and histologic markers of peripheral nerve damage reminiscent of a peripheral neuropathy. Linoleic and arachidonic acids accumulate in lumbar dorsal root ganglia, with increased liberation via elevated phospholipase (PLA)2 activity. Pharmacological and molecular inhibition of PLA2G7 or diet reversal with high levels of ω-3 PUFAs attenuate nociceptive behaviours, neurophysiologic abnormalities and afferent histopathology induced by high ω-6 intake. Additionally, ω-6 PUFA accumulation exacerbates allodynia observed in preclinical inflammatory and neuropathic pain models and is strongly correlated with multiple pain indices of clinical diabetic neuropathy. Collectively, these data reveal dietary enrichment with ω-6 PUFAs as a new aetiology of peripheral neuropathy and risk factor for chronic pain and implicate multiple therapeutic considerations for clinical pain management.
Relevant articles
Open Access articles citing this article.
Nada Birkic

,

Toni Azar

…

Christian A. Reynolds

Scientific Reports Open Access 25 October 2022

Alexis Ceecee Britten-Jones

,

Jennifer P. Craig

…

Laura E. Downie

Eye Open Access 26 September 2022

Jessica A. Tierney

,

Calvin D. Uong

…

Michael D. Burton

Scientific Reports Open Access 01 September 2022
Access options
Subscribe to Nature+
Get immediate online access to Nature and 55 other Nature journal
Subscribe to Journal
Get full journal access for 1 year
$99.00
only $8.25 per issue
All prices are NET prices.
VAT will be added later in the checkout.
Tax calculation will be finalised during checkout.
Buy article
Get time limited or full article access on ReadCube.
$32.00
All prices are NET prices.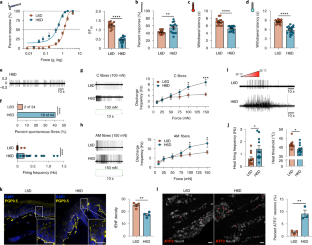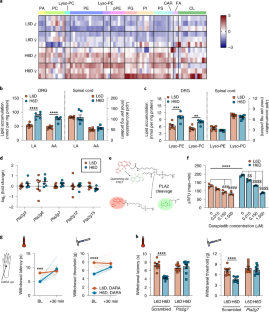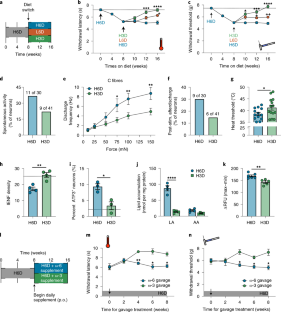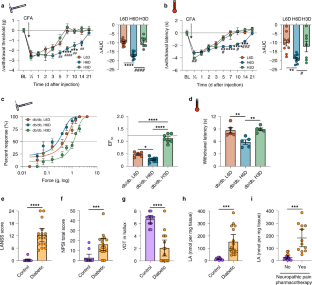 Data availability
Data that support the findings of this study are available from the corresponding author upon request. Source data are provided with this paper.
References
Vos, T. et al. Global, regional, and national incidence, prevalence, and years lived with disability for 328 diseases and injuries for 195 countries, 1990–2016: a systematic analysis for the Global Burden of Disease Study 2016. Lancet 390, 1211–1259 (2017).

Mills, S. E. E., Nicolson, K. P. & Smith, B. H. Chronic pain: a review of its epidemiology and associated factors in population-based studies. Br. J. Anaesth. 123, e273–e283 (2019).

Gabbs, M., Leng, S., Devassy, J. G., Monirujjaman, M. & Aukema, H. M. Advances in our understanding of oxylipins derived from dietary PUFAs. Adv. Nutr. 6, 513–540 (2015).

Shearer, G. C. & Walker, R. E. An overview of the biologic effects of omega-6 oxylipins in humans. Prostaglandins Leukot. Essent. Fatty Acids 137, 26–38 (2018).

Simopoulos, A. P. Evolutionary aspects of diet, the omega-6/omega-3 ratio and genetic variation: nutritional implications for chronic diseases. Biomed. Pharmacother. 60, 502–507 (2006).

Mann, J. I. Diet and risk of coronary heart disease and type 2 diabetes. Lancet 360, 783–789 (2002).

Manzel, A. et al. Role of 'western diet' in inflammatory autoimmune diseases. Curr. Allergy Asthma Rep. 14, 404 (2014).

Blasbalg, T. L., Hibbeln, J. R., Ramsden, C. E., Majchrzak, S. F. & Rawlings, R. R. Changes in consumption of omega-3 and omega-6 fatty acids in the United States during the 20th century. Am. J. Clin. Nutr. 93, 950–962 (2011).

Kris-Etherton, P. M. et al. Polyunsaturated fatty acids in the food chain in the United States. Am. J. Clin. Nutr. 71, 179S–188S (2000).

Patwardhan, A. M. et al. Heat generates oxidized linoleic acid metabolites that activate TRPV1 and produce pain in rodents. J. Clin. Invest. 120, 1617–1626 (2010).

Eskander, M. A. et al. Persistent nociception triggered by nerve growth factor (NGF) is mediated by TRPV1 and oxidative mechanisms. J. Neurosci. 35, 8593–8603 (2015).

Green, D. P., Ruparel, S., Roman, L., Henry, M. A. & Hargreaves, K. M. Role of endogenous TRPV1 agonists in a postburn pain model of partial-thickness injury. Pain 154, 2512–2520 (2013).

Ramsden, C. E. et al. A systems approach for discovering linoleic acid derivatives that potentially mediate pain and itch. Sci. Signal. 10, eaal5241 (2017).

Sisignano, M. et al. Targeting CYP2J to reduce paclitaxel-induced peripheral neuropathic pain. Proc. Natl Acad. Sci. USA 113, 12544–12549 (2016).

Clarke, G. et al. Marked elevations in pro-inflammatory polyunsaturated fatty acid metabolites in females with irritable bowel syndrome. J. Lipid Res. 51, 1186–1192 (2010).

Adam, O. et al. Anti-inflammatory effects of a low arachidonic acid diet and fish oil in patients with rheumatoid arthritis. Rheumatol. Int. 23, 27–36 (2003).

Calder, P. C. Session 3: Joint Nutrition Society and Irish Nutrition and Dietetic Institute Symposium on 'Nutrition and autoimmune disease' PUFA, inflammatory processes and rheumatoid arthritis. Proc. Nutr. Soc. 67, 409–418 (2008).

Devigili, G. et al. The diagnostic criteria for small fibre neuropathy: from symptoms to neuropathology. Brain 131, 1912–1925 (2008).

Lauria, G. et al. European Federation of Neurological Societies/Peripheral Nerve Society Guideline on the use of skin biopsy in the diagnosis of small fiber neuropathy. Report of a joint task force of the European Federation of Neurological Societies and the Peripheral Nerve Society. Eur. J. Neurol. 17, 903–912 (2010).

Hunt, D., Raivich, G. & Anderson, P. N. Activating transcription factor 3 and the nervous system. Front. Mol. Neurosci. 5, 7 (2012).

Tsujino, H. et al. Activating transcription factor 3 (ATF3) induction by axotomy in sensory and motoneurons: a novel neuronal marker of nerve injury. Mol. Cell. Neurosci. 15, 170–182 (2000).

Bray, G. A. & Popkin, B. M. Dietary fat intake does affect obesity! Am. J. Clin. Nutr. 68, 1157–1173 (1998).

Forouhi, N. G. et al. Association of plasma phospholipid n-3 and n-6 polyunsaturated fatty acids with type 2 diabetes: the EPIC-InterAct case-cohort study. PLoS Med. 13, e1002094 (2016).

Fung, T. T., Schulze, M., Manson, J. E., Willett, W. C. & Hu, F. B. Dietary patterns, meat intake, and the risk of type 2 diabetes in women. Arch. Intern. Med. 164, 2235–2240 (2004).

Mente, A. et al. Association of dietary nutrients with blood lipids and blood pressure in 18 countries: a cross-sectional analysis from the PURE study. Lancet Diabetes Endocrinol. 5, 774–787 (2017).

van Dam, R. M., Willett, W. C., Rimm, E. B., Stampfer, M. J. & Hu, F. B. Dietary fat and meat intake in relation to risk of type 2 diabetes in men. Diabetes Care 25, 417–424 (2002).

Ramsden, C. E. et al. Dietary linoleic acid-induced alterations in pro- and anti-nociceptive lipid autacoids: implications for idiopathic pain syndromes? Mol. Pain 12, 1744806916636386 (2016).

Patwardhan, A. M., Scotland, P. E., Akopian, A. N. & Hargreaves, K. M. Activation of TRPV1 in the spinal cord by oxidized linoleic acid metabolites contributes to inflammatory hyperalgesia. Proc. Natl Acad. Sci. USA 106, 18820–18824 (2009).

Griffin, T. M. et al. Diet-induced obesity differentially regulates behavioral, biomechanical, and molecular risk factors for osteoarthritis in mice. Arthritis Res. Ther. 12, R130 (2010).

Lee, E. et al. Transient receptor potential vanilloid type-1 channel regulates diet-induced obesity, insulin resistance, and leptin resistance. FASEB J. 29, 3182–3192 (2015).

Tramullas, M., Finger, B. C., Dinan, T. G. & Cryan, J. F. Obesity takes its toll on visceral pain: high-fat diet induces Toll-like receptor 4-dependent visceral hypersensitivity. PLoS ONE 11, e0155367 (2016).

Wilensky, R. L. et al. Inhibition of lipoprotein-associated phospholipase A2 reduces complex coronary atherosclerotic plaque development. Nat. Med. 14, 1059–1066 (2008).

Wallace, V. C., Cottrell, D. F., Brophy, P. J. & Fleetwood-Walker, S. M. Focal lysolecithin-induced demyelination of peripheral afferents results in neuropathic pain behavior that is attenuated by cannabinoids. J. Neurosci. 23, 3221–3233 (2003).

Piomelli, D. & Sasso, O. Peripheral gating of pain signals by endogenous lipid mediators. Nat. Neurosci. 17, 164–174 (2014).

Dennis, E. A., Cao, J., Hsu, Y. H., Magrioti, V. & Kokotos, G. Phospholipase A2 enzymes: physical structure, biological function, disease implication, chemical inhibition, and therapeutic intervention. Chem. Rev. 111, 6130–6185 (2011).

Usoskin, D. et al. Unbiased classification of sensory neuron types by large-scale single-cell RNA sequencing. Nat. Neurosci. 18, 145–153 (2015).

Kim, M. et al. Impact of 8-week linoleic acid intake in soy oil on Lp-PLA2 activity in healthy adults. Nutr. Metab. 14, 32 (2017).

Blackie, J. A. et al. The identification of clinical candidate SB-480848: a potent inhibitor of lipoprotein-associated phospholipase A2. Bioorg. Med. Chem. Lett. 13, 1067–1070 (2003).

Goldberg, R. J. & Katz, J. A meta-analysis of the analgesic effects of omega-3 polyunsaturated fatty acid supplementation for inflammatory joint pain. Pain 129, 210–223 (2007).

Laye, S., Nadjar, A., Joffre, C. & Bazinet, R. P. Anti-inflammatory effects of omega-3 fatty acids in the brain: physiological mechanisms and relevance to pharmacology. Pharmacol. Rev. 70, 12–38 (2018).

Xu, Z. Z. et al. Resolvins RvE1 and RvD1 attenuate inflammatory pain via central and peripheral actions. Nat. Med. 16, 592–597 (2010).

Bazata, D. D., Robinson, J. G., Fox, K. M., Grandy, S. & Group, S. S. Affecting behavior change in individuals with diabetes: findings from the Study to Help Improve Early Evaluation and Management of Risk Factors Leading to Diabetes (SHIELD). Diabetes Educ. 34, 1025–1036 (2008).

Davis, J. A., Robinson, R. L., Le, T. K. & Xie, J. Incidence and impact of pain conditions and comorbid illnesses. J. Pain Res. 4, 331–345 (2011).

Fehrenbacher, J. C., Vasko, M. R. & Duarte, D. B. Models of inflammation: carrageenan- or complete Freund's adjuvant (CFA)-induced edema and hypersensitivity in the rat. Curr. Protoc. Pharmacol. 56, 5.4 (2012).

Kobayashi, K. et al. The db/db mouse, a model for diabetic dyslipidemia: molecular characterization and effects of Western diet feeding. Metabolism 49, 22–31 (2000).

O'Brien, P. D., Sakowski, S. A. & Feldman, E. L. Mouse models of diabetic neuropathy. ILAR J. 54, 259–272 (2014).

Alvheim, A. R. et al. Dietary linoleic acid elevates endogenous 2-AG and anandamide and induces obesity. Obesity 20, 1984–1994 (2012).

Bennett, M. The LANSS Pain Scale: the Leeds assessment of neuropathic symptoms and signs. Pain 92, 147–157 (2001).

Bouhassira, D. et al. Development and validation of the Neuropathic Pain Symptom Inventory. Pain 108, 248–257 (2004).

Mauck, M. C. et al. Obesity increases the risk of chronic pain development after motor vehicle collision. Pain 160, 670–675 (2019).

Okifuji, A. & Hare, B. D. The association between chronic pain and obesity. J. Pain Res. 8, 399–408 (2015).

White, H. D. et al. Darapladib for preventing ischemic events in stable coronary heart disease. N. Engl. J. Med. 370, 1702–1711 (2014).

O'Donoghue, M. L. et al. Effect of darapladib on major coronary events after an acute coronary syndrome: the SOLID-TIMI 52 randomized clinical trial. JAMA 312, 1006–1015 (2014).

Haghdoost, F. et al. Association between Ala379Val polymorphism of lipoprotein-associated phospholipase A2 and migraine without aura in Iranian population. Iran. J. Neurol. 15, 80–84 (2016).

Parisien, M. et al. Effect of human genetic variability on gene expression in dorsal root ganglia and association with pain phenotypes. Cell Rep. 19, 1940–1952 (2017).

Hummel, K. P., Dickie, M. M. & Coleman, D. L. Diabetes, a new mutation in the mouse. Science 153, 1127–1128 (1966).

Reeves, P. G., Nielsen, F. H. & Fahey, G. C. Jr. AIN-93 purified diets for laboratory rodents: final report of the American Institute of Nutrition ad hoc writing committee on the reformulation of the AIN-76A rodent diet. J. Nutr. 123, 1939–1951 (1993).

Gibbs, J. L., Flores, C. M. & Hargreaves, K. M. Attenuation of capsaicin-evoked mechanical allodynia by peripheral neuropeptide Y Y1 receptors. Pain 124, 167–174 (2006).

Chaplan, S. R., Bach, F. W., Pogrel, J. W., Chung, J. M. & Yaksh, T. L. Quantitative assessment of tactile allodynia in the rat paw. J. Neurosci. Methods 53, 55–63 (1994).

White, S., Marquez de Prado, B., Russo, A. F. & Hammond, D. L. Heat hyperalgesia and mechanical hypersensitivity induced by calcitonin gene-related peptide in a mouse model of neurofibromatosis. PLoS ONE 9, e106767 (2014).

Garrison, S. R., Dietrich, A. & Stucky, C. L. TRPC1 contributes to light-touch sensation and mechanical responses in low-threshold cutaneous sensory neurons. J. Neurophysiol. 107, 913–922 (2012).

Hargreaves, K., Dubner, R., Brown, F., Flores, C. & Joris, J. A new and sensitive method for measuring thermal nociception in cutaneous hyperalgesia. Pain 32, 77–88 (1988).

Brenner, D. S., Golden, J. P. & Gereau, R. W. T. A novel behavioral assay for measuring cold sensation in mice. PLoS ONE 7, e39765 (2012).

Ayala, J. E. et al. Standard operating procedures for describing and performing metabolic tests of glucose homeostasis in mice. Dis. Model. Mech. 3, 525–534 (2010).

Han, B. G. et al. Markers of glycemic control in the mouse: comparisons of 6-h- and overnight-fasted blood glucoses to Hb A1c. Am. J. Physiol. Endocrinol. Metab. 295, E981–E986 (2008).

Wang, M. & Han, X. Multidimensional mass spectrometry-based shotgun lipidomics. Methods Mol. Biol. 1198, 203–220 (2014).

Han, X., Yang, K. & Gross, R. W. Microfluidics-based electrospray ionization enhances the intrasource separation of lipid classes and extends identification of individual molecular species through multi-dimensional mass spectrometry: development of an automated high-throughput platform for shotgun lipidomics. Rapid Commun. Mass Spectrom. 22, 2115–2124 (2008).

Wang, M., Wang, C., Han, R. H. & Han, X. Novel advances in shotgun lipidomics for biology and medicine. Prog. Lipid Res. 61, 83–108 (2016).

Yang, K., Cheng, H., Gross, R. W. & Han, X. Automated lipid identification and quantification by multidimensional mass spectrometry-based shotgun lipidomics. Anal. Chem. 81, 4356–4368 (2009).

Bligh, E. G. & Dyer, W. J. A rapid method of total lipid extraction and purification. Can. J. Biochem. Physiol. 37, 911–917 (1959).

Pettinella, C., Lee, S. H., Cipollone, F. & Blair, I. A. Targeted quantitative analysis of fatty acids in atherosclerotic plaques by high sensitivity liquid chromatography/tandem mass spectrometry. J. Chromatogr. B Analyt. Technol. Biomed. Life Sci. 850, 168–176 (2007).

Quehenberger, O., Armando, A. M. & Dennis, E. A. High sensitivity quantitative lipidomics analysis of fatty acids in biological samples by gas chromatography–mass spectrometry. Biochim. Biophys. Acta 1811, 648–656 (2011).

Reeh, P. W. Sensory receptors in a mammalian skin-nerve in vitro preparation. Prog. Brain Res. 74, 271–276 (1988).

Banik, R. K. & Brennan, T. J. Sensitization of primary afferents to mechanical and heat stimuli after incision in a novel in vitro mouse glabrous skin-nerve preparation. Pain 138, 380–391 (2008).

Zimmermann, K. et al. Phenotyping sensory nerve endings in vitro in the mouse. Nat. Protoc. 4, 174–196 (2009).

Hogan, D., Baker, A. L., Moron, J. A. & Carlton, S. M. Systemic morphine treatment induces changes in firing patterns and responses of nociceptive afferent fibers in mouse glabrous skin. Pain 154, 2297–2309 (2013).

Moehring, F. et al. Keratinocytes mediate innocuous and noxious touch via ATP–P2X4 signaling. eLife 7, e31684 (2018).

Duraku, L. S. et al. Spatiotemporal dynamics of re-innervation and hyperinnervation patterns by uninjured CGRP fibers in the rat foot sole epidermis after nerve injury. Mol. Pain 8, 61 (2012).

Reid, G., Amuzescu, B., Zech, E. & Flonta, M. L. A system for applying rapid warming or cooling stimuli to cells during patch clamp recording or ion imaging. J. Neurosci. Methods 111, 1–8 (2001).

Koltzenburg, M., Stucky, C. L. & Lewin, G. R. Receptive properties of mouse sensory neurons innervating hairy skin. J. Neurophysiol. 78, 1841–1850 (1997).

Banik, R. K. & Brennan, T. J. Spontaneous discharge and increased heat sensitivity of rat C-fiber nociceptors are present in vitro after plantar incision. Pain 112, 204–213 (2004).

Collins, T. J. ImageJ for microscopy. Biotechniques 43, 25–30 (2007).

Linkert, M. et al. Metadata matters: access to image data in the real world. J. Cell Biol. 189, 777–782 (2010).

Schindelin, J. et al. Fiji: an open-source platform for biological-image analysis. Nat. Methods 9, 676–682 (2012).

Schneider, C. A., Rasband, W. S. & Eliceiri, K. W. NIH Image to ImageJ: 25 years of image analysis. Nat. Methods 9, 671–675 (2012).

LoCoco, P. M. et al. Pharmacological augmentation of nicotinamide phosphoribosyltransferase (NAMPT) protects against paclitaxel-induced peripheral neuropathy. eLife 6, e29626 (2017).

Beiswenger, K. K., Calcutt, N. A. & Mizisin, A. P. Epidermal nerve fiber quantification in the assessment of diabetic neuropathy. Acta Histochem. 110, 351–362 (2008).

LoCoco, P. M. et al. Reliable approaches to extract high-integrity RNA from skin and other pertinent tissues used in pain research. Pain Rep. 5, e818 (2020).

Livak, K. J. & Schmittgen, T. D. Analysis of relative gene expression data using real-time quantitative PCR and the 2−ΔΔC(T) method. Methods 25, 402–408 (2001).

Harris, P. A. et al. Research electronic data capture (REDCap)—a metadata-driven methodology and workflow process for providing translational research informatics support. J. Biomed. Inform. 42, 377–381 (2009).

Beery, A. K. Inclusion of females does not increase variability in rodent research studies. Curr. Opin. Behav. Sci. 23, 143–149 (2018).
Acknowledgements
The project described was supported in part by the National Center for Advancing Translational Sciences, National Institutes of Health (NIH), through grant UL1TR002645 (K.M.H.). Additional support from the NIH includes grants R01NS110948 (K.M.H.), T32DE14318 (P.M.L., A.R.F., K.M.H.), T32GM113896 (J.T.B.), F30AT009949 (J.T.B.), F32DK118841 (P.M.L.), F30DE028486 (A.R.F.) and a grant from the Ella and Williams Owen's Foundation (K.M.H.). Clinical data were managed using REDCap software supported by UL1RR024982. Certain mass spectrometric analyses were carried out on equipment supported by the US Department of Agriculture, Agricultural Research Service, under agreement no. 58-3094-8-012. The content is solely the responsibility of the authors and does not necessarily represent the official views of the NIH or the US Department of Agriculture. We thank X. Han and his laboratory for expertise and guidance on shotgun lipidomics. We thank M. Patil and P. Wu for technical assistance as well as A. Diogenes, N. Ruparel, A. Khan and A. Akopian for fruitful discussions.
Ethics declarations
Competing interests
The authors declare no competing interests.
Additional information
Peer review information Nature Metabolism thanks Jing Kang, Ru-Rong Ji and the other, anonymous, reviewer(s) for their contribution to the peer review of this work. Primary Handling Editor: Christoph Schmitt.
Publisher's note Springer Nature remains neutral with regard to jurisdictional claims in published maps and institutional affiliations.
Supplementary information
Supplementary Table 1. Diet breakdowns. Supplementary Table 2. Clinical data.
About this article
Cite this article
Boyd, J.T., LoCoco, P.M., Furr, A.R. et al. Elevated dietary ω-6 polyunsaturated fatty acids induce reversible peripheral nerve dysfunction that exacerbates comorbid pain conditions. Nat Metab 3, 762–773 (2021). https://doi.org/10.1038/s42255-021-00410-x
Received:

Accepted:

Published:

Issue Date:

DOI: https://doi.org/10.1038/s42255-021-00410-x