Nutrient availability and the cell cycle are known to affect chromatin accessibility. A fundamental question is which mechanisms are involved in connecting nutrient levels, the cell cycle and chromatin regulation. In this issue, Zhang et al. reveal a signalling cascade whereby nutrient-sensing mTORC1 activates the cell-cycle regulator CDK2, thus leading to nuclear translocation of the metabolic enzyme triosephosphate isomerase 1 (TPI1). In the nucleus, TPI1 alters the levels of acetate and global histone acetylation through the metabolite dihydroxyacetone phosphate.
Access options
Subscribe to Nature+
Get immediate online access to Nature and 55 other Nature journal
Subscribe to Journal
Get full journal access for 1 year
$99.00
only $8.25 per issue
All prices are NET prices.
VAT will be added later in the checkout.
Tax calculation will be finalised during checkout.
Buy article
Get time limited or full article access on ReadCube.
$32.00
All prices are NET prices.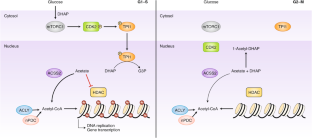 References
Kruhlak, M. J. et al. J. Biol. Chem. 276, 38307–38319 (2001).

Sutendra, G. et al. Cell 158, 84–97 (2014).

Wellen, K. E. et al. Science 324, 1076–1080 (2009).

Bulusu, V. et al. Cell Rep. 18, 647–658 (2017).

Zhang, J.-J. et al. Nat. Metab. https://doi.org/10.1038/s42255-021-00405-8 (2021).

Bolduc, J. F., Hany, L., Barat, C., Ouellet, M. & Tremblay, M. J. J. Virol. 91, e01943–16 (2017).

Woo, R. A. & Poon, R. Y. Cell Cycle 2, 316–324 (2003).

Slepokura, K. & Lis, T. Carbohydr. Res. 345, 512–529 (2010).

Trefely, S. et al. Mol. Metab. 38, 100941 (2020).

Orozco, J. M. et al. Nat. Metab. 2, 893–901 (2020).

Wanders, R. J. A. & Waterham, H. R. Biochim. Biophys. Acta Mol. Cell Res. 1763, 1707–1720 (2006).
Ethics declarations
Competing interests
The authors declare no competing interests.
About this article
Cite this article
Roach, L., Mostoslavsky, R. TiPpIng the balance in histone acetylation. Nat Metab 3, 729–731 (2021). https://doi.org/10.1038/s42255-021-00396-6
Published:

Issue Date:

DOI: https://doi.org/10.1038/s42255-021-00396-6