Redox cofactors are essential for the metabolic reactions that support cell proliferation. NADPH is important both to combat oxidative stress and to facilitate reductive reactions in biosynthesis. In this issue, Tran et al. find that the enzyme that produces mitochondrial NADPH is critical in enabling proline synthesis to support cell proliferation when environmental proline is limited.
Access options
Subscribe to Journal
Get full journal access for 1 year
$119.00
only $9.92 per issue
All prices are NET prices.
VAT will be added later in the checkout.
Tax calculation will be finalised during checkout.
Rent or Buy article
Get time limited or full article access on ReadCube.
from$8.99
All prices are NET prices.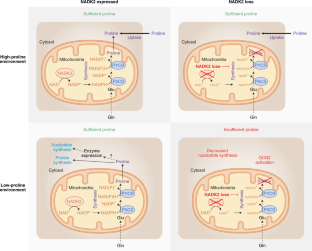 References
1.

Jiang, L. et al. Nature 532, 255–258 (2016).

2.

Dey, P. et al. Nature 542, 119–123 (2017).

3.

Hosios, A. M. & Vander Heiden, M. G. J. Biol. Chem. 293, 7490–7498 (2018).

4.

Tran, D. H. et al. Nat. Metab. https://doi.org/10.1038/s42255-021-00374-y (2021).

5.

Zhu, J. & Thompson, C. B. Nat. Rev. Mol. Cell Biol. 20, 436–450 (2019).

6.

Phang, J. M. Antioxid. Redox Signal. 30, 635–649 (2019).

7.

Loayza-Puch, F. et al. Nature 530, 490–494 (2016).

8.

Olivares, O. et al. Nat. Commun. 8, 16031 (2017).

9.

Sullivan, M. R. et al. eLife 8, e44235 (2019).

10.

Maddocks, O. D. K. et al. Nature 544, 372–376 (2017).

11.

Sullivan, L. B. et al. Nat. Cell Biol. 20, 782–788 (2018).
Ethics declarations
Competing interests
M.G.V.H. is a scientific advisory board member for Agios Pharmaceuticals, Aeglea Biotherapeutics, iTeos Therapeutics, Faeth Therapeutics and Auron Therapeutics.
About this article
Cite this article
Diehl, F.F., Vander Heiden, M.G. Mitochondrial NADPH is a pro at Pro synthesis. Nat Metab 3, 453–455 (2021). https://doi.org/10.1038/s42255-021-00381-z