Abstract
It has been suggested that new beta cells can arise from specific populations of adult pancreatic progenitors or facultative stem cells. However, their existence remains controversial, and the conditions under which they would contribute to new beta-cell formation are not clear. Here, we use a suite of mouse models enabling dual-recombinase-mediated genetic tracing to simultaneously fate map insulin-positive and insulin-negative cells in the adult pancreas. We find that the insulin-negative cells, of both endocrine and exocrine origin, do not generate new beta cells in the adult pancreas during homeostasis, pregnancy or injury, including partial pancreatectomy, pancreatic duct ligation or beta-cell ablation with streptozotocin. However, non-beta cells can give rise to insulin-positive cells after extreme genetic ablation of beta cells, consistent with transdifferentiation. Together, our data indicate that pancreatic endocrine and exocrine progenitor cells do not contribute to new beta-cell formation in the adult mouse pancreas under physiological conditions.
Relevant articles
Open Access articles citing this article.
Huan Zhao

,

Xiuzhen Huang

…

Bin Zhou

Cell Discovery Open Access 03 January 2023

Yuteng Weng

,

Haicheng Wang

…

Zuolin Wang

Cell Research Open Access 12 July 2022

Christos Karampelias

,

Kathleen Watt

…

Olov Andersson

Nature Chemical Biology Open Access 13 June 2022
Access options
Access Nature and 54 other Nature Portfolio journals
Get Nature+, our best-value online-access subscription
$29.99 / 30 days
cancel any time
Subscribe to this journal
Receive 12 digital issues and online access to articles
$119.00 per year
only $9.92 per issue
Rent or buy this article
Prices vary by article type
from$1.95
to$39.95
Prices may be subject to local taxes which are calculated during checkout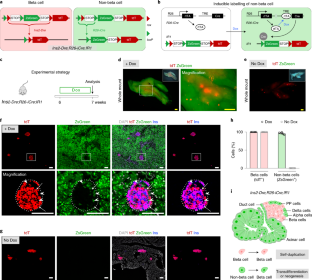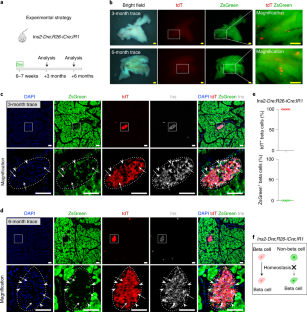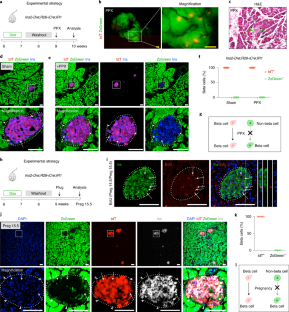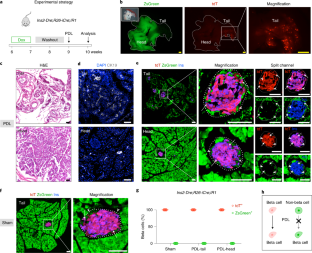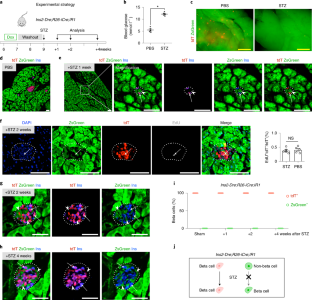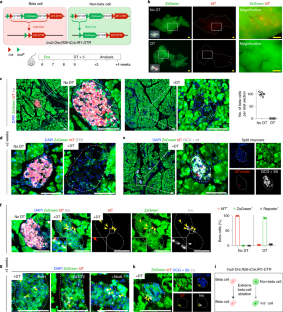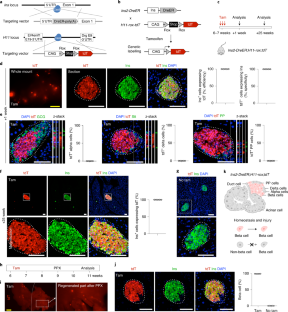 Data availability
Newly generated mouse lines will be deposited in a commercial animal repository and will be available, together with data that support the plots and findings within this paper, from the corresponding author upon reasonable request. Source data are provided with this paper.
References
McCarthy, M. I. Genomics, type 2 diabetes and obesity. N. Engl. J. Med. 363, 2339–2350 (2010).

Butler, A. E. et al. Beta-cell deficit and increased beta-cell apoptosis in humans with type 2 diabetes. Diabetes 52, 102–110 (2003).

Zhou, Q. & Melton, D. A. Pancreas regeneration. Nature 557, 351–358 (2018).

Aguayo-Mazzucato, C. & Bonner-Weir, S. Pancreatic beta-cell regeneration as a possible therapy for diabetes. Cell Metab. 27, 57–67 (2018).

Dor, Y., Brown, J., Martinez, O. I. & Melton, D. A. Adult pancreatic beta cells are formed by self-duplication rather than stem cell differentiation. Nature 429, 41–46 (2004).

Georgia, S. & Bhushan, A. Beta-cell replication is the primary mechanism for maintaining postnatal beta cell mass. J. Clin. Invest. 114, 963–968 (2004).

Teta, M., Rankin, M. M., Long, S. Y., Stein, G. M. & Kushner, J. A. Growth and regeneration of adult beta cells does not involve specialized progenitors. Dev. Cell 12, 817–826 (2007).

Nir, T., Melton, D. A. & Dor, Y. Recovery from diabetes in mice by beta-cell regeneration. J. Clin. Invest. 117, 2553–2561 (2007).

Hao, E. et al. Beta-cell differentiation from nonendocrine epithelial cells of the adult human pancreas. Nat. Med. 12, 310–316 (2006).

Thorel, F. et al. Conversion of adult pancreatic alpha cells to beta cells after extreme beta-cell loss. Nature 464, 1149–1154 (2010).

Chera, S. et al. Diabetes recovery by age-dependent conversion of pancreatic delta cells into insulin producers. Nature 514, 503–507 (2014).

Al-Hasani, K. et al. Adult duct-lining cells can reprogram into beta-like cells able to counter repeated cycles of toxin-induced diabetes. Dev. Cell 26, 86–100 (2013).

Courtney, M. et al. The inactivation of Arx in pancreatic alpha cells triggers their neogenesis and conversion into functional beta-like cells. PLoS Genet. 9, e1003934 (2013).

Furuyama, K. et al. Diabetes relief in mice by glucose-sensing insulin-secreting human alpha cells. Nature 567, 43–48 (2019).

Zhou, Q., Brown, J., Kanarek, A., Rajagopal, J. & Melton, D. A. In vivo reprogramming of adult pancreatic exocrine cells to beta cells. Nature 455, 627–632 (2008).

Miyazaki, S., Tashiro, F. & Miyazaki, J. Transgenic expression of a single transcription factor Pdx1 induces transdifferentiation of pancreatic acinar cells to endocrine cells in adult mice. PLoS ONE 11, e0161190 (2016).

Xu, X. et al. Beta cells can be generated from endogenous progenitors in injured adult mouse pancreas. Cell 132, 197–207 (2008).

Inada, A. et al. Carbonic anhydrase II-positive pancreatic cells are progenitors for both endocrine and exocrine pancreas after birth. Proc. Natl Acad. Sci. USA 105, 19915–19919 (2008).

Pan, F. C. et al. Spatiotemporal patterns of multipotentiality in Ptf1a-expressing cells during pancreas organogenesis and injury-induced facultative restoration. Development 140, 751–764 (2013).

Jin, L. et al. Cells with surface expression of CD133highCD71low are enriched for tripotent colony-forming progenitor cells in the adult murine pancreas. Stem Cell Res. 16, 40–53 (2016).

Rovira, M. et al. Isolation and characterization of centroacinar/terminal ductal progenitor cells in adult mouse pancreas. Proc. Natl Acad. Sci. USA 107, 75–80 (2010).

Criscimanna, A. et al. Duct cells contribute to regeneration of endocrine and acinar cells following pancreatic damage in adult mice. Gastroenterology 141, 1451–1462 (2011).

El-Gohary, Y. et al. Intraislet pancreatic ducts can give rise to insulin-positive cells. Endocrinology 157, 166–175 (2016).

Wang, D. et al. Long-term expansion of pancreatic islet organoids from resident Procr+ progenitors. Cell 180, 1198–1211 (2020).

Solar, M. et al. Pancreatic exocrine duct cells give rise to insulin-producing beta cells during embryogenesis but not after birth. Dev. Cell 17, 849–860 (2009).

Kopinke, D. & Murtaugh, L. C. Exocrine-to-endocrine differentiation is detectable only prior to birth in the uninjured mouse pancreas. BMC Dev. Biol. 10, 38 (2010).

Kopp, J. L. et al. Sox9+ ductal cells are multipotent progenitors throughout development but do not produce new endocrine cells in the normal or injured adult pancreas. Development 138, 653–665 (2011).

Kopinke, D. et al. Lineage tracing reveals the dynamic contribution of Hes1+ cells to the developing and adult pancreas. Development 138, 431–441 (2011).

Xiao, X. et al. No evidence for beta-cell neogenesis in murine adult pancreas. J. Clin. Invest. 123, 2207–2217 (2013).

Sauer, B. & McDermott, J. DNA recombination with a heterospecific Cre homolog identified from comparison of the pac-c1 regions of P1-related phages. Nucleic Acids Res. 32, 6086–6095 (2004).

Anastassiadis, K. et al. Dre recombinase, like Cre, is a highly efficient site-specific recombinase in E. coli, mammalian cells and mice. Dis. Model. Mech. 2, 508–515 (2009).

Hermann, M. et al. Binary recombinase systems for high-resolution conditional mutagenesis. Nucleic Acids Res. 42, 3894–3907 (2014).

He, L. et al. Enhancing the precision of genetic lineage tracing using dual recombinases. Nat. Med. 23, 1488–1498 (2017).

Zhou, Q. et al. A multipotent progenitor domain guides pancreatic organogenesis. Dev. Cell 13, 103–114 (2007).

Xiao, X. et al. TGFβ receptor signaling is essential for inflammation-induced but not beta-cell workload-induced beta-cell proliferation. Diabetes 62, 1217–1226 (2013).

Rankin, M. M. et al. Beta cells are not generated in pancreatic duct ligation-induced injury in adult mice. Diabetes 62, 1634–1645 (2013).

Talchai, C., Xuan, S., Lin, H. V., Sussel, L. & Accili, D. Pancreatic beta-cell dedifferentiation as a mechanism of diabetic beta-cell failure. Cell 150, 1223–1234 (2012).

Rahier, J., Guiot, Y., Goebbels, R. M., Sempoux, C. & Henquin, J. C. Pancreatic beta-cell mass in European subjects with type 2 diabetes. Diabetes Obes. Metab. 10, 32–42 (2008).

Butler, A. E. et al. Beta-cell deficit in obese type 2 diabetes, a minor role of beta-cell dedifferentiation and degranulation. J. Clin. Endocrinol. Metab. 101, 523–532 (2016).

Kim, H. et al. Serotonin regulates pancreatic beta-cell mass during pregnancy. Nat. Med. 16, 804–808 (2010).

Wuidart, A. et al. Quantitative lineage tracing strategies to resolve multipotency in tissue-specific stem cells. Genes Dev. 30, 1261–1277 (2016).

Ma, Q., Zhou, B. & Pu, W. T. Reassessment of Isl1 and Nkx2-5 cardiac fate maps using a Gata4-based reporter of Cre activity. Dev. Biol. 323, 98–104 (2008).

Tasic, B. et al. Site-specific integrase-mediated transgenesis in mice via pronuclear injection. Proc. Natl Acad. Sci. USA 108, 7902–7907 (2011).

Tian, X., Pu, W. T. & Zhou, B. Cellular origin and developmental program of coronary angiogenesis. Circ. Res. 116, 515–530 (2015).

Zhao, H. & Zhou, B. Dual genetic approaches for deciphering cell fate plasticity in vivo: more than double. Curr. Opin. Cell Biol. 61, 101–109 (2019).

Hochedlinger, K., Yamada, Y., Beard, C. & Jaenisch, R. Ectopic expression of Oct-4 blocks progenitor-cell differentiation and causes dysplasia in epithelial tissues. Cell 121, 465–477 (2005).

Perl, A. K., Wert, S. E., Nagy, A., Lobe, C. G. & Whitsett, J. A. Early restriction of peripheral and proximal cell lineages during formation of the lung. Proc. Natl Acad. Sci. USA 99, 10482–10487 (2002).

Li, Y. et al. Genetic lineage tracing of non-myocyte population by dual recombinases. Circulation 138, 793–805 (2018).

Madisen, L. et al. A robust and high-throughput Cre reporting and characterization system for the whole mouse brain. Nat. Neurosci. 13, 133–140 (2010).

Zhang, H. et al. Endocardium minimally contributes to coronary endothelium in the embryonic ventricular free walls. Circ. Res. 118, 1880–1893 (2016).

Tian, X. et al. De novo formation of a distinct coronary vascular population in neonatal heart. Science 345, 90–94 (2014).

Zhao, H. et al. Apj+ vessels drive tumor growth and represent a tractable therapeutic target. Cell Rep. 25, 1241–1254 2018).
Acknowledgements
We thank Shanghai Biomodel Organism for mouse generation and H. Zeng for reporter mice. This study was supported by the National key Research & Development Program of China (2019YFA0802000, 2019YFA0110403, 2018YFA0108100, 2017YFC1001303, 2020YFA0803202, 2019YFA0802803 and 2018YFA0107900), Strategic Priority Research Program of the Chinese Academy of Sciences (CAS; XDB19000000 and XDA16010507), National Science Foundation of China (31730112, 82088101, 32050087, 91849202, 31625019, 31922032, 81872241 and 31900625), Key Project of Frontier Sciences of CAS (QYZDB-SSW-SMC003), Shanghai Science and Technology Commission (19JC1415700, 20QC1401000, 19YF1455300 and 19ZR1479800), Collaborative Innovation Program of Shanghai Municipal Health Commission (2020CXJQ01), China Postdoctoral Science Foundation, National Postdoctoral Program for Innovative Talents (BX20190343, 2019M660100, 2020TQ0336 and 2020M681409), the Pearl River Talent Recruitment Program of Guangdong Province (2017ZT07S347), Royal Society-Newton Advanced Fellowship, AstraZeneca, Boehringer-Ingelheim, Sanofi-SIBS Fellowship, SIBS President Fund and the support from the Xplorer Prize.
Ethics declarations
Competing interests
The authors declare no competing interests.
Additional information
Peer review information Nature Metabolism thanks the anonymous reviewers for their contribution to the peer review of this work. Primary Handling Editor: Christoph Schmitt.
Publisher's note Springer Nature remains neutral with regard to jurisdictional claims in published maps and institutional affiliations.
Supplementary information
About this article
Cite this article
Zhao, H., Huang, X., Liu, Z. et al. Pre-existing beta cells but not progenitors contribute to new beta cells in the adult pancreas. Nat Metab 3, 352–365 (2021). https://doi.org/10.1038/s42255-021-00364-0
Received:

Accepted:

Published:

Issue Date:

DOI: https://doi.org/10.1038/s42255-021-00364-0