Islet of Langerhans transplantation as a cell therapy for type 1 diabetes faces obstacles that have prevented full and lasting engraftment in the liver, the currently preferred implantation site in clinical practice. Yu and colleagues circumvent these issues and achieve stable diabetes reversal by transplanting islets encapsulated in a simple collagen-based matrix into the more accessible subcutaneous space.
Access options
Subscribe to Journal
Get full journal access for 1 year
$99.00
only $8.25 per issue
All prices are NET prices.
VAT will be added later in the checkout.
Tax calculation will be finalised during checkout.
Rent or Buy article
Get time limited or full article access on ReadCube.
from$8.99
All prices are NET prices.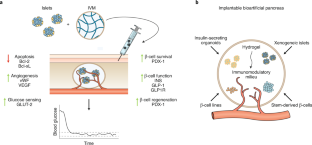 References
1.

Harlan, D. M., Kenyon, N. S., Korsgren, O. & Roep, B. O. Diabetes 58, 2175–2184 (2009).

2.

Barton, F. B. et al. Diabetes Care 35, 1436–1445 (2012).

3.

Pepper, A. R., Bruni, A. & Shapiro, A. M. J. Curr. Opin. Organ Transplant. 23, 428–439 (2018).

4.

Sakata, N. et al. Diabetes Metab. Res. Rev. 30, 1–10 (2014).

5.

Yu, M. et al. Nat. Metab. https://doi.org/10.1038/s42255-020-0269-7 (2020).

6.

Riopel, M. & Wang, N. Front. Biosci. (Landmark Ed) 19, 77–90 (2014).

7.

Stephens, C. H. et al. Am. J. Physiol. Endocrinol. Metab. https://doi.org/10.1152/ajpendo.00066.2020 (2020).

8.

Berney, T. & Berishvili, E. Transplantation 99, 2241–2242 (2015).

9.

Hu, S. & de Vos, P. Front. Bioeng. Biotechnol. 7, 134 (2019).

10.

Papas, K. K., De Leon, H., Suszynski, T. M. & Johnson, R. C. Adv. Drug Deliv. Rev. 139, 139–156 (2019).

11.

Lebreton, F. et al. Am. J. Transplant. 20, 1551–1561 (2020).

12.

Lebreton, F. et al. Nat. Commun. 10, 4491 (2019).

13.

Odorico, J. et al. Transplantation 102, 1223–1229 (2018).

14.

Iacovacci, V., Ricotti, L., Menciassi, A. & Dario, P. Biochem. Pharmacol. 100, 12–27 (2016).
Acknowledgements
This work is supported by grants from the Swiss National Science Foundation (grant 310030_173138), the European Foundation for the Study of Diabetes (EFSD), the European Commission (Horizon 2020 Framework Program; VANGUARD grant 874700), the Juvenile Diabetes Research Foundation (JDRF; grant 3-SRA-2020-926-S-B) and the Shota Rustaveli National Science Foundation (grant FR-19-19760).
Ethics declarations
Competing interests
The authors declare no competing interests.
About this article
Cite this article
Berney, T., Berishvili, E. I've got you under my skin. Nat Metab 2, 993–994 (2020). https://doi.org/10.1038/s42255-020-0268-8