Abstract
Benign hepatosteatosis, affected by lipid uptake, de novo lipogenesis and fatty acid (FA) oxidation, progresses to non-alcoholic steatohepatitis (NASH) on stress and inflammation. A key macronutrient proposed to increase hepatosteatosis and NASH risk is fructose. Excessive intake of fructose causes intestinal-barrier deterioration and endotoxaemia. However, how fructose triggers these alterations and their roles in hepatosteatosis and NASH pathogenesis remain unknown. Here we show, using mice, that microbiota-derived Toll-like receptor (TLR) agonists promote hepatosteatosis without affecting fructose-1-phosphate (F1P) and cytosolic acetyl-CoA. Activation of mucosal-regenerative gp130 signalling, administration of the YAP-induced matricellular protein CCN1 or expression of the antimicrobial peptide Reg3b (beta) peptide counteract fructose-induced barrier deterioration, which depends on endoplasmic-reticulum stress and subsequent endotoxaemia. Endotoxin engages TLR4 to trigger TNF production by liver macrophages, thereby inducing lipogenic enzymes that convert F1P and acetyl-CoA to FA in both mouse and human hepatocytes.
Relevant articles
Open Access articles citing this article.
Umur Keles

,

Jin Rong Ow

…

Philipp Kaldis

Cellular and Molecular Life Sciences Open Access 07 December 2022

André A. Weber

,

Xiaojing Yang

…

Robert H. Tukey

Nature Communications Open Access 27 July 2022

Jielin Zhou

,

Yao Lu

…

Keyang Chen

Molecular Medicine Open Access 03 January 2022
Access options
Access Nature and 54 other Nature Portfolio journals
Get Nature+, our best-value online-access subscription
$29.99 / 30 days
cancel any time
Subscribe to this journal
Receive 12 digital issues and online access to articles
$119.00 per year
only $9.92 per issue
Rent or buy this article
Prices vary by article type
from$1.95
to$39.95
Prices may be subject to local taxes which are calculated during checkout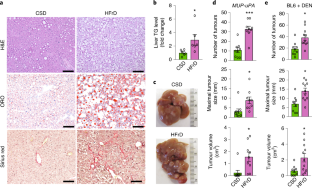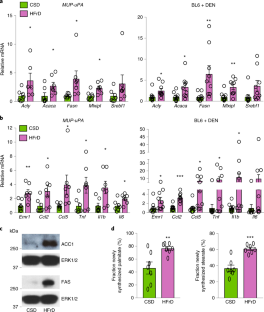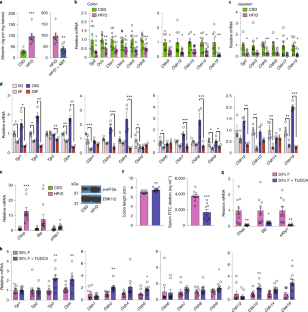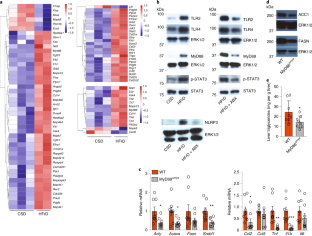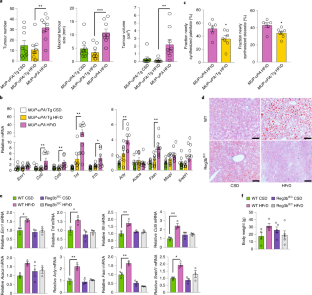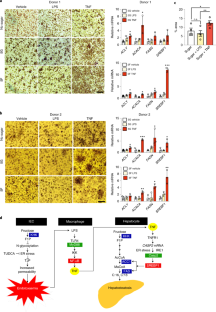 Data availability
RNA-seq data have been deposited in NCBI Gene Expression Omnibus (GEO) database under accession number GSE119080. Microbiome sequencing data have been deposited in EMBL-EBI under accession number ERP110352. Source data are provided with this paper.
References
Spengler, E. K. & Loomba, R. Recommendations for diagnosis, referral for liver biopsy, and treatment of nonalcoholic fatty liver disease and nonalcoholic steatohepatitis. Mayo Clin. Proc. 90, 1233–1246 (2015).

Stickel, F. & Hellerbrand, C. Non-alcoholic fatty liver disease as a risk factor for hepatocellular carcinoma: mechanisms and implications. Gut 59, 1303–1307 (2010).

Tilg, H. & Moschen, A. R. Evolution of inflammation in nonalcoholic fatty liver disease: the multiple parallel hits hypothesis. Hepatology 52, 1836–1846 (2010).

Fukui, H. Increased intestinal permeability and decreased barrier function: does it really influence the risk of inflammation? Inflamm. Intest. Dis. 1, 135–145 (2016).

Lebeaupin, C. et al. Endoplasmic reticulum stress signalling and the pathogenesis of non-alcoholic fatty liver disease. J. Hepatol. 69, 927–947 (2018).

Puri, P. et al. Activation and dysregulation of the unfolded protein response in nonalcoholic fatty liver disease. Gastroenterology 134, 568–576 (2008).

Rahman, K. et al. Loss of junctional adhesion molecule a promotes severe steatohepatitis in mice on a diet high in saturated fat, fructose, and cholesterol. Gastroenterology 151, 733–746.e12 (2016).

Nakagawa, H. et al. ER stress cooperates with hypernutrition to trigger TNF-dependent spontaneous HCC development. Cancer Cell 26, 331–343 (2014).

Kim, J. Y. et al. ER stress drives lipogenesis and steatohepatitis via caspase-2 activation of S1P. Cell 175, 133–145.e15 (2018).

Vos, M. B. & Lavine, J. E. Dietary fructose in nonalcoholic fatty liver disease. Hepatology 57, 2525–2531 (2013).

Jin, R. et al. Fructose induced endotoxemia in pediatric nonalcoholic fatty liver disease. Int. J. Hepatol. 2014, 560620 (2014).

Kavanagh, K. et al. Dietary fructose induces endotoxemia and hepatic injury in calorically controlled primates. Am. J. Clin. Nutr. 98, 349–357 (2013).

Spruss, A., Kanuri, G., Stahl, C., Bischoff, S. C. & Bergheim, I. Metformin protects against the development of fructose-induced steatosis in mice: role of the intestinal barrier function. Lab. Investig. 92, 1020–1032 (2012).

Lambertz, J., Weiskirchen, S., Landert, S. & Weiskirchen, R. Fructose: a dietary sugar in crosstalk with microbiota contributing to the development and progression of non-alcoholic liver disease. Front. Immunol. 8, 1159 (2017).

Oh, J.-H. et al. Dietary fructose and microbiota-derived short-chain fatty acids promote bacteriophage production in the gut symbiont Lactobacillus reuteri. Cell Host Microbe 25, 273–284.e6 (2019).

Chang, P. V., Hao, L., Offermanns, S. & Medzhitov, R. The microbial metabolite butyrate regulates intestinal macrophage function via histone deacetylase inhibition. Proc. Natl Acad. Sci. USA 111, 2247–2252 (2014).

Kelly, C. J. et al. Crosstalk between microbiota-derived short-chain fatty acids and intestinal epithelial HIF augments tissue barrier function. Cell Host Microbe 17, 662–671 (2015).

Geidl-Flueck, B. & Gerber, P. A. Insights into the hexose liver metabolism—glucose versus fructose. Nutrients 9, 1026 (2017).

Softic, S., Cohen, D. E. & Kahn, C. R. Role of dietary fructose and hepatic de novo lipogenesis in fatty liver disease. Dig. Dis. Sci. 61, 1282–1293 (2016).

Softic, S. et al. Divergent effects of glucose and fructose on hepatic lipogenesis and insulin signaling. J. Clin. Invest. 127, 4059–4074 (2017).

Grivennikov, S. I. et al. Adenoma-linked barrier defects and microbial products drive IL-23/IL-17-mediated tumour growth. Nature 491, 254–258 (2012).

Karin, M. & Clevers, H. Reparative inflammation takes charge of tissue regeneration. Nature 529, 307–315 (2016).

Barnett, M. P. G. et al. Changes in colon gene expression associated with increased colon inflammation in interleukin-10 gene-deficient mice inoculated with Enterococcus species. BMC Immunol. 11, 39 (2010).

Siddiqui, R. A. et al. Comparative study of the modulation of fructose/sucrose-induced hepatic steatosis by mixed lipid formulations varying in unsaturated fatty acid content. Nutr. Metab. (Lond.) 12, 41 (2015).

Landy, J. et al. Tight junctions in inflammatory bowel diseases and inflammatory bowel disease associated colorectal cancer. World J. Gastroenterol. 22, 3117–3126 (2016).

Jaeken, J., Pirard, M., Adamowicz, M., Pronicka, E. & van Schaftingen, E. Inhibition of phosphomannose isomerase by fructose 1-phosphate: an explanation for defective N-glycosylation in hereditary fructose intolerance. Pediatr. Res. 40, 764–766 (1996).

Kaser, A. & Blumberg, R. S. Endoplasmic reticulum stress and intestinal inflammation. Mucosal Immunol. 3, 11–16 (2010).

Balda, M. S. & Matter, K. Tight junctions. J. Cell Sci. 111(Pt 5), 541–547 (1998).

Shalapour, S. et al. Inflammation-induced IgA+ cells dismantle anti-liver cancer immunity. Nature 551, 340–345 (2017).

Vos, M. B., Kimmons, J. E., Gillespie, C., Welsh, J. & Blanck, H. M. Dietary fructose consumption among US children and adults: the Third National Health and Nutrition Examination Survey. Medscape J. Med. 10, 160 (2008).

Low, B. C. et al. YAP/TAZ as mechanosensors and mechanotransducers in regulating organ size and tumor growth. FEBS Lett. 588, 2663–2670 (2014).

Choi, J. S., Kim, K.-H. & Lau, L. F. The matricellular protein CCN1 promotes mucosal healing in murine colitis through IL-6. Mucosal Immunol. 8, 1285–1296 (2015).

Taniguchi, K. et al. A gp130–Src–YAP module links inflammation to epithelial regeneration. Nature 519, 57–62 (2015).

Miki, T., Holst, O. & Hardt, W.-D. The bactericidal activity of the C-type lectin RegIIIβ against Gram-negative bacteria involves binding to lipid A. J. Biol. Chem. 287, 34844–34855 (2012).

Schröder, M. & Kaufman, R. J. ER stress and the unfolded protein response. Mutat. Res. 569, 29–63 (2005).

Metidji, A. et al. The environmental sensor AHR protects from inflammatory damage by maintaining intestinal stem cell homeostasis and barrier integrity. Immunity 49, 353–362.e5 (2018).

Wiest, R., Albillos, A., Trauner, M., Bajaj, J. S. & Jalan, R. Targeting the gut–liver axis in liver disease. J. Hepatol. 67, 1084–1103 (2017).

Ammirante, M., Luo, J.-L., Grivennikov, S., Nedospasov, S. & Karin, M. B-cell-derived lymphotoxin promotes castration-resistant prostate cancer. Nature 464, 302–305 (2010).

Fu, S. et al. Polysome profiling in liver identifies dynamic regulation of endoplasmic reticulum translatome by obesity and fasting. PLoS Genet. 8, e1002902 (2012).

Sato, T. et al. Long-term expansion of epithelial organoids from human colon, adenoma, adenocarcinoma, and Barrett's epithelium. Gastroenterology 141, 1762–1772 (2011).

Dobin, A. et al. STAR: ultrafast universal RNA-seq aligner. Bioinformatics 29, 15–21 (2013).

Li, B. & Dewey, C. N. RSEM: accurate transcript quantification from RNA-seq data with or without a reference genome. BMC Bioinf. 12, 323 (2011).

Love, M. I., Huber, W. & Anders, S. Moderated estimation of fold change and dispersion for RNA-seq data with DESeq2. Genome Biol. 15, 550 (2014).

Luo, W., Friedman, M. S., Shedden, K., Hankenson, K. D. & Woolf, P. J. GAGE: generally applicable gene set enrichment for pathway analysis. BMC Bioinf. 10, 161 (2009).

Luo, W. & Brouwer, C. Pathview: an R/Bioconductor package for pathway-based data integration and visualization. Bioinformatics 29, 1830–1831 (2013).

Thompson, L. R. et al. A communal catalogue reveals Earth's multiscale microbial diversity. Nature 551, 457–463 (2017).

Marotz, C. et al. DNA extraction for streamlined metagenomics of diverse environmental samples. Biotechniques 62, 290–293 (2017).

Amir, A. et al. Deblur rapidly resolves single-nucleotide community sequence patterns. mSystems 2, e00191–16 (2017).

Kuczynski, J. et al. Using QIIME to analyze 16S rRNA gene sequences from microbial communities. Curr. Protoc. Bioinformatics 36, 10.7 (2011).

Lee, W. N. et al. In vivo measurement of fatty acids and cholesterol synthesis using D2O and mass isotopomer analysis. Am. J. Physiol. Metab. 266, E699–E708 (1994).

Wallace, M. et al. Enzyme promiscuity drives branched-chain fatty acid synthesis in adipose tissues. Nat. Chem. Biol. 14, 1021–1031 (2018).

Kireeva, M. L., MO, F. E., Yang, G. P. & Lau, L. F. Cyr61, a product of a growth factor-inducible immediate-early gene, promotes cell proliferation, migration, and adhesion. Mol. Cell. Biol. 16, 1326–1334 (1996).

Mandal, S. et al. Analysis of composition of microbiomes: a novel method for studying microbial composition. Microb. Ecol. Health Dis. 26, 27663 (2015).
Acknowledgements
We thank M. Raffatellu for advice and discussion and V. Sheen, W. Gong, J. Yung and K. Lam for technical support. Research was supported by grants from the NIH (P42ES010337, R01DK120714, R01CA198103, R01AI043477, R01CA211794 and R01CA234128 to M.K.; R03CA223717 to J.T.; T32AI007469 and K22AI139444 to R.MN..; R01CA192642, R01CA218254 to M.T.D.-M.; R01DK108743, R01CA207177 and R01CA211794 to J.M.; U01AA027681 to S.S. and M.K.; and R01CA188652 to C.M.M.), JSPS KAKENHI (JP15K21775) and 'Kibou Projects' Startup Support for Young Researchers in Immunology (to K.T.), and the Australian NHMRC (APP112227) to M.A.F. and M.K.; work in F.R.G.'s laboratory was supported by institutional funds from the Georg-Speyer-Haus and by the LOEWE Center Frankfurt Cancer Institute (FCI), funded by the Hessen State Ministry for Higher Education, Research and the Arts (III L 5 - 519/03/03.001 - (0015)), NIH K01DK116917 and P30DK063491 pilot award to J.D.W.; and S10OD020025, R01ES027595, and P42ES010337 to M.J. M.A.F. is a senior principal research fellow of the NHMRC Australia (APP 1116936).
Ethics declarations
Competing interests
M.K. holds a US patent on the use of MUP-uPA mice to study NASH and HCC (10,034,462 B2) and had received research support from Jansen Pharmaceuticals. All other authors declare no competing interests.
Additional information
Peer review information Primary Handling Editor: Elena Bellafante.
Publisher's note Springer Nature remains neutral with regard to jurisdictional claims in published maps and institutional affiliations.
Supplementary information
Supplementary Tables 1 and 2
About this article
Cite this article
Todoric, J., Di Caro, G., Reibe, S. et al. Fructose stimulated de novo lipogenesis is promoted by inflammation. Nat Metab 2, 1034–1045 (2020). https://doi.org/10.1038/s42255-020-0261-2
Received:

Accepted:

Published:

Issue Date:

DOI: https://doi.org/10.1038/s42255-020-0261-2