Abstract
The mechanistic target of rapamycin complex 1 (mTORC1) kinase regulates cell growth by setting the balance between anabolic and catabolic processes. To be active, mTORC1 requires the environmental presence of amino acids and glucose. While a mechanistic understanding of amino acid sensing by mTORC1 is emerging, how glucose activates mTORC1 remains mysterious. Here, we used metabolically engineered human cells lacking the canonical energy sensor AMP-activated protein kinase to identify glucose-derived metabolites required to activate mTORC1 independent of energetic stress. We show that mTORC1 senses a metabolite downstream of the aldolase and upstream of the GAPDH-catalysed steps of glycolysis and pinpoint dihydroxyacetone phosphate (DHAP) as the key molecule. In cells expressing a triose kinase, the synthesis of DHAP from DHA is sufficient to activate mTORC1 even in the absence of glucose. DHAP is a precursor for lipid synthesis, a process under the control of mTORC1, which provides a potential rationale for the sensing of DHAP by mTORC1.
Access options
Subscribe to Journal
Get full journal access for 1 year
$99.00
only $8.25 per issue
All prices are NET prices.
VAT will be added later in the checkout.
Tax calculation will be finalised during checkout.
Rent or Buy article
Get time limited or full article access on ReadCube.
from$8.99
All prices are NET prices.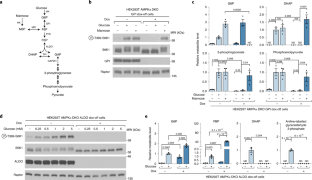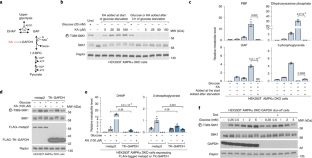 Data availability
The data supporting the plots within this paper are available from the corresponding author upon reasonable request. Source data are provided with this paper.
References
1.

Saxton, R. A. & Sabatini, D. M. mTOR signaling in growth, metabolism and disease. Cell 168, 960–976 (2017).

2.

Kubrusly, M. S. et al. A role for mammalian target of rapamycin (mTOR) pathway in non-alcoholic steatohepatitis-related cirrhosis. Histol. Histopathol. 25, 1123–1131 (2010).

3.

Guillén, C. & Benito, M. mTORC1 overactivation as a key aging factor in the progression to type 2 diabetes mellitus. Front. Endocrinol. 9, 621 (2018).

4.

Ardestani, A., Lupse, B., Kido, Y., Leibowitz, G. & Maedler, K. mTORC1 signaling: a double-edged sword in diabetic β cells. Cell Metab. 27, 314–331 (2018).

5.

Lee, P. L., Tang, Y., Li, H. & Guertin, D. A. Raptor/mTORC1 loss in adipocytes causes progressive lipodystrophy and fatty liver disease. Mol. Metab. 5, 422–432 (2016).

6.

Inoki, K., Zhu, T. & Guan, K.-L. TSC2 mediates cellular energy response to control cell growth and survival. Cell 115, 577–590 (2003).

7.

Shaw, R. J. et al. The LKB1 tumor suppressor negatively regulates mTOR signaling. Cancer Cell 6, 91–99 (2004).

8.

Gwinn, D. M. & Shaw, R. J. AMPK control of mTOR signaling and growth. in The Enzymes Vol. 28 (eds Tamanoi, F. & Hall, M. N.) 49–75 (Academic Press, 2010).

9.

Efeyan, A. et al. Regulation of mTORC1 by the Rag GTPases is necessary for neonatal autophagy and survival. Nature 493, 679–683 (2013).

10.

Wolfson, R. L. et al. KICSTOR recruits GATOR1 to the lysosome and is necessary for nutrients to regulate mTORC1. Nature 543, 438–442 (2017).

11.

Kalender, A. et al. Metformin, independent of AMPK, inhibits mTORC1 in a Rag GTPase-dependent manner. Cell Metab. 11, 390–401 (2010).

12.

Buller, C. L., Heilig, C. W. & Brosius, F. C. GLUT1 enhances mTOR activity independently of TSC2 and AMPK. Am. J. Physiol. Renal Physiol. 301, F588–F596 (2011).

13.

Almacellas, E. et al. Phosphofructokinases axis controls glucose-dependent mTORC1 activation driven by E2F1. iScience 20, 434–448 (2019).

14.

Roberts, D. J., Tan-Sah, V. P., Ding, E. Y., Smith, J. M. & Miyamoto, S. Hexokinase-II positively regulates glucose starvation induced autophagy through TORC1 inhibition. Mol. Cell 53, 521–533 (2014).

15.

Zhang, C.-S. et al. Fructose-1,6-bisphosphate and aldolase mediate glucose sensing by AMPK. Nature 548, 112–116 (2017).

16.

Lee, M. N. et al. Glycolytic flux signals to mTOR through glyceraldehyde-3-phosphate dehydrogenase-mediated regulation of Rheb. Mol. Cell. Biol. 29, 3991–4001 (2009).

17.

Sharma, S., Guthrie, P. H., Chan, S. S., Haq, S. & Taegtmeyer, H. Glucose phosphorylation is required for insulin-dependent mTOR signalling in the heart. Cardiovasc. Res. 76, 71–80 (2007).

18.

Karlstaedt, A., Khanna, R., Thangam, M. & Taegtmeyer, H. Glucose 6-phosphate accumulates via phosphoglucose isomerase inhibition in heart muscle. Circ. Res. 126, 60–74 (2020).

19.

Shiraj, S. et al. Glucose regulation of load‐induced mTOR signaling and ER stress in mammalian heart. J. Am. Heart Assoc. 2, e004796 (2013).

20.

Hardie, D. G., Ross, F. A. & Hawley, S. A. AMPK: a nutrient and energy sensor that maintains energy homeostasis. Nat. Rev. Mol. Cell Biol. 13, 251–262 (2012).

21.

Kanehisa, M. & Goto, S. KEGG: Kyoto Encyclopedia of Genes and Genomes. Nucleic Acids Res. 28, 27–30 (2000).

22.

Sakai, K., Hasumi, K. & Endo, A. Two glyceraldehyde-3-phosphate dehydrogenase isozymes from the koningic acid producer Trichoderma koningii. Eur. J. Biochem. 193, 195–202 (1990).

23.

Liberti, M. V. et al. A predictive model for selective targeting of the warburg effect through GAPDH inhibition with a natural product. Cell Metab. 26, 648–659 (2017).

24.

Rieder, S. V. & Rose, I. A. The mechanism of the triosephosphate isomerase reaction. J. Biol. Chem. 234, 1007–1010 (1959).

25.

Fang, Y., Vilella-Bach, M., Bachmann, R., Flanigan, A. & Chen, J. Phosphatidic acid-mediated mitogenic activation of mTOR signaling. Science 294, 1942–1945 (2001).

26.

Menon, D. et al. Lipid sensing by mTOR complexes via de novo synthesis of phosphatidic acid. J. Biol. Chem. 292, 6303–6311 (2017).

27.

Ye, J. et al. GCN2 sustains mTORC1 suppression upon amino acid deprivation by inducing Sestrin2. Genes Dev. 29, 2331–2336 (2015).

28.

Wolfson, R. L. et al. Sestrin2 is a leucine sensor for the mTORC1 pathway. Science 351, 43–48 (2016).

29.

Chantranupong, L. et al. The CASTOR proteins are arginine sensors for the mTORC1 Pathway. Cell 165, 153–164 (2016).

30.

Huttlin, E. L. et al. The BioPlex Network: a systematic exploration of the human interactome. Cell 162, 425–440 (2015).

31.

Huttlin, E. L. et al. Architecture of the human interactome defines protein communities and disease networks. Nature 545, 505–509 (2017).

32.

Düvel, K. et al. Activation of a metabolic gene regulatory network downstream of mTOR complex 1. Mol. Cell 39, 171–183 (2010).

33.

Peterson, T. R. et al. mTOR complex 1 regulates lipin 1 localization to control the SREBP pathway. Cell 146, 408–420 (2011).

34.

Herman, M. A., She, P., Peroni, O. D., Lynch, C. J. & Kahn, B. B. Adipose tissue branched chain amino acid metabolism (BCAA) modulates circulating BCAA levels. J. Biol. Chem. 285, 11348–11356 (2010).

35.

Nelson, D. L. & Cox, M. M. Lehninger Principles of Biochemistry (W. H. Freeman, 2012).

36.

Jang, C. et al. The small intestine converts dietary fructose into glucose and organic acids. Cell Metab. 27, 351–361 (2018).

37.

Herman, M. A. & Samuel, V. T. The sweet path to metabolic demise: fructose and lipid synthesis. Trends Endocrinol. Metab. 27, 719–730 (2016).

38.

Frias, M. A. et al. Phosphatidic acid drives mTORC1 lysosomal translocation in the absence of amino acids. J. Biol. Chem. 295, 263–274 (2020).

39.

Joy, J. M. et al. Phosphatidic acid enhances mTOR signaling and resistance exercise induced hypertrophy. Nutr. Metab. 11, 29 (2014).

40.

Dennis, P. B. et al. Mammalian TOR: a homeostatic ATP sensor. Science 294, 1102–1105 (2001).

41.

Yang, W.-C. et al. Simultaneous quantification of metabolites involved in central carbon and energy metabolism using reversed-phase liquid chromatography−mass spectrometry and in vitro 13C labeling. Anal. Chem. 80, 9508–9516 (2008).

42.

Jannasch, A., Sedlak, M. & Adamec, J. Quantification of pentose phosphate pathway (PPP) metabolites by LC–MS. in Metabolic Profiling: Methods and Protocols (ed. Metz, T. O.) 159–171 (Humana Press, 2011).
Acknowledgements
The authors would like to thank M. Valenstein, J. Spinelli and all the current members of the Sabatini laboratory for helpful insights. This work was supported by grants from the the National Institutes of Health (NIH; R01 CA103866, R01 CA129105 and R37 AI047389). J.M.O. was supported by a fellowship grant (no. F30CA210373) from the National Cancer Institute and the Harvard–MIT MSTP training grant (no. T32GM007753) from the National Institute of General Medical Sciences. P.A.K. was supported by a scholarship from Santander Universidades mobility fund granted by A. Mickiewicz University in Poznan. A.L.C. was supported by a fellowship grant (no. F31DK113665) from the National Institute of Diabetes and Digestive and Kidney Diseases. D.M.S. is an investigator of the Howard Hughes Medical Institute and an American Cancer Society research professor.
Ethics declarations
Competing interests
D.M.S. is a founder, shareholder and member of the scientific advisory board for Navitor Pharmaceuticals, which is targeting the mTORC1 pathway for therapeutic benefit. J.M.O. is a shareholder of Navitor Pharmaceuticals. The other authors declare no competing interests.
Additional information
Peer review information Primary Handling Editor: Christoph Schmitt.
Publisher's note Springer Nature remains neutral with regard to jurisdictional claims in published maps and institutional affiliations.
Supplementary information
About this article
Cite this article
Orozco, J.M., Krawczyk, P.A., Scaria, S.M. et al. Dihydroxyacetone phosphate signals glucose availability to mTORC1. Nat Metab 2, 893–901 (2020). https://doi.org/10.1038/s42255-020-0250-5
Received:

Accepted:

Published:

Issue Date: