Abstract
Acute kidney injury (AKI) is strongly associated with mortality, independently of its cause. The kidney contributes to up to 40% of systemic glucose production by gluconeogenesis during fasting and under stress conditions. Whether kidney gluconeogenesis is impaired during AKI and how this might influence systemic metabolism remain unknown. Here we show that glucose production and lactate clearance are impaired during human and experimental AKI by using renal arteriovenous catheterization in patients, lactate tolerance testing in mice and glucose isotope labelling in rats. Single-cell transcriptomics reveal that gluconeogenesis is impaired in proximal tubule cells during AKI. In a retrospective cohort of critically ill patients, we demonstrate that altered glucose metabolism during AKI is a major determinant of systemic glucose and lactate levels and is strongly associated with mortality. Thiamine supplementation increases lactate clearance without modifying renal function in mice with AKI, enhances glucose production by renal tubular cells ex vivo and is associated with reduced mortality and improvement of the metabolic pattern in a retrospective cohort of critically ill patients with AKI. This study highlights an unappreciated systemic role of renal glucose and lactate metabolism under stress conditions, delineates general mechanisms of AKI-associated mortality and introduces a potential intervention targeting metabolism for a highly prevalent clinical condition with limited therapeutic options.
Relevant articles
Open Access articles citing this article.
Kenji Matsui

,

Shuichiro Yamanaka

…

Takashi Yokoo

Communications Biology Open Access 28 October 2023

Ana Carreira

,

Pedro Castro

…

Lèlita Santos

Acta Diabetologica Open Access 13 May 2023

Di Zhang

,

Yaohan Li

…

Wei Zhu

Clinical Proteomics Open Access 27 December 2022
Access options
Access Nature and 54 other Nature Portfolio journals
Get Nature+, our best-value online-access subscription
$29.99 / 30 days
cancel any time
Subscribe to this journal
Receive 12 digital issues and online access to articles
$119.00 per year
only $9.92 per issue
Rent or buy this article
Prices vary by article type
from$1.95
to$39.95
Prices may be subject to local taxes which are calculated during checkout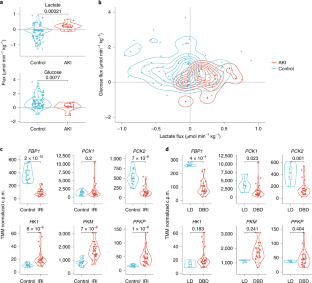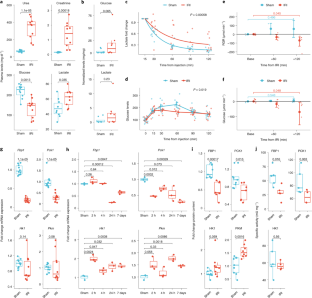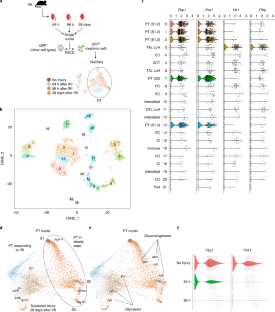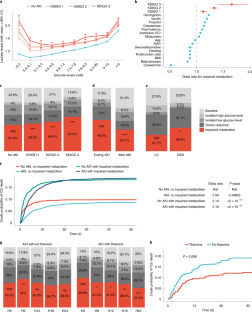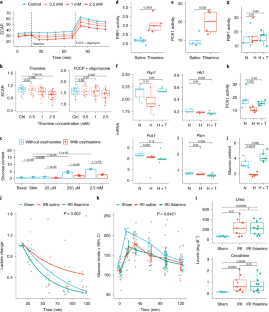 Data availability
RNA-seq data for human kidney biopsies are available at GEO (GSE126805). Mouse RNA-seq data are available at GEO (GSE52004) and ref. 50 and as a supplementary table in ref. 18. snRNA-seq data are available at GEO (GSE151167). Clinical data are available from the corresponding authors upon reasonable request. Raw data are included in this published article (and its Supplementary Information files). Source data are provided with this paper.
Code availability
Custom code will be made available on gitlab.unige.ch following publication.
References
Hoste, E. A. J. et al. Epidemiology of acute kidney injury in critically ill patients: the multinational AKI-EPI study. Intensive Care Med. 41, 1411–1423 (2015).

Legouis, D. et al. Rapid occurrence of chronic kidney disease in patients experiencing reversible acute kidney injury after cardiac surgery. Anesthesiology 126, 39–46 (2017).

Gaudry, S. et al. Initiation strategies for renal replacement therapy in the intensive care unit. N. Engl. J. Med. 375, 122–133 (2016).

Barbar, S. D. et al. Timing of renal replacement therapy in patients with acute kidney injury and sepsis. N. Engl. J. Med. 379, 1431–1442 (2018).

Li, P. et al. High-dose versus low-dose haemofiltration for the treatment of critically ill patients with acute kidney injury: an updated systematic review and meta-analysis. BMJ Open 7, e014171 (2017).

Billings, F. T. et al. High-dose perioperative atorvastatin and acute kidney injury following cardiac surgery: a randomized clinical trial. JAMA 315, 877–888 (2016).

Meybohm, P. et al. A multicenter trial of remote ischemic preconditioning for heart surgery. N. Engl. J. Med. 373, 1397–1407 (2015).

Gerich, J. E., Meyer, C., Woerle, H. J. & Stumvoll, M. Renal gluconeogenesis: its importance in human glucose homeostasis. Diabetes Care 24, 382–391 (2001).

Epstein, F. H. Oxygen and renal metabolism. Kidney Int. 51, 381–385 (1997).

Meyer, C., Dostou, J. M. & Gerich, J. E. Role of the human kidney in glucose counterregulation. Diabetes 48, 943–948 (1999).

Yudkin, J. & Cohen, R. D. The contribution of the kidney to the removal of a lactic acid load under normal and acidotic conditions in the conscious rat. Clin. Sci. Mol. Med. 48, 121–131 (1975).

Sa, H. et al. Severe hyperlactatemia, lactate clearance and mortality in unselected critically ill patients. Intensive Care Med. 42, 202–210 (2016).

Cippà, P. E. et al. Transcriptional trajectories of human kidney injury progression. JCI Insight 3, e123151 (2018).

Cippà, P. E. et al. A late B lymphocyte action in dysfunctional tissue repair following kidney injury and transplantation. Nat. Commun. 10, 1157 (2019).

Chen, Z. et al. Hepatocyte TRAF3 promotes insulin resistance and type 2 diabetes in mice with obesity. Mol. Metab. 4, 951–960 (2015).

Tigas, S. K., Sunehag, A. L. & Haymond, M. W. Impact of duration of infusion and choice of isotope label on isotope recycling in glucose homeostasis. Diabetes 51, 3170–3175 (2002).

Wu, H., Kirita, Y., Donnelly, E. L. & Humphreys, B. D. Advantages of single-nucleus over single-cell RNA sequencing of adult kidney: rare cell types and novel cell states revealed in fibrosis. J. Am. Soc. Nephrol. 30, 23–32 (2019).

Liu, J. et al. Molecular characterization of the transition from acute to chronic kidney injury following ischemia/reperfusion. JCI Insight 2, e94716 (2017).

Ayyaz, A. et al. Single-cell transcriptomes of the regenerating intestine reveal a revival stem cell. Nature 569, 121–125 (2019).

Lee, J. W., Chou, C.-L. & Knepper, M. A. Deep sequencing in microdissected renal tubules identifies nephron segment-specific transcriptomes. J. Am. Soc. Nephrol. 26, 2669–2677 (2015).

Depeint, F., Bruce, W. R., Shangari, N., Mehta, R. & O'Brien, P. J. Mitochondrial function and toxicity: role of the B vitamin family on mitochondrial energy metabolism. Chem. Biol. Interact. 163, 94–112 (2006).

Paquet, R. J. & Mehlman, M. A. Thiamin deficiency. Effect of fatty acids on glucose synthesis in kidney cortex slices from thiamin-deficient rats. J. Biol. Chem. 247, 4905–4907 (1972).

Paquet, R. J., Mackerer, C. R. & Mehlman, M. A. Effects of thiamine deficiency and octanoate administration, in vivo, on gluconeogenesis in rat kidney slices and on amino acid profile in rat liver. Proc. Soc. Exp. Biol. Med. 140, 934–936 (1972).

Kang, H. M. et al. Defective fatty acid oxidation in renal tubular epithelial cells has a key role in kidney fibrosis development. Nat. Med. 21, 1–11 (2014).

Poyan Mehr, A. et al. De novo NAD+ biosynthetic impairment in acute kidney injury in humans. Nat. Med. 24, 1351–1359 (2018).

Tran, M. T. et al. PGC1α drives NAD biosynthesis linking oxidative metabolism to renal protection. Nature 531, 528–532 (2016).

Lemos, D. R. et al. Interleukin-1β Activates a MYC-dependent metabolic switch in kidney stromal cells necessary for progressive tubulointerstitial fibrosis. J. Am. Soc. Nephrol. 29, 1690–1705 (2018).

Zager, R. A., Johnson, A. C. M. & Becker, K. Renal cortical pyruvate depletion during AKI. J. Am. Soc. Nephrol. 25, 998–1012 (2014).

Hakimi, P. et al. Phosphoenolpyruvate carboxykinase and the critical role of cataplerosis in the control of hepatic metabolism. Nutr. Metab. 2, 33 (2005).

Burgess, S. C. et al. Impaired tricarboxylic acid cycle activity in mouse livers lacking cytosolic phosphoenolpyruvate carboxykinase. J. Biol. Chem. 279, 48941–48949 (2004).

Levraut, J. et al. Low exogenous lactate clearance as an early predictor of mortality in normolactatemic critically ill septic patients. Crit. Care Med. 31, 705–710 (2003).

Freire Jorge, P. et al. The association of early combined lactate and glucose levels with subsequent renal and liver dysfunction and hospital mortality in critically ill patients. Crit. Care 21, 218 (2017).

Fischer, K. F., Lees, J. A. & Newman, J. H. Hypoglycemia in hospitalized patients. Causes and outcomes. N. Engl. J. Med. 315, 1245–1250 (1986).

Haviv, Y. S., Sharkia, M. & Safadi, R. Hypoglycemia in patients with renal failure. Ren. Fail. 22, 219–223 (2000).

Moskowitz, A. et al. Thiamine as a renal protective agent in septic shock. a secondary analysis of a randomized, double-blind, placebo-controlled trial. Ann. Am. Thorac. Soc. 14, 737–741 (2017).

Lan, R. et al. Mitochondrial pathology and glycolytic shift during proximal tubule atrophy after ischemic AKI. J. Am. Soc. Nephrol. 27, 3356–3367 (2016).

Katsyuba, E. et al. De novo NAD+ synthesis enhances mitochondrial function and improves health. Nature 563, 354–359 (2018).

Ricksten, S.-E., Bragadottir, G. & Redfors, B. Renal oxygenation in clinical acute kidney injury. Crit. Care 17, 221 (2013).

Singh, P., Ricksten, S.-E., Bragadottir, G., Redfors, B. & Nordquist, L. Renal oxygenation and haemodynamics in acute kidney injury and chronic kidney disease. Clin. Exp. Pharmacol. Physiol. 40, 138–147 (2013).

Redfors, B., Bragadottir, G., Sellgren, J., Swärd, K. & Ricksten, S.-E. Acute renal failure is NOT an "acute renal success"—a clinical study on the renal oxygen supply/demand relationship in acute kidney injury. Crit. Care Med. 38, 1695–1701 (2010).

Kellum, J. A. & Lameire, N., KDIGO AKI Guideline Work Group. Diagnosis, evaluation, and management of acute kidney injury: a KDIGO summary (Part 1). Crit. Care 17, 204 (2013).

Chung, S. T., Chacko, S. K., Sunehag, A. L. & Haymond, M. W. Measurements of gluconeogenesis and glycogenolysis: a methodological review. Diabetes 64, 3996–4010 (2015).

Allsop, J. R., Wolfe, R. R. & Burke, J. F. Tracer priming the bicarbonate pool. J. Appl. Physiol. 45, 137–139 (1978).

McCabe, B. J. & Previs, S. F. Using isotope tracers to study metabolism: application in mouse models. Metab. Eng. 6, 25–35 (2004).

Ekberg, K. et al. Contributions by kidney and liver to glucose production in the postabsorptive state and after 60 h of fasting. Diabetes 48, 292–298 (1999).

Kobayashi, A. et al. Six2 defines and regulates a multipotent self-renewing nephron progenitor population throughout mammalian kidney development. Cell Stem Cell 3, 169–181 (2008).

Wu, Y., Tamayo, P. & Zhang, K. Visualizing and interpreting single-cell gene expression datasets with similarity weighted nonnegative embedding. Cell Syst. 7, 656–666 (2018).

Schubert, M. et al. Perturbation-response genes reveal signaling footprints in cancer gene expression. Nat. Commun. 9, 20 (2018).

Legouis, David et al. Ex vivo analysis of renal proximal tubular cells. BMC Cell Biol. 16, 12 (2015).

Liu, J. et al. Cell-specific translational profiling in acute kidney injury. J. Clin. Invest. 124, 1242–1254 (2014).
Acknowledgements
This study was funded by the Swiss National Science Foundation (grant nos. PP00P3 157454 to S.S. and 167773 to P.E.C.), by a STARTER grant (no. RS03-25) to S.S. and D.L. from the HUG private foundation (the foundation of Geneva University Hospitals and the University of Geneva's Faculty of Medicine) and by The Eli and Edythe Broad Foundation (to P.C. and A.P.M.). P.G. was supported by the ATIP Avenir programme. We thank G. Alvarado, A. Ransick and A. Kim for technical support.
Ethics declarations
Competing interests
The authors declare no competing interests.
Additional information
Peer review information Primary Handling Editor: Pooja Jha.
Publisher's note Springer Nature remains neutral with regard to jurisdictional claims in published maps and institutional affiliations.
Supplementary information
About this article
Cite this article
Legouis, D., Ricksten, SE., Faivre, A. et al. Altered proximal tubular cell glucose metabolism during acute kidney injury is associated with mortality. Nat Metab 2, 732–743 (2020). https://doi.org/10.1038/s42255-020-0238-1
Received:

Accepted:

Published:

Issue Date:

DOI: https://doi.org/10.1038/s42255-020-0238-1